10 One-pan Gluten-free Dinner Recipes Under 30 Minutes
Here are the best 10 One-Pan Gluten-free Dinner Recipes Under 30 Minutes that will help you eat healthier even during your busy days. This is definitely a delicious list of low-carb, paleo and gluten-free recipes for the five days of the week. Now, you've got no excuse for not eating healthier. Enjoy! 
I've been asking my readers by my newsletter what is their biggest struggle about eating healthy and what type of food they would like to eat and the answers are always almost the same: "I would like to eat more gluten-free, low-carb and paleo recipes during the week". Also, so many of you are asking for more one-pan and super easy and quick recipes to make. So, I thought I could select the best low-carb, gluten-free, paleo and one-pan recipes from my blog to you. This way I believe your life will be a little bit easier in the kitchen during the busy days because you know what you will be cooking. I really hope you enjoy all these 10 healthy, flavourful and easy recipes that I selected especially for you. Enjoy!
---
Asparagus Sweet Potato Chicken Skillet – This is a paleo and low-carb recipe that is perfect for your busy weeknight dinner.
One-Pan Chicken in Mushroom Sauce – This is also a paleo and low-carb dinner recipe that requires very little effort, but it is very flavourful. You can serve it with rice or roasted veggies.
3-Ingredient Tilapia Skillet – You only need 3-ingredient to make this low-cab and paleo meal for your family. This goes really well with fluffy rice, quick and easy quinoa salad or roasted brussels sprouts.
Sausage Asparagus Quinoa Pasta – Who said you can't eat pasta if you are on a gluten-free diet? This quinoa pasta taste as good as the tradicional ones. It is very filling and satisfying dinner dish.
Ground Turkey Cabbage Skillet Recipe – This is super flavourful low-carb meal and very easy to make! If you don't add cheese you will have a delicious paleo dinner too. This is also good with rice.
Sweet Potato Green Beans Shrimp Skillet – If you don't add cheese in there you can have a delicious paleo meal for dinner! It's also low-carb.
Turkey Sausage Skillet with Brussel Sprouts and Sweet Potatoes – This is a complete meal that will be ready in ONLY 20  minutes!
Ground Turkey Skillet with Green Beans – This recipe is ready in 20 minutes and it is great to make ahead of time because it stays good in the fridge for over 5 days. It is also low-carb meal!
Ground Turkey Sweet Potato Skillet – This recipe is perfect for those days that we want to eat flavourful comfort food, but want to stay in a diet. It's low-carb and if you don't add the cheese it's paleo too.
Sweet Potato, Kale and Shrimp Skillet – This recipe only requires 4-ingredient and t's also paleo, low-carb and easy to make.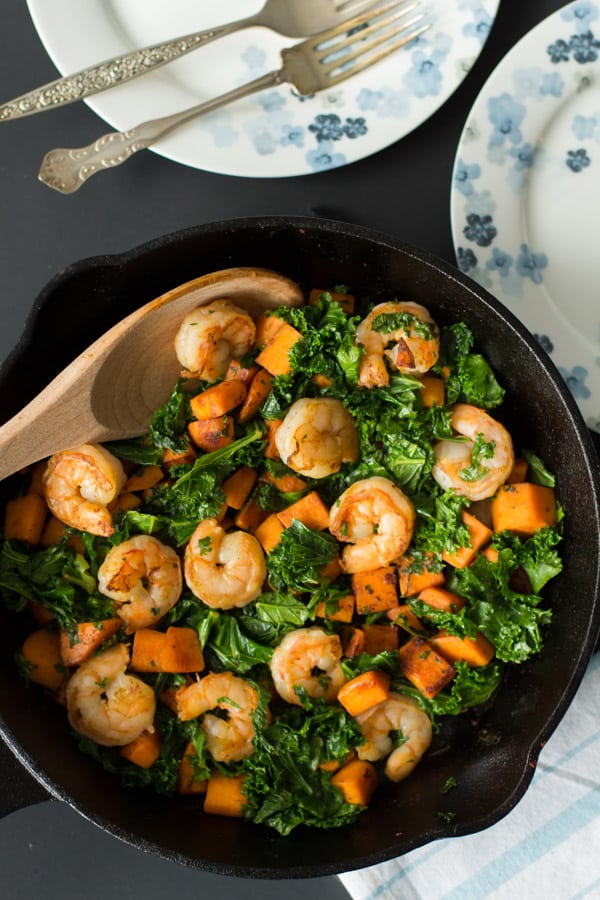 If you like these recipes, please share with your friends and family. Do you wanna taste more? Subscribe to my newsletter and follow Primavera Kitchen on Twitter, Pinterest, Google +, Instagram and Facebook for all delicious recipes updates. As always, you are really appreciated for stopping by.