3-Ingredient Tilapia Skillet
This 3-Ingredient Tilapia Skillet with diced tomatoes and onions is a quick, easy, healthy and delicious weeknight dinner. 

These past days my husband had a work trip for 3 days and since Thomas is still very small my father-in-law came from Montreal to stay with me for few days. We had great time together especially because he is hilarious and such a good cook. He helped me a lot and I am so grateful for that. While I was taking care of my little baby boy, he was preparing delicious dinner recipes for us. Oh man… my mouth is still watering every time I remember our meals during these days.
One of the recipes he made was this tilapia skillet. When I asked him how he made this recipe, he told me it was only made with 3-ingredient and I couldn't believe it because it is such a flavorful dish. Normally when a recipe is so tasty I tend to think that it has a long list of ingredients. Is it only me who thinks this way? So, since I loved it so much I decided to make it again.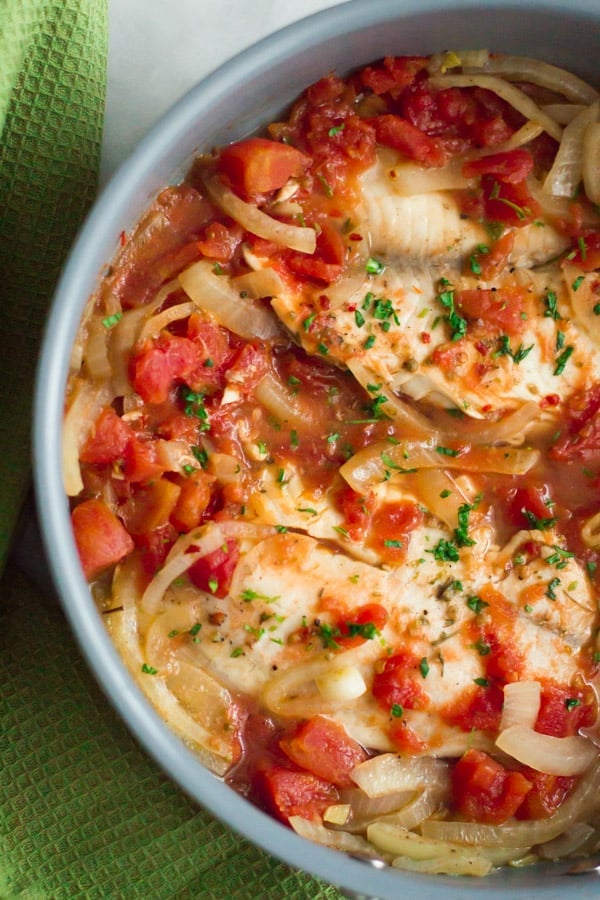 It is a perfect recipe if you only have less than 30 minutes to prepare a healthy meal for your family. I really love simple dinner recipes like this one, especially because fish is the queen in here. I grew up in a beach town in Brazil where every restaurant you go, you will see on the menu lots of fish dishes made in different ways such as grilled fish, fish stew, roasted fish and so on. Fish is definitely part of my childhood good memories and I am always cooking it in my home, especially salmon.
For this recipe you will only need to sauté onions and diced tomatoes with live oil in a skillet, then add tilapia and cook for less than 10 minutes. Of course you need to season it with salt and pepper and DONE!! This is definitely the quickest and easiest tilapia recipe you will find out there, but yet very tasty. When you are in a hurry, please try this recipe because I am sure you will spend only 20 minutes from preparing and actually cooking it. I am sure this tilapia skillet recipe will be a staple in your home, and you still want to eat fresh, healthy and homemade food.
3-Ingredient Tilapia Skillet
This 3-Ingredient Tilapia Skillet with diced tomatoes and onions is a quick, easy, healthy and delicious weeknight dinner.
Ingredients:
1 tablespoon olive oil
½ medium white onion, sliced
1 can (500ml) diced tomatoes (with the liquid)
2 fresh tilapia filets
Salt and ground black pepper
Fresh parsley for garnishing (optional)
Directions:
In a large skillet, heat oil over medium high heat.
Add onion to the skillet, sauté for 5 minute until tender.
Add diced tomatoes, tilapia filets and salt and pepper.
Cover the skillet and cook for about 7-10 minutes until the tilapia is cooked through.
Top with fresh parsley before serving.
All images and text ©
If you make this recipe, please don't forget to snap a photo and hashtag it #primaverakitchen. I really want to see!
Products Featured in this Recipe:
(may include affiliate links)
If you like this 3-Ingredient Tilapia Skillet recipe, please share with your friends and family. Do you wanna taste more? Subscribe to my newsletter and follow Primavera Kitchen on Twitter, Pinterest, Google +, Instagram and Facebook for all delicious recipes updates. As always, you are really appreciated for stopping by.