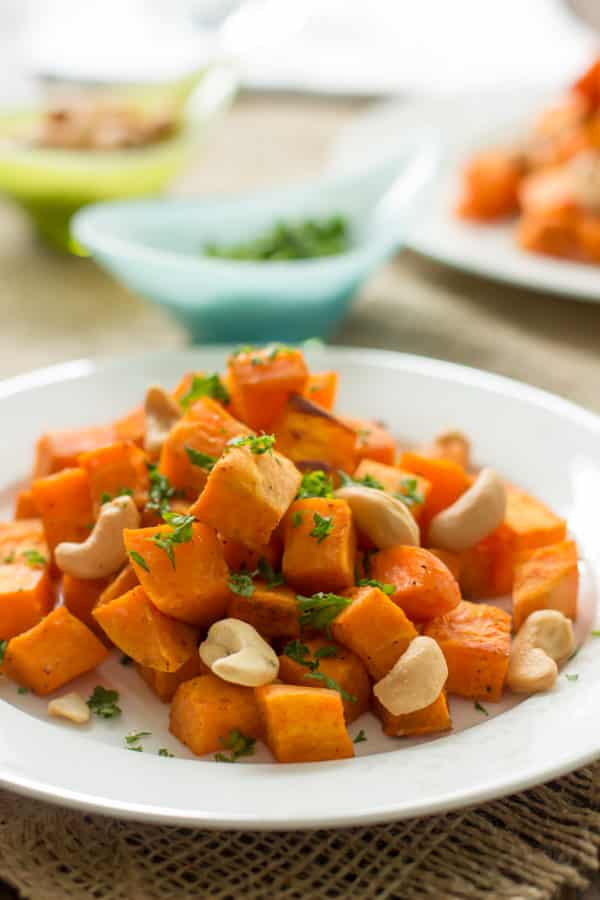 There is no doubt that sweet potatoes are so tasty, healthy and high in vitamins A and C, but it is also very versatile veggie because you can have sweet potato for breakfast, lunch or even dinner. I like to eat them at lunch with green salad and some kind of fish. Hum… Yummy. But, whatever meal you choose to have these goodies, you will enjoy and have a nutritious dish.
This baked sweet potato with cashews recipe is as easy as frying an egg. No kidding. The only real work you are going to have is to peal the potatoes and cut in cube. But if you think it is so much work you can even leave the skin on. Why not, right? Anything that can make our lives in the kitchen easier is welcomed. When you prepare your potatoes, you just need to season, add cashews and all done. Simple to make, inexpensive, and totally delicious. How easy was that?
I hope you can give this recipe a try and let me know at the comments below how it was.

Baked Sweet Potato with Cashew
This Baked Sweet Potato recipe is simple to make and totally delicious for breakfast or lunch.
Author:
Primavera Kitchen
Ingredients
2 sweet potato, cut into small cubes and pealed
2 tsp smoked paprika
3 tbsp olive oil
½ cup cashew
Black pepper and salt to taste
¼ cup chopped parsley
Instructions
Preheat oven to 375˚F.
Combine all the ingredients together in a bowl, except the parsley, and toss very well.
Pour the mixture onto a baking sheet and cook for approximately 30 minutes or until the potatoes are tender and browned.
Remove from oven and sprinkle with parsley. Enjoy ;-)
As always, thank you so much for stopping by and if you enjoy this post, please share it with your friends and family. You are deeply appreciated.
Bring Joy and Sweet potatoes in your day