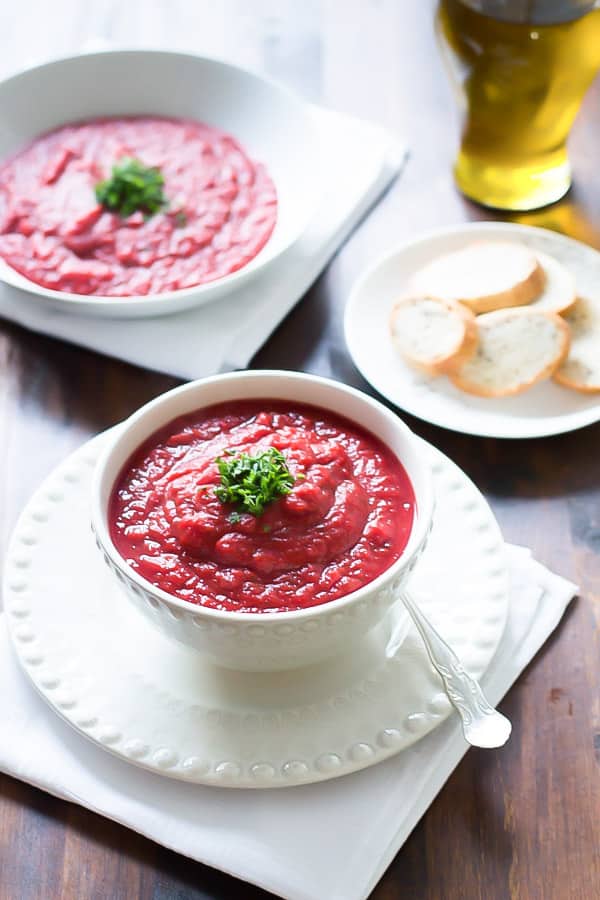 This Beet Sweet Potato Soup recipe is a winner because it is comforting, easy to make, looks beautiful and tastes great. It is a healthy choice for your lunch and dinner without sacrificing flavour. When I made this soup for the first time I wasn't sure if my husband was going to like it, since he is not huge fan of cream soups. But to my pleasant surprise, Pierre really enjoyed it and now I make it on a regular basis.
At first, I didn't think it would be that good, but what really makes this soup so delicious is the veggies themselves. If you love sweet potatoes and beets like me, you will fall in love with this recipe, because their flavors will really come out. I make the basic sweet potato soup with veggies stock and embellish it with spices like smoked paprika, garlic powder and black pepper. It's certainly sweet, spicy and flavorful soup. You will enjoy this healthy meal for your lunch or dinner.
Beet and Sweet Potato Soup
This creamy beet and sweet potato soup has a very pretty color and rich flavour. You will enjoy this delicious and healthy meal for lunch or dinner.
Ingredients:
1 tbsp extra-virgin olive oil
1 cup onion, peeled and chopped
2 cups beets, peeled and chopped
3 cups sweet potato, peeled and chopped
2 cups carrots, peeled and chopped
4 cups veggie broth (you may need more)
Parsley
2 tsp paprika
1 tsp garlic powder
½ tsp chili powder
Salt and pepper
Directions:
In a large pot over high heat, add olive oil. When the pan and the oil are hot, turn the heat down to medium and add the onions. Cook until browned.
Add the beets, sweet potatoes and carrots along with 4 cups of vegetable broth.
Bring it to a boil, cover and cook for about 30 minutes or until the vegetables are soft.
Add the parsley (save a bit for a garnish), paprika, garlic powder, chili powder, salt and pepper.
Using an immersion hand blender or a counter-top blender puree the veggies. It is not necessary remove the rest of the liquid from the pot to puree the veggies.
Taste and add any extra seasonings, if necessary. Serve topped with fresh parsley
All images and text ©
If you make this recipe, please don't forget to snap a photo and hashtag it #primaverakitchen. I really want to see!
Let's check out this delicious Beet Sweet Potato Soup recipe.
Want to browse all of my healthy recipe posts? Follow my Primavera Kitchen Board on Pinterest!!! I also have great Pinterest Boards such as Healthy Dinner, Healthy Pasta Meal, Healthy Slow Cooker Meals and Soups and Stews. I hope you enjoy all the delicious and healthy recipes I have there!!
If you like this Beet Sweet Potato Soup recipe, please share with your friends and family. Do you wanna taste more? Subscribe to my newsletter and follow Primavera Kitchen on Twitter, Pinterest, Google +, Instagram and Facebook for all delicious recipes updates.
Taste more Soup from Primavera Kitchen!
This is a creamy, gluten free, low carb and high in fiber Carrot and Parsnip Soup! 
This Pasta Soup with Sweet Potato and Peas is a filling dish loaded with fibre and it is a quick-and-easy go-to meal!
This Zucchini Summer Soup is very versatile because you can add any seasonal veggies and you will have a very flavourful meal!