How to Make Crispy Roasted Green Beans
This tutorial on How to Make Crispy Roasted Green Beans helps you to make a quick and delicious vegetable side dish that adds color and nutritious to your meal!
Hey guys. It has been a week since I have posted a delicious recipe for you. I would like to apologize. Last week we (my husband and I) were on vacation and I thought I would have time to post from there, but unfortunately, time was so short and also the internet connection was limited on my phone. So sorry! We went to Las Vegas for a friend's wedding. Oh gosh … my husband and I had such a great time down there, especially because it was my first time in Vegas. What a fun place, guys!!! I confess I don't like casinos much (my husbands looooves them), but there are so many things to do other than gambling. We went to the Jersey Boys musical, which was FANTASTIC! I really recommended this musical if you are planning to go to Vegas. The actor/singer has almost the same voice as Frankie Valli – the real singer from the Four Seasons. Although I am only 32 years old (well … tomorrow I will turn 33 years old ;-)) I love their old songs because they are just so fun to dance to and they are a really good hit!! But, you can also watch the movie. It is really good too.
Do you know Pawn Stars from the TV show on History channel?? We also visited the Pawn Stars store. My husband LOVES the TV show so much. Going there was a must! We didn't meet Chumlee (the funniest one on the show), but the store was very cool!! I also loved all the stores and the lights. Vegas is really beautiful, especially at night!
After vacation, you just want to cook something easy, but tasty, right? Well, at least I am like that. I know this recipe is so simple, but I promise it is worth it. This easy vegetable side dish adds color to the meal and it's very crispy! How I can we make them so crispy??? Here are some simple tips:
The first tip is to place a jellyroll pan in oven for 10 minutes before you add the seasoned green beans. This is a great tip to avoid having soggy roasted green beans.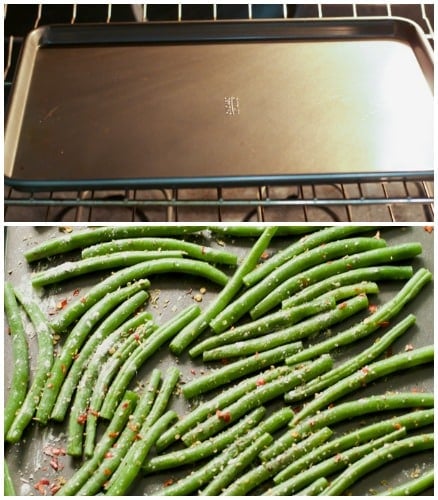 The other important tip for this recipe is to lay the green beans in a single layer on the jellyroll pan. If you don't, the green beans may steam instead of becoming crispy.
The last tip is to make sure every single bean gets coated. This avoids the green beans from drying out.
I am sure if you follow these simple and important tips you will have a very tasty and crispy roasted green bean dish. Want to browse all of my healthy recipe posts? Follow my Primavera Kitchen board on Pinterest!!! I also have a an awesome Healthy Fall Recipes board on Pinterest!!  
How to Make Crispy Roasted Green Beans
This tutorial about How to Make Crispy Roasted Green Beans helps you to make a quick and delicious vegetable side dish that adds color and nutritious to your meal!
Ingredients:
Directions:
Preheat oven to 425°.
Place a baking sheet in oven for 10 minutes.
In a medium bowl, place green beans and all the ingredients.
Mix well everything together.
Arrange green bean mixture in a single layer on preheated baking sheet.
Bake for about 8 minutes or until crisp-tender.
Nutrition Information
Yield: 4, Serving Size: 1/4
Amount Per Serving:
Calories:

118

Total Fat:

3.7g

Carbohydrates:

29.4g

Sugar:

12.7g

Protein:

7g
All images and text ©
If you make this recipe, please don't forget to snap a photo and hashtag it #primaverakitchen. I really want to see!
Products Featured in this Recipe:
(may include affiliate links)
I hope you enjoy this recipe and try to make some in your own kitchen today. If you like this recipe, please share with your friends and family. Do you want to taste more? Subscribe to my newsletter and follow Primavera Kitchen on Twitter, Pinterest, Google+, Instagram, and Facebook for all delicious recipes updates. As always, I really appreciate you stopping by.
Taste more from Primavera Kitchen! 
Try this easy-to-follow Quick and Easy Roasted Asparagus 
This Roasted Green Beans with Garlic Panko is a high fiber, crispy and crunchy vegetable side dish.
This Baked Sweet Potato with Cashew is a healthy and delicious option to a vegetable side dish!