Subscribe to receive new recipes!
Taste more! Sign up and you'll be getting to your inbox brand new content weekly such as recipes, cooking tips, videos and my FREE E-COOKBOOK.
This Shrimp Cauliflower Mash Bowl is a great meal for those who are on the low-carb diet. Also it's ready in less than 30 minutes, easy and quick to make and very flavourful!  
When I thought about making this cauliflower mash I mentioned it to my husband, but he told me he didn't believe it was going to taste good. Since I wanted try anyway and I made it the other day and I'm glad to say that I wasn't disappointed. And even my husband who is such a picky eater enjoyed this cauliflower mash. It looks like mashed potatoes, the texture is also similar to mashed potatoes and the addition of garlic, butter, salt, pepper makes this cauliflower mash very flavourful.
I believe this recipe is perfect for those who love mash potatoes, but it's trying to follow the low-carb diet. I know cauliflower doesn't taste like potatoes, however this cauliflower mash is actually pretty tasty and makes a great combo with the shrimp in a tomato sauce. This recipe is great if you have only few minutes to make a healthy and delicious meal for your family.
It's ready in less than 30 minutes. You just need to boil the cauliflower and blend it with butter, milk, garlic and seasonings. And for the shrimp… Well do I need to say that in 5-6 minutes shrimp is cooked?!! You just need to sauté shrimp and when it's pink you add the homemade tomato sauce. You can make the sauce on the weekend and leave it in the fridge to use during the week. Or you can buy the tomato sauce from a brand that you trust, making this recipe even faster to be done! Enjoy!

Shrimp Cauliflower Mash Bowl
This Shrimp Cauliflower Mash Bowl is a great meal for those who are on the Paleo and Low-carb diets. Also it's ready in less than 30 minutes, easy and quick to prep and very flavourful!
Author:
Primavera Kitchen
Ingredients
For the Cauliflower
1 large head cauliflower, cut up into florets
4 teaspoons unsalted butter
2 cloves crushed garlic
¼ cup fat free milk
kosher salt and pepper to taste
For the Shrimp
1 tablespoon olive oil
1 lb. shrimp (enough for 4 people)
1 cup homemade tomato sauce
Instructions
For the cauliflower:
In a big pot, bring water to a boil and add cauliflower and salt.
Cook until it's tender.
Drain in a colander.
In a blender, add the cauliflower, butter, garlic, milk, salt and pepper and puree.
For the shrimp:
In a skillet, add olive oil over medium heat. Add shrimp and sauté for about 3 minutes. Then add homemade tomato sauce or any other tomato sauce of your preference. Stir well and cook for 3 minutes.
Serve the shrimp over the cauliflower mash!
Please, if you recreate this recipe, please take a picture and hash tag #primaverakitchen on 
Instagram
! I would love to see your version.
And if you like this Shrimp Cauliflower Mash Bowl recipe, please share with your friends and family. Do you wanna taste more? Subscribe to my newsletter and follow Primavera Kitchen on Twitter, Pinterest, Google +, Instagram and Facebook for all delicious recipes updates. As always, you are really appreciated for stopping by.
More Low-Carb recipes!
Sweet Potato Green Beans Shrimp Skillet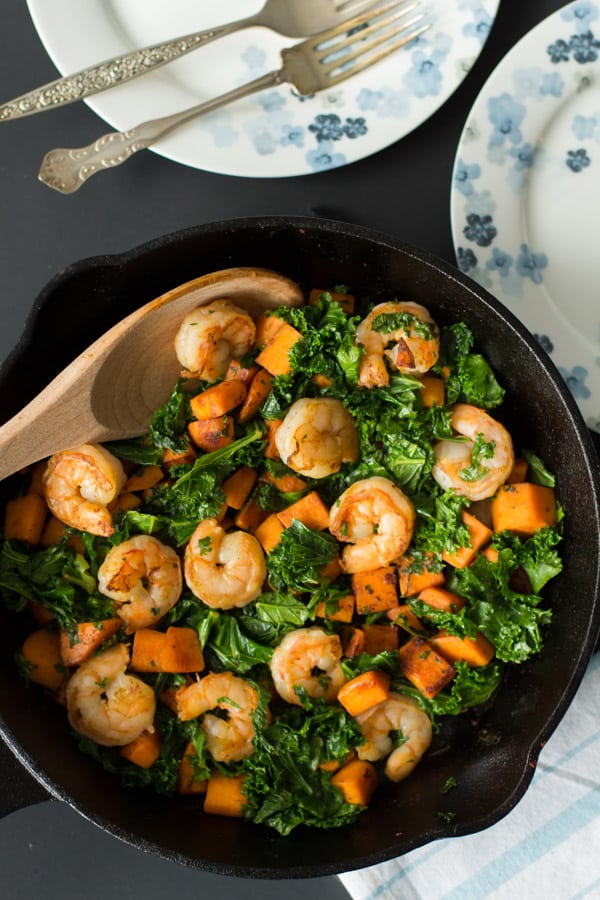 Sweet Potato, Kale and Shrimp Skillet
Garlic Shrimp with Zucchini Noodles