Ground Beef Zucchini Sweet Potato Skillet (Meal Prep)
This Ground Beef Zucchini Sweet Potato Skillet is a gluten-free, Whole30 and paleo-friendly meal that will be ready in less than 30 mins. You will need only one pan to make this delicious recipe, making clean up a breeze!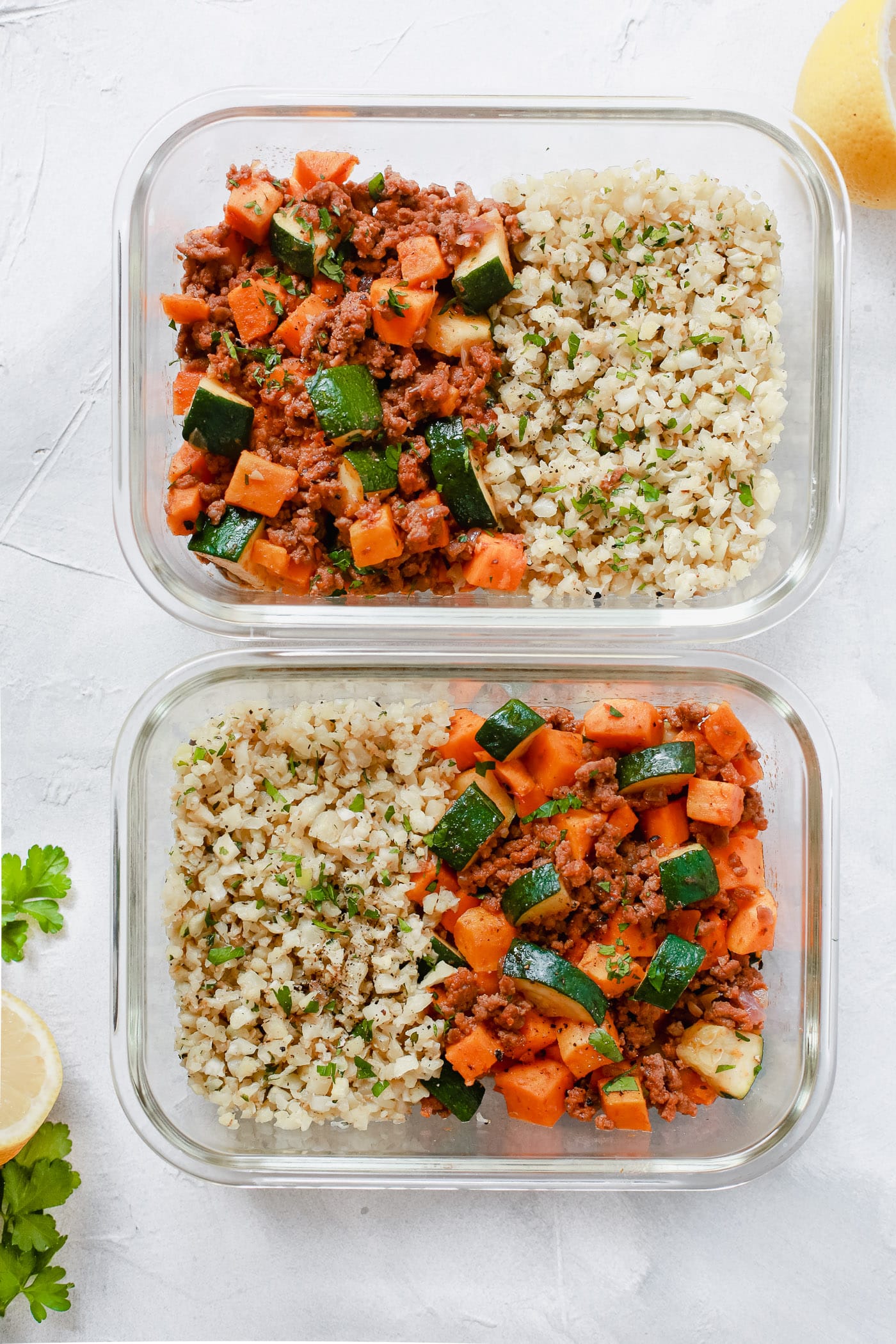 This first part of this post was first published on February 21st, 2017. 
Before I talk about this yummy Ground Beef Zucchini Sweet Potato Skillet recipe, I'd like to share something very special that happened last Sunday.
I consider myself a very calm mom. I mean I'm not stressed and worried too much about things like "why he is not eating well today?", or "why he is being so fussy today?" and so on. I just understand these things are normal and that babies have their days where they are not feeling so great too. The first fever he had I didn't run to the emergency. Of course, I just knew it was a simple cold and since I talked to my sister, who has a two-year-old son, and my mother-in-law (who is a nurse). I was fine. Not a big deal! I guess I'm like that because I worked with young children for years teaching English in Brazil and also volunteering in daycares here in Canada. And I also have a good support from my family and friends who already passed through all these things 😉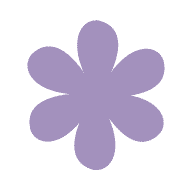 MY OTHER RECIPES
But if there is something that I was very worried about, it was Thomas' teething. OMG guys I couldn't wait to see his tooth coming out. Seriously, I was very worried and even considering going to a specialist to see why his teeth weren't coming out. Every baby that I know had teeth before they were one year old. My nephew had his first two teeth when he was 6 months old. Some friends' babies had when they were even 4 months old!! So, Thomas completed 1 year two weeks ago and he didn't have any teeth. My husband was always joking around saying "Look, babe, I can see a tooth coming out. It's coming… It's coming!" And I knew he was just playing with me.
So, Sunday we went for a long walk here in downtown Toronto and we stopped in a store to buy jeans and t-shirts. Pierre and Thomas were sitting on the sofa inside of the store waiting for me while I was in the fitting room trying few clothes. When I finally got out of the fitting room, my husband came to me and said: "babe, I have good news for you". Then, I said: "Yes, what?". He said: "I just saw Thomas' first tooth coming out!!". And I was not very excited: "Really?!" You can imagine I didn't care much because I thought he was just pulling my leg like he usually does but this time he completed his sentence saying: "Please, put your finger in his mouth and you'll feel it. I'm not kidding this time". Immediately, I did what he told me to do and I couldn't believe it! There was actually one tooth on the bottom of his gum!!
OMG I was so happy that I couldn't even describe it. I'm only going to say that tears came to my eyes! I kissed my little Thomas so much and he was just laughing! So happy! I texted my close friends and called my family to tell them. That is how excited I was. I know, I know… It looks so stupid but that's what parents do when we are proud of our babies, right?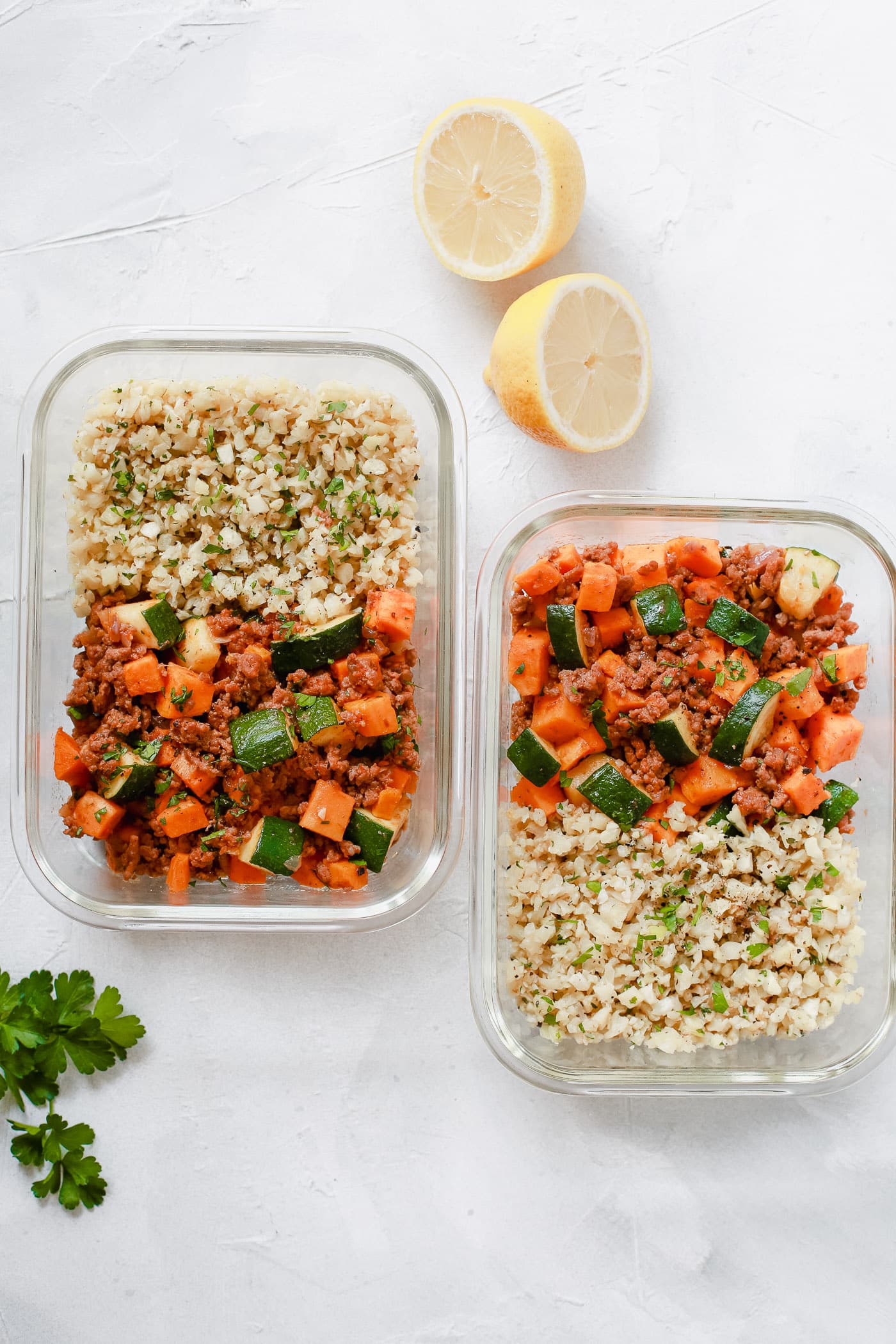 ---
This second part of this post was updated on August 15, 2018 with new pictures and more information about the recipe.
Another thing that I was very excited about is how delicious this Ground Beef Zucchini Sweet Potato Skillet came out. This is a new version of my most popular recipe on the blog: the Ground Turkey Sweet Potato Skillet. So good!
Lately, I've been receiving emails from my subscribers asking me to make a new version of this recipe because they love it. They say they love it because it is very flavorful, easy, quick-to-make, healthy, one-pan meal, gluten-free, whole30 and paleo-friendly!! Some readers told me that they make this recipe to bring to work for lunch.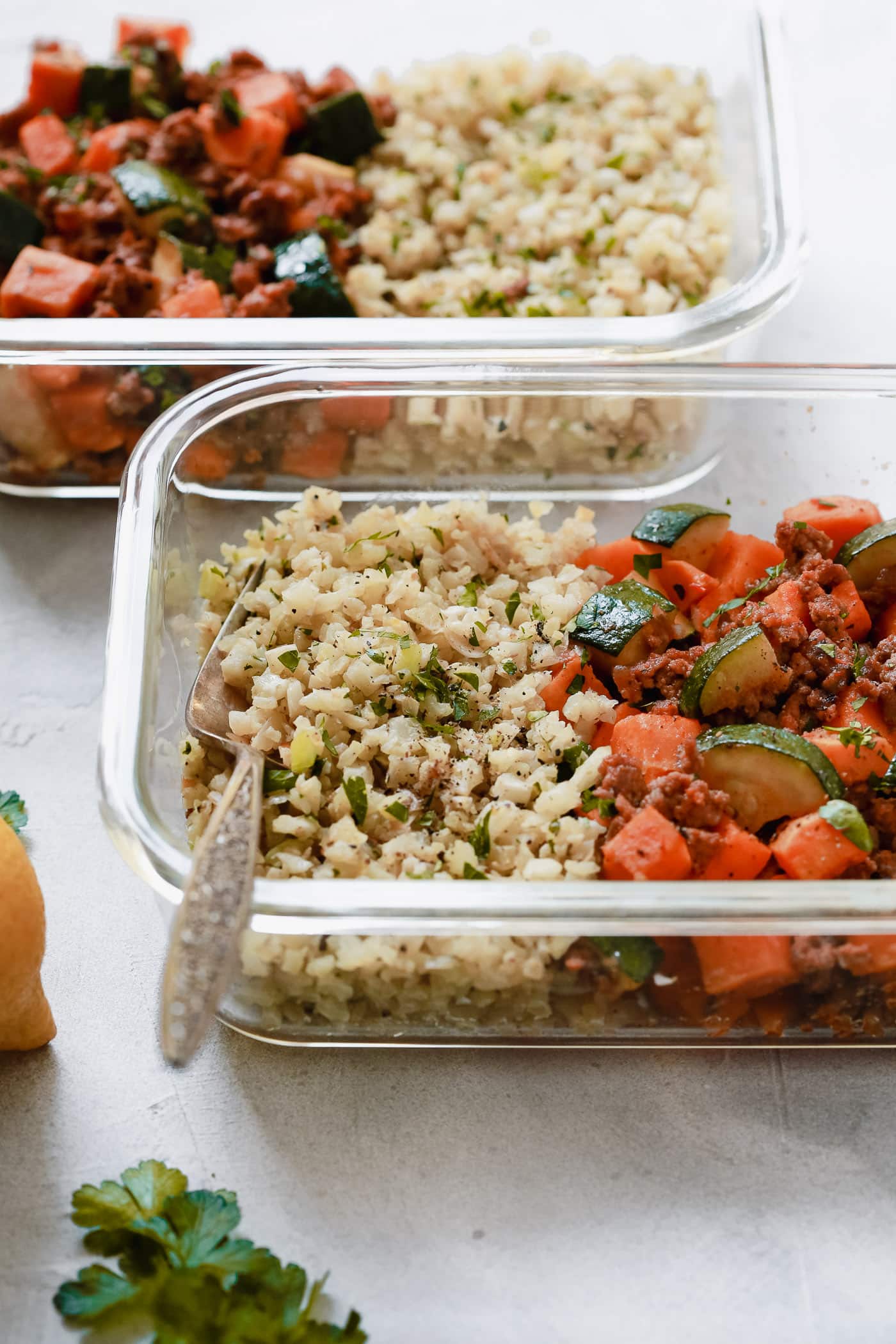 So, this time I made this Ground Beef Zucchini Sweet Potato Skillet recipe for 5 portions so then you have a meal-prep recipe for the 5 days of the week. I also added cauliflower rice, making a very satisfying lunch box.
On top of that, I added zucchini since the other old recipe (ground turkey sweet potato skillet) has only sweet potato. I think the zucchini adds more nutrients to this recipe and goes really well with ground turkey or beef. But, don't forget to cut both, zucchini and sweet potato, very small because it'll help to cook faster.
The dijon mustard is something new I used in this Ground Beef Zucchini Sweet Potato Skillet recipe as well and I really loved this addition. It brings life to any dish, don't you agree? But if you don't like it, you certainly can leave it out.
I also used tomato passata, which is a liquid tomato puree, to add another layer of flavor to this Ground Beef Zucchini Sweet Potato Skillet recipe, but you can use any tomato sauce of your preference. One last thing I will like to say is that since so many people are avoiding dairy for so many reasons, I decided to not add cheese this time.
But if you are a cheese lover, go ahead and top it with 1/2 cup of mozzarella cheese. Mmmm… Yummy! This version is extremely tasty and easy to make just like the other one. In less than 30 minutes, you will have this delicious Ground Beef Zucchini Sweet Potato Skillet recipe to enjoy!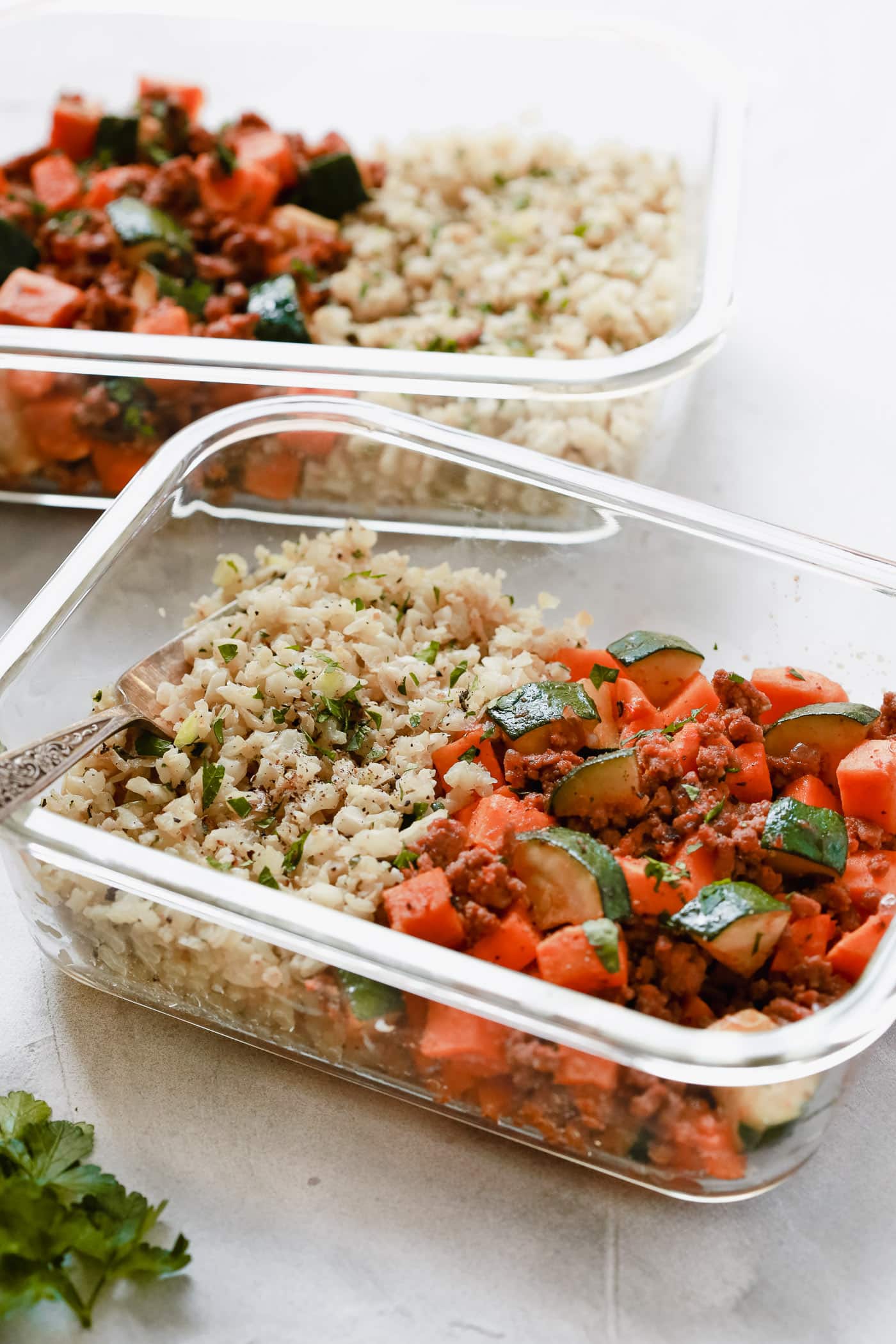 The 
Meal-Prep Container that I Recommend: 
In my option glass containers are the best for store food because they don't release toxic substances to your food like plastic does when it is expose to microwave heating. You are safe with glass containers. But, when you choose glass containers, please consider few things such as:
If it has leakproof lids to avoid spills.
Also buy a good quality glass container that won't break easily.
Make sure it's safe to use in the microwave and it's freezer-safe tempered glass too.
And finally, buy different size containers because it will help to stack them easily and take up less space in fridge.
At Amazon.com you can find a huge variety of glass containers with different sizes and with or without compartments. Check them our here (affiliate link).
More healthy recipes that are perfect for your weekday meal-prep:
Sweet Potato Chicken Kale Skillet: This is great because it's also very easy to make and all is done in one pan. It's Whole30, paleo and gluten-free.
Easy Cauliflower Fried Rice: Love rice, but don't like all the carbs? This definitely the recipe for you. It's perfect for lunch and delicious.
Slow Cooker Chicken and Sweet Potato: It requires only 6 ingredients, 10 minutes to prep and it is a healthy, and easy meal-prep recipe for during the week! It's also Whole30, paleo and gluten-free.
Sweet Potato, Kale and Shrimp Skillet: Are you busy to meal-prep? Not a problem this recipe is great for you because it only requires 4 ingredients and it's ready in less than 20 minutes. It's whole30, gluten-free, paleo, and super easy to make!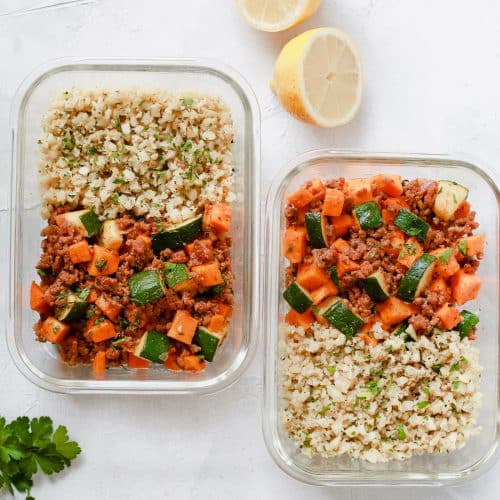 This Ground Beef Zucchini Sweet Potato Skillet is a low-carb, gluten-free, and paleo-friendly meal that will be ready in less than 30 mins. You will need only one pan to make this delicious recipe, making clean up a breeze!
In an iron cast skillet, heat olive oil over medium-high heat.

Add ground beef and garlic. Use a wooden spoon to break up the ground beef while it cooks. Stir occasionally and cook for about 7 minutes. Set aside.

Add onions, red bell pepper to the same skillet, and cook for 3-4 minutes or until the onions are soft. If it is necessary,  add a little bit of olive oil to help sauté the veggies.

Add sweet potato and beef broth. Cook for 5-6 minutes. Put a lid on the skillet. The steam will help to cook faster the sweet potato. Stir occasionally.

Add the zucchini and cook for 3 minutes.

Add the ground beef to skillet again and mix everything together.

Add the Dijon, tomato passata, oregano, crushed red pepper, salt, and pepper to taste. Cook for 1-2 minutes more.

Garnish with fresh parsley.
MEAL PREPPING:
Place an even amount of cauliflower rice into 5 different plastic/glass containers.

Divide this ground beef zucchini sweet potato recipe into 4-5 portions.

Cover with the lid and place in the fridge for up 5 days.

Heat in the microwave for about 2 mins.
Keyword:
Beef, gluten-free, meal-prep, paleo, sweet potato, whole30
Nutrition Information
Amount per serving (1/5 This doesn't include cauliflower rice) — Calories: 373, Fat: 8g, Saturated Fat: 2g, Cholesterol: 64mg, Sodium: 468mg, Carbohydrates: 41g, Fiber: 8g, Sugar: 16g, Protein: 30g
If you make this recipe, please don't forget to snap a photo and hashtag it #primaverakitchen. I really want to see!
This post contains affiliate links. For more information, please visit my disclosure page here.
If you like this Ground Turkey Zucchini Sweet Potato Skillet recipe, please share with your friends and family. Do you want to taste more? Subscribe to my newsletter and follow Primavera Kitchen on Twitter, Pinterest, Google+, Instagram, and Facebook for all delicious recipes updates. As always, I really appreciate you stopping by.
SaveSave