Subscribe to receive new recipes!
Taste more! Sign up and you'll be getting to your inbox brand new content weekly such as recipes, cooking tips, videos and my FREE E-COOKBOOK.
This Italian Sausage Stuffed Butternut Squash recipe is the ultimate comfort food and it's a complete meal with lots of veggies and protein. It's also low-carb, gluten-free and paleo-friendly! 
These past few days have been very busy for me. My husband had to travel for two days for work and I was alone with Thomas. Although Thomas isn't a fussy baby, it isn't so easy to take care of a baby by yourself for few days. Pierre always comes home for lunch, which is great since he helps me to give Thomas lunch. And also my husband is home everyday around 5ish, which gives me some time to work on my blog while Pierre is playing with Thomas. He also gives our baby boy dinner, a bath and prepares Thomas to sleep. After all that, it's my turn to breastfeed Tom and sing lullabies until he falls asleep. Around 8pm Thomas is sleeping and he just wakes up the next day at 6am. AH-mazing! (It wasn't always like that, Thomas used to wake up every two hours during the night). So, as you can see Pierre is a very participative father and when he is not here with us, we really miss him.
I have to confess that these two days without Pierre's help were tough, but I believe I managed well, especially because Thomas is such an easygoing baby. I could cook, work a bit on my blog and take care of him (play, give food, bath, put to bed), but it isn't easy and you have to be very organize and determinate to do all this. Ah…. And I can't forget to say that you need a very good night sleep 😉 Just another thing you need in order to have a very productive day is to have a great meal that fills you with good nutrients and energy.
Speaking about good meals what about you make this delicious Italian Sausage Stuffed Butternut Squash for dinner tonight? This is one of my favourite recipes to make in my kitchen for many reasons. First, it makes my home smell really good when the butternut squash is roasting in the oven. Second, the stuffing is full of veggies, which makes this recipe very nutritional. Third, it's a complete meal with the addition of the protein from the fresh Italian sausage. On top of these three reasons, this Italian Sausage Stuffed Butternut Squash is very easy to make, it's flavourful, gluten-free, low-carb and paleo-friendly. Wow… All that in one single meal??? Please, sign me up!!!
Italian Sausage Stuffed Butternut Squash
This Italian Sausage Stuffed Butternut Squash recipe is the ultimate comfort food and it's a complete meal with lots of veggies and protein. It's also low-carb, gluten-free and paleo-friendly!
Author:
Primavera Kitchen
Ingredients
2 butternut squash*
2 tbsp extra-virgin olive oil
8 ounces fresh Italian Sausage
1 cup onion, diced
1 cup yellow bell pepper, diced
1 cup broccolis, cut in very small pieces
½ cup green stuffed olives
⅛ teaspoon ground chili pepper
Salt and pepper
Garnish with parmesan cheese
Instructions
Preheat oven to 350F.
Cut in half the squash lengthwise and remove seeds.
Season the cut sides with 1 tablespoon olive oil, salt and pepper.
Place the halved squash on a baking sheet, flesh side down.
Bake for 35-40 mins or until is tender.
Keep the oven on.
In a skillet, heat 1 tablespoon olive oil over medium high heat.
Add Italian sausage and cook for about 10 minutes or until the sausage is not pink any more. Set it aside.
In the same skillet, add onions and cook until onions are gold brown.
Add yellow bell pepper and broccoli, cover the skillet and cook until they are tender or about 5mins. Don't forget to stir occasionally.
Add olives, the cooked sausage, ground chili pepper, salt and pepper to taste. Mix everything to combine well.
Divide the stuffing mixture between the baked squash halves. Arrange the butternut squash in a greasy baking dish.
Bake about 10 minutes.
Remove from the oven and garnish with parmesan cheese.
Notes
The butternut squash I used in this recipe is a Brazilian butternut squash. That's why it looks a little different from the one we have in North-America. But the texture, the taste and the cooking time are the same.
Please, if you recreate this recipe, please take a picture and hash tag #primaverakitchen on 
Instagram
! I would love to see your version.
And if you like this  Italian Sausage Stuffed Butternut Squash recipe, please share with your friends and family. Do you wanna taste more? Subscribe to my newsletter and follow Primavera Kitchen on Twitter, Pinterest, Google +, Instagram and Facebook for all delicious recipes updates. As always, you are really appreciated for stopping by.
More recipes for you!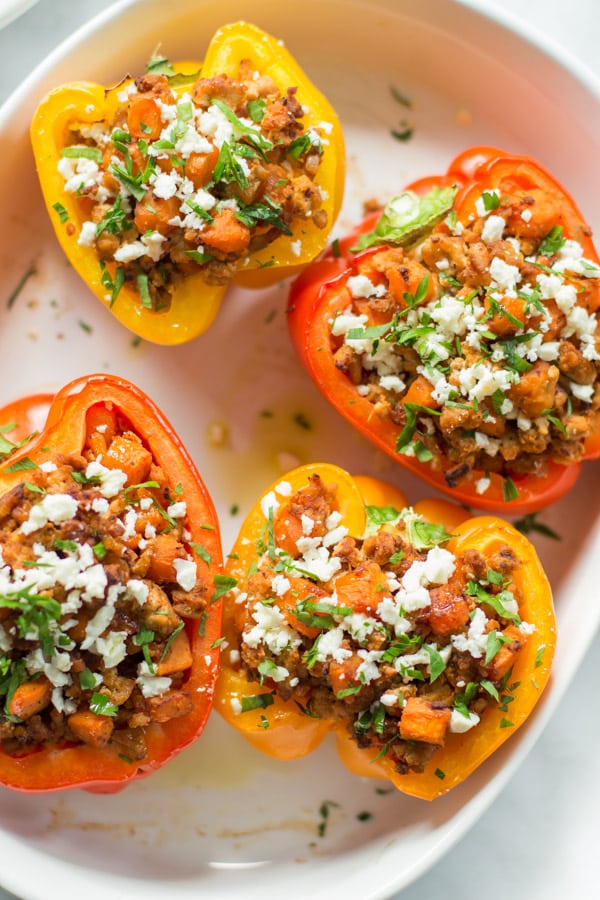 Ground Turkey Sweet Potato Stuffed Peppers
Southern Stuffed Sweet Potatoes