Ground Turkey Sweet Potato Skillet Recipe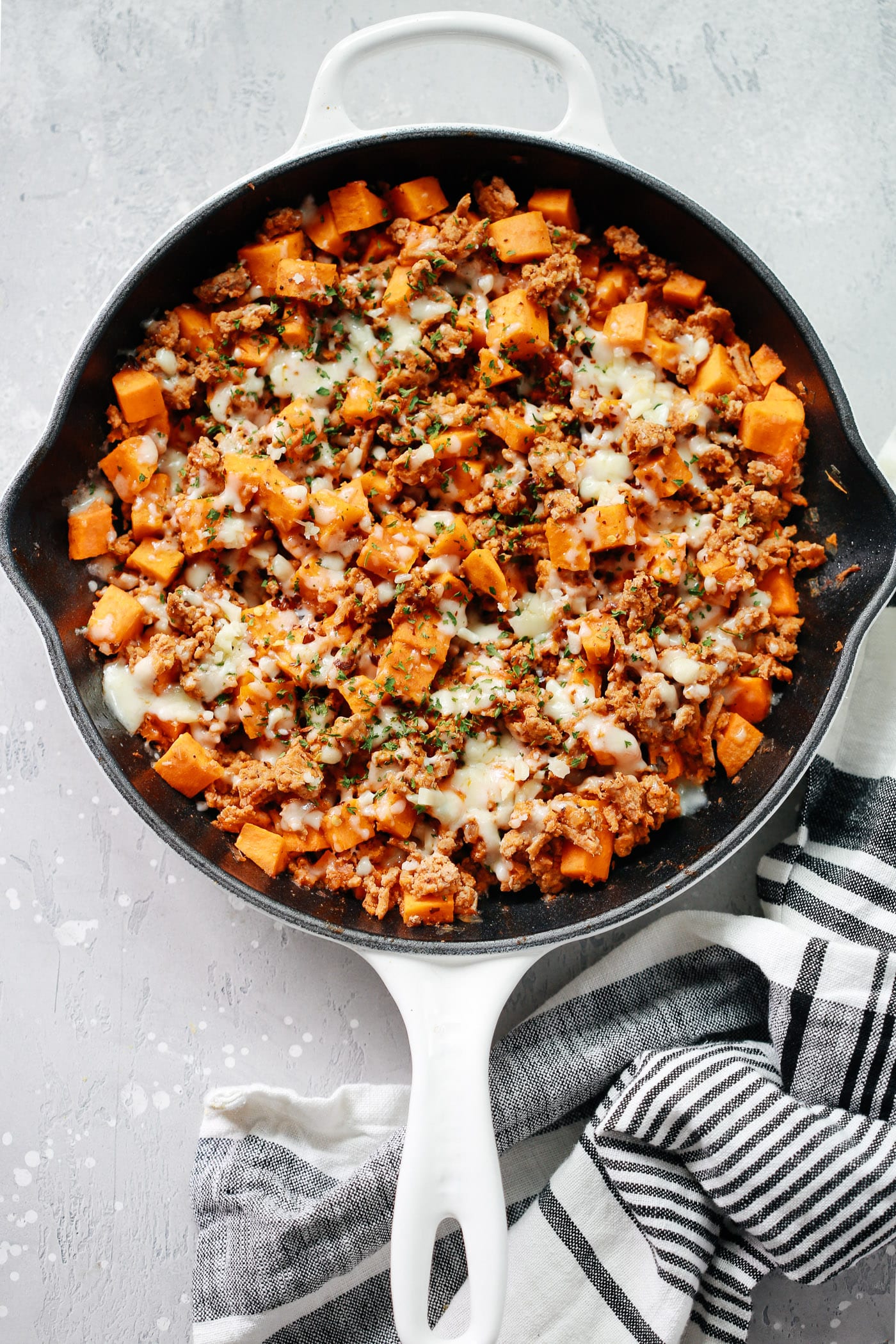 I don't know about you guys, but I am very excited for the holidays. This year I will be celebrating Christmas with my family in Brazil. Oh gosh, I can't even describe with words how much happy I am, especially because it will be my first Christmas with my family since 2010. Also, my family is getting bigger. My lovely sister is pregnant and the baby will probably due at the end of November. I'm so excited!!!! I'm gonna be an auntie.
I am leaving today for Brazil because I just cannot miss this special moment in our lives. It is my first nephew and her first son who will be with us for Christmas. How wonderful is that?? I just can't wait!! I am counting the hours until I get there. My husband will join me for the holidays, but for him, it will be his first Christmas without snow 😉 He is Canadian. Christmas and hot weather just don't go together. Of course, he will have a very different experience, but I am sure he will enjoy it!
We celebrate this special date pretty much like everybody else in the world. As I said, I am leaving today and I will come back in January. That's right!! I will be in Brazil for two months (YESSSSS… so happy!) which means I will be posting from the hot weather and where the sun shines there all year long 😉 Don't worry. I'll be posting new recipes every week from Brazil and I am sure you will love all the flavourful, healthy, and delicious recipes I'll be creating down there.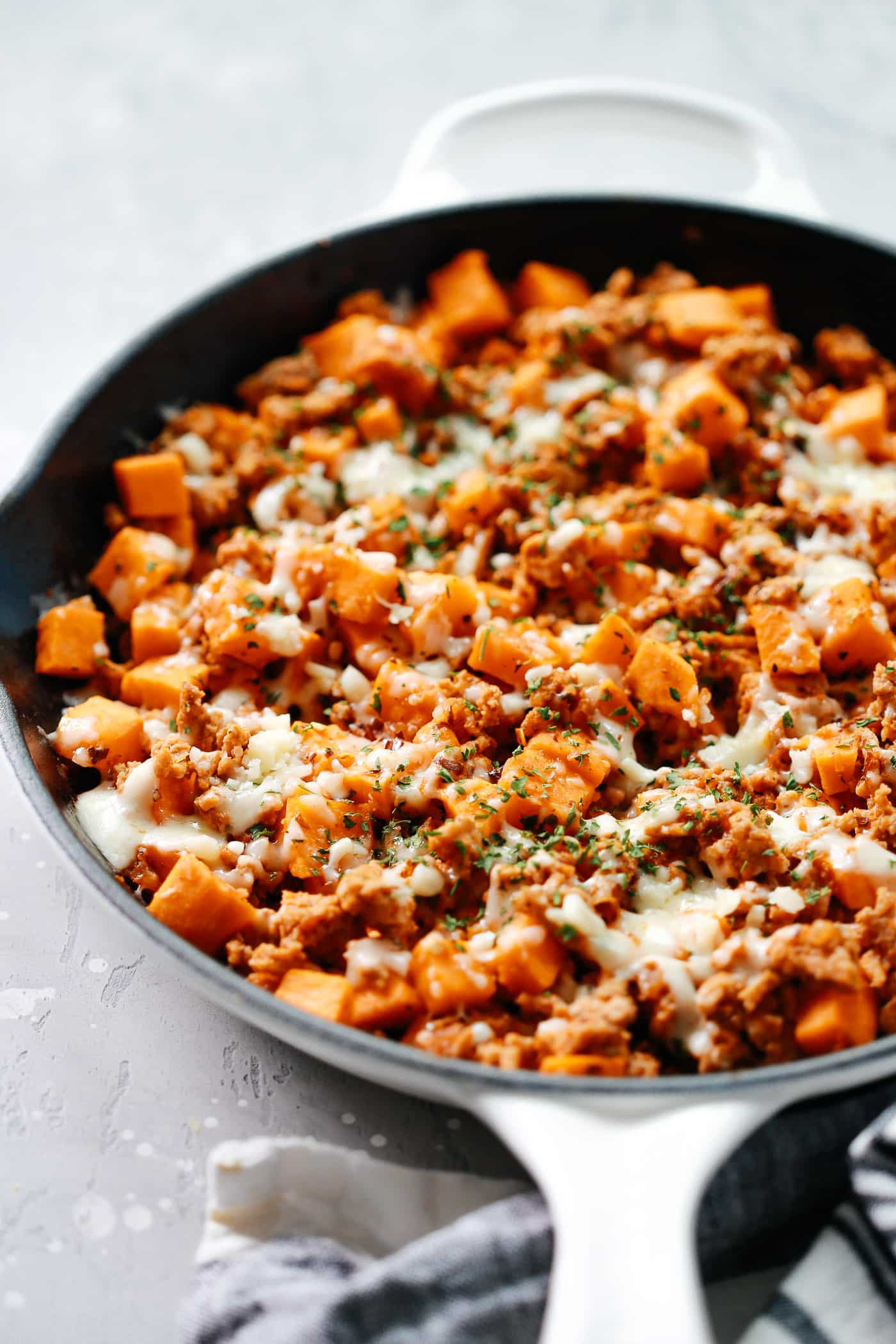 ---
This post was first published on November 12th, 2014, but this second part of this post was updated on July 23, 2018 with new pictures and more information about the recipe.  
When I make this recipe, it was a chilly Sunday day back in November 2014. I was thinking of making my low-carb and gluten-free zucchini lasagna or my eggplant lasagna (this recipe has a tutorial video too) because I was feeling like eating a comfort food.
But, I decided to make something using sweet potato because I had a lot of sweet potatoes in my kitchen. I thought to make my favourite sweet potato soup, but my husband said he felt like eating something with meat.
Then, I decided to make this gluten-free and one-pan ground turkey with sweet potato skillet to warm us up a little bit. It is so easy and quick to make and the best part: it's healthy. In half an hour, this dish will be ready to dig in and you will be amazed by the flavourful of it. It is definitely a delicious comfort food to share the joy.
5 reasons why I used a cast iron skillet to make this ground turkey sweet potato skillet:
If you are following Primavera Kitchen for a long time, you probably know that I love cast iron skillet recipes which are staples in my kitchen. But you probably are wondering why I love them so much. Here is why:
These types of cast iron skillets are well-seasoned and they have a naturally nonstick surface that makes all the difference while cooking healthy foods. It has no bad chemicals for you and as a bonus it gives off a little extra iron for you. As we all know iron is an essential mineral that we need to avoid anemia and keep healthy cells, skin, hair and nails.
They also are safe to use on all cooking surfaces such as a stovetop, in the oven, under the broiler, or on a barbecue.
Also cast iron skillets, are great to retain the heat and distributes it evenly for optimal cooking results.
They are very versatile, since you can use for sautéing, searing, pan-frying, baking, broiling, roasting, and more.
And last but not least, they are easy to clean. Here is a good post where I explain more about cleaning your cast iron skillet without damaging it. 
Cast iron skillets are the best types of cookware to have in your kitchen and I truly could not enjoy cooking with cast iron any more. Please, give it a try and once you give it a try, you won't regret. I promise! You can find lots of good option at Amazon.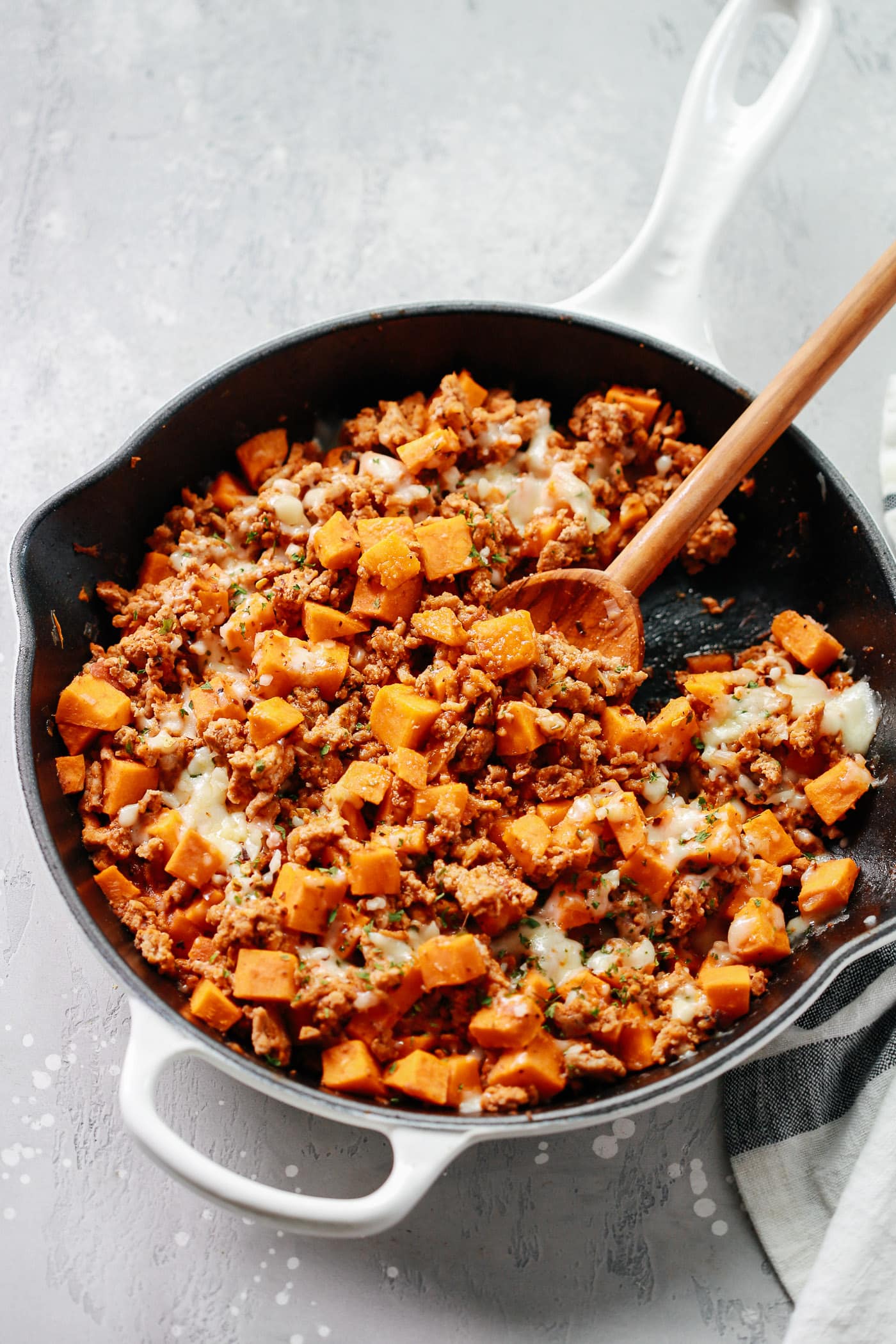 4 Tips to make the best Ground Turkey Sweet Potato Skillet recipe:
Don't overload your skillet with sweet potato because this veggie will take forever to cook and you may burn your food. If your cast iron skillet is 9-10 inches, the ideal amount of diced sweet potato is between 2-3 cups.
Cover the skillet with a lid and reduce the heat to medium to cook the sweet potato faster.
Or you can cook first the sweet potato and add it into the pan when the ground turkey is cooked.
You can also add other type of spices you have in your kitchen to make this recipe even more flavourful. According to some readers' reviews, this recipe is also good with such as cumin, curry, paprika, sage, chilli powder, onion powder, thyme, rosemary and hot sauce.
And some readers said that they added kale, spinach and mushroom as well, which make this recipe even more delicious and nutritious. I've already made this recipe with broccoli and green beans and it worked very well too. So, be open to add more veggies if you wish.
More cast iron sweet potato skillet recipes to try:
2. Ground Turkey Skillet with Green Beans: A gluten-free and low-carb recipe that is definitely easy to make and tasty meal for your family dinner.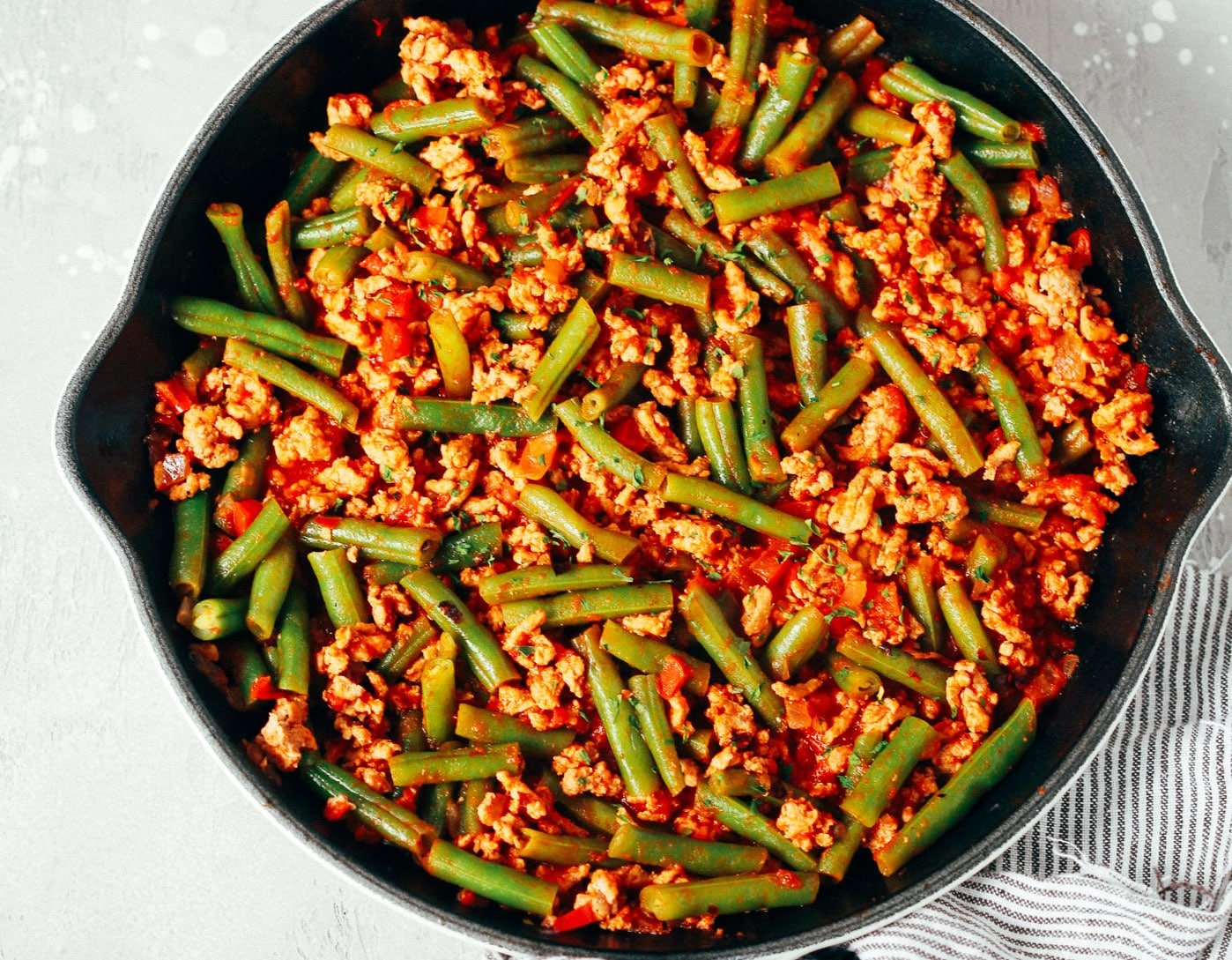 3. Ground Turkey Sweet Potato Lettuce Wraps: Fresh and flavourful, this recipe can easily be prepared in just 20 minutes.
4. Ground Turkey Cabbage Skillet: Easy  recipe that is perfect for a quick dinner during the week. It's made with ground turkey, cabbage, cheese and some spices.
2. Sweet Potato, Kale and Shrimp Skillet: You will need only 4-ingredient to make a quick, easy and healthy dinner meal.
Asparagus Sweet Potato Chicken Skillet recipe: Another gluten-free, paleo and whole30 one-pan meal that takes only 30 minutes to be on your table for dinner.
I hope you enjoy guys. Thanks a lot for reading. Want to browse all of my healthy recipe posts? Follow my Primavera Kitchen Board on Pinterest and Healthy Fall Recipes Pinterest Board. Please, if you recreate this Ground Turkey Sweet Potato Skillet recipe, take a picture and tag #primaverakitchen on Instagram! I would love to see your version. Thanks!
Watch Below How to Make this Ground Turkey Sweet Potato Skillet Recipe.
As a memory, I kept this original photo from 2014!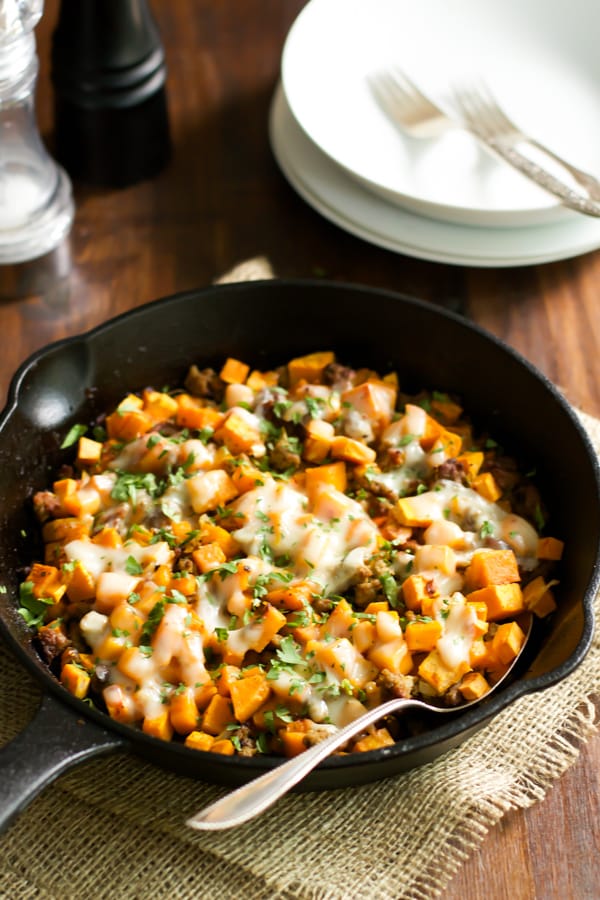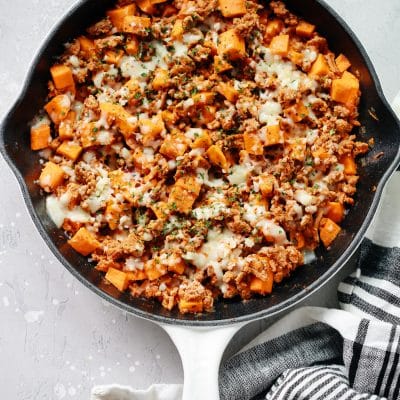 Ground Turkey Sweet Potato Skillet
This gluten-free and low-fat Ground Turkey Sweet Potato Skillet will be ready to dig in less than 30 mins and you will be amazed by the flavourful of it. It's a perfect ONE-PAN meal for your family to enjoy!
Ingredients
2 tbsp extra-virgin olive oil
1 lbs free range extra-lean ground turkey — (you also can use grass-fed ground beef)
1 tsp garlic clove — minced
½ cup onions — diced
½ cup yellow pepper — diced
1 ½ cups sweet potato — diced
Salt and freshly ground black pepper
A pinch of red chili flakes
½ cup shredded mozzarella cheese
Fresh parsley for garnishing
Instructions
Add ground turkey and garlic. Use a wood spoon breaking up the turkey while it cooks. Stir occasionally and cook for about 5 minutes.

Add onions and yellow peppers and cook until onions are soft.

Add the sweet potato, chili pepper, salt, and pepper.

Cover the skillet and cook until they are tender. Don't forget to stir occasionally. If necessary, add more olive oil or a little bit of water to cook the sweet potato faster.

While the sweet potato is cooking, preheat the oven to 400 degrees.

When the sweet potato is tender, add shredded mozzarella cheese and bring the skillet to the oven to melt the cheese* (see note below).

When the cheese melts, remove from the oven, and garnish with parsley.
Course: Main Course
Cuisine: American
Keyword: Ground Turkey Sweet Potato Skillet, one-pan meal, Skillet Recipe, Sweet Potato recipe
Nutrition Information
Amount per serving (1/4) — Calories: 306, Fat: 14g, Saturated Fat: 5g, Cholesterol: 66mg, Sodium: 186mg, Carbohydrates: 20g, Fiber: 3g, Sugar: 6g, Protein: 31g
If you make this recipe, please don't forget to snap a photo and hashtag it #primaverakitchen. I really want to see!
This post contains affiliate links. For more information, please visit my disclosure page here.
If you like this Ground Turkey Sweet Potato Skillet recipe, please share with your friends and family. Do you want to taste more? Subscribe to my newsletter and follow Primavera Kitchen on Twitter, Pinterest, Google+, Instagram, and Facebook for all delicious recipes updates. As always, I really appreciate you stopping by.
SaveSave
SaveSave