Baked chicken thighs are easy to make and taste great with your favorite sides. The skin is perfectly crispy and the thighs are so juicy. Easily made in one pan, no marinating needed, and full of flavour, you can make this recipe for dinner tonight in just 30 minutes!
If you love this Chicken Thighs Recipe, try this Easy Dijon Chicken Thighs Recipe and Caprese Chicken.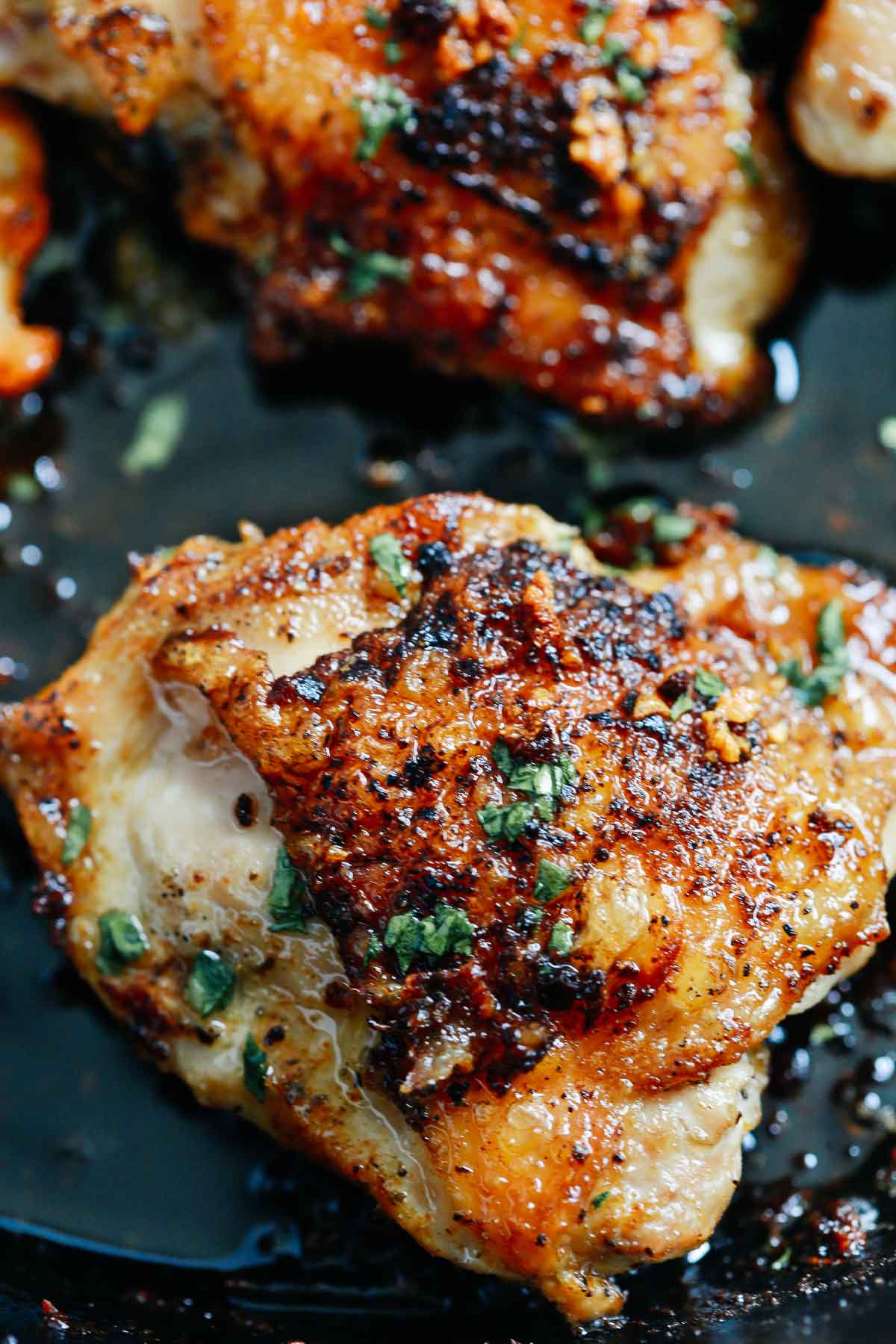 It doesn't take a lot of fancy ingredients to have a delicious meal. This baked chicken thighs recipe is just a good example for that.
Sometimes, simple is better and can be exactly what you need on a busy weeknight. In this chicken thighs recipe, the garlic butter sauce is amazing. I use this sauce as a base for so many recipes like my Baked Chicken Breast, Baked Chicken Drumsticks, Baked Salmon Recipe and Garlic Butter Lamb Chops Recipe, because it adds a lot of flavour to any dish.
The best part is that butter sauce goes well with any kind of protein too. I love it with baked pork chops and rainbow trout recipe and I also use this sauce a lot to make shrimp recipe and cod recipe. So good!
Plus, you may already have all of the ingredients you need to make this dish! That makes this baked chicken thighs recipe the perfect solution when you can't make it to the grocery store.
Also, if you like simple recipes like this chicken thighs recipe, please try these juicy chicken thighs recipes too: Easy Baked Dijon Mustard Chicken Thighs, Spicy Chicken Thighs and Chicken Thighs and Bell Peppers Skillet.
Subscribe for new recipes & a free e-cookbook
ingredients to Make Baked chicken thighs Recipe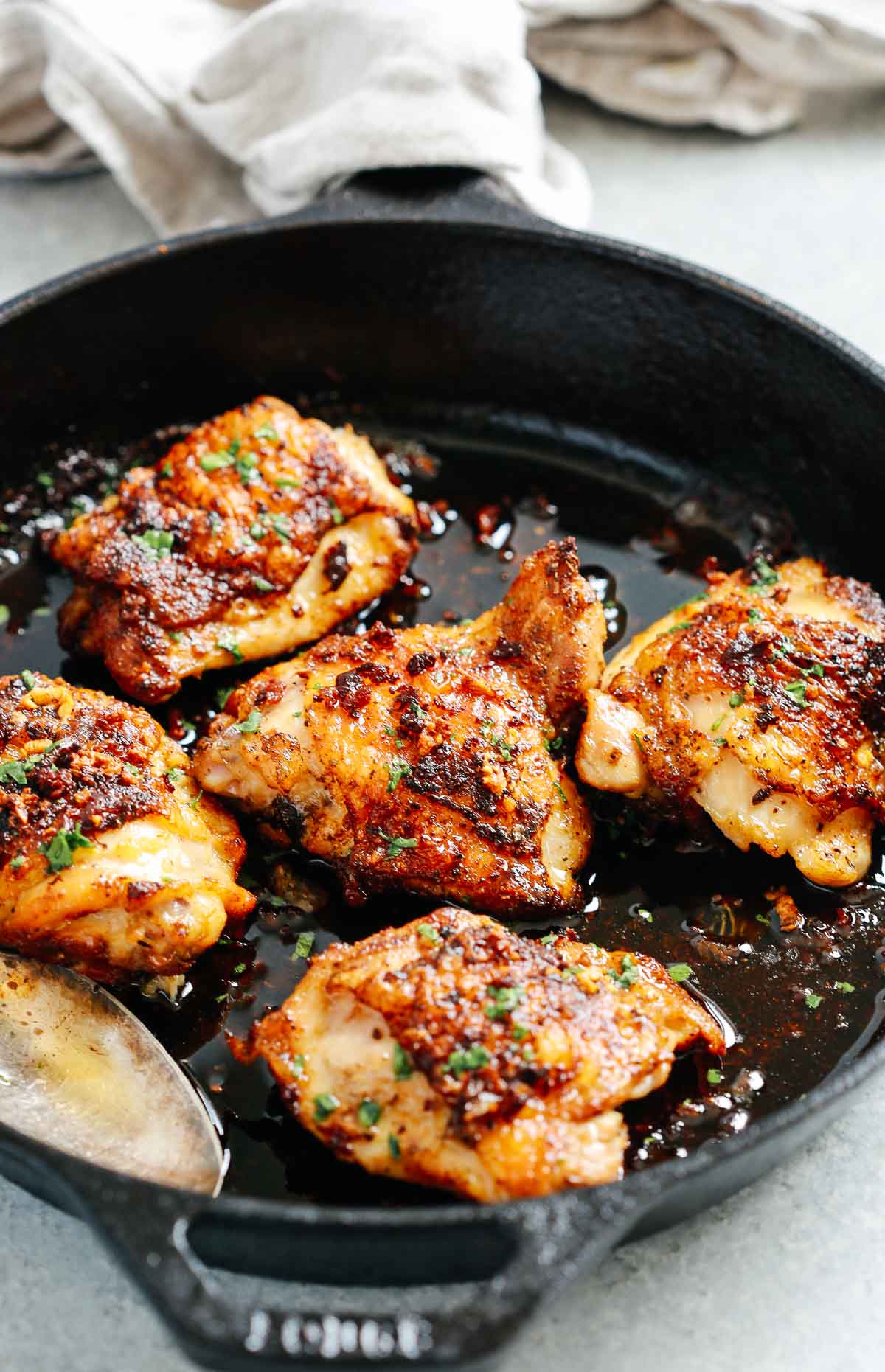 How to cook chicken thighs in the Oven
Just sear the meat to get the skin nice and crispy, then bake in a garlic butter sauce. It's that simple! Please don't skip the sauce if you want to enjoy these juicy baked chicken thighs recipe for dinner.
Prep the ingredients
Use a paper towel to pat dry the chicken thighs. This helps the seasoning stick to the meat better and get a nice sear. If your chicken thighs have moisture on them, they'll steam instead of sear in the pan.
Season both sides of the chicken thighs with salt and pepper.
Mince the garlic and chop the parsley, then set aside. So, you don't have to do it while cooking the chicken. Preparing everything in advance makes cooking go much smoother and easier.
Brown the chicken
Add olive oil in a skillet over medium-high heat. Place the chicken thighs in a single layer in a large cast iron skillet and cook until skin is golden brown and crispy. Don't move it around as it'll affect the sear you'll get. When the chicken thighs are ready to be flipped, they'll no longer stick to the pan.
If you'll be using a regular nonstick skillet, heat some oil in the pan first before adding the chicken thighs so it doesn't stick.
Make garlic butter and bake
On the side of the pan, melt the butter.
Add in the garlic and stir to combine. Cook a little longer, until it is fragrant. Make sure it's not on high heat as you don't want the garlic to burn.
Then, place the skillet in the oven and bake until the chicken thighs is cooked all the way through. If you are not using a cast iron skillet, transfer everything to a sheet pan so you can safely finish it in the oven. When in the oven, if your chicken thighs are getting very dark, cover it with a foil, until the chicken thighs are completely cooked.
Baste and serve
Remove from the oven and spoon the garlic butter over the chicken a few times to coat it.
Then, garnish with the chopped parsley and serve this chicken thighs recipe with your favorite sides.
how long to bake chicken thighs?
It depends if you have boneless or bone-in chicken thighs.
1. For boneless chicken thighs, it cooks quickly, in about 15 to 20 minutes, depending on the size of your chicken thighs.
2. For bone-in thighs, it needs at least 25 and 30 minutes to be fully cooked.
3. How do you know when this chicken thighs recipe is cooked? Just use a meat thermometer to measure the internal temperature of the thighs, which should be 165°F. We want to have a tender chicken, so don't overcook it.
Can I Use Boneless, Skinless Chicken Thighs Instead?
You can definitely swap for boneless skinless chicken thighs. You would not get that crispy skin though! If swapping for boneless skinless thighs, you can skip putting it in the oven to finish off as they cook in less than 20 minutes on the stovetop alone. Just sear each side for 5 to 6 minutes. Again, you can use a meat thermometer to check that the thighs have reached an internal temperature of 165F.
Should I Wash Raw Chicken?
I follow the recommendation of the government and for this reason I don't wash my chicken. The CDC (US Center for Disease Control and Prevention) website, says "Do not wash raw chicken. During washing, chicken juices can spread in the kitchen and contaminate other foods, utensils, and countertops". For more info, please click on the link and read more about it.
You only need take the chicken thighs out of the fridge and put it directly into the cooking pan. This is the safer way because the heat from cooking will eliminate bacterias. Of course, to be completely safe, the baked chicken thighs must have an internal temperature of 165F.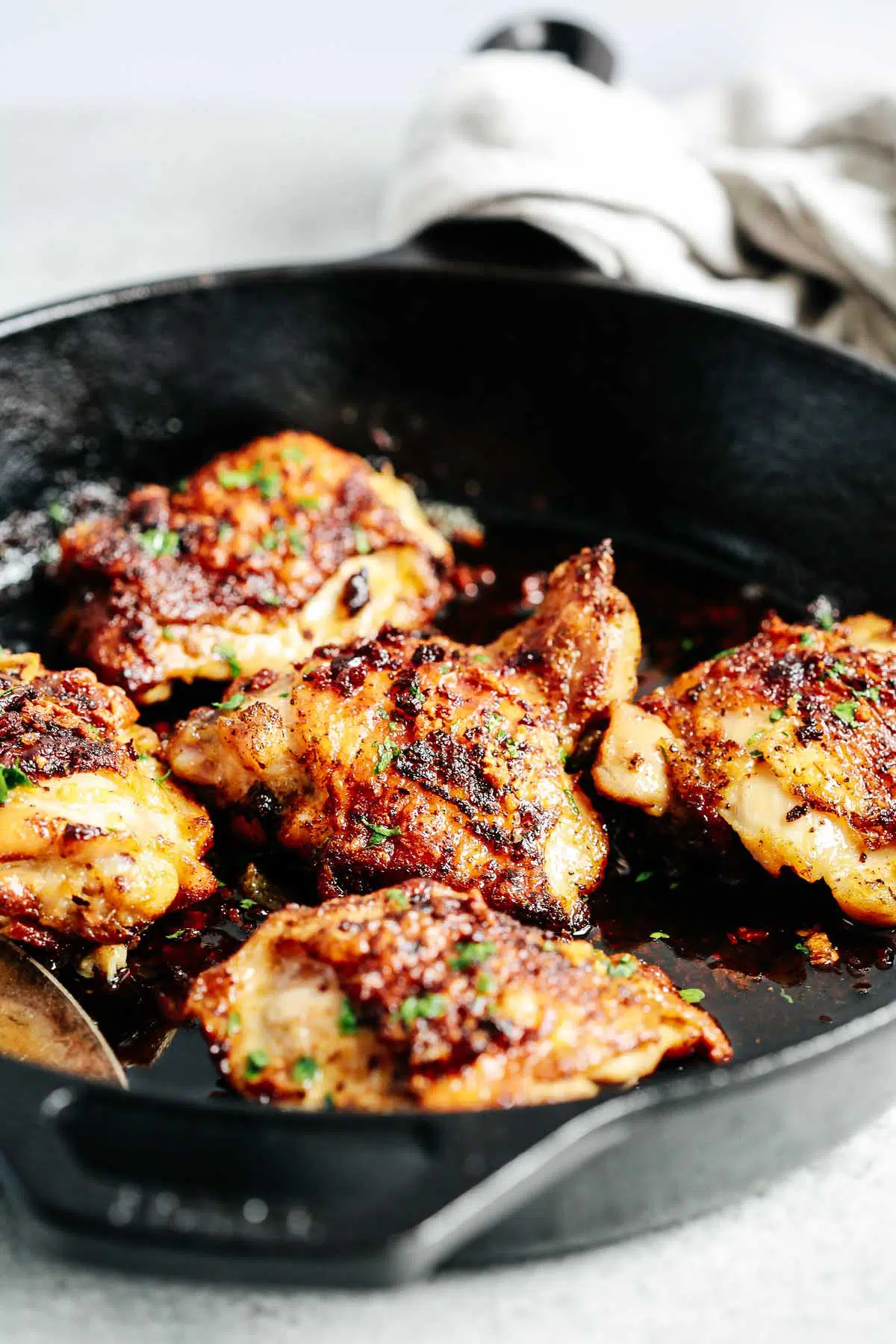 Frequently asked questions
What Is The Difference Between Chicken Breast And Chicken Thighs?
The biggest difference between the two is the fat since chicken thighs are fattier than the breasts. You probably know that fat adds a lot of flavor and that is why thighs are more flavourful than breasts. Chicken thighs are also moisture and have a bigger amount of calories than chicken breast.
Are Chicken Thighs Dark Meat?
Yes, chicken thighs are considered dark meat as well as drumstick (the legs of the chicken). The chicken breast and wings are classified as white meat.
Can Chicken Thighs Be Shredded?
Yes you can, but you need to use boneless skinless chicken thighs. The thighs are usually more moist than chicken breast but it works.
Can I Freeze This Baked Chicken Thighs Recipe?
You can definitely freeze baked chicken thighs. Simply allow it to cool and then transfer it to a freezer safe container or bag and freeze for up to 3 months.
When ready to enjoy, all you have to do is thaw it in the fridge overheat and reheat it. The skin might not be crispy when thawed and reheated but you can always place it under the broiler to crisp the skin back up.
Be sure to freeze this juicy baked chicken thighs with the garlic butter pan juices so it stays moist and flavourful when reheated.
Storage And Reheating
Transfer the baked chicken thighs to an airtight container within 2 hours for proper food safety. How long will baked chicken thighs last in the fridge? You can keep in the refrigerator for up to 4 days.
Reheat in the oven until warmed through. Or, cut the meat off the bone and heat in a pan on the stove in a little bit of oil. If you reheat it in the microwave, the skin will be soggy.
What Goes With This Recipe?
Because chicken thighs recipe is made with a simple garlic butter sauce, the side dish possibilities are endless! Here are a few ideas to get you started:
More Chicken Thigh Recipes
If you liked this baked chicken thighs recipe, try one of these other easy to make dishes. Plus, they're all one pan recipes just like this one!
Garlic Butter Baked Chicken Thighs
Garlic butter chicken thighs are easy to make and taste great with your favorite sides. Make this recipe for dinner tonight in just 30 minutes!
Instructions
Preheat your oven to 400F degrees. Move oven rack to center. Pat chicken thighs dry with paper towel and season all over with salt and black pepper.

Heat olive oil in a cast iron skillet (10-inch) over medium heat. Place the chicken thighs skin-side down and sear until the skin is golden and crispy. It's about 5 minutes (they will not be cooked through at this point).

Flip your chicken over once the skin is crispy. If your chicken thighs releases a lot of fat, dispose it using a spoon.

Place butter in the same skillet. When the butter is melted, add minced garlic. Stir the garlic around the pan for 30 seconds.

Place the whole skillet in the oven and bake for 30 mins for until chicken gets the internal temperature at 165°F.

When the chicken is cooked, spoon some of the garlic butter sauce over the top of each chicken thigh. Top with parsley before serving.
Tips
Click HERE to watch the web story.  
If you do not have an oven-safe skillet, you can transfer the chicken thighs to a baking dish to bake. 
To tell if the thighs are cooked, use an instant-read thermometer to measure the internal temperature of the thighs, which should be 165°F.
Make sure to get chicken thighs with the bone in and skin on for maximum flavour. 
To store: Store leftover thighs in an airtight container for up to 4 days. 
To reheat: Reheat the chicken thighs in the oven to keep the skin crispy. 
To freeze: You can freeze cooked chicken for up to 3 months in a freezer-safe bag. 
 
Nutrition Information
Serving:
1
/5
Calories:
214
kcal
(11%)
Carbohydrates:
1
g
Protein:
15
g
(30%)
Fat:
18
g
(28%)
Saturated Fat:
8
g
(50%)
Polyunsaturated Fat:
2
g
Monounsaturated Fat:
7
g
Cholesterol:
96
mg
(32%)
Sodium:
130
mg
(6%)
Potassium:
15
mg
Nutrition information is calculated using an ingredient database and should be considered an estimate.
Watch the Web Stories for chicken thigh recipes below: