Today I'm so excited to share with you some (a lot 🙂 pictures from our trip to London, Edinburgh and Dublin. I've always wanted to visit this part of Europe because I'm a huge fan of the English language and the culture as well since language and culture go hand in hand. I've been always fascinated by U.K. I guess it's because it's very different from the place I grew up (Brazil).
When my husband told me he needed to be in London for few days at the end of June I saw it as an opportunity to go with him and finally visit this amazing city. So, we started to plan it with three months in advance and we spent 16 days on vacation between London, Edinburgh and Dublin (the last city is not part of UK). Yes, we visited three countries in 16 days with our 16 months old boy and we survived… hahhaha! Actually, it was easier than we thought and we had lots of fun.
Because I was already carrying lots of things because of my son, I decided to leave my camera behind and take all the pictures only with my IPhone. Hope you guys don't mind.
---
LONDON
As I said above I've always loved London even though I've never been there. Before immigrating to Canada I was teaching English in Brazil and all the English books showed everything about London and the U.K. So, I already knew a lot about London and its tourist attractions. The minute I set foot on the ground of this city I loved it. It's also not difficult to love London, right? I mean it's one of the biggest cities in the world with lots of things to do for everybody's taste. It's multicultural like Toronto and it has some of the most popular attractions and sights to visit in the world. But I have to say that it's a very expensive city. So, if you want to visit it, you should start to save few months before.
We visited lots of historical buildings, castles, palaces, gardens, parks, zoo, towers, museums and so on. You can't believe how much we did in 6 days and with a little boy. We had lots of fun and it was one of the best experiences I've ever had in my life and I bet my husband and my son felt the same. So, let's scroll down and see some pictures 😉
Subscribe for new recipes & a free e-cookbook
The picture below shows the London Eye, which is located on the south bank of the River Thames in London. We loved it because we could see the city from the highest point in London. Fantastic!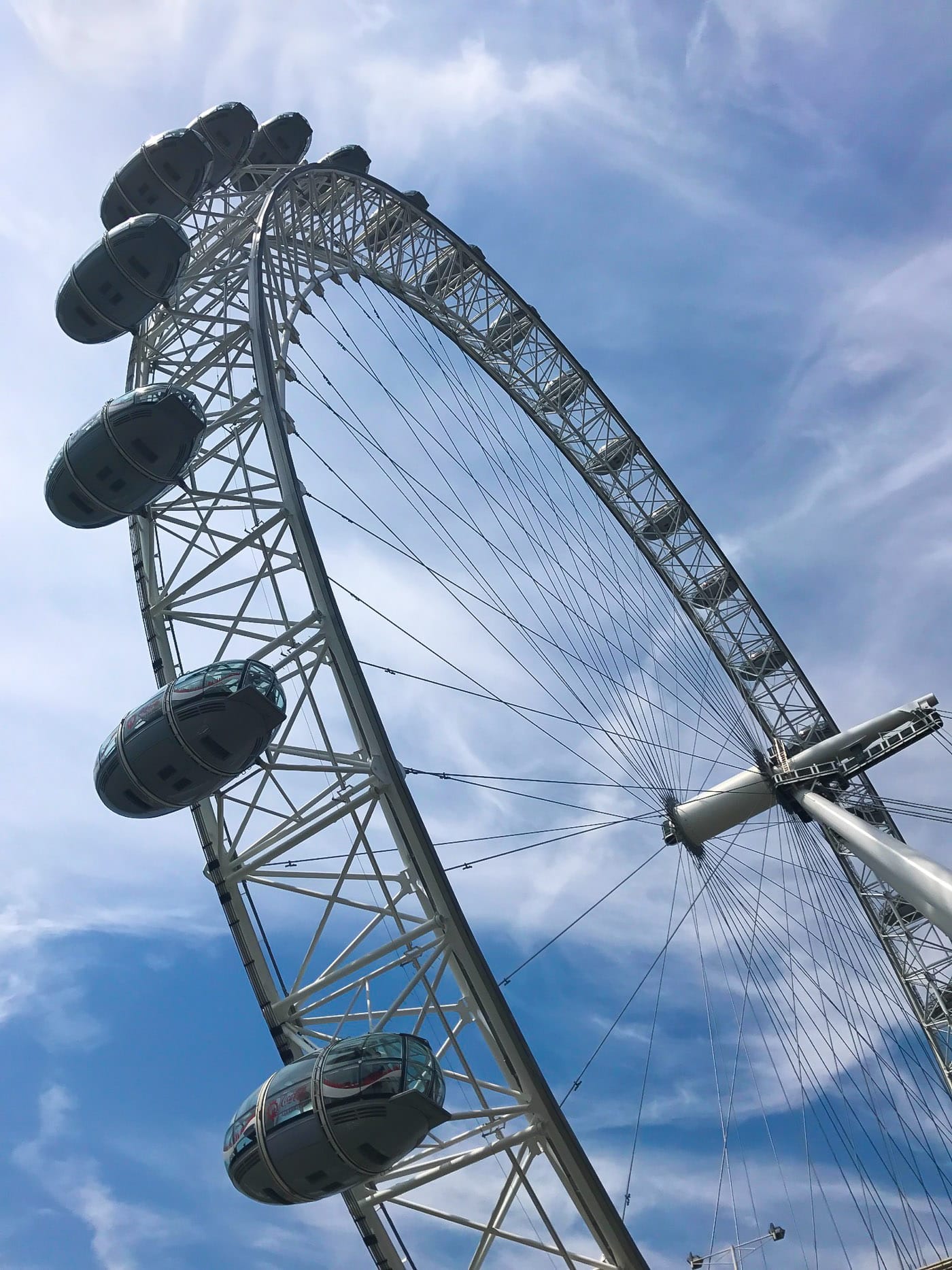 EDINBURGH
Edinburgh is an incredible city. And it was almost perfect if the weather wasn't so wet, grey and windy. We LOVED it SO MUCH! Definitely it doesn't look like any other place on earth because it has a fairy tale feeling. I felt like I was in the Medieval Times. There are lots of gothic building, a castle, palaces and beautiful streets and gardens. Though, it's the capital of Scotland, it's a cozy small city. It's great to relax and enjoy good food on a budget.
Another great thing about this incredible city is that you can walk almost everywhere. Almost everything you want to visit is close by and definitely it's a city for walking. If you love long walks you'll be very happy there, like I was. The Old Town is full of remnants of tunnels, caves and old haunted areas. However, kids less than 5 years old are not allowed in these places because of safety.
Unfortunately I didn't take lots of pictures there because it was heavily raining almost the entire time we were there. But every time we had a break from the rain I took picture. So, we here go! Scroll down and enjoy!
This Elephant House coffee place is famous for being one of the places where  J.K. Rowling wrote Harry Potter, siting in the back room of this place looking at the Edinburgh Castle.
This is the Edinburgh Castle in the middle of the Old Town. This place is gorgeous, but unfortunately the day wasn't very beautiful. It was vey raining a lot. But we had fun there.
We also visited The Royal Yacht Britannia, which was the yacht that The Queen and the Royal Family used to sail for over 40 years. It was such an incredible visit. Everything is exactly the way it was before and it's gorgeous!
And here is my little boy enjoying nature. He loved being outside and I call him "nature lover" 😉
Below it's The Palace of Holyrioodhouse or the Holyrood Palace, which is the official residence of the British monarch in Scotland, Queen Elizabeth II. Every summer she goes to Edinburgh and spends two week at this GORGEOUS palace.
This place below is called Holyrood Abbey Ruins and it was founded in 1128 by King David I of Scotland. It used to be a church and it's located next to the Holyrood Palace.
DUBLIN
Our last and third stop was in Dublin. What to say about the capital of Ireland? Well… It's a city full of authentic pubs, bars and also green spaces. We visited great parks there and the weather was good too. We also visited the zoo and it's incredibly big and has lots of animals. We loved the zoo and it's definitely a place to go if you're traveling with kids.
The downtown is gorgeous with lots of old and well-maintained buildings and we enjoyed a lot spending the days walking in the city centre. Another good thing about Dublin is that we didn't think it was expensive. In fact, it was the cheapest city of the three and we even shopped for some clothing for Thomas there. So, let's take a look at the pictures!
This is the very popular St. Patricks Church in Dublin. It has beautiful art in the windows.
I loved that lots of pubs have these beer kegs as tables! So fun!
We visited the Oscar's Bar & Kitchen and all the walls have some quote from Oscar Wilde. I love this one. He's one of my favourite English writers so I was very excited to be there 😉
Here is at the Oscar Wilde Memorial Park. I love this statue because it looks so real.
This is the house where Oscar Wilde was born. It's the only house in this street. So cool!
And below it is the most amazing historical library I've ever visited in my life. It's called Library of Trinity College Dublin and it inspired the library in the Harry Potter movies. You also can find the Book of Kells there, which is a 9th-century gospel manuscript famous throughout the world. It is a "must see" if you visit Dublin.
The Dublin Zoo is awesome, but sorry I just took pictures of the giraffes because I love them. Don't you think they are so elegant and gorgeous?
This was definitely our best vacation so far.
It was an amazing trip. The whole time we were there, we were talking about how blessed we were for being able to take our son to visit these fantastic cities. He's just 16 months old and he doesn't speak yet but I'm sure he appreciated this trip, because he was very happy and excited about every different things he saw there. I've never thought it was going to be difficult to take my boy along on international adventures, but I didn't think it was to going to be that good 😉 Now, we are excited to travel more with him and go back because there is still lots of places we want to visit. The world is so big and amazing. So, we better enjoy it, right?
I just have a big feeling of deep gratitude that we were able to spend quality time together for 16 days while visiting beautiful places. We created lots of lovely memories for our little family of three. And this is priceless!