This Taco Salad recipe will become your to-go meal when you want a quick and easy meal for lunch. It is loaded with tomato salsa, avocado slices, lettuces and of course taco seasoned ground beef. It's gluten free, low-carb, dairy free, Whole30 and made in just 20 minutes!
This easy Taco Salad recipe is one of my favourite ways to eat salad and to taste the wonderful flavors of Mexican cuisine in a very healthy way. I say healthy because this salad it's loaded with good ingredients and it's very low in calories and carbs.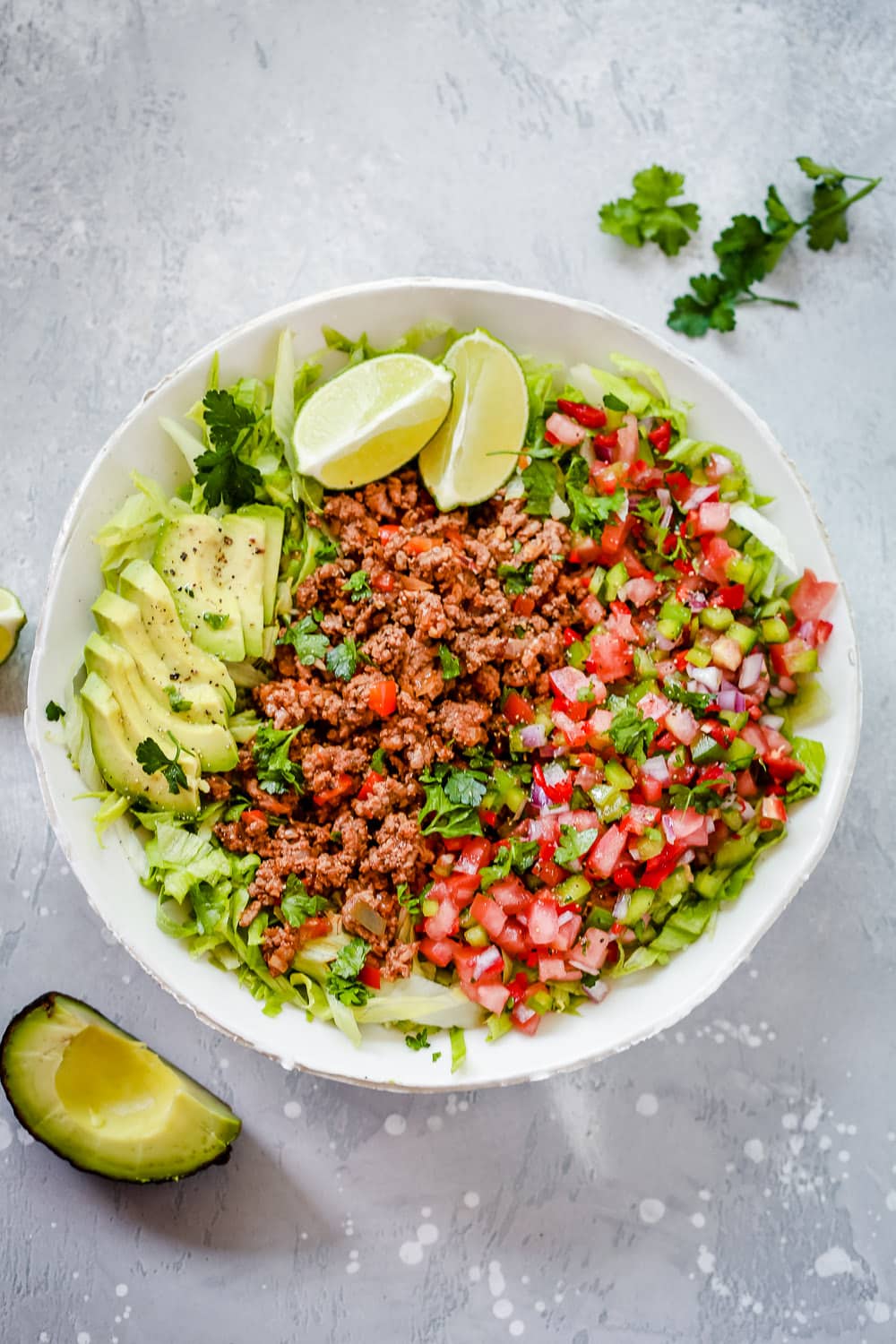 This healthy taco salad recipe is dairy-free and beanless, which makes a perfect salad recipe for those of you who are trying to eat more low-carb, paleo meals or doing Whole30. Also, if you love low-carb salads you'll love trying this Easy Mediterranean Salad Recipe and Grilled Chicken Avocado Salad.
I love that this Ground Beef Taco Salad recipe has lots of veggies, healthy fats, protein-rich meat, it's very colourful, quick to make and so tasty! And on top of that, this salad is so filling that you feel like you're eating a full meal.
If you want another take on the taco recipe, you've got to try my Taco Stuffed Sweet Potatoes, Instant Pot Taco Soup Recipe, Taco Stuffed Acorn Squash, and Easy Grilled Fish Tacos Recipe! They're some of my family's favourites. You'll absolutely love them!
Taco Salad Ingredients:
You can basically add whatever food you'd normally have with tacos or other Mexican dishes. I recommend you add almost everything you love from Mexican dishes. But because I want to create a ground beef taco salad that is dairy-free, paleo and Whole30 friendly, I decided to not add cheese, sour cream and black beans in this salad.
Taco Meat Ingredients
Olive oil — Extra virgin. You can also use avocado oil!
Ground beef — Select lean ground beef at the grocery store. Grass-fed and organic options are also preferable.
Veggies — White onion, red bell pepper and fresh garlic.
Homemade taco seasoning — Paprika, onion powder, coriander, chili powder, cumin, dried oregano, cayenne pepper, salt and pepper. You can also add a little bit of hot sauce.
Broth — I use chicken broth. Vegetable stock can also be substituted.
Salsa Ingredients
Tomatoes — I like using Roma tomatoes, but you can use any variety you've got on hand such as cherry tomatoes!
Vegetables — Red onion, green bell pepper and jalapeno pepper.
Cilantro — Fresh, chopped cilantro adds gorgeous color and tastes amazing.
Lime juice — Adds delicious, zesty flavor!
Garlic — One fresh clove, finely minced.
Seasonings — Salt and pepper to taste and even garlic powder if you prefer.
Salad Ingredients
Greens — Chopped romaine lettuce, or preferred leafy greens such as iceberg lettuce.
Avocado — A bit of diced avocado adds creaminess and healthy fats!
Seasonings — Salt and pepper to taste.
Garnish/Toppings — Fresh chopped cilantro and lime wedges. Optional: green onions and jalapeño.
For this recipe I'm not adding tortilla chips, tortilla strips or corn just because I want to make a Whole30 and low-carb salad. But feel free to add them, if you prefer.
Subscribe for new recipes & a free e-cookbook
How to Make Taco Salad
Prepare taco meat:
Measure olive oil into a large pot or a large skillet on the stovetop and turn heat to medium-high heat. Add ground beef, crumble with a spoon and allow it to brown completely.
Reduce heat to medium-low. Drain grease if there is a lot. Add diced onion and red bell pepper and cook these three ingredients together until the onion softens (5-8 minutes).
Stir in minced garlic and sauté 30 seconds longer. Then mix in all of your seasonings!
Last, add your chicken broth and bring everything to a boil. Once the mixture is boiling, reduce heat down to low and cover the pot with a lid.
Simmer 20-30 minutes and stir every once in a while to prevent burning/sticking.
Make your salsa:
Cut up your tomatoes, veggies and cilantro. Finely mince garlic and place all ingredients together in a large bowl.
Add lime juice and mix well. Then, add salt and pepper to taste!
Assemble salads:
Chop lettuce and slice avocado. Portion leafy greens and avocado into serving bowls, then add ground beef mixture and fresh pico de gallo salsa.
Add a bit more salt and pepper, if desired. Garnish each bowl with a lime wedge and chopped cilantro. Enjoy!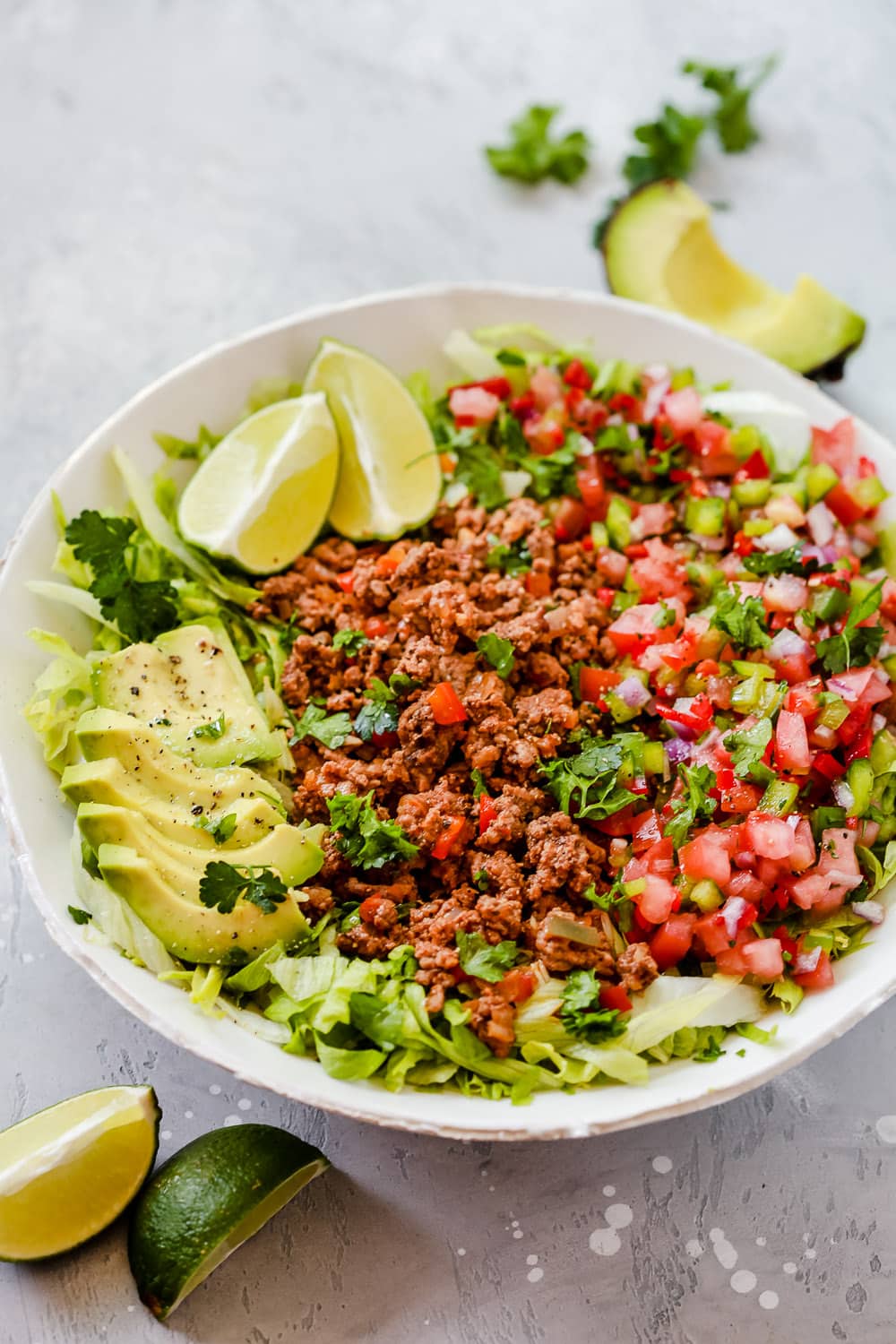 Recipe Tips
I enjoy this salad even more when I take a little extra time to chop everything up really small. You'll get a bit of everything in each bite, plus this makes salad easier to eat.
If you want to save some time by using a pre-mixed packet of taco seasoning from the store, you totally can! Just be sure to get a whole30 approved brand, because many store-bought seasoning blends have fillers.
When making this salad ahead of time, don't dice up the avocado right away as it will brown when exposed to the air. Cut it up once you're ready to eat your salad.
Fresh lime juice tastes WAY better than bottled. The flavor is much zestier! Whenever possible, squeeze fresh lime juice over your salad and avoid the bottled stuff.
For extra heat, add some slices of jalapeno, if you prefer.
If you are not doing Whole30, you can top your salad with shredded cheese like cheddar cheese and sour cream salsa.
How To Store
To Store: This salad will keep longer if you refrigerate meat, salsa and greens separately. Place each into an airtight container and combine once you're ready to eat! When kept in their own containers, ingredients will stay good for about 4 days.
To Reheat: Another benefit of storing everything separately? You can reheat your ground beef, if desired! Pop it in the microwave or heat in a small pot or pan on the stovetop until warmed through completely.
Frequently Asked Questions:
Can I use a store bought salsa and taco seasoning in this salad?
Of course you can. But for this recipe to be Whole30, you'll want to find a Whole30 approved salsa and approved taco seasoning like this one, which do not contain sugar or other ingredients that aren't allowed on the Whole30 diet. If you're not on the Whole30 diet, feel free to use your favourite salsa and taco seasoning brands! If you want to change things up, try my 5-Ingredient Peach Salsa Recipe!
Can I make this taco salad ahead of time?
Yes! Absolutely. I normally don't make this salad ahead of time because I think it's so easy and quick to make that I prefer to make 30 minutes before dinner. But if you prefer, you can make the salsa and the ground beef mixture ahead of time and store them in an airtight container (this one is my favourite food container storage) and place them in the fridge for up 4-5 days. When ready to eat, heat up the taco meat and add to your salad with the salsa.
What are taco salads made of?
They're generally made with chopped greens and some kind of meat (often ground beef) cooked with taco seasonings! And of course, toppings that you'd generally put on a taco are also great on salad.  
Is this taco salad healthy?
This particular taco salad recipe is very healthy! It's Whole30, gluten free, dairy free and low-carb. Of course, it's possible to make an un-healthy salad. It all depends on the ingredients and toppings you use.
Can I use ground turkey in taco salad?
Ground turkey (or ground chicken) can absolutely be substituted for ground beef in this recipe! You might be able to taste a slight difference, but there are so many delicious seasonings in this recipe that it really won't matter much!
More Salad recipes to try:
You'll love these 5 incredible salad recipes that I choose for you because they are just like a complete meal. You'll feel satisfying and full of energy.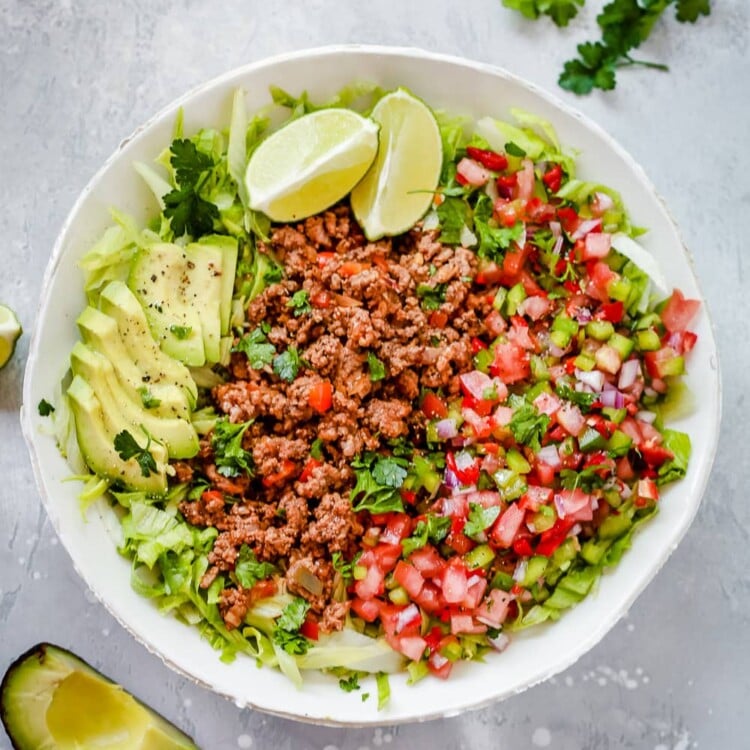 Taco Salad Recipe
This Ground Beef Taco Salad recipe will become your to-go meal when you want a quick and easy meal for lunch. It is loaded with tomato salsa, avocado slices, lettuces and of course taco seasoned ground beef. It's gluten free, low-carb, dairy free, Whole30 and made in just 20 minutes!
Ingredients
Instructions
For the Taco Ground Beef
In a large pot or

Dutch oven

, heat olive oil over high heat. Add the ground beef and cook it until it gets completely brown. Set it aside.

Reduce the heat to medium-low, add onion and bell pepper. Cook until onions are soft and translucent. It's about 5 to 8 minutes.

Add garlic and sauté for 30 seconds. Add all the spices (paprika, onion powder, coriander powder, chili powder, cumin powder, dried oregano, cayenne pepper, salt and black pepper).

Stir everything together and bring cooked ground beef to the pot. Give a stir and add chicken stock.

Bring the ground beef mixture to a boil and then, lower the heat to low, cover with a lid and simmer for 20-30 mins (the longer, the better), stirring occasionally to avoid burning.
For the Salsa
Combine all the ingredients in a bowl. Cover tightly and refrigerate for up to 5 days.
For the Salad
In a large salad bowl, add lettuces, sliced avocado, salsa and half of the cooked ground beef.

Squeeze some lime on top of the salad and season it with salt and pepper if necessary.

Garnish with fresh cilantro. Enjoy!
Tips
For more Salad recipes? Here is a list with lots of low-carb, gluten-free and Whole30 salads recipe for you to make during your busy week.
Chop ingredients up nice and small so you get a bit of everything in each bite.
If you want to use pre-made taco seasoning, make sure to get a whole30 approved one with no filler ingredients.
If making this ahead of time, you should hold off slicing the avocado as it'll brown as it oxidizes. 
For the best flavour use fresh lime juice.
To store: If this salad will be your lunch at work, bring the salsa and avocado in a separate container to avoid the salad getting soggy. Everything will keep well when separate for up to 4 days.
To reheat: You can reheat the beef separately in the microwave from the salsa and lettuce. 
Nutrition Information
Serving:
1
/4
Calories:
348
kcal
(17%)
Carbohydrates:
18
g
(6%)
Protein:
26
g
(52%)
Fat:
18
g
(28%)
Saturated Fat:
6
g
(38%)
Polyunsaturated Fat:
1
g
Monounsaturated Fat:
3
g
Cholesterol:
78
mg
(26%)
Sodium:
382
mg
(17%)
Potassium:
856
mg
(24%)
Fiber:
7
g
(29%)
Sugar:
7
g
(8%)
Vitamin C:
207.1
mg
(251%)
Calcium:
60
mg
(6%)
Iron:
4.7
mg
(26%)
Nutrition information is calculated using an ingredient database and should be considered an estimate.
And if you like this Ground Beef Taco Salad recipe, please share with your friends and family. Do you want to taste more? Subscribe to my newsletter and follow Primavera Kitchen on Twitter, Pinterest, Google+, Instagram, and Facebook for all delicious recipes updates. As always, I really appreciate you stopping by.