This
spaghetti squash with sun-dried tomatoes and basil
is a flavorful gluten-free and low-carb recipe for your busy weekday dinner.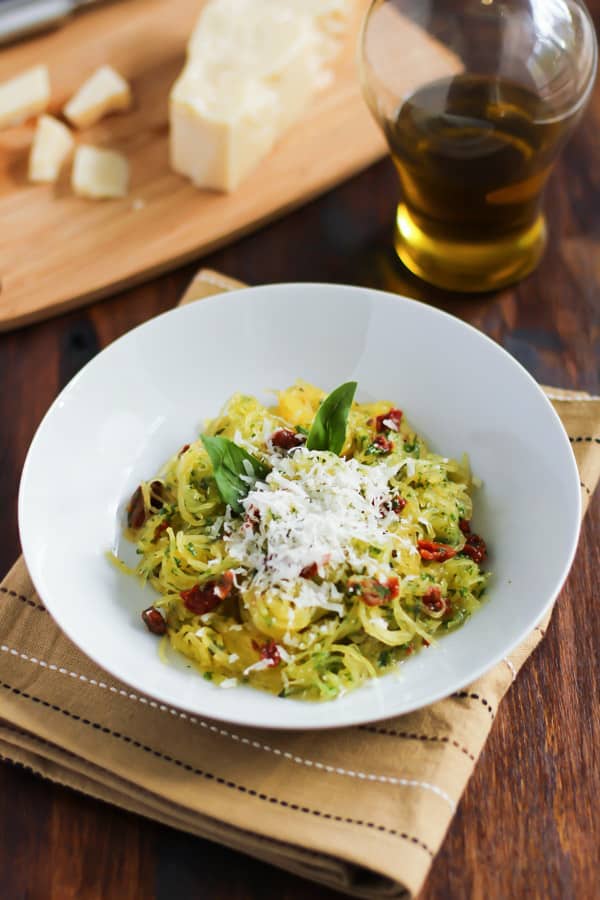 Greetings from Brazil. I arrived last Friday and the sky is so blue and the sun is very hot. I just love this tropical weather!! I had a blast meeting up all my family, especially my sister who will have her baby at the end of this month. Yesterday, in the evening when everybody was in the living room talking and laughing, I was just observing them and it sort of felt like a dream and I couldn't believe I was here, back home, participating with everything.
My family and I always talk to each other by Skype or Facetime and although Internet really helps us to stay close and in touch, nothing ever will replace the joy of being in person with my family. So, appreciate every single moment we have with our family because they are priceless. Family is family and no matter what you do, they will be always there for you. They will always support you and most importantly, they will always love you for what you are becoming and not for what you were 😉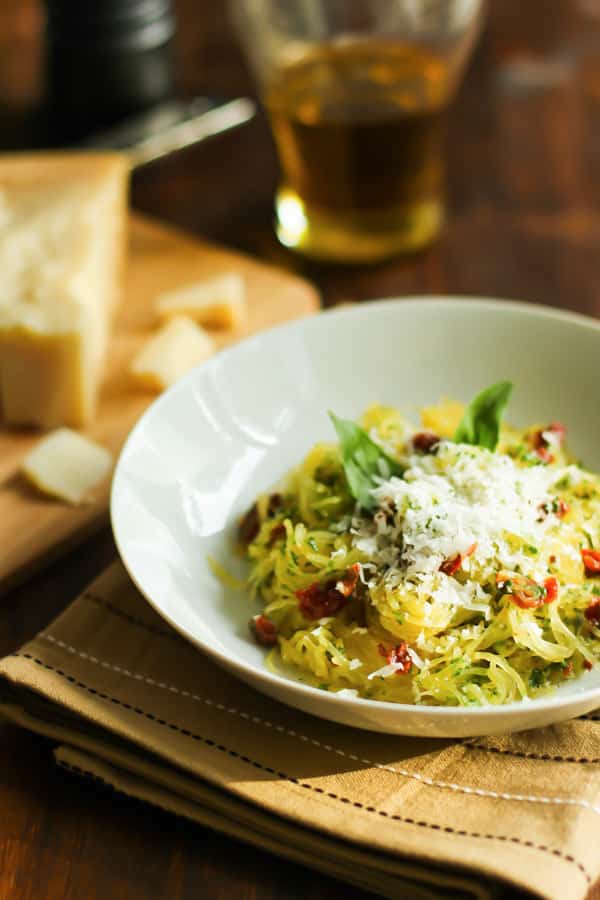 Now let's talk about this beautiful Spaghetti Squash with Sun-dried Tomatoes and Basil recipe. I have to be honest with you guys. Before living in Canada, I've didn't know spaghetti squash even existed. No kidding. Seriously. In Brazil, I guess we don't have this vegetable or at least I've never seen one anywhere I lived or visited (please, correct me Brazilians friends if I am wrong). Of course, we have pumpkins and they are so delicious but spaghetti squash is new to me.
The most interesting part for me was making the squash look just like spaghetti using a fork. I really thought it was a joke when one of my students told me that. She explained everything about this vegetable and I was really curious to give it a try. So, I tried it many times and I loved it, especially because it goes well with many different types of toppings. I've made Spaghetti Squash Casserole Recipe, Pesto Spaghetti Squash with Shrimp, and Whole30 Low-Carb Spaghetti Squash With Meatballs. You've got to try these recipes!
Today, I'm sharing with you my favorite spaghetti squash recipe, using simple ingredients and you can't go wrong with these combinations like sun-dried tomatoes, olive oil, garlic, and parmesan… hum YUM!! I ended up with a very light and flavourful dish. I just loved it so much.
Subscribe for new recipes & a free e-cookbook
If you're a fan of sun-dried tomatoes, then you'll also have to try my Sun-Dried Tomato, Spinach and Cheese Stuffed Chicken, Sun-dried Tomato Pesto Cauliflower Salad, and Sun-dried Tomato Pesto Shrimp Asparagus Skillet.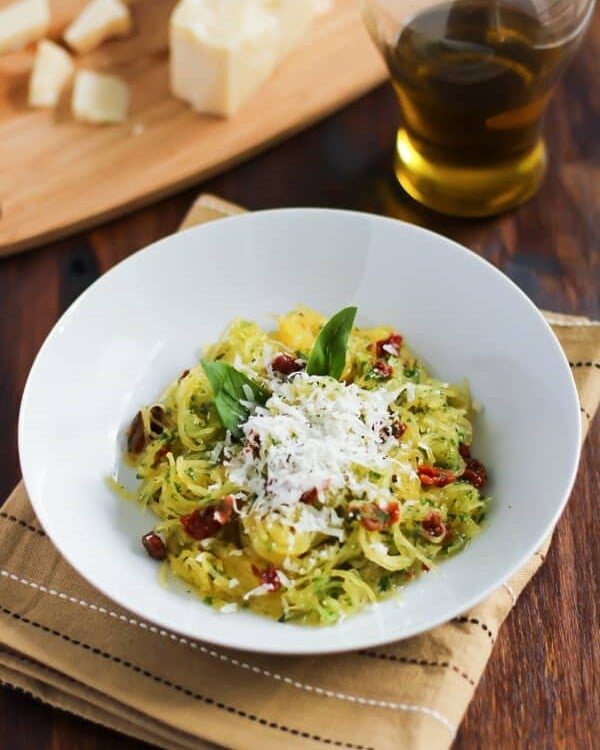 Spaghetti Squash with Sun dried Tomatoes and Basil
This spaghetti squash with sun-dried tomatoes and basil is a flavorful gluten-free and low-carb recipe for your busy weekday dinner.
Instructions
Preheat the oven to 375F.

Pierce the entire spaghetti squash a lot with a fork.

Place the spaghetti squash in a baking dish and bake for an hour.

Remove from the oven and let it cool.

Cut spaghetti squash in half lengthwise.

Scoop the seeds with a spoon.

Gently scrape the sides of the squash with a fork to shred the pulp into strands and place in a bowl.

In a saucepan, add extra olive oil over medium heat.

Add the shallots and garlic and sauté until the shallots are soft and golden.

Add the basil leaves and sun-dried tomatoes. Sauté for few minutes.

Add the cooked spaghetti squash and toss well.

Season with crushed red pepper, pepper, and salt to taste and adjust seasoning if necessary.

Add the cheese just before serving.
Tips
You can buy ready-made spaghetti squash noodles if you want to save some time.
If making spaghetti squash noodles from scratch and you have issues cutting a squash opened, you can microwave it to soften.
You can use dried sun-dried tomatoes or sun-dried tomatoes in oil.
To store: Store the recipe in an airtight container in the fridge for up to 3 days.
To reheat: You can enjoy the dish straight from the fridge or gently toss in a skillet.
Nutrition Information
Serving:
1
/4
Calories:
204
kcal
(10%)
Carbohydrates:
22
g
(7%)
Protein:
7
g
(14%)
Fat:
11
g
(17%)
Saturated Fat:
1
g
(6%)
Polyunsaturated Fat:
1
g
Monounsaturated Fat:
3
g
Sodium:
139
mg
(6%)
Potassium:
302
mg
(9%)
Fiber:
4
g
(17%)
Sugar:
7
g
(8%)
Nutrition information is calculated using an ingredient database and should be considered an estimate.
Thanks a lot for reading. Want to browse all of my healthy recipe posts? Follow my Primavera Kitchen Board on Pinterest and Healthy Fall Recipes Pinterest Board.
If you like this Spaghetti Squash with Sun-dried Tomatoes and Basil recipe, please share with your friends and family. Do you want to taste more? Subscribe to my newsletter and follow Primavera Kitchen on Twitter, Pinterest, Instagram, and Facebook for all delicious recipes updates. As always, I really appreciate you stopping by.