These Sun-dried Tomato Pesto Cauliflower Salad is packed with flavour and perfect for a quick healthy lunch during your busy week.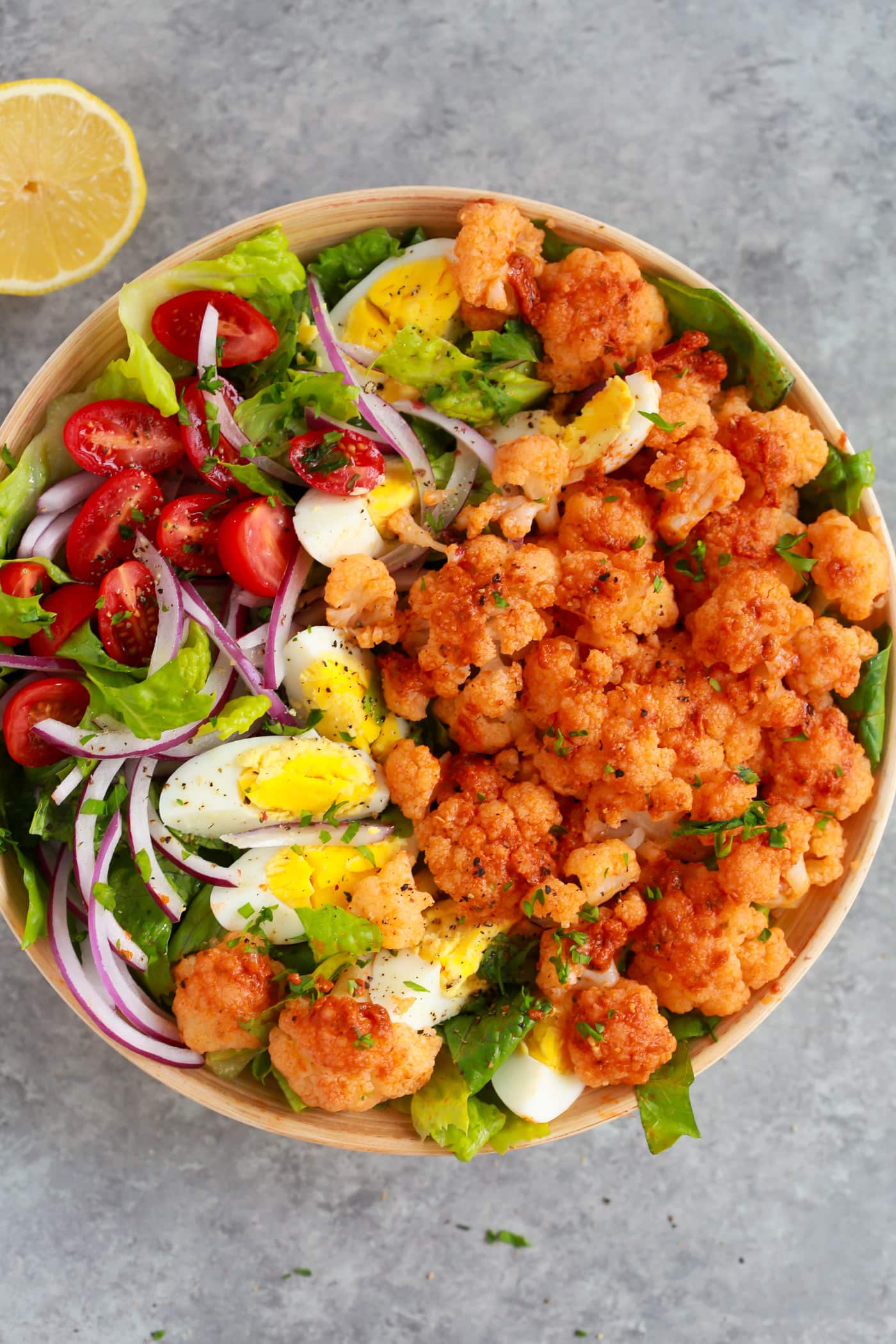 Today I'm writing this post in front of a beautiful view: the Lake Champlain. My son and I are in Quebec at my parents-in-law's cottage while my husband is travelling for work. This way Thomas has the chance to spend more time with his grandparents and I have the pleasure to be in such a beautiful place, enjoying the last few weeks of summer.
The days here are gorgeous: blue sky, sunny days and warm weather. Not to mention the beautiful landscape. My mom-in-law takes care of her garden so well that you would love to see all the beautiful flowers she grows here. Not only flower, she also has a beautiful vegetable garden that produces very juicy tomatoes, huge cucumbers, zucchinis, garlic, onions and fresh basil. I've been showing everything on my Instagram Stories. Hope you are following me there to make sure you don't miss anything 😉
However, the downside of being here is the lack of sleep I'm getting. Yes, I'm not sleeping well these past few days because my son is waking up a lot during the night. He's a very good sleeper, but every time he's out of his routine and especially his bedroom he doesn't sleep well. At least my parents-in-law have helped me a lot during the day and sometimes I can even take a short nap in the afternoon.
Thomas is having so much fun here. He loves being outside exploring his world. He's definitely a nature lover. I love seeing him running around, playing with his grandma's flowers and in the lake too. He likes to be on the shallow part of the lake because he prefers to feel his feet on the ground since he doesn't like to be floating on the water just yet 😉
Subscribe for new recipes & a free e-cookbook
Did I mention that my parents-in-law love cooking? NO??!! How come I didn't mention that before? They cook so well and everything they do is from scratch. My mouth is watering just thinking about all the amazing food we've been eating here. But the good news is: the recipe I'm sharing today is just as good and you can make in your kitchen too. How about that?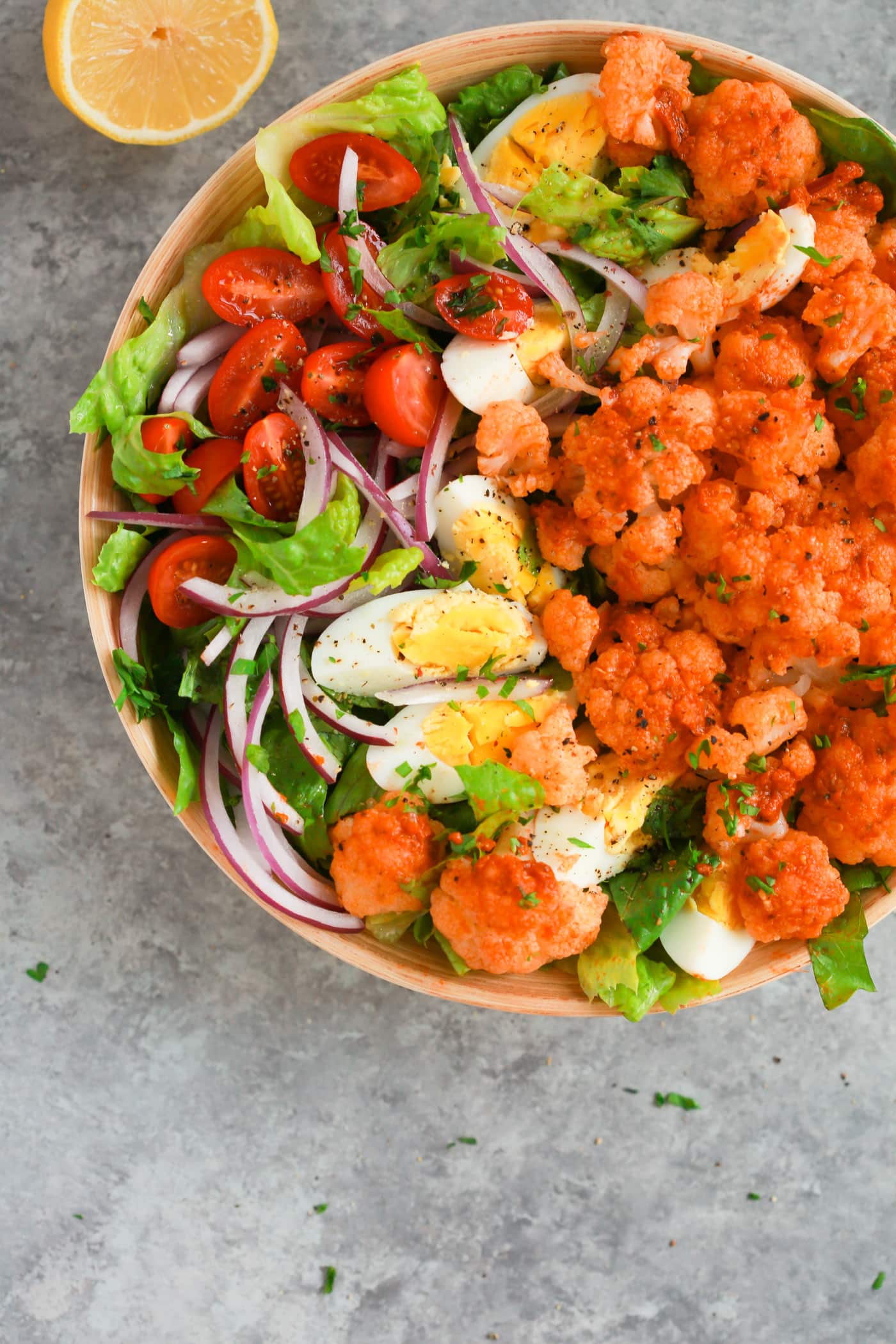 I love cauliflower, but I know that many people don't like it because they think it not very flavorful and I get it. Sometimes if you don't season it well you may end up with a boring side dish. However, you'll never have this problem with this salad because this sun-dried tomato pesto just brings this cauliflower salad to another level. I love how flavour-packed sun-dried tomatoes are and use it all the time like in my Sun-dried Tomato Pesto Shrimp Asparagus Skillet, Italian Sausage Sun-dried Tomato Pesto Pasta, Sun-Dried Tomato, Spinach and Cheese Stuffed Chicken, and Spaghetti Squash with Sun dried Tomato and Basil.
And all you need to do is to process all the ingredients for the sun-dried tomato pesto in a food processor for few minutes and you are done! I'm sure you'll love this low-carb, gluten-free and delicious salad. Enjoy!
Let's now jump to the recipe and make this delicious Sun-dried Tomato Pesto Cauliflower Salad
Sun-dried Tomato Pesto Cauliflower Salad
These Sun-dried Tomato Pesto Cauliflower Salad is packed with flavour and perfect for a quick healthy lunch during your busy week.
Ingredients
For the Sun-dried Tomato Pesto
Instructions
Steam the cauliflower head by filling a large pot with about 2 cups of water and place a steamer basket in the bottom.

Bring the water to a boil. Place the cauliflower florets into the steamer basket.

Cover the pot and steam until the cauliflower florets are fork tender (6-8 minutes).

Remove from the heat and let the cauliflower cool down for 5 minutes.

In a

food processor

add all the ingredients for the sun-dried tomato pesto and process on low for about 1 or 2 minutes.

Place the steamed cauliflower in 

bowl

 and add 3 tablespoons of the sun-dried tomato pesto which you just made (save the rest of the sun-dried tomato pesto to other recipes like this one). Mix well together to combine.

In a large salad bowl, add Romaine lettuces, cherry tomatoes, red onions and boiled eggs.

In a mason jar, pour the freshly squeezed lemon juice and olive oil. Add salt, pepper and whisk everything together. Continue to whisk while streaming in the olive oil. Taste to check the seasoning.

Pour the dressing over the salad and toss well.

Add the cauliflower and garnish it with fresh parsley. Enjoy!
Tips
You can soak the red onions in cold water to mellow them out.
You can buy pre-cut cauliflower florets if you prefer.
Feel free to make the eggs ahead of time to make making this cauliflower salad faster.
To store: If this salad will be your lunch at work, bring the dressing in a separate container to avoid the salad getting soggy. Everything will keep well when separate from the dressing for up to 4 days. 
Nutrition Information
Serving:
1
/4
Calories:
188
kcal
(9%)
Carbohydrates:
14.7
g
(5%)
Protein:
8.6
g
(17%)
Fat:
11.9
g
(18%)
Saturated Fat:
2.3
g
(14%)
Cholesterol:
123
mg
(41%)
Sodium:
327
mg
(14%)
Fiber:
5.1
g
(21%)
Sugar:
7.4
g
(8%)
Nutrition information is calculated using an ingredient database and should be considered an estimate.
And if you like this Sun-dried Tomato Pesto Cauliflower Salad recipe, please share it with your friends and family. Do you wanna taste more? Try this Super Easy Slow Cooker Chili! Subscribe to my newsletter and follow Primavera Kitchen on Twitter, Pinterest, Google +, Instagram and Facebook for all delicious recipes updates. As always, you are really appreciated for stopping by.