Celebrate the fresh flavors of spring with these 15 delicious and nutritious Spring Recipes.
Finally the temperature is slowly rising here in Canada. This year we had extremely cold temperatures and this winter was much longer than was supposed to be. Luckily I didn't spend all of the 4 months of winter here. I had the opportunity to be in Brazil from November to January to see my nephew's birth and to spend Christmas with my family too. However, when I arrived here in January I felt colder than usual. I guess when you are in such a warm weather and all of sudden you come home to this cold weather, it has a big impact. I think this is why I was so excited for spring this time. I couldn't wait anymore for the warmer temperatures to arrive (even though it is still a little chilly).
I love spring and specially the things that come with this cheerful season. I love looking at the cherry blossoms and the simple beauty of all the beautiful flowers; I love biking with my husband by the lake or walking long distance while listening to good music; I enjoy looking at the migrating birds too and of course I love cooking with fresh ingredients available from this season. And you guys? What do you love about spring?
To inspire you in the kitchen and to celebrate the beginning of this colorful season, I am sharing fifteen of my favorite spring recipes. On this list of spring roundup recipes you'll find hearty green salads, pasta, appetizer, pizza recipes and more. They are delicious, nutritious and light recipes with seasonal ingredients to make a tasty meal for everyone. So, I really hope you try one of this recipes to start off this season healthy and excited!
---
1. Ricotta Scrambled Egg and Asparagus Tacos from A Couple Cooks.
2. Spring Pea and Asparagus Pasta from Cookie and Kate.
3. Bahn Mi Lettuce Wraps from Cooking for Keeps.
Subscribe for new recipes & a free e-cookbook
4. Strawberry Quinoa Balsamic Salad from Cookie Monster Cooking.
5. Kale Salad with Vegan Coconut Bacon from Making Thyme for Health.
6. Sunburst Spring Vegetable Quiche with Puff Pastry Crust from Well Plated.
7. Healthy Asian Ground Turkey Lettuce Wraps from Tastes Lovely.
8. Polenta with Slow Roasted Tomatoes & Collard Greens from Earthy Feast.
9. Spring Galette with an Abundance of Herbs from Earthy Feast.
10. Asparagus and Pancetta Pesto Pizza from The Roasted Root.
11. Sweet Corn Salad from Eat Good 4 Life.
12. Quinoa Kale and Pea Salad from Eat Good 4 Life.
13. Quinoa Salad with Roasted Asparagus from Primavera Kitchen.
14. Easy Quick Quinoa Salad from Primavera Kitchen.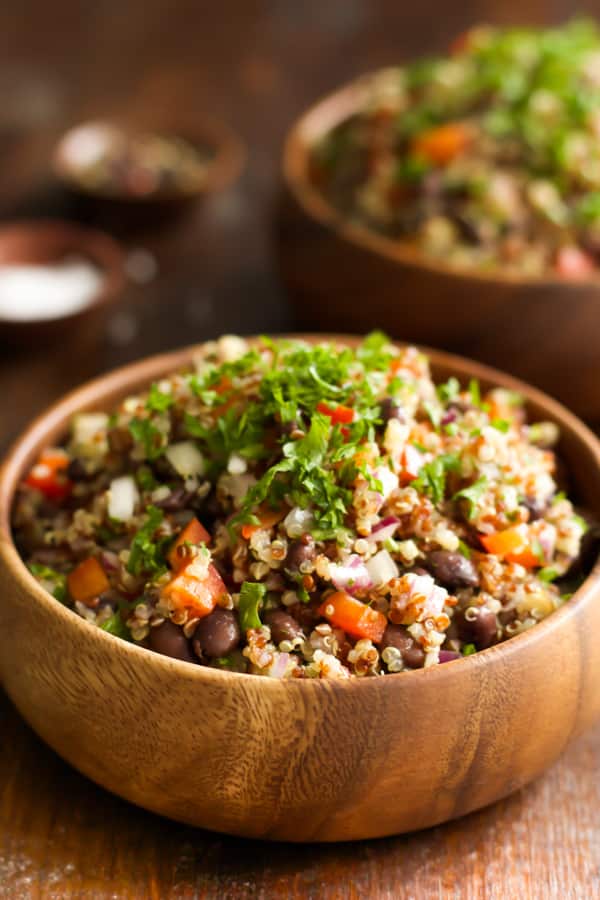 15. Zucchini Couscous Salad from Primavera Kitchen.
If you like this 15 Spring Recipes, please share with your friends and family. Do you wanna taste more? Subscribe to my newsletter and follow Primavera Kitchen on Twitter, Pinterest,  Instagram and Facebook for all delicious recipes updates. As always, you are really appreciated for stopping by.