This Sweet Potato, Kale and Shrimp Skillet only requires 4 ingredients, and it's whole30, gluten-free, paleo, and super-easy to make!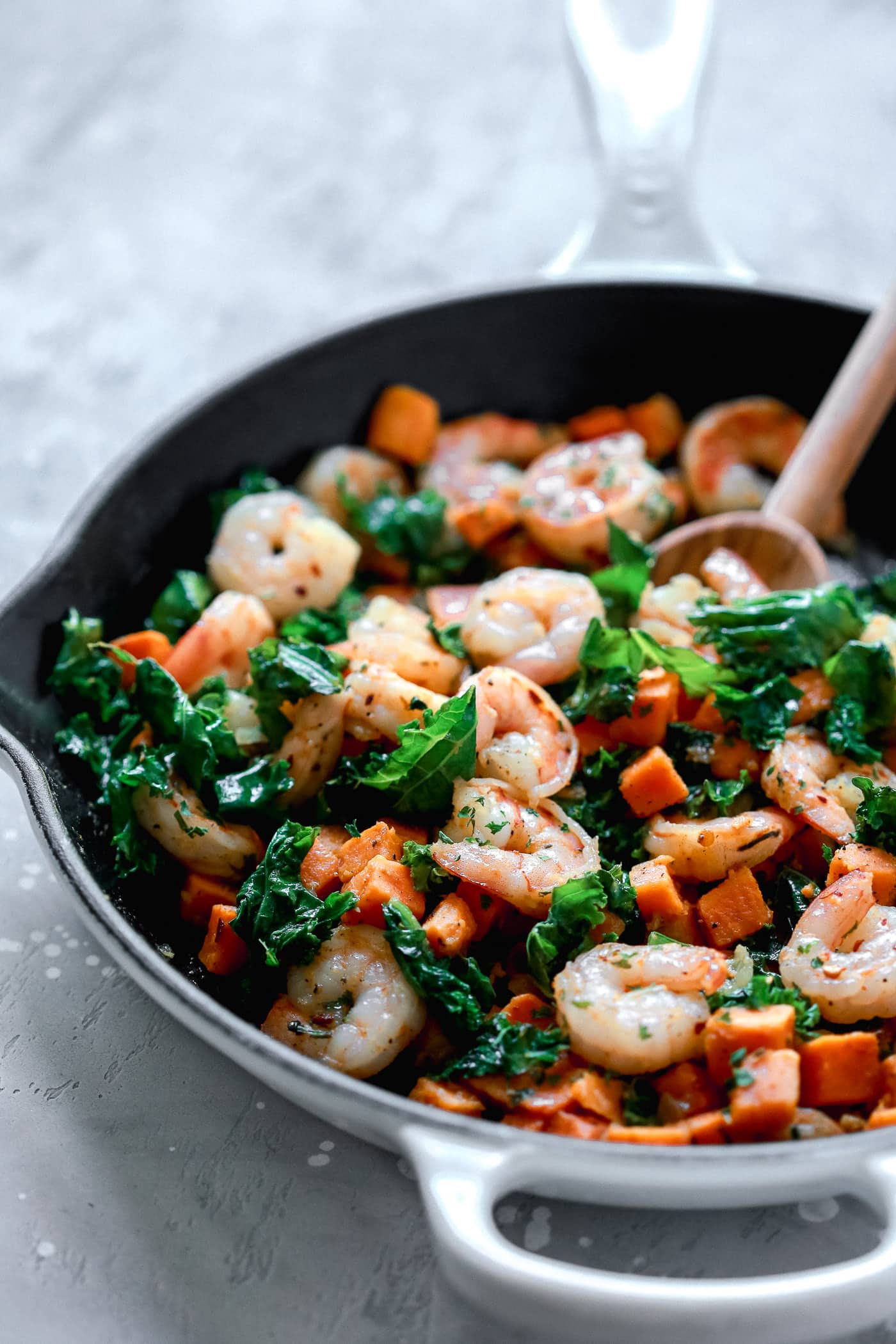 This Sweet Potato, Kale, and Shrimp Skillet is so easy to make for lunchtime or a busy weeknight meal. It takes only a few minutes to be ready on your table. The only thing that takes a little time is for the sweet potatoes to cook.
Since you sauté the kale leaves, you need to keep the heat low to so that they don't become soggy. I dislike soggy leaves, which is why they look almost raw in the pictures. I just sauté them for about one minute or so, but if you wish, you can sauté them for longer. It is really up to you. Let's talk a little bit about the shrimp now.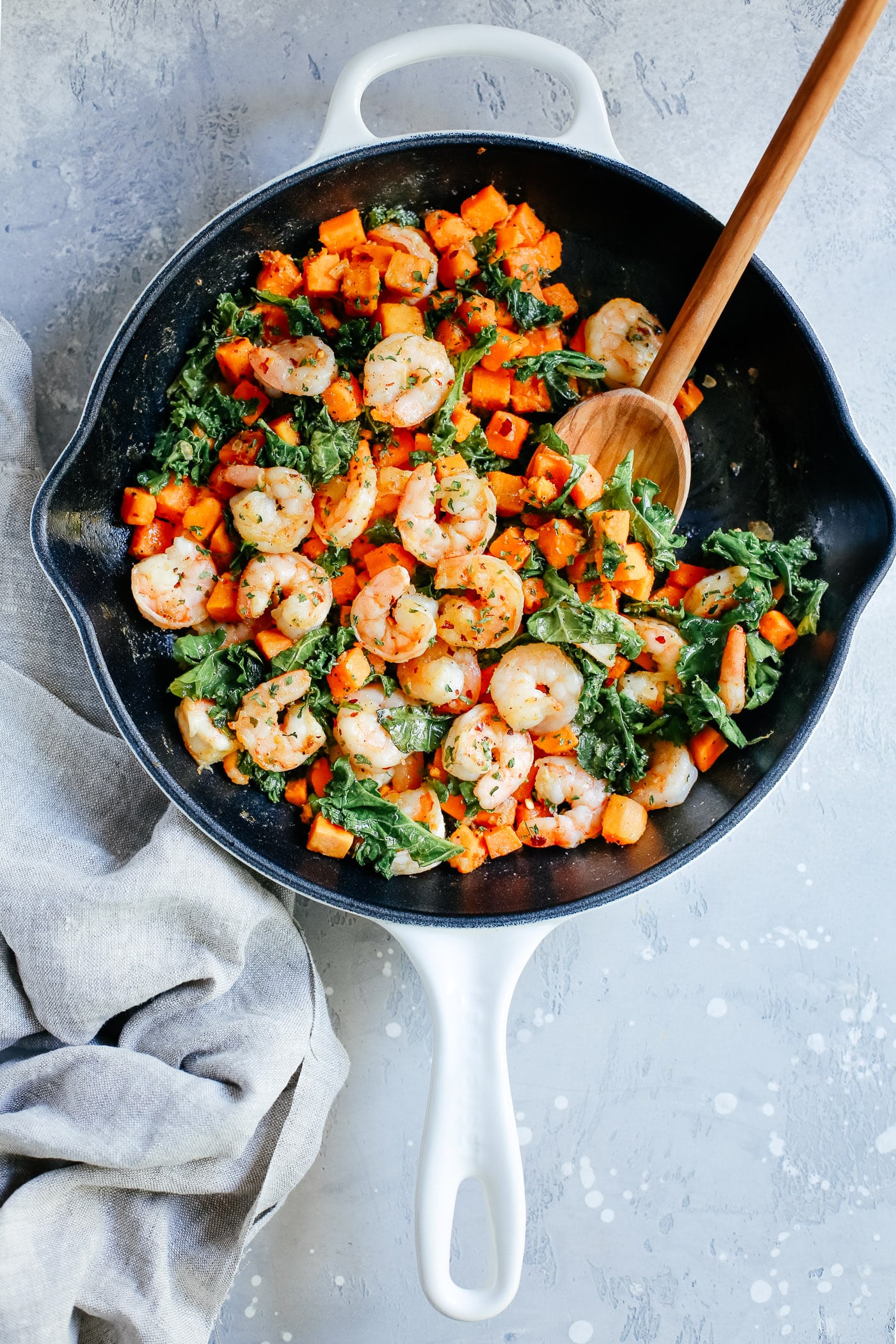 Why did you use a cast iron skillet to make this recipe?
I'm a huge fan of cast iron skillets. If you visit Primavera Kitchen often, you know that I have a variety of cast iron skillet recipes for you to try. I love cooking with cast iron pans because they are very versatile. You can use them for frying, baking, grilling, broiling, braising, and sautéing meats, vegetables, and more! You can make almost everything in them. Isn't that great? Cast iron is also very resistant and durable. I have had my three cast iron skillets for over 7 years now, and they look absolutely new.
They are also fairly cheap for the quality you get, and they have a precise heat distribution, which makes foods cook evenly and taste delicious. I have two favourite cast iron skillets.
Subscribe for new recipes & a free e-cookbook
You can see the Le Creuset one in the pictures in this post, and the other one is my Lodge skillet, which I use to make lots of recipes for my family such as Asparagus Sweet Potato Chicken Skillet, Chimichurri Chicken Green Beans Skillet, and Creamy Parmesan Chicken Skillet or any of these 50 Healthy Cast Iron Skillet Recipes or these 15 Healthy Skillet Dinner Recipes.
This Lodge skillet is great because it has a very good price for the quality. I highly recommend this type of skillet, and you can get yours here.
Can I make this Sweet Potato, Kale and Shrimp Skillet with frozen shrimp?
Absolutely, but you need to thaw the shrimp before cooking it. If your shrimp are frozen, place them in a bowl with cold water in the sink, and leave them for about 5 minutes. The shrimp are thawed when they are soft and easily bendable.
Then, rinse, and pat the shrimp dry with paper towels. Now, they are ready to cook. It's such an easy to cook protein! Try my Sweet Potato Green Beans Shrimp Skillet if you want another tasty shrimp recipe.
Why are my shrimp so chewy?
It's probably because you overcook your shrimp. When shrimp are overcooked, they become tough, rubbery, dry, and chewy. Shrimp cook very quickly. So, as soon as the shrimp turn pink, it's a sign that they are done. It will only take about 3-5 minutes to cook if the shrimp are medium-sized. If the shrimp are larger, they will take about 6-7 minutes.
5 more shrimp skillet recipes to try:
All these recipes are low-carb, paleo, gluten-free, and whole30.
For more quick and healthy lunch or dinner recipes, please visit my lunch time and what's for dinner Pinterest boards!
I hope I inspired you to create a delicious healthy lunch dish in your own kitchen today.
As a memory, I kept the original photo from 2014!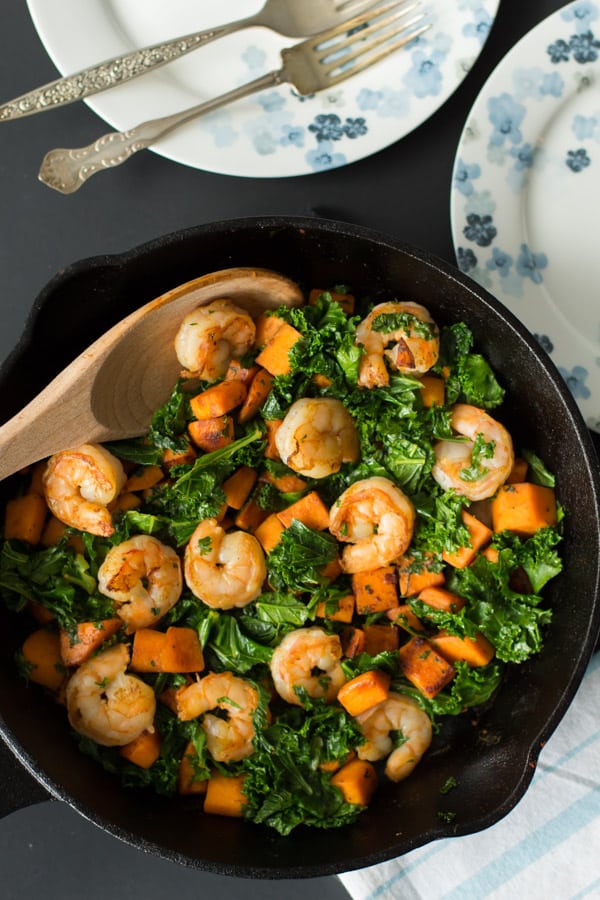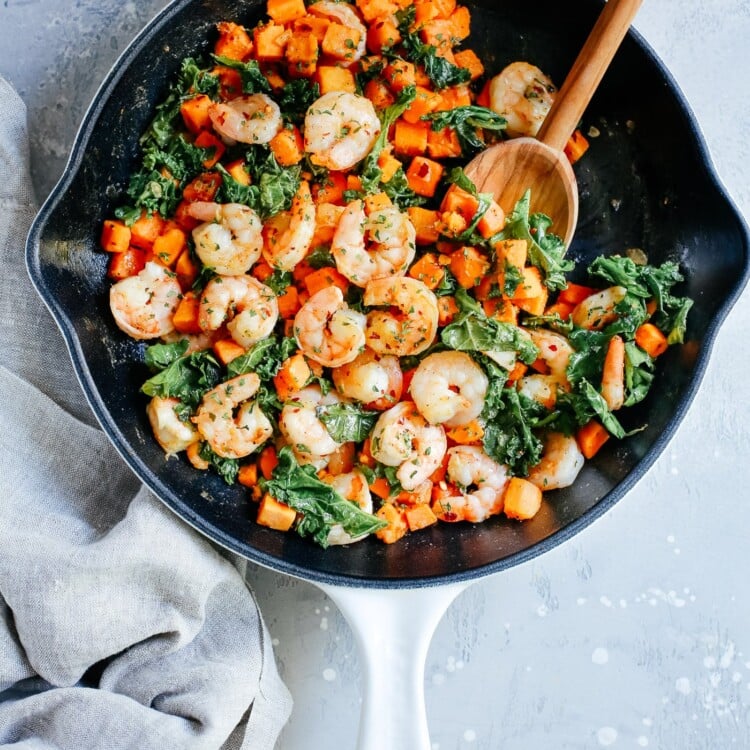 Sweet Potato, Kale and Shrimp Skillet
This Sweet Potato, Kale, and Shrimp Skillet only requires 4 ingredients, and it's gluten-free, low-carb, paleo, and super-easy to make! 
Instructions
Add the onions and crushed red pepper.

Cook until the onions are soft and golden.

Add the garlic, and cook for about 30 seconds.

Add the sweet potatoes, and cook until soft. Add a few tablespoons or ¼ cup of water to help steam the sweet potatoes, if necessary.*

Add the shrimp, and cook for 2-3 minutes or until they turn pink.**

Turn the heat to low, and add the kale, stirring until wilted.

Season to taste with salt and pepper.
Tips
Don't add more than a ¼ cup of water to cook the sweet potatoes because they may become soggy. Also, cover the skillet with a lid for about 2 minutes. It helps cook the sweet potato faster.
If I'm using more than 2 cups of shrimp, I cook the shrimp first and set them aside to avoid overcrowding the skillet.
Here is a complete list of shrimp recipes for you to try. They are healthy, easy-to-make, and also great as leftovers.
If you don't have a cast-iron skillet, you can use a large non-stick skillet instead.
To store: Leftovers can be stored in the fridge for up to 3 days.
To reheat: You can microwave leftovers or reheat on the stovetop.
Nutrition Information
Serving:
1
/4
Calories:
265
kcal
(13%)
Carbohydrates:
18
g
(6%)
Protein:
32.1
g
(64%)
Fat:
7.8
g
(12%)
Cholesterol:
239.5
mg
(80%)
Sugar:
3.4
g
(4%)
Nutrition information is calculated using an ingredient database and should be considered an estimate.
If you like this Sweet Potato, Kale and Shrimp Skillet recipe, please share it with your friends and family. Do you want to taste more? Subscribe to my newsletter, and follow Primavera Kitchen on Twitter, Pinterest, Instagram, and Facebook for all delicious recipe updates. As always, I really appreciate you stopping by.