Today I will show you what you can find at the Farmers Markets in Brazil. There are lots of different and interesting fruits and veggies originally from this tropical country. Hope you enjoy it!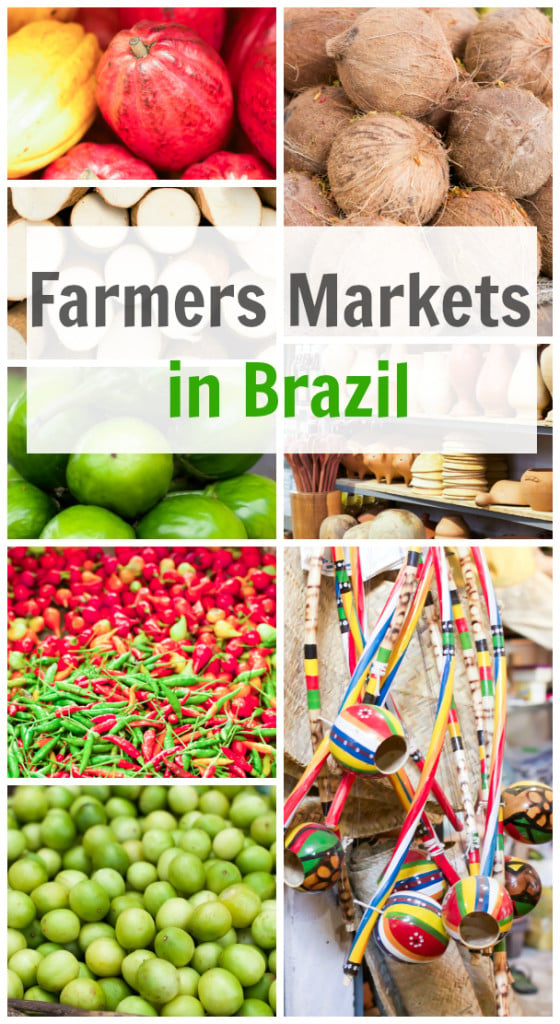 Hey, guys
If you are following me for a while you already know I am originally from Brazil. I came to Canada to study more English and stay here for only 6 months. However, life always brings us beautiful and wonderful surprises. After 5 months of living here, I met the happiest Quebecois (a person from the Canadian province of Quebec) that I've ever seen 😉
I couldn't resist those dimples and now we are married for over 3 years. So, here I am living in Canada for 5 years now. Who knew I would have gone from being an exchange student to a Canadian Resident??!! I have to be honest I love living in Canada, even though I miss my family, my friends, the hot days and the beaches a lot. My entire family lives in Brazil, including my sister who had her first baby last November. For this reason, I went to Bahia (it is one of the 26 states of Brazil, and is located in the eastern part of the country on the Atlantic coast) in November and came back three weeks ago. I was there helping my sister with my nephew, visiting my family, my childhood friends and friends from university.
When I had time I visited some farmers markets and I took lots of pictures because I would like to show to my readers what you can find at the Farmers Markets in Brazil. The biggest one in Salvador (the city where my family lives) is called "Feira de São Joaquim" or Sao Joaquim market in English. It is definitely a place with rich culture, vivid colors and a wide array of fruits, veggies, flours, seafood, meat, spices, religious items and souvenirs to buy. I selected some photos for you and I will explain everything under each picture.
This is  one of my favourite fruits and it is called Cacao. For those who doesn't know, chocolate is derived from the seeds of this fruit. There are lots of cacao tree in south of Bahia.
Subscribe for new recipes & a free e-cookbook
In Portuguese, these are called "chuchu", but it is known also as "chayote" in Central America. You can find it in every market in Brazil and is really cheap. I have to say that the flavor is a little bland, but it comes to life when mixed with other spices. Brazilians like to make potato "chuchu" salads and stews with this green veggie.
Brazil is a tropical country, so we can find lots of coconut fruit at the markets and coconut tree at the beaches. Coconut water is one of the favourite drinks down there.
In Portuguese we call this veggie "quiabo", but in English it is called okra or gumbo. It is originally from North-Eastern Africa, but the plant is cultivated throughout the tropical and warm temperate regions around the world. So, this is very popular in Northeast of Brazil. The Cooking Light site made a great post with 11 delicious recipes made by akra. You should take a look!! Just saying 😉
These are called "Jiló" (Gilo) and they are from the same family of the eggplant and in English is called Scarlet Eggplant. I don't like much this veggie because it is very bitter. But if you enjoy bitterness, I am sure you will like it a lot.
This is another one of my favourite fruits from Northeast of Brazil. We call "umbu" and it is very difficult to find if you are not in Northeast, but if one day you have a chance to try it, please do it. It is soft, juicy and has a sweet taste. Delicious!
These hot pepper pictures talk by themselves, right? I love hot pepper and spicy food!! You can find so many different types of hot hot hoooot peppers everywhere because spicy food is what we love in Northeast of Brazil. You can buy them in these little bottles shown above 😉
These are our D.E.L.I.C.I.O.U.S snacks (unhealthy, I have to say!!). There are lots of different types of sweets, candies, cookies and snacks like "avoador" on the bottom left and "bananinhas" made from dry bananas on the bottom right.
These are flours, which are made from the cassavas or yuca (they are the roots shown on the top left of this picture). The funny part of this root is that it depends on the region you are in Brazil, they can be called in three different names: "Aipim", "Mandioca" or "Macaxeira".  My friend Olivia from Olivia's Cuisine made a delicious Brazilian Farofa recipe, using this flour.
These are awesome. You can find sugarcane juice everywhere and it is so sweet and refreshing!! Perfect for the tropical weather!
We love to cook with wooden spoons and terracotta pots. So, many people still cook with these types of pots. And Gosh… these pots bring so much flavour to the food! You can't even imagine!!!
I guess we all know what they are, right? Brazilian Nuts that we call "Castanha do Pará".
This is called "Óleo de Dedê" or Palm oil in English. The Bahia culinary is very influenced by the delicious African oil. We can make lots of recipes with this oil such as Acarajé, which is a popular street food and beach snack and Bobó de Camarão.
Last but not least, another thing you can find at the Brazilian farmers market is the "Birimbau". It is a percussion instrument that is used to practice the Afro-Brazilian martial art called Capoeira.
So, I really hope you enjoyed it, as much as I enjoyed writhing this for you guys 😉
If you like this post, please share with your friends and family. Do you wanna taste more? Subscribe to my newsletter and follow Primavera Kitchen on Twitter, Pinterest, Google +, Instagram and Facebook for all delicious recipes updates. As always, you are really appreciated for stopping by.
Want to browse all of my healthy recipe posts? Follow my Primavera Kitchen Board on Pinterest!!! For this period of the year I also have great Pinterest Boards such as Healthy Slow Cooker Meals, Healthy Winter Recipes and Soups and Stews. I hope you enjoy all the delicious and healthy recipes I have there!