Cheese boards or charcuterie board can be the star of any holiday gathering. With a wide variety of cheese, meat, fruits, bread and crackers, it's versatile and delicious. Even better, they're fun and easy to make!
I love making cheese boards when I'm hosting a party, but these cheese board ideas are also great to bring to picnics, to serve at a wedding reception and even birthday parties.
Cheese boards are easy to prepare ahead of time for a party, leaving you lots of time to socialize outside the kitchen. It's also an impressive dish for a potluck dinner. You can include or eliminate any ingredients to fit your current diet plan. Include some gluten free crackers or omit the nuts to accommodate allergies.
This crowd-pleasing appetizer has a variety of small bites. Salty, sweet, crunchy, soft and creamy textures, all beautifully placed on one impressive platter!
How to make cheese boards
Start by choosing the actual platter or board that you will arrange the cheeses on.
Selecting the serving Cheese platter
There are plenty of options on what to use as your cheese board serving tray. If you don't have a cheese board set, it's totally fine. Think outside of the ordinary. As long as the item is food-grade safe and it has a good durability, it is useable! The best cheese boards include:
Large wooden cutting board or a marble cheese board
Baking sheets
Cheese board (wooden cheese board is great)
Cheese plates or round cheese plate
Cheese tray
Bamboo board
Slate board
Wooden serving trays (square, round, or any other shape)
Lazy Susan
Ps: Also do not forget the cheese knives to slice and serve the cheese.
Subscribe for new recipes & a free e-cookbook
And if you're already thinking about the holidays then a beautiful serving platter is a great gift! Check out my Gift Guide for the Home Cooks or Holiday Gift Guide for Foodies Under $15 for more ideas. Or any of these fun tools!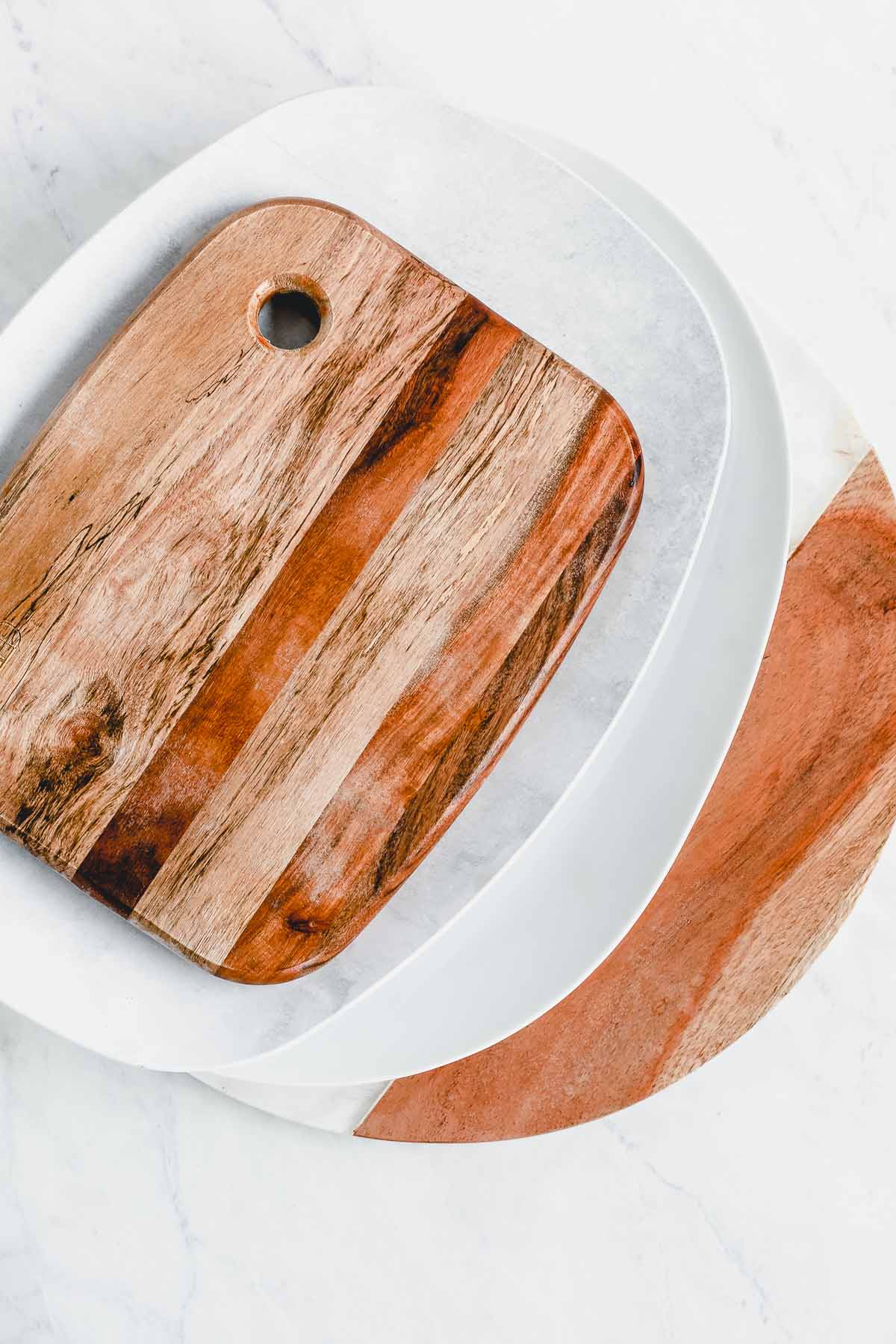 Selecting the cheese
If you are making it for a group of 10 or more people, I recommend adding 4 to 6 different varieties of cheese. Of course, the amount of food on the board depends on how big/large your board is.
Choose the best quality cheeses your budget will allow. Also, look for a variety of textures and tastes.
Choose four or five of the following options:
Cheddar
Brie
Blue cheese
Smoked gouda
Goat cheese
Camembert
Gorgonzola, stilton
Dubliner
Parmesan
Asiago
Manchego
Don't be afraid to try cheeses that are new to you. This is a great chance to experiment using small batches.
A great way to help guests identify the different kinds of cheese is to cut them each in a unique way. You can use cubes, slices, wedges, etc.
You can even leave the very soft cheese in a large wedge and put knives with it so guests can help themselves.
For the cheese board shown in the photos, I use:
Aged cheddar (cubes)
2 types of brie (one from Canada and another from France)
Smoked Gouda
Parmesan
Boursin
If the board is particularly large, it helps to place each type of cheese in more than one area.
How to arrange cheese boards
Arrange the crackers and breads around the cheese. You're free to use whatever type of cracker or bread you enjoy. To accommodate guests with dietary restrictions or food allergies, you might want to include some gluten-free and/or low-carb crackers. You can also make your own. This recipe for Low-Carb Almond Flour Crackers is easy to make and the crackers are delicious!
What do you use for a charcuterie board?
You can make a delicious charcuterie board, but a true charcuterie board includes cured or smoked meats. Also, a variety of dips and jelly or preserves are on a charcuterie board. Add some of these:
Samale
Prosciutto
Ham
Mortadella
Try some of these dips:
Jam
Preserves (pickles, olives, cornichons, apricots)
Fig spread
Mustard
Honey
Jalapeno pepper jelly
Chutney
Ps: Don't forget to grab some small ceramic bowls to add jam, spreads and so on.
I fold charcuterie meats a few different ways. Here are some ideas, but let your creativity shine! Fold and arrange the items on your cheese board however you prefer.
For larger and thin slices of meat, I fold them in half, and then in half again. As a result, they are in a triangle shape. Or, you can fold them in half, and then roll them up to form a small cone.
For hard meats such as salami, I simply slice them into thin rounds.
Just as with the cheese, space permitting, have your meats appear more than once on the board.
What are good garnishes for a cheese board?
After everything is on the platter, you will have small spaces to fill in. I like to fill in all the gaps with a combination of these little nibbles:
Fresh fruits and dried fruits – Grapes, figs, dates, apples, cherry, and dried fruits are good options
Assortment of nuts – Walnuts, pecans, almonds, or any other type of nut you prefer.
Olives
Fresh herbs like rosemary, for garnish
Now that you know how to make a charcuterie board, tell me what foods you would add to yours!
More Holidays Side Dishes:
How to Make Cheese Boards
Cheese boards or charcuterie board can be the star of any holiday gathering. With a wide variety of cheese, meat, fruits, bread and crackers, it's versatile and delicious. Even better, they're fun and easy to make! Learn how to build a simple cheese board for your parties.
Ingredients
Cheeses
Aged cheddar

cut in cubes

1 – 2

brie

I used one from Canada and another from France

Smoked Gouda

Boursin
Crackers and Crostini
Gruten-free crackers

Low-carb crackers

Regular crackers

Toasted baguette

sliced
Meats and Charcuterie
Salami

Smoked ham

Canadian ham
Fruits and others
Grapes

Fig

Raspberry

Cranberry

Green olives

Fresh rosemary for garnish
Instructions
Follow the step-by-step photos below in this post to assemble all ingredients on your cutting board, baking sheet, slate board or platter. Enjoy!
Tips
Use this list as a general guide. – these are the ingredients we used to build this exact cheese plate, but don't be afraid to mix it up using your favorite snacks and cheeses or anything you have on hand!
Always wash and dry the fruit before cutting them. 
Try to have a variety of crackers to serve with the cheese boards as the different types of cheeses require different types of crackers (ie more flavourful crackers vs more mild crackers).
To store: Store leftovers in separate airtight containers in the fridge. 
Nutrition Information
Serving:
1
/10
Calories:
261
kcal
(13%)
Carbohydrates:
18
g
(6%)
Protein:
14
g
(28%)
Fat:
15
g
(23%)
Saturated Fat:
8
g
(50%)
Polyunsaturated Fat:
1
g
Monounsaturated Fat:
1
g
Cholesterol:
22
mg
(7%)
Sodium:
524
mg
(23%)
Potassium:
142
mg
(4%)
Fiber:
2
g
(8%)
Sugar:
7
g
(8%)
Nutrition information is calculated using an ingredient database and should be considered an estimate.
Watch the Web Stories HERE.