This stuffed butternut squash recipe truly has it all!  It's the ultimate, healthy comfort food  made with fresh vegetables, savory Italian sausage, hearty kale and aromatic sage. Plus, you'll get a hint of sweetness from dried cranberries and diced apple. Don't forget to add some walnuts for a little crunch.
Stuffed squash recipes are so tasty, warm and filling. They're perfect side dish for the Holidays or Thanksgiving and on top of that, they're super easy to make and something the whole family will enjoy.
And if you're looking for more butternut squash recipes, I've got you covered. Try this No Bean Butternut Squash Chili, 20-Minutes Butternut Squash Soup or these Ground Beef Butternut Squash Bowls.
Butternut squash season is here and that's always something to celebrate. So many great meals incorporate this nutritious and versatile fall favorite. The best part? Roasting a butternut squash in the oven will make your home smell oh so dreamy!
How To Make
Ingredients
Butternut squash — When selecting a squash, make sure it's ripe. Most squash from the grocery store is ready to eat. If you happen to be using garden fresh squash, make sure it doesn't have any green spots. The whole skin should be light tan, tough and matte rather than glossy.
Extra virgin olive oil — Brushing a little bit of olive oil on your squash before roasting will keep it hydrated and add nice flavor.
Onion — I typically use a yellow onion, but white can be substituted.
Garlic — One to two large cloves, minced.
Yellow bell pepper — If you're feeling adventurous, feel free to choose a different color of pepper!
Seasoning — This recipe is seasoned simply with just salt and pepper.
Italian pork sausage — Look for a nitrate free brand like this one from ButcherBox.
Kale — Healthy, hearty greens.
Apple — I recommend using a pink apple in this recipe to maximize flavor.
Dried cranberries — Delicious, sweet and tart!
Sage — Chopped, fresh sage is best but dried will also work.
Walnuts — Nuts add nice texture and crunch to this recipe. You can also use chopped pecans or even some roasted pumpkin seeds.
Optional: you can also add crispy chopped bacon on top of it. So good!
Instructions
Prepare butternut squash:
Preheat your oven to 400°F.
Carefully cut the squash in half lengthwise and use a spoon to scoop out the seeds.
Brush each half with olive oil, then sprinkle with salt and pepper.
Place squash halves on a parchment paper lined baking sheet and bake for 40-45 minutes, until it's fork tender.
Prepare filling:
While squash is roasting, make the filling. Place a large skillet on the stovetop and turn heat to medium high. Remove sausage from casing (if applicable) and add it to the skillet. Use a spoon to break the meat apart and allow it to brown completely.
Add diced onion, diced bell pepper and minced garlic to the browned meat. Sauté veggies until they start to become soft, this should take 3-5 minutes.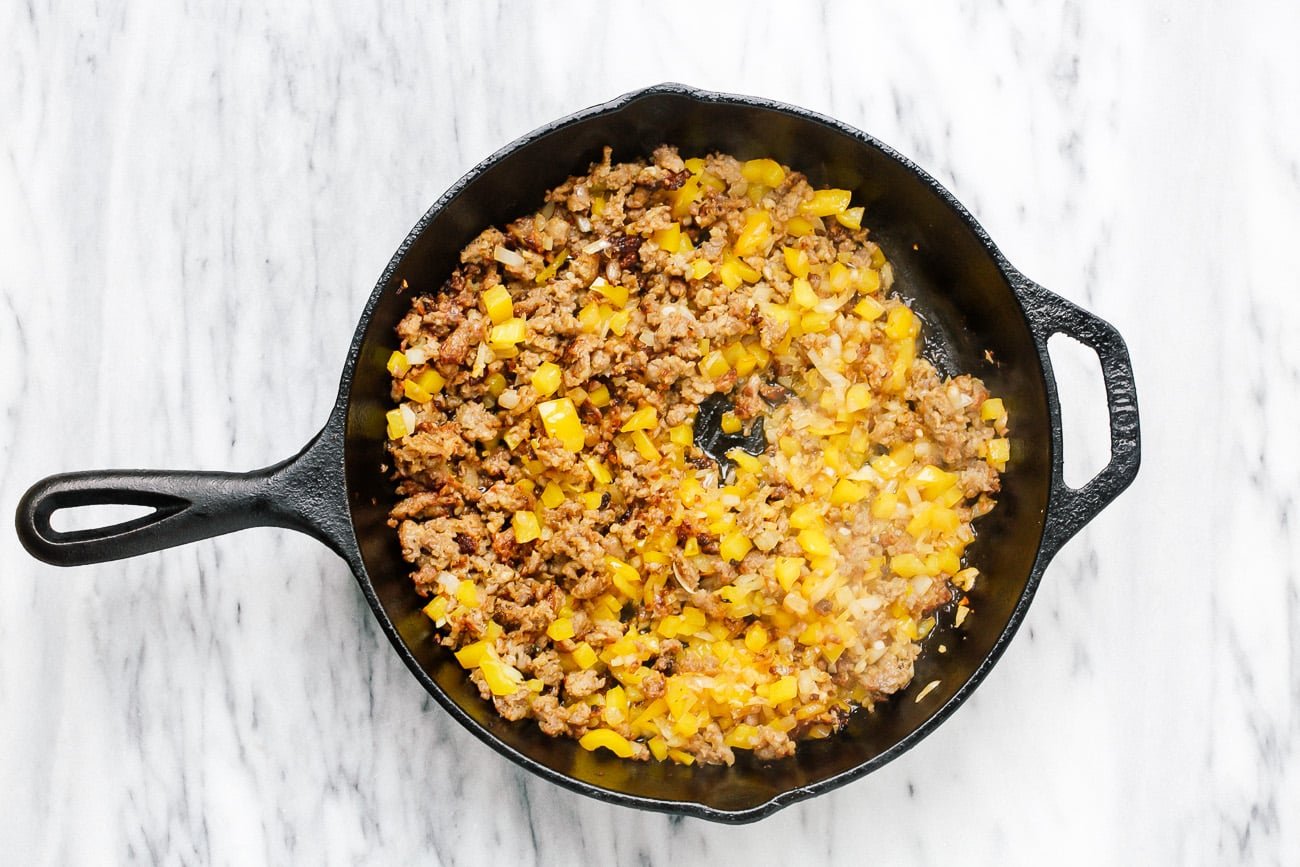 Add kale to the pan and stir until wilted. Next, add diced apple and sage. Cook for 2-3 minutes until the apple begins to soften, then remove pan from heat.
Stir chopped walnuts and cranberries into the filling.
Assemble stuffed butternut squash:
Once squash is done roasting, remove it from the oven. Carefully scoop out a little bit of flesh with a fork to create more space for your filling or sausage mixture. If you want, use extras to make a small batch of Roasted Butternut Squash Mash for later.
Stuff each half of the squash with filling and top with extra sage, if desired. Enjoy on its own or with rice!
Recipe Tips
A shorter, stout squash works best for this recipe. They tend to have more seeds than a long, thin squash. This creates a nice big crater for filling. You will scoop a little bit of flesh out to create even more space, but with a short squash you'll need to remove less.
If you're having difficulty cutting the squash in half, microwave it for a couple of minutes to soften.
I generally use a yellow bell pepper for this recipe, but any color is tasty. Green is least sweet and red is the sweetest.
Both ground beef and ground chicken are great substitutes for the sausage in this recipe. If you prefer a different protein, feel free to improvise.
Variations
Cheese: Top your stuffed squash with a little bit of shredded cheddar, asiago or parmesan. Crumbled goat cheese would also be yummy.
Seasonings: Add a dusting of cinnamon, nutmeg or cloves to your filling. You might also play around with some more savory seasonings like oregano, thyme, rosemary, paprika or cumin.
Squash: roast a different kind of squash but stuff it with this filling! Try honeynut, kabocha, acorn or spaghetti squash.
How To Store Leftovers
Allow leftovers to cool and transfer them to an airtight container. Refrigerate up to 3 days. If you don't have a big enough container, you can use plastic wrap.
You can also freeze leftovers for approximately 3 months. Wrap them tightly in plastic wrap and then place in a Ziploc bag or freezer-safe container.
To reheat, allow the squash to thaw in the refrigerator overnight (if frozen). Microwave on high, in 30 second increments, until warmed through. Or, you can preheat your oven to 350°F and place the thawed squash on a lined baking sheet. Cook until hot (about 20 minutes).
Frequently Asked Questions
Do you eat the skin on stuffed butternut squash?
The skin of a butternut squash is technically edible, but it's very tough and doesn't taste that good. I would recommend sticking to the sweet, velvety squash.
How long does it take a butternut squash to soften in the oven?
It take a while for squash to soften in the oven, and the amount of time it takes will depend on temperature. At 400°F, squash will become tender after 40-45 minutes.
What meat goes well with butternut squash?
Really any protein will pair nicely. Turkey, chicken, beef, sausage, pork, you name it! Butternut squash is delicious, mild and super versatile.
If you love this stuffing recipe, be sure to check out my Sausage & Apple Stuffed Acorn Squash or this mouthwatering Stuffing Sweet Potato too. They are so good!
Stuffed Butternut Squash with Italian Sausage
This stuffed butternut squash is the ultimate, healthy comfort food. It's made with fresh vegetables, savory Italian sausage, hearty kale and aromatic sage. Plus, you'll get a hint of sweetness from dried cranberries and diced apple. Don't forget to add some walnuts for little crunch!
Ingredients
For the Filling
1

tbsp

olive oil

1/2

cups

onion

diced

1

tbsp

garlic

minced

1

cup

yellow bell pepper

diced

2

cups

kale

chopped

1

cup

medium apple

chopped

1

tbsp

fresh sage

chopped

1/4

cup

dried cranberry

2

tbsp

walnut

chopped
Instructions
Cut squash in half lengthwise and remove seeds with a spoon.

Season the cut sides with olive oil, salt and pepper.

Place the halved squash on a baking sheet. Bake for 40-45 mins or until is tender.

While butternut squash is in the oven, make the filling by adding olive oil in a skillet over medium high heat.

Add the sausage and break it up with a wooden spoon. Cook until it's just browned. Season with salt and pepper.

Add the onions, garlic, bell pepper and saute for 3 mins.

Add kale to the pan and stir for 2-3 minutes, or until the kale is wilted. Then, add the apple and sage. Cook for another 2-3 minutes, or until the apple has softened slightly. Remove from the heat and stir in the cranberries and walnuts.

When the butternut squash halves are baked, remove from the oven. Remove some of the flesh with a fork, but leave some to eat with the filling. You just want to make room for the filling. Stuff the filling into the squash halves. Season with chopped sage if you prefer, before serving. Enjoy!
Tips
A short, stout squash will work best for this recipe.
If you have trouble cutting your butternut squash in half, you can microwave it for a couple of minutes so it softens enough to cut.
Feel free to swap the yellow bell pepper for any coloured bell pepper. Green is the least sweet and read is the sweetest. 
If you prefer different ground meat, such as chicken or beef, feel free to use it in place of the ground sausage. 
To store: Store leftover stuffed butternut squash in an airtight container in the fridge. You can also tightly wrap it up if you do not have a large enough container.
To reheat: Reheat the butternut squash in the microwave or oven. 
Nutrition Information
Serving:
1
/4
Calories:
301
kcal
(15%)
Carbohydrates:
32
g
(11%)
Protein:
11
g
(22%)
Fat:
16
g
(25%)
Saturated Fat:
5
g
(31%)
Polyunsaturated Fat:
1
g
Cholesterol:
32
mg
(11%)
Sodium:
405
mg
(18%)
Potassium:
444
mg
(13%)
Fiber:
5
g
(21%)
Sugar:
17
g
(19%)
Nutrition information is calculated using an ingredient database and should be considered an estimate.
And if you like this Stuffed Butternut Squash with Italian Sausage recipe, please share with your friends and family. Do you wanna taste more? Subscribe to my newsletter and follow Primavera Kitchen on Twitter, Pinterest, Instagram and Facebook for all delicious recipes updates. As always, you are really appreciated for stopping by.