Spring has sprung and Mother's Day is approaching with haste, so mark your calendars. This year it falls on Sunday, May 14th!  There's still time to acquire the perfect, unique and beautiful gift for the mother figure in your life. And, if you're drawing a blank, I've got lots of fun ideas to inspire and delight.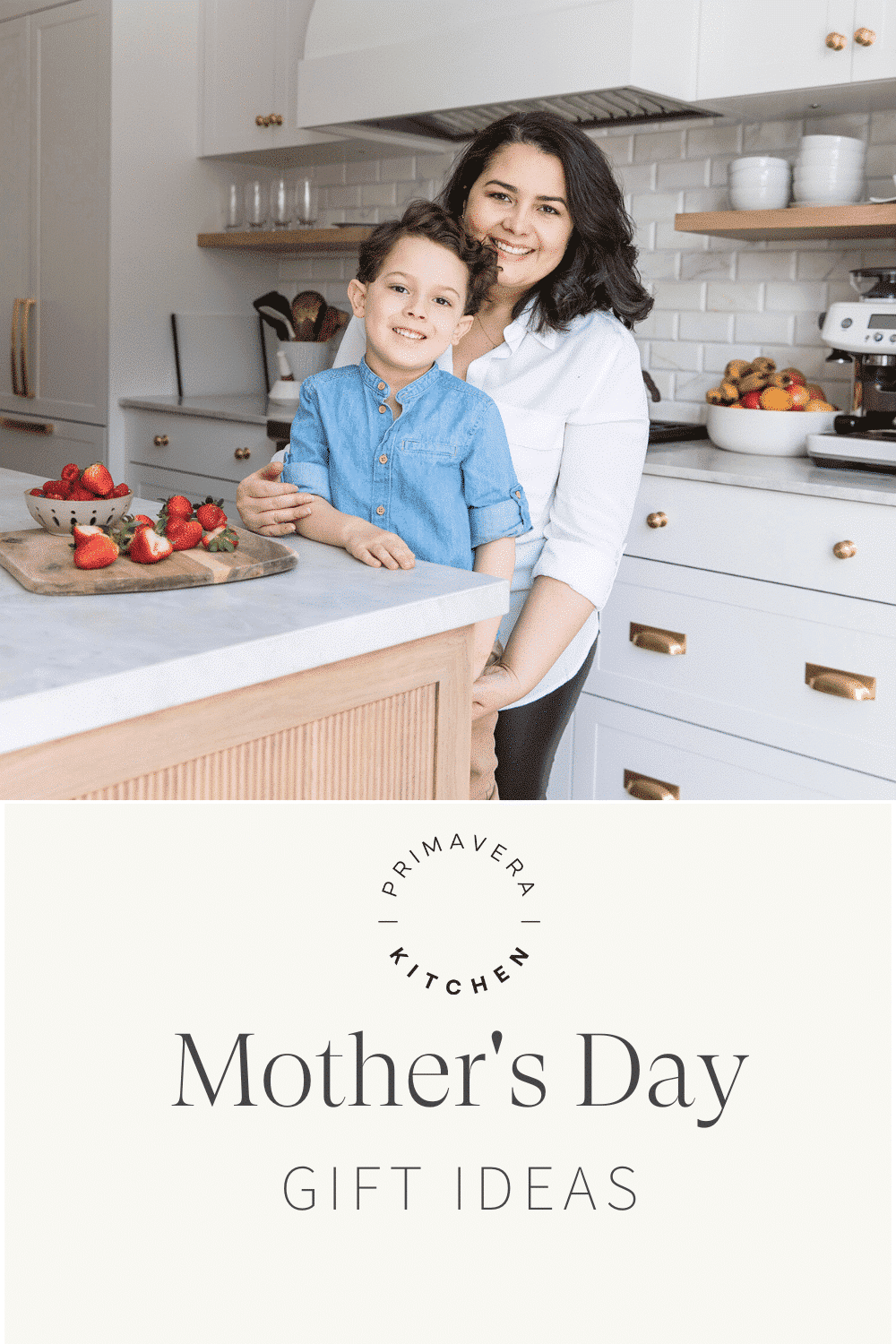 This comprehensive list includes gorgeous gifts at a variety of different price points, so you can easily find a thoughtful gift she'll cherish, even on a budget.
Show the mother in your life how much you care with a token of appreciation, and an acknowledgement of all she does to make your life rich and full.
Best Mother's Day Gifts for Foodie Moms
If your mom enjoys spending time in the kitchen and all things gourmet, these lovely gift ideas are sure to put a smile on her face.
A foodie-mom will love anything that inspires her to spend time learning about tastes, textures, different cooking methods, ingredients and cuisine. Express your gratitude for all of the delicious things she's cooked over the years!
Glass containers are the perfect way to store leftovers, prepped meals and snacks because they keep everything visible and help to prevent food waste.
2. Pour-Over Glass Coffeemaker
Coffee lovers rejoice! Mom can use this beautiful, manual, coffeemaker to make a small batch of her favorite beans, and pour over coffee is undoubtedly one of the most delicious brewing methods.
This elegant electric kettle is super handy in the kitchen. It creates an easy and convenient way to warm water for tea, coffee or use in cooking. Plus, it comes in many different colors!
4. Professional Color Chef Kitchen Knife Set
Nothing is worse than peeling or chopping up ingredients with dull kitchen tools, which means a new set of sharp knives will make cooking much more enjoyable. Additionally, this particular option is quite affordable (and pretty)!
5. Nonstick Pots and Pans Set Detachable Handle
These non-stick pots and pans are super cool and feature detachable handles, making them markedly easier to stack and store. Plus, they're even dishwasher friendly which makes cleanup a breeze.
6. Air Fryer Essential Compact
You can't go wrong when gifting a quality air fryer for Mother's Day and this model is highly rated, plus it's able to cook food super-fast with very little oil. Additionally, it can be used to grill, roast and bake all of her favorites.
Cookbooks are an especially good way to learn about new foods, ingredients and cooking methods. This one is fabulous and packed full of nutritious recipes, it also features gorgeous, inspiring food photography.
8. Instant Pot
This popular gadget is extremely functional and handy. Many know it as a pressure cooker, but it also has slow cooking capabilities! Additionally, you can even sauté ingredients right in your Instant pot or use it as a rice/homemade yogurt maker.
This beautiful kit provides detailed instructions and supplies for delicate, homemade French tarts! If you do select this gift, consider spending Mother's Day learning a new baking skill together, she'll certainly appreciate quality time spent together.
A splendid collection of tea! Altogether, this kit features eleven delicious flavors. It's the perfect way to let mom know you appreciate everything she does for you, especially if she loves Oprah.
11. NutriBullet Pro
A mini, high-speed blender perfect for individual smoothies. It can also be used to make nut-butters, flavor-packed sauces and salad dressings. When finished, pop the blade and blender cups in the dishwasher for speedy cleanup.
Make sure your mom doesn't ruin her favorite clothes while she creates in the kitchen, these cute aprons are perfect for avoiding stains and mess!
Best Self Care Gifts for Moms
Mothers are incredibly good at providing comfort and care for the ones they love, but sometimes need a reminder that self-care is equally important. Help mom fill her cup when she's poured out her energy into those surrounding her.
Keep in mind that self-care can mean many different things, so this list has lots of variety! Ask yourself, "what does my mom need most?" Then, choose accordingly!
This pretty, luxury bundle includes a silk scrunchie, keychain, cosmetics bag, compact purse mirror, jewelry dish, cozy socks and more! Help mom stay comfortable and organized with this thoughtful and affordable gift.
Help her relax with this beautiful, ceramic, essential oils diffuser. The great thing about this gift? Different scents can be used for different needs, some assist with sleep while others are fantastic for energy and focus.
A bundle of lovely bath accessories and natural skincare products, specifically designed for the new mom (but still perfect for any mother figure in your life)!
This mask nourishes lips with vitamin C and antioxidants during sleep. Plus, It's available in lots of yummy flavors including classic vanilla, berry, gummy bear, mango and sweet candy.
5. Stori Chloe Stackable Clear Makeup Holder
Whether she's getting ready for a night out on the town with friends, or just doing her daily makeup routine, this stackable holder is perfect for all of mom's favorite products! It's even clear which helps with staying organized.
6. EltaMD UV Clear Face Sunscreen
Light, matte sunscreen goes on flawlessly under makeup and helps prevent aging due to protection from sun rays. It's not greasy at all which makes it perfect for use daily use on the face.
7. Electric Razor for Women with LED Light
This neat gadget that allows for leg hair removal without any irritation, cuts or nicks. Plus, it's way less painful than waxing and super convenient. It even features a bright, LED light so the user won't miss any hair.
An Apple Watch can feel so expensive and out of reach, but a fully refurbished option is super affordable! There's nothing more motivating than feeling like you're "earning points" or closing ring goals for working out, it makes self-care and exercise much more enticing.
9. Rose Quartz Gua Sha Facial Tool
This handy and affordable little tool is super useful in skincare. It's made with 100% authentic rose quartz and can help reduce puffiness, improve definition, relieve tired muscles and even assist in the absorption of skincare products!
10. Burt's Bees Easter Basket Stuffers
I love Burt's Bees so much, it's such a high-quality skin care brand and everything they make is really fantastic. This fun bundle includes 6 miniature sample products: foot balm, body cream and wash, hand salve, peppermint lip balm, and a soothing ointment.
11. Hatch Restore Sound Machine
With this sunrise alarm, mom can wake up gentle and easy with a gradual increase in light accompanied by pretty nature sounds. This cool gadget also has a reading light, audible bedtime stories, a mindfulness/meditation channel and so much more!
Being a mom is tough work. This amazing and highly rated book by author Brené Brown is chock full of meaningful research and ideas that can help her navigate some of life toughest challenges.