Shredded Brussels Sprouts Salad is a beautiful and delicious side dish for lunch or dinner party. It has crispy and crunchy bacon, sliced almonds, tart pomegranate seeds and all it's tossed in a tangy lemon mustard vinaigrette.  
I'm the type of person that eats salad even during the cold months. I love my greens and I don't stopping eating them just because it's chili outside. But I'll say this; I love adding some kind of warm ingredient into my salads just to make them more attractive during fall and winter seasons. I also enjoy all of the seasonal produce.
So, every time I can, I make salads that have some of fall vegetables such as butternut squash, Brussels sprout, kale, pomegranate and so on. And that's how I created this delicious Shredded Brussels Sprout Salad that I'm sure you'll fall in love.
Ready to Make this Shredded Brussels Sprout Salad?
This salad is amazing and one of the reasons I love it, is because you can make it ahead of time (it's good in the fridge for about 3 days) and bring it to work for a quick healthy lunch or even serve it at a dinner party (hello, holiday season)!
Also, this shredded Brussels sprout salad is loaded with fresh fall ingredients and it has lots of different textures. You can image how delicious it must be by looking at the ingredients (pomegranate seeds, sliced almond, kale, Brussels sprouts and crispy bacon). Mm… Great combination of goodies in one single bowl!
And what about the dressing… So good! This shredded Brussels sprout salad is dressed with an easy homemade lemon mustard vinaigrette! Easy, quick to make (don't even need to cook the Brussels sprouts) and super rich in flavour!
Subscribe for new recipes & a free e-cookbook
Got extra Brussels sprouts? Try making my Parmesan Brussels Sprouts Salad, Brussels Sprouts Casserole Recipe (Web Story), Sausage with Brussels Sprouts Skillet, or my Roasted Brussels Sprouts Quinoa Salad. They're such easy and delicious recipes that are always a crowd pleaser.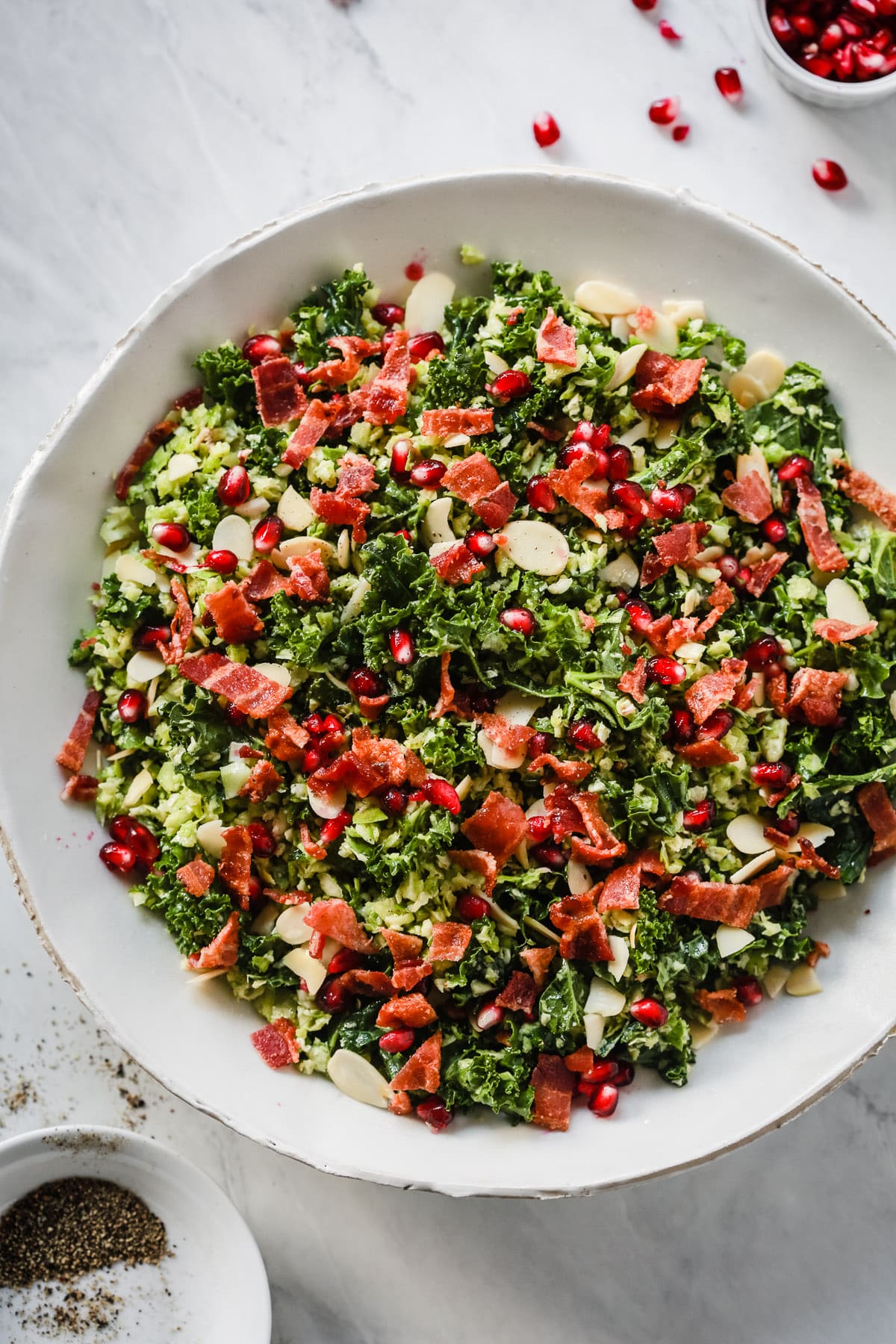 How to Shred Brussels Sprouts (Easy and Quick)
I know that nowadays many grocery stores are selling lots of veggies already shredded, which is great when you're having crazy busy days. But, these pre-cut bags of veggies are oftentimes more expensive and the veggies are not even as fresh as when you buy the veggie and cut/shred them at home. For this reason, if I have time I always prefer to shred Brussels sprouts or any other veggie by myself.
All you need to do is:
First, you need to wash Brussel sprouts because they may come full of dust. So, rinse them off in cold water for 30 seconds or until they are completely clean.
Using a sharp knife trim or cut off the tough ends, which is the brown ends of the Brussels sprouts.
Pull off any outer leaves that are yellow. If some green leaves just happen to fall off, save them to add to the food processor.
Cut each sprout in half lengthwise.
Run Brussels sprouts through your food processor for a minute or so.
Or slice them on a mandoline slicer or even thinly slice Brussels sprouts using a sharp knife.
So, this salad is amazing and I really think you should give it a try. Why not to make it for Thanksgiving this year?
This post contains affiliate links. For more information, please visit my disclosure page here.
More Holidays Side Dishes:
Watch the Shredded Brussels Sprouts Salad Web Story.
Shredded Brussels Sprout Salad
Shredded Brussels Sprouts Salad is a beautiful and delicious side dish for lunch or dinner party. It has crispy and crunchy bacon, sliced almonds, tart pomegranate seeds and all it's tossed in a tangy lemon mustard vinaigrette.
Instructions
Add all the salad ingredients in a large bowl and mix well to combine.

In a mason jar, add all the dressing ingredients and shake well to combine.

Pour the dressing over the salad and toss with well before serving.
Tips
TO MAKE AHEAD OF TIME: Salad can be made a day ahead of time. Just pour the dressing minutes before you serve and top with almonds and fried bacon once ready to serve.
Not into kale? Try baby spinach, even arugula, or even skip the green and make it only with Brussels sprouts.
Not a fan of chopping up all the Brussels sprouts? You can purchase shaved Brussels sprouts. You can also use a food processor or a mandolin to quickly chop it finely.
Be sure to remove any outer leaves of the Brussels sprouts that are bruised or have black spots. 
To store: The brussels sprouts and the dressing will last 4 days if stored separately in the fridge. When combined, they'll last 2 to 3 days.
Nutrition Information
Serving:
1
/4
Calories:
211
kcal
(11%)
Carbohydrates:
15
g
(5%)
Protein:
6
g
(12%)
Fat:
15
g
(23%)
Saturated Fat:
3
g
(19%)
Polyunsaturated Fat:
2
g
Monounsaturated Fat:
9
g
Cholesterol:
5
mg
(2%)
Sodium:
730
mg
(32%)
Potassium:
314
mg
(9%)
Fiber:
5
g
(21%)
Sugar:
7
g
(8%)
Nutrition information is calculated using an ingredient database and should be considered an estimate.