You'll love these delicious low-carb bunless burger recipes. All these keto burger recipes are made without buns, but yet they are so delicious as you don't need bread to make a burger tastes yummy, right? What you need is good seasoning, sauces, toppings and good quality meat, turkey or salmon. 
It's time to kick off the grilling season by firing up the grill with delicious low carb burgers. If you are craving burger recipes, but you are avoiding them because of all the bun carbs, these bunless burger recipes are coming to your rescue!
Get the satisfaction of delicious low-carb bunless burger recipes without all the tons of carbs that come with buns and enjoy summer in a health way. And as a bonus, they all come with a lot of veggies 😉
What you will need to make these Low-carb Bunless Burger recipes:
So, let's jump to the recipes and make these delicious low-carb bunless burger recipes this summer 😉
---
This low-carb bunless burger is not only healthy, but it's also one of the flavorful turkey burger recipes you'll ever try! All because of the Dijon mustard, onion and garlic powder inside of the burger and the avocado sauce too!
On top of that, the grilled zucchini makes you want to eat this Bunless Turkey Burger over and over again. Yum!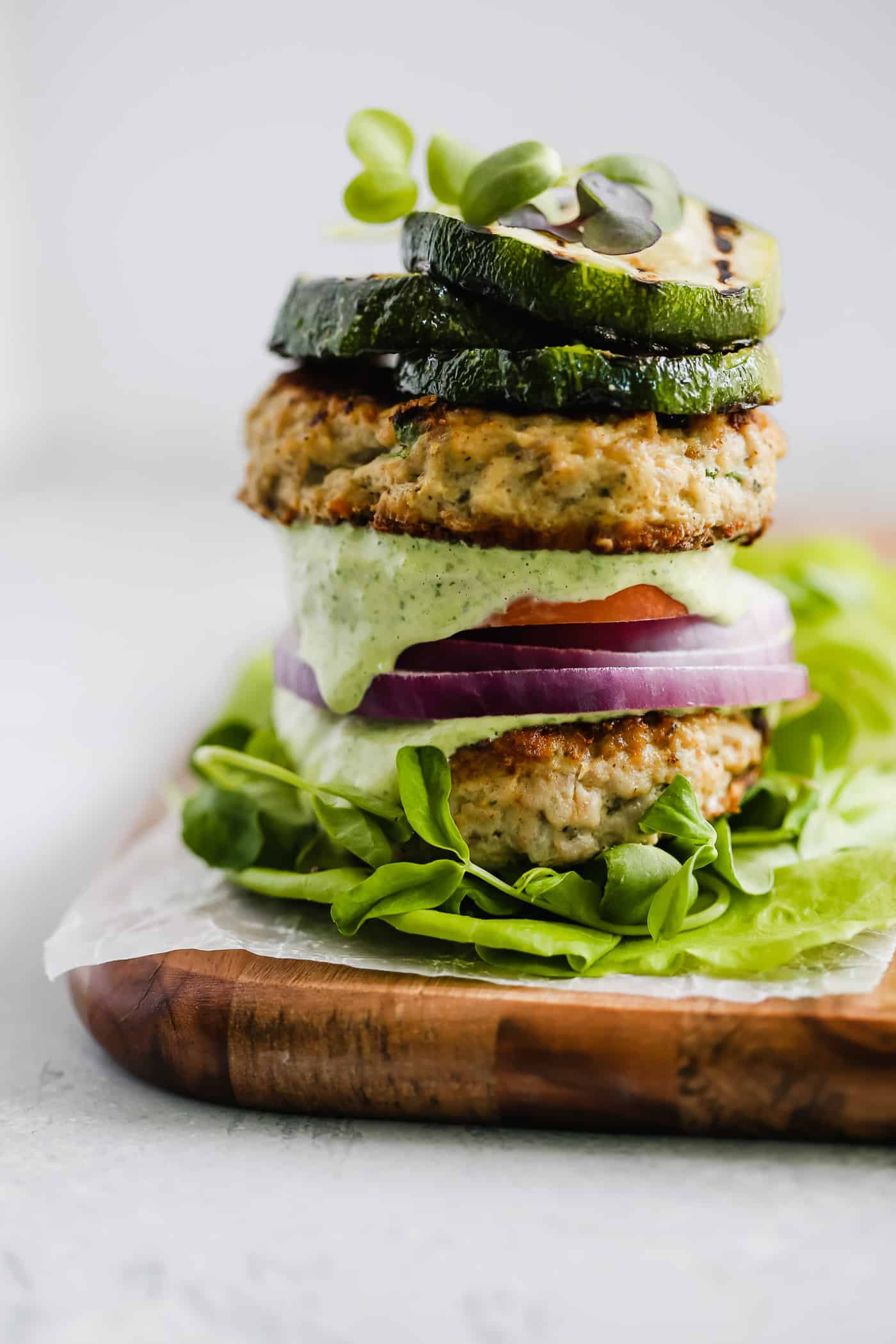 This Low-Carb Salmon Burgers with Avocado Coleslaw recipe is an easy, quick, healthy and delicious meal that's ready in 20 minutes! The avocado sauce from the coleslaw salad is insanely good.
It's dairy-free, but very creamy and super easy to make. It's also a kind of burger to enjoy with a fork and a knife.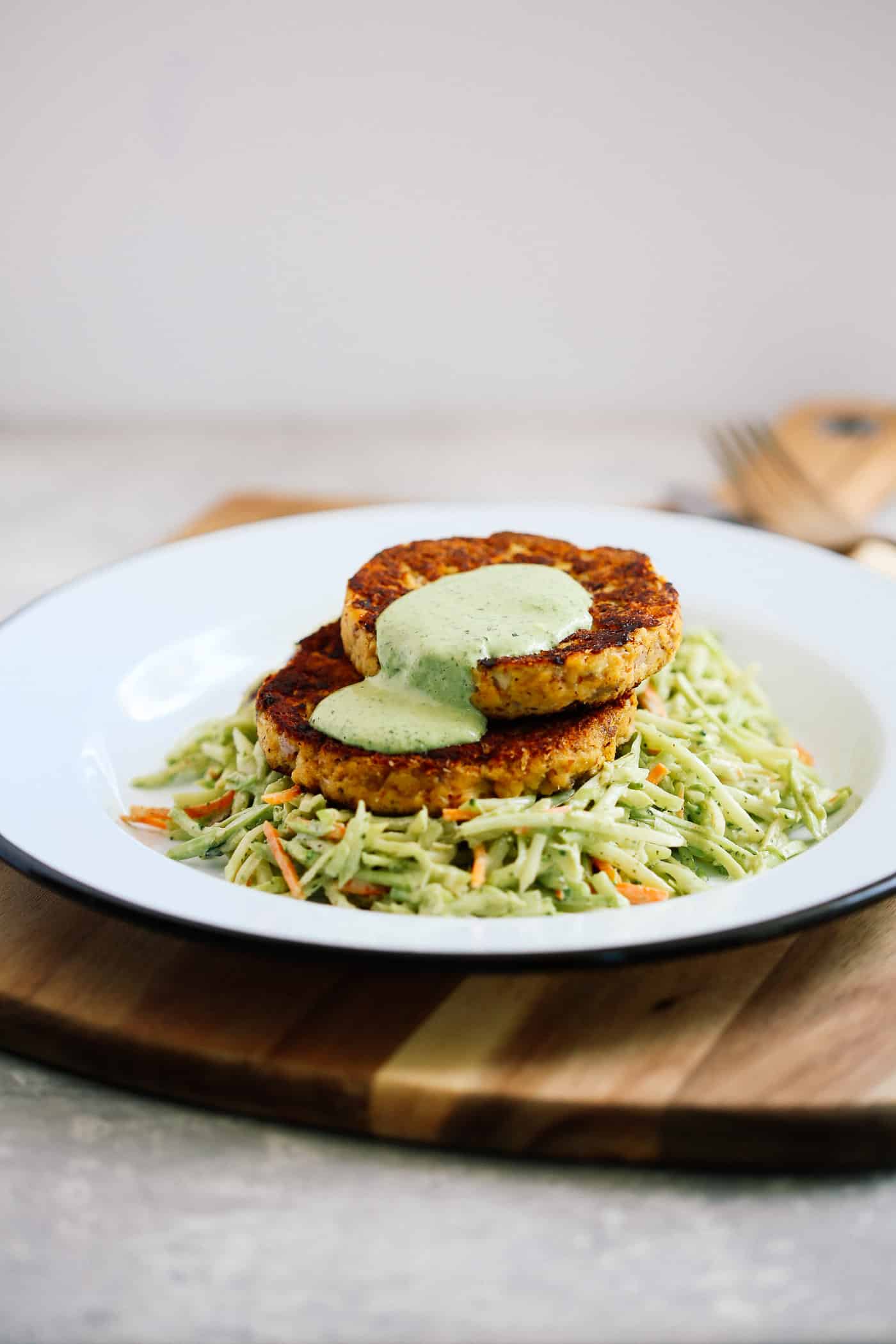 Spinach Sauce low-carb bunless burger is a delicious low-carb, paleo, gluten-free and whole30 burger recipe that is perfect for a light summer lunch or dinner. These beef patties are made with extra-lean ground beef and I cooked it in my cast iron large skillet.
The spinach sauce is a delicious flavor and it's made with lots of spinach, homemade mayo, avocado, garlic, olive oil, salt and black pepper. I topped it with red onion, tomato, bacon and lettuce.
If you're looking for a quick low-carb option to your favorite burger recipe, I'm sure you will love this burger patty recipe, made with ground turkey, paprika, chili powder, cumin and garlic! Very flavorful and guilt-free also. This is a great recipe for your burger cravings.
For this recipe I added tomatoes, red onion, spices of avocado, but I didn't add cheddar cheese or pickles. Of course, you can add them if you prefer. Serve it with fries on the side.
Portobello Mushroom Low-carb Bun Burgers with Guacamole makes a delicious and healthy bunless burger recipe and tops it off with a perfect homemade guacamole.
Now, it's your turn. Which low-carb bunless burger recipe recipes are your favourite and why? How do you like to make yours? Share with us. And if you make one of these bunless burger recipes don't forget to use the hashtag #bunlessburgerweek on Instagram so I can see your re-creation 😉