Portobello Mushroom Bun Burgers with Guacamole makes a delicious and healthy bunless burger recipe and tops it off with a perfect homemade guacamole. 
Welcome to the second day of bunless burger week here at Primavera Kitchen where I'm sharing 5 Low-Carb Bunless Burger Recipes. Today, it's the Portobello Mushroom Bun Burgers recipe and I'm sure you'll enjoy it just because this recipe is AMAZING!
All these bunless burger recipes are and they will help you to stay on your diet during the whole summer since all these recipes are whole30, low-carb, paleo and gluten-free. The first recipe was this Spinach Sauce Bunless Burger that is to die for. The spinach sauce is so creamy with homemade mayo, spinach and avocado. Yum! In this post I also talked about how to know the safe internal temperature for your burgers. So if you have questions about that you definitely should check it out. There's also my Whole30 Bunless Turkey Burger Recipe, Easiest Guacamole Recipe, and Easy Low-carb Bunless Burgers Recipe!
Before jumping to the recipe post I just would like to ask you one thing. If you are re-creating one of these bunless burger recipe, don't forget to use the hashtag #bunlessburgerweek on Instagram, because I would love seeing your bunless burger recipes too 😉
So today I brought to you this Portobello Mushroom Bun Burgers with Guacamole that it's simply a traditional hamburger using Portobello mushrooms as the bun. Cool, right? On top of that, these burgers are special because of the guacamole that adds much more flavor to this recipe.
How to clean Portobello mushroom:
This is something very simple to do, but very important step to have a delicious mushroom bun since they tend to come a bit dirty from the stores. You are just going to do a quick cleaning.
First, you're going to gently twist off the stem of each mushroom. The stem is delicious too, so I recommend to save it to sauté and add in your omelette or frittata for example.
Then, hold the mushroom cap in one hand and using a spoon, scrape out all the gills from the underside of the Portobello mushroom cap. The gills in my opinion are not great to eat, so you can discard them. Now they are ready to grill. Simple and easy!
How to grill Portobello mushroom:
Now that your mushrooms are clean and ready to cook you need to marinate them before you grill them. Doing this first will make the mushroom buns much more flavorful.
First, you will place all the ingredients for the Portobello Mushroom Buns in a small bowl and mix everything well to combine.
Then, you will add the cleaned mushroom caps in the bowl and coat them with the olive oil mixture and let stand for 1 hour.
Now, oil the grill or grill pan and bring the heat to medium.
Add the Portobello to the grill and cook for 4 minutes or so. Using tongs, carefully flip the mushroom to the other side and grill for more 4 minutes.
How to shape the perfect burger patties:
Alright, here is a good way to shape your burger patties easily.
First, divide your mixture of ground meat and spices in 6 equally amount.
Second, grease your hands with a little bit of olive oil. This will avoid the meat to stick on your hands.
Third, shape the burger patties in a ball shape using your hands and place them on a baking sheet line with parchment paper.
Finally, using your four fingers gentle tap on the burger shape balls until they get flat and 1 inch thick. Then, fix the edges with your hands since the side of the burger may crack or break apart. All done and ready to grill.
Let's jump to the recipe and make this Portobello Mushroom Bun Burgers with Guacamole recipe!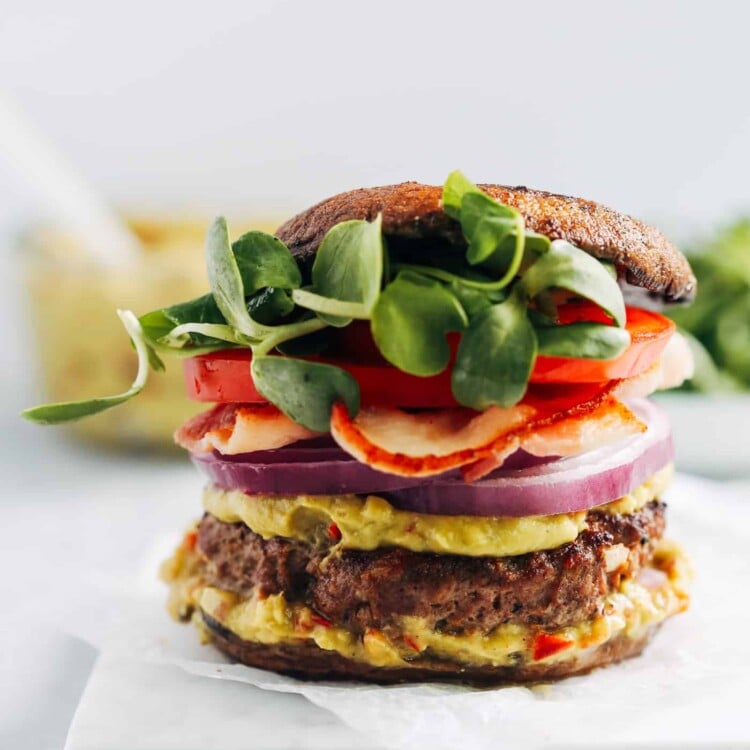 Portobello Mushroom Bun Burgers with Guacamole
Portobello Mushroom Bun Burgers with Guacamole makes a delicious and healthy bunless burger recipe and tops it off with a perfect homemade guacamole. 
Ingredients
For the Guacamole
1

avocado

1/3

cup

red bell pepper

finely chopped

2

tablespoons

diced tomatoes

½

red onions

chopped

1

garlic clove

minced

1

tablespoon

lime juice

Salt and black pepper

1

tablespoon

fresh cilantro

chopped (you can skip this ingredient if you don't like cilantro)
For the Portobello Mushroom Buns
2

tablespoons

olive oil

Salt and black pepper

1

garlic clove

minced

8-12

Portobello Mushroom

stems and gills removed
For Serving
Slices

of red onions

tomatoes, cooked bacon and microgreen leaves or any other green leaves you prefer to serve.
Instructions
Make the spinach sauce: Add avocado in a bowl and mash it with a fork. Add all the ingredients and stir well. Set aside.

Place all the ingredients for the mushroom buns in a bowl, except for the mushrooms. Mix well. Add the mushroom into the olive oil mixture bowl and coat them well. Set aside for about 1 hour. Place "buns" on grill and let them cook for 4 minutes.

To make the burger, combine all ingredients, except the olive oil, in a large bowl. Mix everything well to combine and using your hands divide the mixture into 4-6 burgers.

Heat the olive oil in a non-stick grill pan (or simply cook your burger in a BBQ) over a medium-high heat. Cook the burger for 3-5 minutes on each side, or until reach 145°F for medium-rare or 160°F for well-done. Set them aside.

To build each burger, top one Portobello mushroom guacamole, patty burger, more guacamole, two slices of red onions, 2 slices of bacon, 2 slices of tomatoes and some microgreen or leaves. Top with second Portobello mushroom ban.
Tips
Do not overmix the meat, as it'll lead to a dense and tough patty.
Avoid squeezing the patties together tightly as you don't want the patties to be dense.
Make sure you don't rush the mushrooms as you want them to grill all the way through or the texture won't be as good.
To store: Keep leftover burger patties in the fridge in an airtight container for up to 5 days. Store the mushrooms in a separate container. The guacamole also needs to be stored separately. The guac may brown over time.
To reheat: Reheat the beef burgers on the grill or in the microwave.
To freeze: Flash freeze the raw patties before transferring them to a freezer-safe bag and freeze for up to 3 months.
Nutrition Information
Serving:
1
/6
Calories:
317
kcal
(16%)
Carbohydrates:
14
g
(5%)
Protein:
22
g
(44%)
Fat:
18
g
(28%)
Saturated Fat:
5
g
(31%)
Cholesterol:
73
mg
(24%)
Sodium:
470
mg
(20%)
Fiber:
5
g
(21%)
Sugar:
8
g
(9%)
Nutrition information is calculated using an ingredient database and should be considered an estimate.
And if you like this Portobello Mushroom Bun Burgers with Guacamole recipe, please share with your friends and family. Do you want to taste more? Subscribe to my newsletter and follow Primavera Kitchen on Twitter, Pinterest, Google+, Instagram, and Facebook for all delicious recipes updates. As always, I really appreciate you stopping by.