This Low-Carb Salmon Burgers with Avocado Coleslaw recipe is an easy, quick, healthy and delicious meal that's ready in 20 minutes! It's also paleo, whole30, and gluten-free.
Yeh!! It's DAY THREE of bunless burger week where I share 5 Low-Carb Bunless Burger Recipes! Monday, I posted the Spinach Sauce Bunless Burger with a homemade spinach sauce; Tuesday I shared the Portobello Mushroom Bun Burger with Guacamole, which is just like a traditional burger but with a mushroom bun instead. And today I have another new bunless burger recipe to share with you and I'm very excited because this recipe is so healthy, yet D.E.L.I.C.O.U.S! But first I just would like to ask you if you're making one of these recipes, please use the hashtag #bunlessburgerweek on Instagram because I would LOVE seeing your creations 😉
Definitely salmon is  one of the best proteins you can add to your diet. It's super healthy and very easy to make. I love salmon in foil for a quick dinner just like this Garlic Butter Salmon in Foil or Broiled Salmon. They are both great choices of healthy meal for your family. But I also love creating different ways to cook salmon because I don't want to feel tired of eating this fish. That's why salmon burgers are here today.
Let's talk about these Low-Carb Salmon Burgers with Avocado Coleslaw, which you need only 8 minutes to cook them (4 minutes each side).  Also, the avocado sauce from the coleslaw salad is insanely good. It's dairy-free, but very creamy and super easy to make. All you need to do is to add all the ingredients in a food processor and process it for 1-2 minutes. Once this magic green sauce is done, you pour over the coleslaw salad and dinner is ready! Don't have avocado? Try this Easy Coleslaw Recipe instead!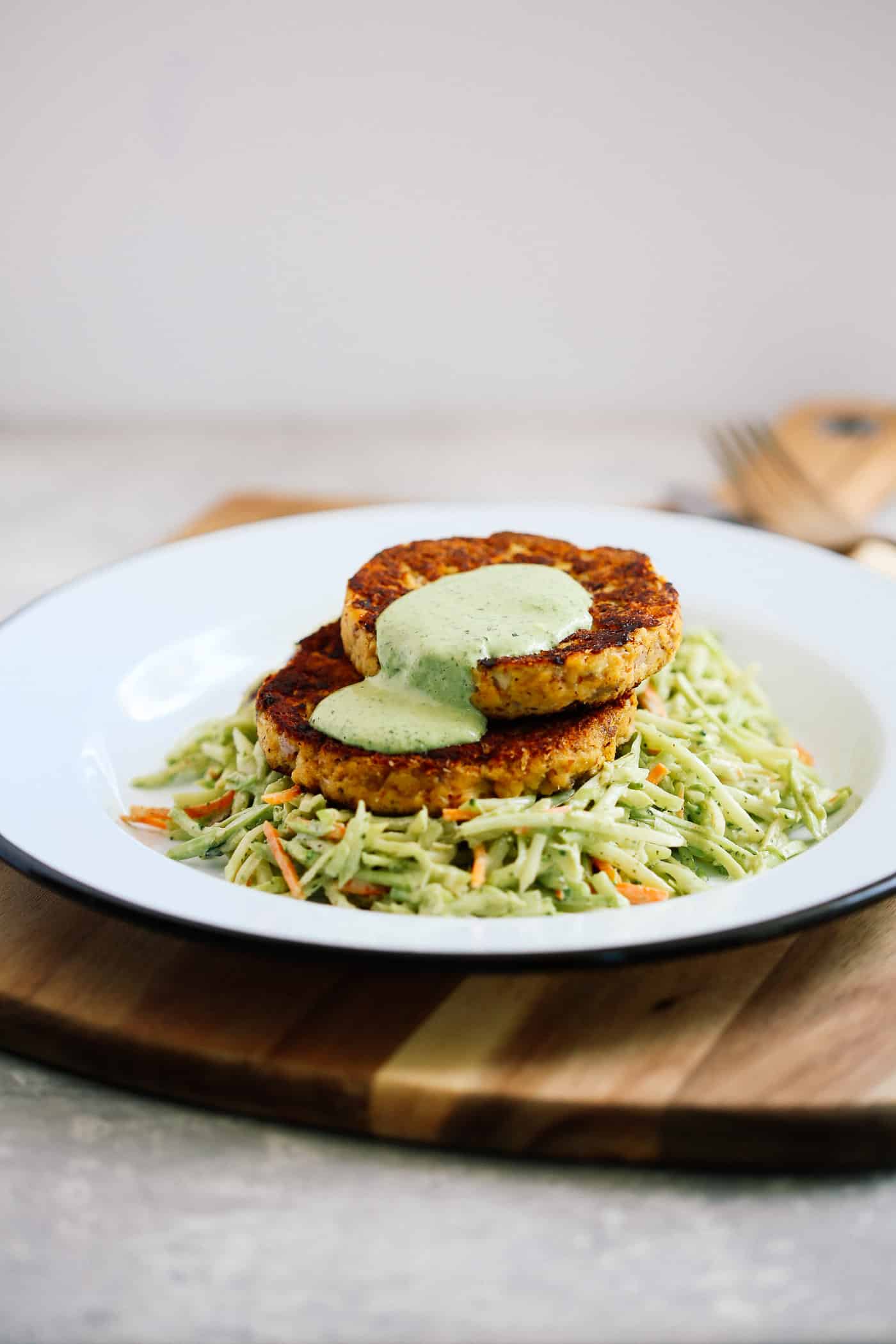 Why should you use wild salmon to make these Low-Carb Salmon Burgers with Avocado Coleslaw:
There are many reasons why you should cook and eat wild salmon instead of farmed salmon and I listed few of them below for you.
It's caught in the wild and in its natural environment such as oceans, rivers and lakes, which means when you buy wild salmon, there is a big chance that you're supporting smaller fishing production. On the other hand, farmed salmon was raised in fish farms, also known as aquacultures.
Wild salmon has a completely different diet than farmed salmon. It eats organisms found in its natural environment and farmed salmon eats processed feed. Also the color is more intense than farm-raised. It's more red than pink.
Also, wild salmon is higher in minerals, but both are great source of Omega-3. However, farmed salmon contains much more Omega-6 fatty acids and saturated fat than wild salmon.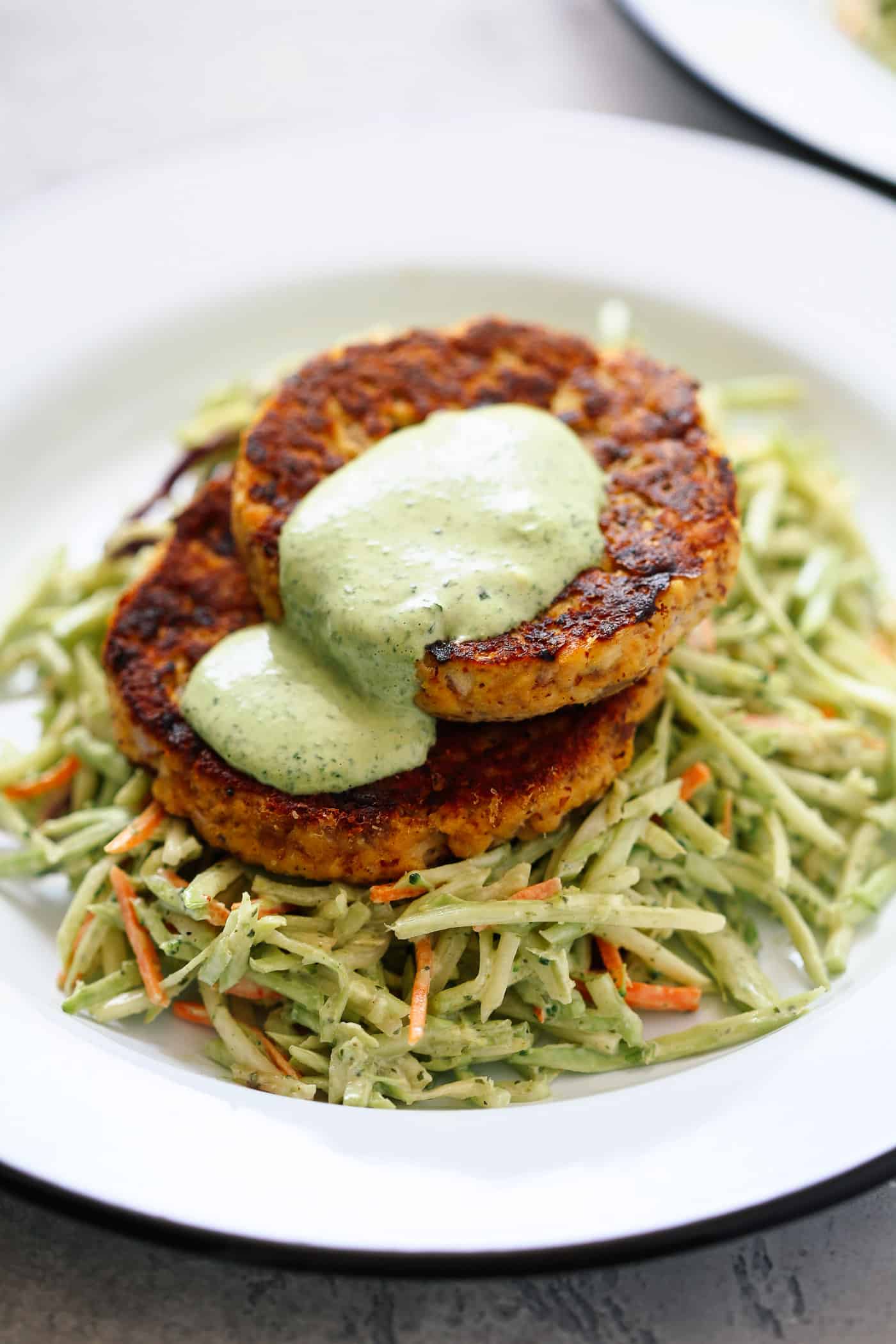 Wild Salmon cans that I recommend for you to make these Low-Carb Salmon Burgers with Avocado Coleslaw:
When I find on my local grocery store fresh wild salmon I buy it, but it's not everyday that they sell it there. So, I choose to buy wild salmon cans. It's a good alternative for those days I can't get fresh wild caught salmon (and when I don't find any of the two, then I buy farmed salmon).
I like the Wild Alaskan Pink Salmon and/or Kirkland Signature Wild Alaskan Sockeye Salmon, which both can be bought easily on Amazon and also read the good reviews.
They are both sustainably caught in the cold and clear Alaskan waters;
They don't come with skin or bones;
There is no GMO;
And they are very nutritious with 340mg of EPA and DHA Omega 3 per 2 oz serving.
This post contains affiliate links. For more information, please visit my disclosure page here.
Tips to help you to make these Low-Carb Salmon Burgers with Avocado Coleslaw:
It's important that you handle the patties very carefully because they are not very firm.
So, make the shape of a burger patty using your hand and place directly on a grease non-stick skillet.
If you think your salmon mixture is a little wet or "watery" you can add 1 or 2 tablespoons of almond flour.
Don't cook for more of 5 minutes each side otherwise you may burn your salmon burger. Also heat olive oil on your skillet on high, then turn it to medium to cook evenly inside and outside.
Want another burger recipe? Try my Whole30 Bunless Turkey Burger Recipe and Easy Low-carb Bunless Burgers Recipe! You won't regret it!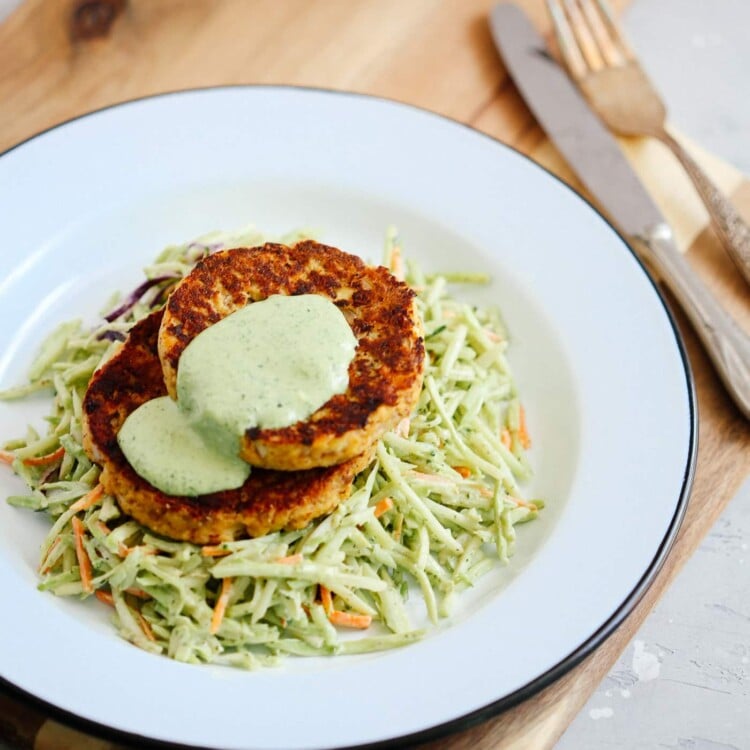 Low-Carb Salmon Burgers with Avocado Coleslaw
This Low-Carb Salmon Burger with Avocado Coleslaw recipe is an easy, quick, healthy and delicious meal that's ready in 20 minutes! It's also paleo, whole30, and gluten-free.
Ingredients
For the Salmon Patties
1 

6oz.

can wild salmon canned or fresh salmon

1 

medium egg

½

cup

almond flour

1/4 

cup

white onion

minced

1

tablespoon

lemon juice

1 

tablespoon

fresh parsley

minced

1 

small garlic clove

minced

1 

tablespoon

olive oil for cooking
For the Avocado Coleslaw
¼

cup

creamy avocado sauce

recipe here

12

oz

bag of broccoli

carrots, red cabbage slaw
Instructions
Add all the ingredients for the salmon burger in a medium size bowl. Mix everything together.

Heat olive oil on a non-stick pan on the stove.

Form into 4-6 burgers. Handle carefully the patties because they fall apart easily when they are not cooked.

Cook for about 3-5 minutes on each side until golden brown.

Make the coleslaw: place all the ingredients for avocado coleslaw in a large bowl and mix well. Serve immediately or place it in the fridge for about 30 minutes before serving with the salmon patties. Enjoy!
Tips
You can use a medium to large cookie scoop to portion out the burgers.
If you do not like almond flour, try using pork rind panko.
If you don't have fresh parsley, you can swap for any dried herb.
To store: Keep leftover salmon burger patties in the fridge in an airtight container for up to 5 days.
To reheat: Reheat the salmon burgers on the grill, stove, or microwave.
To freeze: Flash freeze the raw patties before transferring them to a freezer-safe bag and freeze for up to 3 months.
Nutrition Information
Serving:
1
/4
Calories:
212
kcal
(11%)
Carbohydrates:
7
g
(2%)
Protein:
7
g
(14%)
Fat:
13
g
(20%)
Saturated Fat:
2
g
(13%)
Polyunsaturated Fat:
1
g
Monounsaturated Fat:
3
g
Cholesterol:
42
mg
(14%)
Sodium:
376
mg
(16%)
Potassium:
335
mg
(10%)
Fiber:
4
g
(17%)
Sugar:
2
g
(2%)
Nutrition information is calculated using an ingredient database and should be considered an estimate.
And if you like this Low-Carb Salmon Burgers with Avocado Coleslaw recipe, please share with your friends and family. Do you want to taste more? Subscribe to my newsletter and follow Primavera Kitchen on Twitter, Pinterest, Google+, Instagram, and Facebook for all delicious recipes updates. As always, I really appreciate you stopping by.