This herb lamb chops recipe is very easy to make, so don't let it intimidate you. Once you know how to cook lamb properly, you can make this scrumptious and impressive holiday meal.
Is it healthy to eat lamb?
Like other meats, the cut of lamb you choose plays a big factor into its fat and calorie content.
Although it does have less marbling of fat, lamb is fairly comparable to beef and pork in terms of nutrition. After cooking, you can remove much of the fat around the outside of the meat, decreasing the fat you consume.
The method of raising the animal also affects its nutritional value. Sheep are herbivores that eat grass. When farms feed them grain to fatten them up, it changes the meat consumers receive. Grass-fed lambs have less fat and more Omega-3 fatty acids.
Also, choosing a healthy cooking method, like this Garlic Herb Lamb Chops recipe makes the dish healthier. An alternative is grilling the lamb chops like my Grilled Lamb Chops.
What part of the animal do chops come from?
Lamb chops typically come from one of four areas:
ribs
loin (the area of the lower back beside the spine)
sirloin (the best portion of the loin)
shoulder
The loin chop is the most common cut of lamb to find in the grocery store. Each section is a perfect three to four ounces, is lean and tender and contains a t-shaped bone. As you will see with this Garlic Herb Lambs Chop recipe, loin chops are simple to prepare and quick enough for a weeknight dinner.
A sirloin pork chop is much larger. It is cut from the leg region and can be identified by the section of round leg bone in the meat.
Shoulder chops are the smallest cuts of lamb. As a result, they are also the quickest cooking cuts.
What is the safe internal temperature for herb lamb chops recipe?
The general consensus is that the best way to cook lamb chop recipes is to medium-rare. At medium-rare, the internal temperature of lamb will be 145 degrees Fahrenheit and the meat will be very pink inside. Most of the bacteria on this type of meat is on the outside. As a result, it does not require being cooked as thoroughly as poultry.
I do not recommend cooking to a temperature above 160F, as the lamb will become chewy and too dry to be enjoyable.
How to make herb lamb chops recipe:
Start with room temperature meat. Remove them from the fridge 30 to 40 minutes before cooking.
You do not need to put any oil into your pan to cook lamb chops. Cooking them in a dry pan allows the edges to become brown and crispy.
To get the best sear, cook each side of the lamb chop for about three minutes.
Rather than using your eyesight to determine the doneness of lamb chops, it is easier and safer to use a cooking thermometer.
Before serving, allow pork chops to rest for 10 to 15 minutes. This allows the juices to redistribute within the meat so they will not leak out when you cut into the lamb chops
Don't have any herbs? No problem! Try this Garlic Butter Lamb Chops instead!
More Lamb Chop Recipes:
Grilled Lamb Chops with Chimichurri Sauce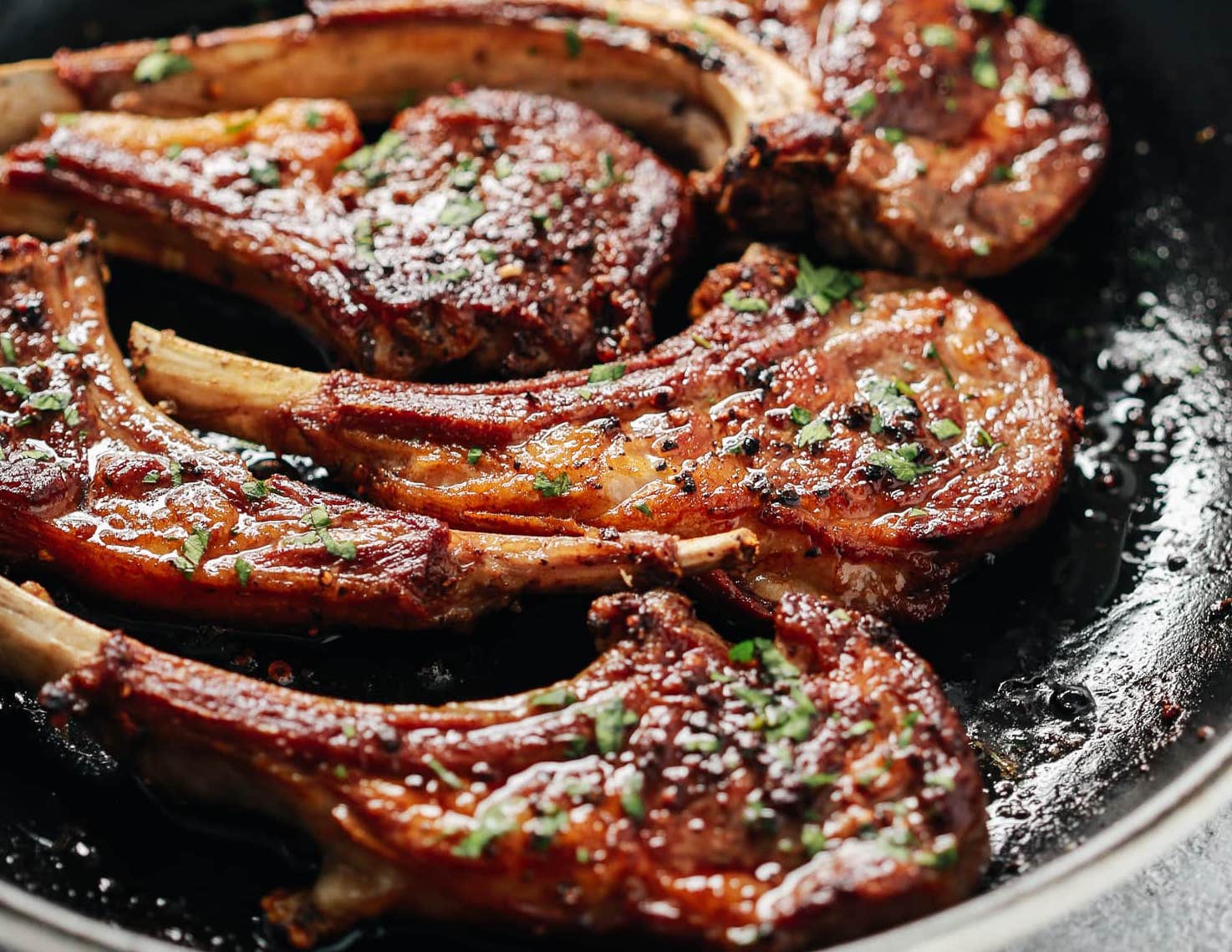 Lamb Chops with Creamy Mustard Sauce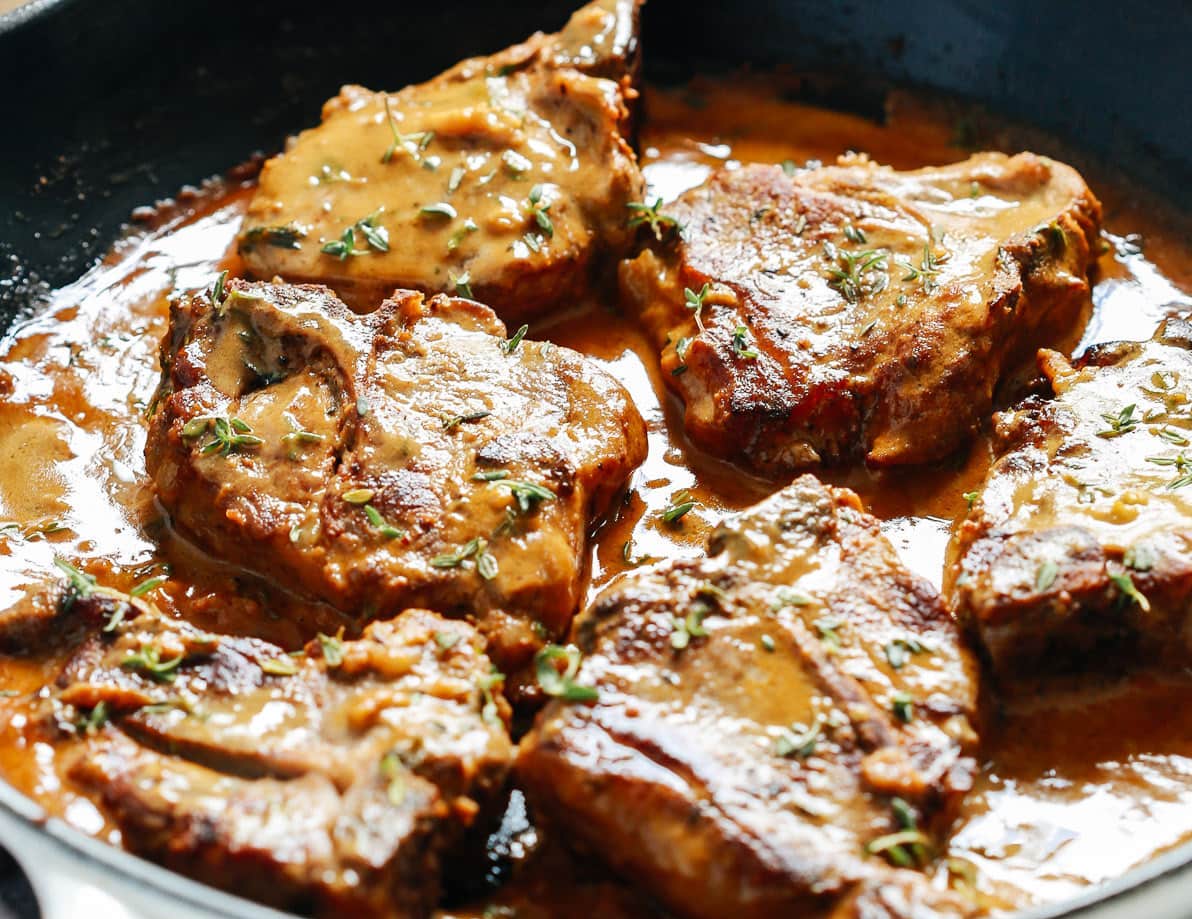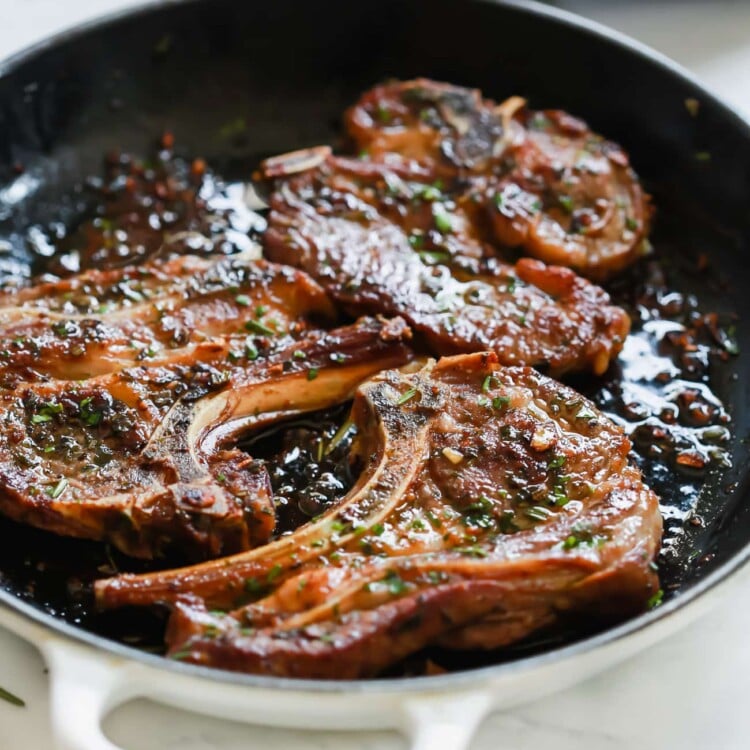 Garlic Herb Lamb Chops Recipe
This lamb chops recipe is very easy to make, so don't let it intimidate you. Once you know how to cook lamb properly, you can make this scrumptious and impressive holiday meal.
Ingredients
4

lamb chops

1

tbsp

olive oil

5

garlic cloves

minced

½

tbsp

fresh rosemary

chopped

1

tbsp

fresh parsley

chopped

½

tbsp

dried oregano
Instructions
Remove loin chops from the fridge 30-40 minutes before cooking.

Place them on a paper towel-lined cutting board and pat them dry with paper towels. Season well with salt and pepper.

In a small bowl, add olive oil, garlic and all the herbs. Mix well to combine.

In a freezer bag or silicone bag (this is my favourite one), add lamb chops, the herb marinade, close bag and swoosh around until the chops are well coated with the marinade.

Heat a dry 12-inch cast iron skillet over a medium heat. In the skillet, place the chops narrow fat side down. You probably will need to use tongs to keep them balanced and to press the chops down so that the fat renders and turns crisp and brown. It's about 2 minutes.

Once the fat has melted into the pan, lay the chops flat on one of their sides. Cook for another 3 minutes, until browned, then turn and cook on the other side.

Transfer the chops to a platter and garnish with more fresh herbs. Enjoy!
Tips
Cook the lamb chops to 145F. If you cook them above 160F, they will become tough and chewy.
When searing the lamb chops, make sure to not move them around too much so they get a nice crust. 
Make sure you rest the lamb before slicing so the juices don't end up on your cutting board.
To store: Store leftover garlic herb lamb chops in an airtight container in the fridge for up to 3 days.
To reheat: You can reheat leftovers on the stove or in the microwave. 
To freeze: Freeze the cooked lamb chops in an airtight bag for up to 3 months.
Nutrition Information
Serving:
1
/4
Calories:
90
kcal
(5%)
Carbohydrates:
2
g
(1%)
Protein:
7
g
(14%)
Fat:
6
g
(9%)
Saturated Fat:
2
g
(13%)
Monounsaturated Fat:
3
g
Sodium:
303
mg
(13%)
Potassium:
104
mg
(3%)
Nutrition information is calculated using an ingredient database and should be considered an estimate.