Grilled Lamb Chops are an easy dinner that you can have ready to eat in 10 minutes! A chimichurri marinade adds the flavour of fresh herbs to the juicy chops. This grilling recipe makes a delicious summer dinner.
Today I'm sharing with you this very easy grilled lamb recipe since you're enjoying my other lamb chop recipes: Garlic Butter Lamb Chops Recipe (Web Story), Garlic Herb Lamb Chops Recipe and Lamb Chops with Creamy Mustard Sauce. I'm sure you'll enjoy this new lamb chops recipe during summer because it's perfect for grilling season, healthy and super flavourful.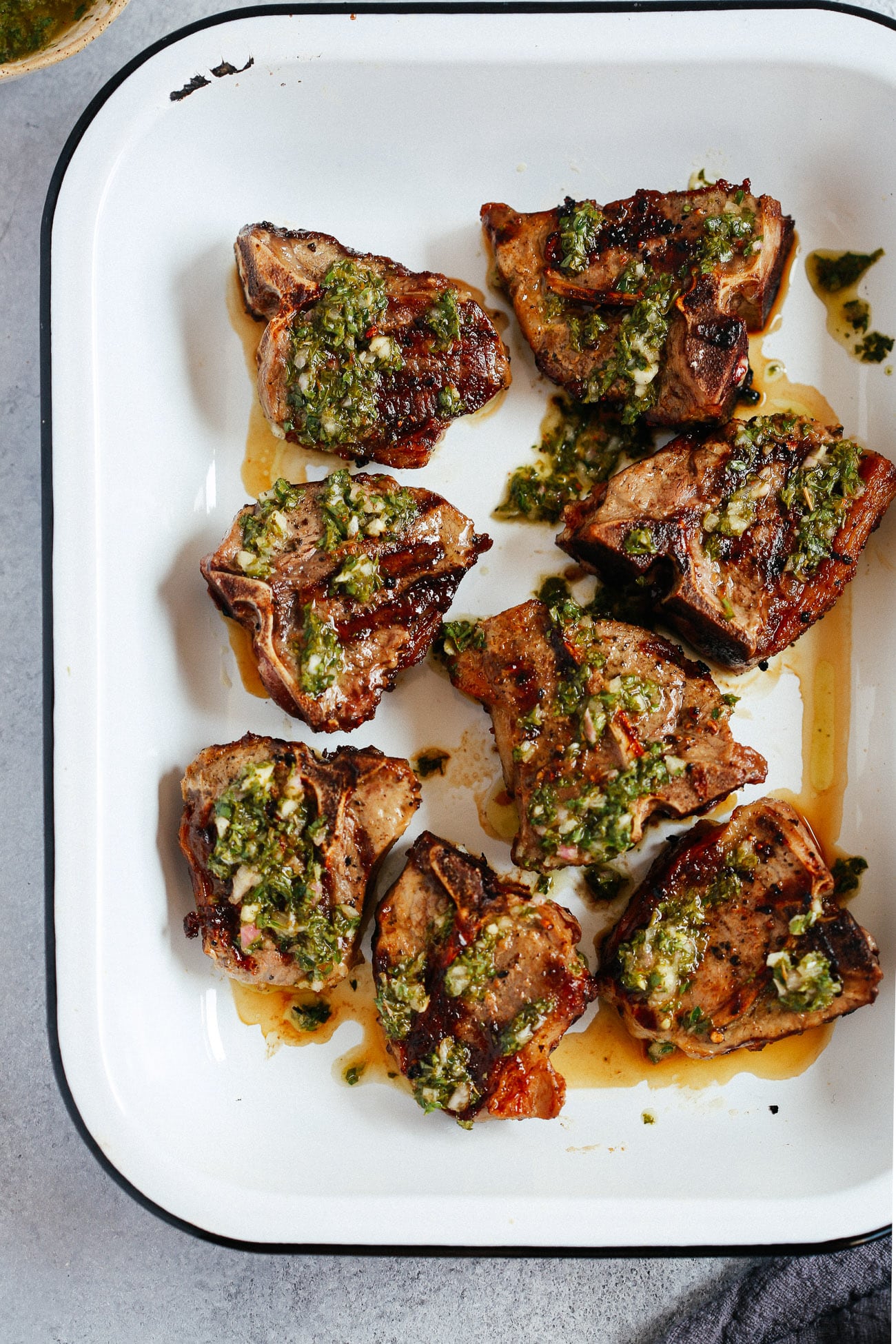 What kind of lamb is best for grilled lamb chops?
Lamb chops are cut from several different parts of the animal, including the shoulder, loin, ribs, and sirloin. Typically the packaged lamb chops available in the grocery store are cut from the ribs or shoulder. The two most popular types of lamb chops are lamb loin chops (or t-bones) and lamb rib chops — you can use either for this recipe.
Packages marked "petite" or "small" are lamb rib chops. Shoulder lamb chops have more meat and are thicker, but are not as tender as the rib meat.
Either of these cuts of lamb work well for grilled lamb chops. The chops are small enough that they cook to juicy perfection in less than 10 minutes!
I use them so often (like in my Lemon Thyme Lamb Chops Recipe), that I feel like they can be pretty interchangeable.
I love Chimichurri sauce because it's very versatile and very flavourful. I can definitely buy this sauce at your local grocery store but I always make my own because it's so easy to make and way more flavorful than the store-bought ones. I make mine with lots of fresh parsley, shallots or onions, oregano, vinegar or lemon juice, some of lemon zest and of course olive oil. To make this delicious recipe, click HERE.
Subscribe for new recipes & a free e-cookbook
How to grill lamb chops
To ensure that the lamb chops are tender, flavourful, and juicy, there are a couple of simple but important steps to follow.
Use a marinade – For the best flavour, allow the chops to marinate for 30 to 60 minutes in the refrigerator. This grilled lamb chops recipe calls for a marinade of homemade chimichurri sauce.
Room temperature meat – To give the chops a beautiful sear on the outside, be sure that the meat is at room temperature when you put it on the grill. When lamb is cooked, place the cooked lamb chops on a plate, and cover with foil for about 5 minutes to allow them to rest before serving.
How long to grill lamb chops
It is important to avoid over cooking lamb or it will be very dry. Grill the chops to medium-rare doneness for the best taste and flavor. You can use your charcoal or gas bbq or a grill pan to make this recipe. You can also make this recipe in the oven at 375 degrees in a baking dish or cast iron skillet and your meat still be tender and delicious.
To achieve this, the internal temperature of lamb should be 145 degrees Fahrenheit when it is served. Keep in mind that the lamb will continue to cook as it rests. This is known as "carryover cooking".
The final internal temperature is going to rise another 5 to 10 degrees. Therefore, it is best to remove the lamb chops from the grill when the internal temperature reaches 138 to 140 degrees F. Use a meat thermometer to check the internal temperature.
How To Store Leftovers
Cooked lamb chops should be stored in an airtight container and kept in the fridge for 3-4 days. You can also freeze cooked lamb chops, you just need to make sure your lamb chops have cooled off.
What to Serve with Grilled Lamb Chops
To enhance the flavour of this recipe, serve them with a simple side dish like roasted potatoes and carrots. Try a few of these: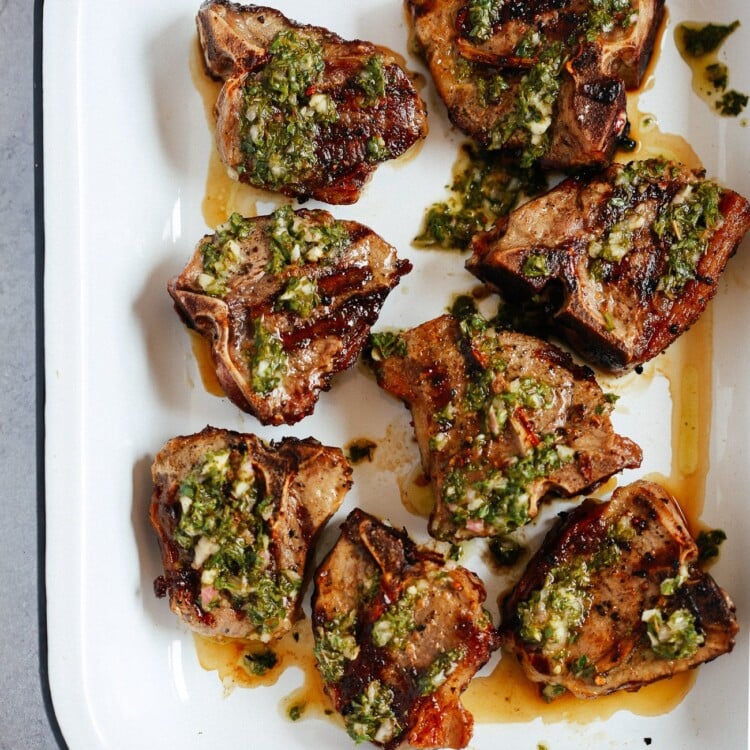 Grilled Lamb Chops
Grilled lamb chops are an easy dinner that you can have ready to eat in 10 minutes! A chimichurri marinade adds the flavour of fresh herbs to the juicy chops. This grilling recipe makes a delicious summer dinner.
Instructions
In a freezer bag or silicone bag (this is my favourite one), add lamb chops, salt and pepper and ¼ cup of chimichurri sauce. Close the bag and shake until lamb chops are coated with the marinade sauce. Set aside for about 1 hour on the kitchen counter top.

Preheat cast iron pan or grill over medium heat. I like to use my cast iron because my lamb chops were small.

Pour olive oil to pan if using pan and place lamb chops on it.

Cook for about 3 minutes on every side of the lamb without touching of flipping. Lamb chops will be cooked when chops get the internal temperature of 140°F in the thickest part.

Transfer the chops to a platter and drizzle with the rest of the chimichuri sauce over them. Serve with tomato sauce and grilled veggies. Enjoy!
Tips
Watch the Web Stories HERE. 
Try to buy lamp chops similar in size so they grill evenly.
Avoid moving the lamb chops too much as you grill them so they get a nice brown sear on each side.
If you use bone-in lamb chops, you will have to increase the cooking time. 
To store: Store leftover grilled lamb chops in an airtight container in the fridge for up to 3 days.
To reheat: You can reheat leftovers on the stove or in the microwave. 
To freeze: Freeze the cooked lamb chops in an airtight bag for up to 3 months.
Nutrition Information
Serving:
1
/4
Calories:
359
kcal
(18%)
Protein:
26
g
(52%)
Fat:
26
g
(40%)
Saturated Fat:
11
g
(69%)
Polyunsaturated Fat:
2
g
Monounsaturated Fat:
13
g
Cholesterol:
109
mg
(36%)
Sodium:
520
mg
(23%)
Potassium:
301
mg
(9%)
Nutrition information is calculated using an ingredient database and should be considered an estimate.