Perfect fun Gluten-free Halloween cookies to make with your kids. They're made with almond butter, natural sweetener and dark chocolate chips.
For the past three weeks my family (sister, brother-in-law and nephew) from Brazil were visiting us in Canada and we had lots of fun together. It was the second time my sister and nephew here, but for my brother-in-law it was his first time visiting a North-American country.
We spent all these weeks visiting Toronto tourist attractions such as ROM Museum, Distillery, Toronto Island, Niagara Falls and so on. But we also went to a lot of parks, playgrounds and farms with the kids, since Toronto is full of nice green spaces to enjoy. On top of that we traveled to Montreal too because my husband's family is from there and we were excited to be everybody together celebrating the nice summer weather.
It was amazing for me to have them over, even though our condo is not that big. But we managed well and the kids had lots of fun playing together (sometimes they fought to… hahhaha). I felt so happy because I was missing my family a lot. People say that when you immigrate to another country the first few years are really hard and then it gets better, but for me it was the opposite. When I arrived in Canada almost 8 years ago I missed my family and friends, but because everything here was so different and new for me I got distracted and living far away from my loved ones wasn't that hard.
After three years being here, I started to miss more my family and friends and that's why I was traveling more often to Brazil. This feeling got better when last year we spent 6 months down there with my newborn baby. And now I go there once a year and they come here too so it's all good. And I have to say that now I'm pretty happy with the choices I made in life 😉 I love Canada and I'm very happy with everything I've achieved here especially with my husband and son.
Subscribe for new recipes & a free e-cookbook
I'm also very happy that I learned how to cook here in Canada. If I had not immigrated to Canada, I wouldn't know how to make these delicious gluten-free Halloween cookies… hahahah. You think it's funny, uh?! But it's true. In Brazil cookies are not that popular or at least they weren't when I grew up and lived there. And especially these gluten-free ones made with almond butter and natural sweetener.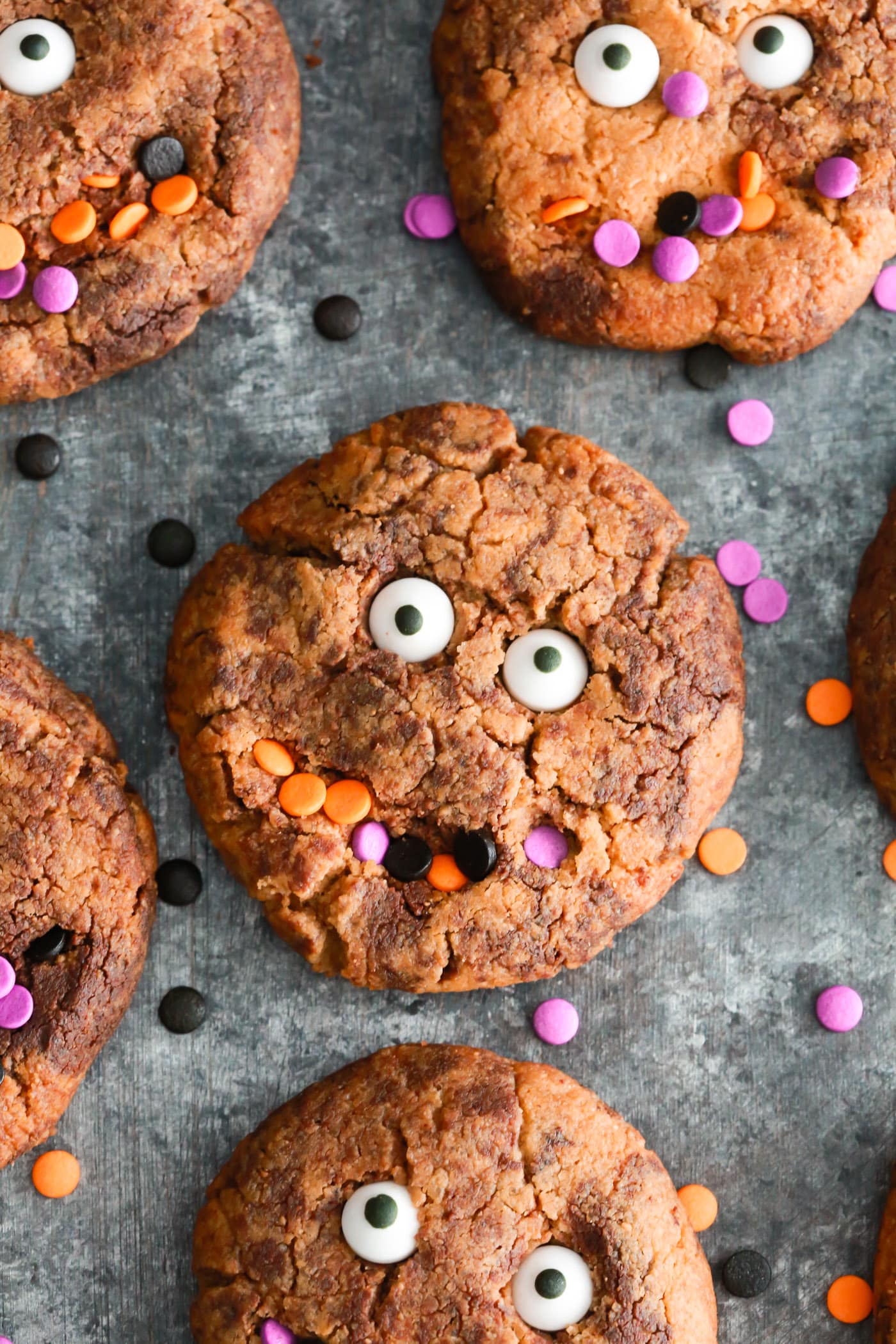 I made these Gluten-free Halloween Brownies and gluten-free Halloween cookies for my nephew and he loved them not only because of the taste, but because they are fun little monsters. I'll tell you something; he ate first the candy eyes and then the rest of the cookies. It was so funny. We all had fun eating this snack and enjoyed every single bite of these cookies. It's crispy from outside and soft inside. Also you'll need only 20 minutes to prepare and bake these goodies.
This week I'll also be making these 2-Ingredient Ghost Chocolate Cups, Chocolate Almond Butter Cookies, and Low-Carb Peanut Butter Cookies so the kids can have a treat to enjoy throughout the week. But not to worry, they won't be eating all of them! I'll be putting extras in the freezer to enjoy later on.
Want more gluten-free treats? Try these 12 Healthy Gluten-free Cookies Recipes. Enjoy!
Love this Gluten-free Halloween Monster Cookies recipe? Let's try to make it!
Gluten-free Halloween Monster Cookies
Perfect fun Gluten-free Halloween cookies to make with your kids. They're made with almond butter, natural sweetener and dark chocolate chips.
Instructions
First, pre-heat the oven to 350˚F.

In a small bowl add the chocolate chips and melt them for about 1 minute in the microwave. Mix well and set aside.

In a medium bowl, whisk all the ingredients together, except the chocolate chips melted.

Pour the chocolate chips melted and mix.

Bake for 9 minutes.

Remove from the oven and let them cool down for 1 minute.

Add candy eyeballs and sprinkles while cookies are still warm.

Let them cool completely to remove from the baking sheet. Makes 22 cookies. Enjoy!
Tips
You can also chop a chocolate baking bar instead of chocolate chips.
Don't over-mix the cookie batter or the cookies may become dense. 
Use a cookie scoop to get perfectly even cookies. If you do not have one, you can use a large spoon or even weigh the dough balls.
To store: Store the gluten-free cookies for up to 5 days in an airtight container in the fridge.
To freeze: After baking, flash freeze the cookies before transferring them to a freezer-safe bag for up to 3 months.
Nutrition Information
Serving:
1
/22
Calories:
94
kcal
(5%)
Carbohydrates:
5
g
(2%)
Protein:
3
g
(6%)
Fat:
7
g
(11%)
Saturated Fat:
1
g
(6%)
Polyunsaturated Fat:
1
g
Monounsaturated Fat:
54
g
Cholesterol:
8
mg
(3%)
Sodium:
111
mg
(5%)
Potassium:
3
mg
Fiber:
1
g
(4%)
Sugar:
3
g
(3%)
Nutrition information is calculated using an ingredient database and should be considered an estimate.
And if you like this Gluten-free Halloween Monster Cookies recipe, please share with your friends and family. Do you wanna taste more? Subscribe to my newsletter and follow Primavera Kitchen on Twitter, Pinterest, Google +, Instagram and Facebook for all delicious recipes updates. As always, you are really appreciated for stopping by.