These 12 Healthy Gluten-Free Cookie Recipes are going to knock your socks off! You won't even notice that they're made without gluten. Plus, they're such indulgent cookies that you won't be able to tell that they're a healthy treat.
If you know me then you know I love a good cookie. That's why I have so many cookie recipes on this blog! You can never have enough gluten-free cookie recipes in your back pocket.
They're perfect for bake sales, cookie exchanges, parties, or just as an afternoon snack. I know that many times gluten-free cookies claim that they taste good, but the texture is very gritty due to the ingredients used. And honestly, I hate when I eat cookies like that.
For this reason, I promise to you that these cookies are REALLY good and the texture is even better. I can promise that all of these cookies are crispy on the outside for that perfect crunch but are soft on the inside!
Do I Need Fancy Equipment?
Most of these cookies only require one bowl to make and don't require you to break out the mixer. It's simple and clean-up is minimal. It also means this is a recipe that you can bring your kids in to help with! They can be in charge of helping with mixing the batter.
What Do I Need?
Most of these gluten-free cookies can be made simply in a mixing bowl and then baked on a sheet pan. You can purchase silicone baking mats if you want to decrease the amount of waste in the kitchen or you can use simple parchment paper.
You'll also need a cookie rack/cooling rack for the cookies to be placed on afterwards. Since sheet pans retain heat, it's best to let the cookies cool on a rack and not the sheet pan so the bottoms of the gluten-free cookies aren't over baked.
Can These Gluten-Free Cookies Be Made Ahead of Time?
Yes! These cookies can all be made ahead of time, making them perfect for bake sales or as a meal prepped snack. Once the gluten-free cookies have cooled to room temperature, transfer them to an airtight container or Ziploc bag to keep them fresh.
Can I Freeze GF Cookies?
If you can't finish a whole batch of these gluten-free cookies yourself, you can definitely freeze them for later. The cookie recipes should have storage tips in the post but generally, you can place them in a freezer safe container and enjoy them later.
Layer parchment between the cookies to make it easier to take one at a time out. Bring to room temperature and enjoy!
What Type of Flour Should I Use?
These cookies use a variety of gluten-free flour options! I use a mixture of coconut flour, almond flour, and rolled oats, and more. Just be sure to double-check that all the ingredients you use are gluten-free as some ingredients such as oats may have been processed in a facility that works with gluten.
Recipe Tips
Make sure to always use high-quality ingredients as the cookies are only as good as the ingredients! I highly recommend using high-quality chocolate if the recipe calls for them.
A few of the cookies call for nut butter. Make sure to use good quality nut butter and stir it before using it so the oil is incorporated back into the butter. Nut butter will increase the moisture content and create a creamy texture for the cookies so make sure not to skip it! Most of the nut butters can be swapped for another as well such as almond butter for cashew butter.
If your dough is not coming together, simply chill it for 30 to 60 minutes. This will help the cookie dough firm up so you can scoop it.
Use a cookie scoop for perfect even cookies every time!
Use room temperature ingredients when possible. Butter, eggs, and other ingredients that are usually stored in the fridge will mix up much more smoothly and quickly if they're at room temperature.
Most of these cookies will require you to cool before moving. Since they're gluten-free, the cookies may be more delicate directly out of the oven. However, once cooled, they'll have firmed up!
In general, most cookies will have set edges when they are finished baking. As the cookies continue to firm up once they're out of the oven, be careful not to overbake them.
---
12 Healthy Gluten-Free Cookie Recipes
Chewy and full of nutty flavours, this easy almond butter cookies recipe always hits the spot when you're craving something sweet. All you need are 7 simple ingredients.
Chocolate Almond Biscotti Cookies
A low-carb version of the traditional and classic Italian biscotti cookie, these chocolate almond biscotti cookies come together super easily. It's made with almond flour, unsweetened dried cranberries, and sugar-free chocolate chips.
Chocolate Chunk Hazelnut Cookies
Soft and chewy, these homemade chocolate chunk hazelnut cookies are going to steal the show. They are gluten-free and loaded with dark chocolate. All you need are 8 simple everyday ingredients to make these cookies.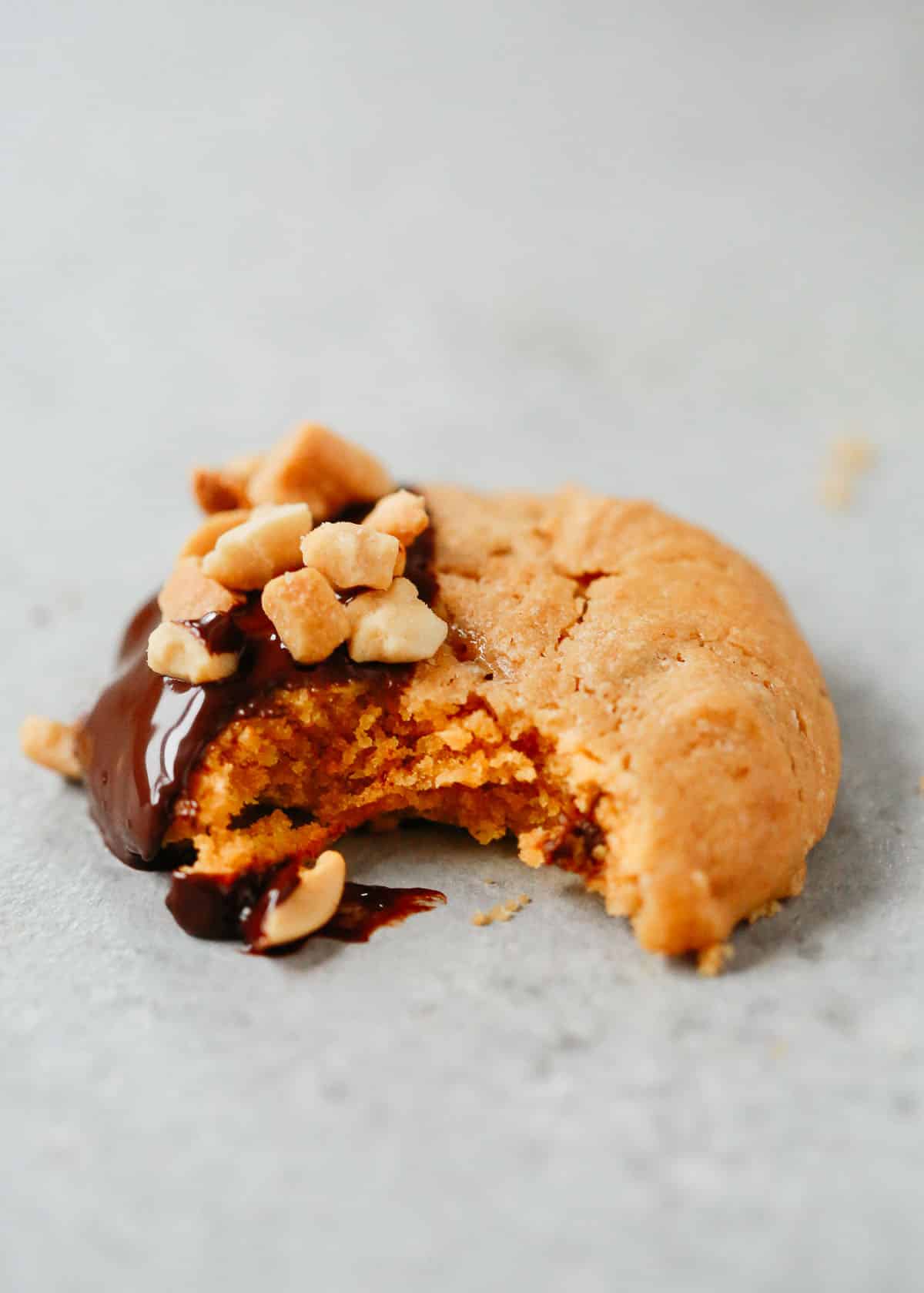 Low-Carb Peanut Butter Cookies
Made with creamy peanut butter, natural sweetener, and topped with sugar-free chocolate and chopped peanuts these low-carb peanut butter cookies come together in no time! No chilling needed, the cookie batter comes together in one bowl then they're dipped in melted chocolate.
Cranberry Chocolate Chip Cookies
Gluten-free and dairy-free, these cranberry chocolate chip cookies come together quickly and easily. The dough comes together in a single bowl, no mixer is needed, and the cookies make for the perfect holiday gift to friends and family.
Coconut Flour Chocolate Chip Cookies
Paleo, gluten, and dairy-free, these coconut flour chocolate chip cookies are such a delicious little treat. You will love these cookies as you don't need any fancy ingredients, no need to spend time chilling the dough, and they are made in less than 30 minutes.
Healthy Peanut Butter Oatmeal Cookies
Soft, chewy, naturally gluten-free, and also dairy-free these healthy peanut butter oatmeal cookies are not just a great snack but can double as a grab-and-go breakfast as well. They're quick, easy, and delicious right out of the oven, your kids won't even realize they're eating oatmeal!
Almond Flour Shortbread Cookies
Made with almond flour, sugar-free chocolate, butter, and natural sweetener, these almond flour shortbread cookies are so delicious and taste just like regular shortbread cookies, but healthier! You only need 6 simple ingredients and you'll have these cookies ready in no time.
Cranberry Almond Chocolate Chip Cookies
Low-carb and gluten-free, these cranberry almond chocolate chip cookies are the perfect festive holiday treat! Make a batch ahead of time and serve them whenever guests swing by to visit. They are so delicious and take so little work to whip up.
Sugar-free Nutella Thumbprint Cookies
Made with almond flour and my homemade Nutella recipe, these sugar-free Nutella thumbprint cookies are such a fun holiday treat. They take only a little bit of work to put together and they're always a crowdpleaser. You'll want to make extra as they'll disappear quickly.
Low-carb Cranberry Thumbprint Cookies
There's nothing pretty that these low-carb cranberry thumbprint cookies. The ruby-red dollop of jam in the middle of the cookies is extremely eyecatching and everyone will be reaching for seconds.
Gluten-Free Chocolate Chip Cookies
Soft, chewy, and flavourful, these delicious gluten-free chocolate chip cookies are the perfect healthy alternative to traditional chocolate chip cookies. They're made with only 7 ingredients that you probably already have on hand. I love pantry staple desserts as they're so quick and easy to whip up.