This Low-carb Turkey Meatballs with Mashed Cauliflower is a delicious meal for your low-carb diet. The meatballs are made with parmesan cheese and almond flour. The mashed cauliflower has a perfectly smooth texture that you and your family will love.
I just came back from Boston and I can't say enough how much I love that city. It's so beautiful, charming, and vibrant! I love the fact that it's a small city, but at the same time, feels big. It has everything that a metropolis can offer! People are so friendly and there are lots of things to do. And I can't forget to mention about the lobster rolls. O.M.G. What is that? AMAZING!
We went to visit my auntie, uncle, and cousins for 8 days and they loved to be with Thomas, my 15 months old adorable boy. They live in a house with a huge backyard, perfect for an energetic little boy like my son to explore. Thomas loved the green space they have there, especially the neighbor who has a horse farm. How fun is that?! We could even give food to the horse. So cool!
My auntie had a BBQ party at her place and she also made some traditional Brazilian food that was so good! Thomas and his cousin Sophia played a lot and had fun together. I was very excited to see my son so happy like that. The weather wasn't very good but we had few days of sunshine and blue sky. I really can't complain. The trip was great and I can't wait to go back there again.
Now I'm back to share with you this delicious and easy to make Low-carb Turkey Meatballs with Mashed Cauliflower. I have to say this is a meal you can eat without feeling guilty. It's loaded with good-for-you ingredients and it's very flavorful.
Subscribe for new recipes & a free e-cookbook
The mashed cauliflower is insanely good and I can even say that it's just as tasty as the traditional mashed potatoes. Believe me! It's packed with flavors from the cauliflower, parmesan cheese, butter, and garlic powder. This time I steamed (instead of boiling) the cauliflower and I also made it using a hand blender, avoiding the soupy texture that some mashed cauliflower recipes can have. These two tips created a perfect creamy texture to my mashed cauliflower!
The meatballs are also great and they're low-carb because instead of breadcrumbs I used almond meal (affiliate link), making it low-carb and gluten-free! It sounds weird, but it's actually really flavorful.
I cannot get enough of meatballs! You're definitely going to find a ton of meatballs on the blog here, like my Baked Meatballs Casserole, Healthy Meatball Soup, Ground Turkey Meatballs with Veggies, Baked Meatballs Casserole, and Whole30 Low-Carb Spaghetti Squash With Meatballs! Seriously, meatballs are such an easy meal! Plus they're freezer friendly.
Anyways, for this recipe, I didn't fry or sauté them. I decided to bake to save some calories. These are seasoned very well and they are very tender and juicy. These meatballs are also good in the freezer for up to six months. When you are ready to eat them, just toss them in a simmering sauce or heat in the microwave.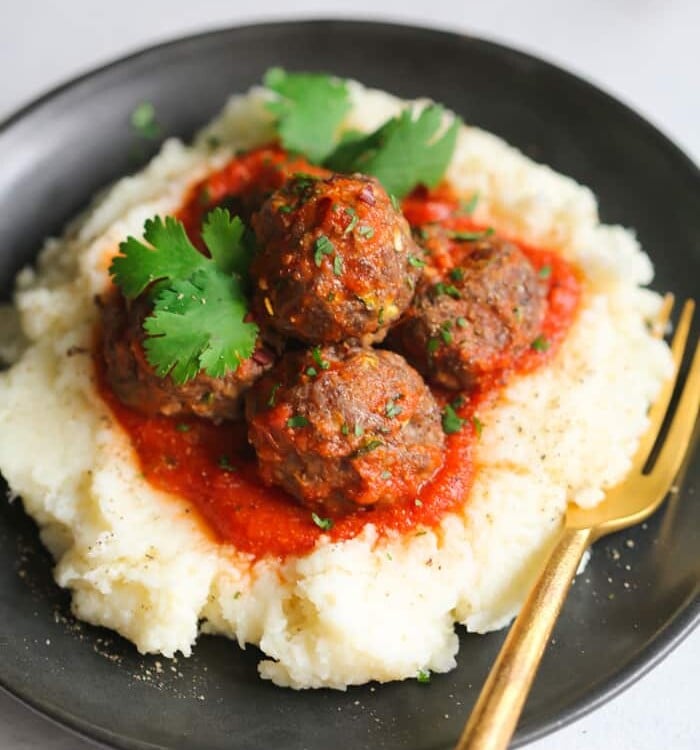 Low-Carb Turkey Meatballs with Mashed Cauliflower
This Low-carb Turkey Meatballs with Mashed Cauliflower is a delicious meal for your low-carb diet. The meatballs are made with parmesan cheese and almond flour. The mashed cauliflower has a perfectly smooth texture that you and your family will love.
Ingredients
For the Mashed Cauliflower
Instructions
For the Meatballs
Preheat oven to 400°. Grease a baking pan with cooking spray or olive oil then set aside.

In a large mixing bowl, add all the ingredients for the meatballs and mix well.

Use your hands to mix everything together and roll the mixture into meatballs.

Place the meatballs on the baking sheet, separating them a little bit so they can bake evenly.

Bake for approximately 20-25 minutes or until they are evenly brown. (This recipe makes 22 meatballs.)
For the Mashed Cauliflower
Steam the head of cauliflower by filling a large pot with about 2 cups of water and place a steamer basket in the bottom.

Bring the water to a boil. Meanwhile cut the cauliflower head up into large pieces and remove the stem from the cauliflower.

Place the cauliflower into the steamer basket.

Cover the pot and steam until the cauliflower is fork tender (6-8 minutes).

Remove from the heat and let the cauliflower cool down for 5 minutes.

Place the steamed cauliflower in a bowl and add the chicken broth or milk. Using an immersion blender mash the cauliflower. (You can also use a food processor if you prefer.)

When the cauliflower is completely smooth, add butter, parmesan, garlic powder, salt, and ground black pepper. Stir well to combine.

Taste to adjust the seasoning.

To serve: Serve a big scoop of mashed cauliflower with 3 turkey meatballs and marinate sauce on top.
Tips
Do not over mix the meatball mixture as it will become dense. 
When shaping the meatballs, do not squeeze them tightly together or they will become really dense.
You can use a cookie scoop so the meatballs are uniform.
To store: You can store leftover meatballs and mashed cauliflower in an airtight container for up to 4 days in the fridge.
To reheat: Simply microwave the leftovers to quickly heat them up. 
To freeze: You can freeze the meatballs before or after baking them. Freeze them on a lined sheet pan before transferring them to a freezer-safe bag. 
Nutrition Information
Serving:
1
/4 of mashed cauliflower
Calories:
102
kcal
(5%)
Carbohydrates:
11.9
g
(4%)
Protein:
6.3
g
(13%)
Fat:
4.5
g
(7%)
Saturated Fat:
2.7
g
(17%)
Cholesterol:
11
mg
(4%)
Sodium:
471
mg
(20%)
Fiber:
5.4
g
(23%)
Sugar:
5.2
g
(6%)
Nutrition information is calculated using an ingredient database and should be considered an estimate.
So, I hope you enjoy this Low-carb Turkey Meatballs with Mashed Cauliflower recipe and try to make some in your own kitchen today. If you like this recipe, please share with your friends and family. Do you want to taste more? Subscribe to my newsletter and follow Primavera Kitchen on Twitter, Pinterest, Google+, Instagram, and Facebook for all delicious recipes updates. As always, I really appreciate you stopping by.