Garlic Parmesan Roasted Brussels Sprouts
This easy-to-make Garlic Parmesan Roasted Brussels Sprouts recipe is a delicious side dish made with lemon, parmesan, olive oil, and lots of garlic. 
It is about 11:30pm and I am here in front of my computer writing this post for you guys. Why SO late? Because I am watching my baby boy playing in his crib while I work a little bit. Today, I tried everything to make him sleep for about two hours in his crib, but didn't have any success. He is such a good baby. He smiles at everyone and he almost doesn't cry, but he is a terrible sleeper. He only sleeps very well for hours in his stroller. The minute we put him in there he sleeps for up to 2 or 3 hours.
Unfortunately, he doesn't feel the same way about his crib. He totally hates it. Well … this is not totally true because he loves to watch the mobile in his crib. However, he doesn't like to sleep in there. Actually, he sleeps in his crib for about 40mins and wakes up. Because of this, I am still not sleeping very well. I am very tired. It has been a long time since I've had a good night's sleep and I don't think I will anytime soon. I know this is part of being a mom and I know it will get better. But of course, everything is so worth it when my little beautiful boy smiles to me. Oh boy … my heart melts. Now, he is starting to laugh and let me tell you that it is very gratifying to see your child laughing. It's the best feeling ever!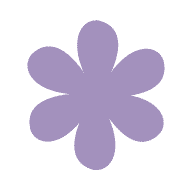 MY OTHER RECIPES
But why am I talking about feeling tired on this post? Because when you feel tired, you just want to cook easy recipes like this Garlic Parmesan Roasted Brussels Sprouts recipe, right? I guess you all agree with me that we don't want/like to spend hours in the kitchen on our little extra free time. So, the past three months I've been cooking very easy meals.
Our weeknight dinners have been eating roasted/baked/grilled chicken or fish with some veggies. It doesn't get easier than this. Agreed? So, as my husband loves brussels sprouts (and I learned to like it because of him), we always buy them and roast with a good amount of olive oil and lots, lots, lots of parmesan. It takes this Garlic Parmesan Roasted Brussels Sprouts recipe to another level. I also love to roast any green veggie with lemon juice. Hum.. yummy, easy and quick recipe. It's definitely a winning side dish!
---
This Garlic Parmesan Roasted Brussels Sprouts recipe was first published on May 24th, 2016, but this second part of this post was updated on August 02, 2018 with new pictures and more information about the recipe.
Do I need to wash Brussel sprouts?
Yes, you need to wash Brussel sprouts because many times they come full of dust or they are dirt. So, to clean them you just need to rinse them off in cold water for 30 seconds or until they are completely clean.
How long do you roast Brussels sprouts?
It will depend on the size of your Brussels sprouts and the power of you oven. But roughly if you roast Brussels sprouts in the oven to 400°F, you will bake for 20-30 minutes.  They'll be ready to eat when Brussels sprouts are lightly charred, toasted on the bottom, crisp outside and tender inside. Also, it's very possible that the leaves that are loose will be very brown and crispy.
How do you prepare brussel sprouts for roasting?
First, as I said above you need to rinse the Brussel sprouts off in cold water.
Using a sharp knife trim or cut off the tough ends(it's the brown ends of the Brussels sprouts) and discard them.
Pull off any outer leaves that are yellow. If some green leaves just happen to fall off, save them to roast with the Brussels sprouts.
Cut each sprout in half lengthwise.
Now just add all of your sprouts in a bowl and season them according to the recipe below (olive oil, garlic, lemon juice, salt and pepper and so on.). Toss them really well and place on your prepared baking sheet. Now the Brussels sprouts are ready to roast.
3 quick tips to make the perfect Garlic Parmesan Roasted Brussels Sprouts:
Be sure to pre-heat your oven before adding the Brussels sprouts. It'll help them to become crispy.
Don't be afraid to use lots of olive oil. It will make them more flavourful and less dry.
Place them in one single layer and cut-side-down on the baking sheet. This step is important to avoid they become soggy.
For this recipe, the only work you will have is to clean and cut the brussels sprouts in half. This recipe is done in few minutes and it tastes delicious! It goes really well with roasted chicken or a delicious fish recipe and some fluffy rice. Enjoy!
More Brussels Sprouts Recipes to Try: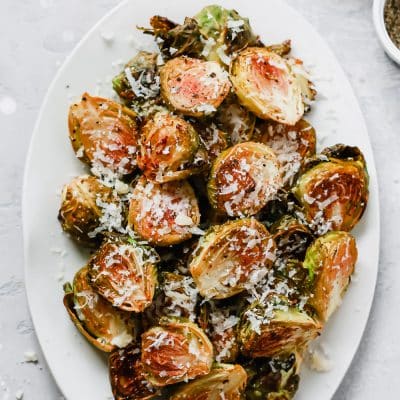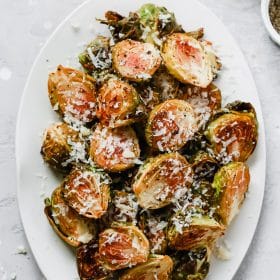 Garlic Parmesan Roasted Brussels Sprouts
This easy-to-make Garlic Parmesan Roasted Brussels Sprouts recipe is a delicious side dish made with lemon, parmesan, olive oil, and lots of garlic.
Instructions
Pre-heat the oven to 400 degrees.

In a big bowl, add brussels sprouts, olive oil, garlic, lemon juice, salt, and pepper.

Mix everything to combine well.

Spread the brussels sprouts mixture onto a baking sheet in an even layer.

Don't forget to toss once halfway through baking.

You should bake it for about 25 minutes or until the brussels sprouts are golden brown on the edges.

Before serving, top with parmesan cheese.
Course: Side Dish
Cuisine: American
Keyword: brussels sprouts, gluten-free, healthy, low-carb, vegetarian
Nutrition Information
Amount per serving (1/4) — Calories: 268, Fat: 18g, Saturated Fat: 7g, Polyunsaturated Fat: 2g, Monounsaturated Fat: 8g, Carbohydrates: 14g, Fiber: 5g, Sugar: 2g, Protein: 17g
If you make this recipe, please don't forget to snap a photo and hashtag it #primaverakitchen. I really want to see!
This post contains affiliate links. For more information, please visit my disclosure page here.
If you like this Garlic Parmesan Roasted Brussels Sprouts recipe, please share with your friends and family. Do you want to taste more? Subscribe to my newsletter and follow Primavera Kitchen on Twitter, Pinterest, Google+, Instagram, and Facebook for all delicious recipes updates. As always, I really appreciate you stopping by.