Ground turkey meatballs are the best, easy dinner recipe! They're quick, healthy, versatile and completely delicious. We love meatballs and they are great with to pair these perfectly tender and flavor-packed meatballs with your favorite sides and have dinner on the table in under an hour. Perfect for a busy weeknight.
Extra turkey meatballs are also perfect for meal prep. Be sure to pack up leftovers for easy weekday lunches, you can easily re-heat them at the office and enjoy a hot lunch when you're feeling tired of sandwiches.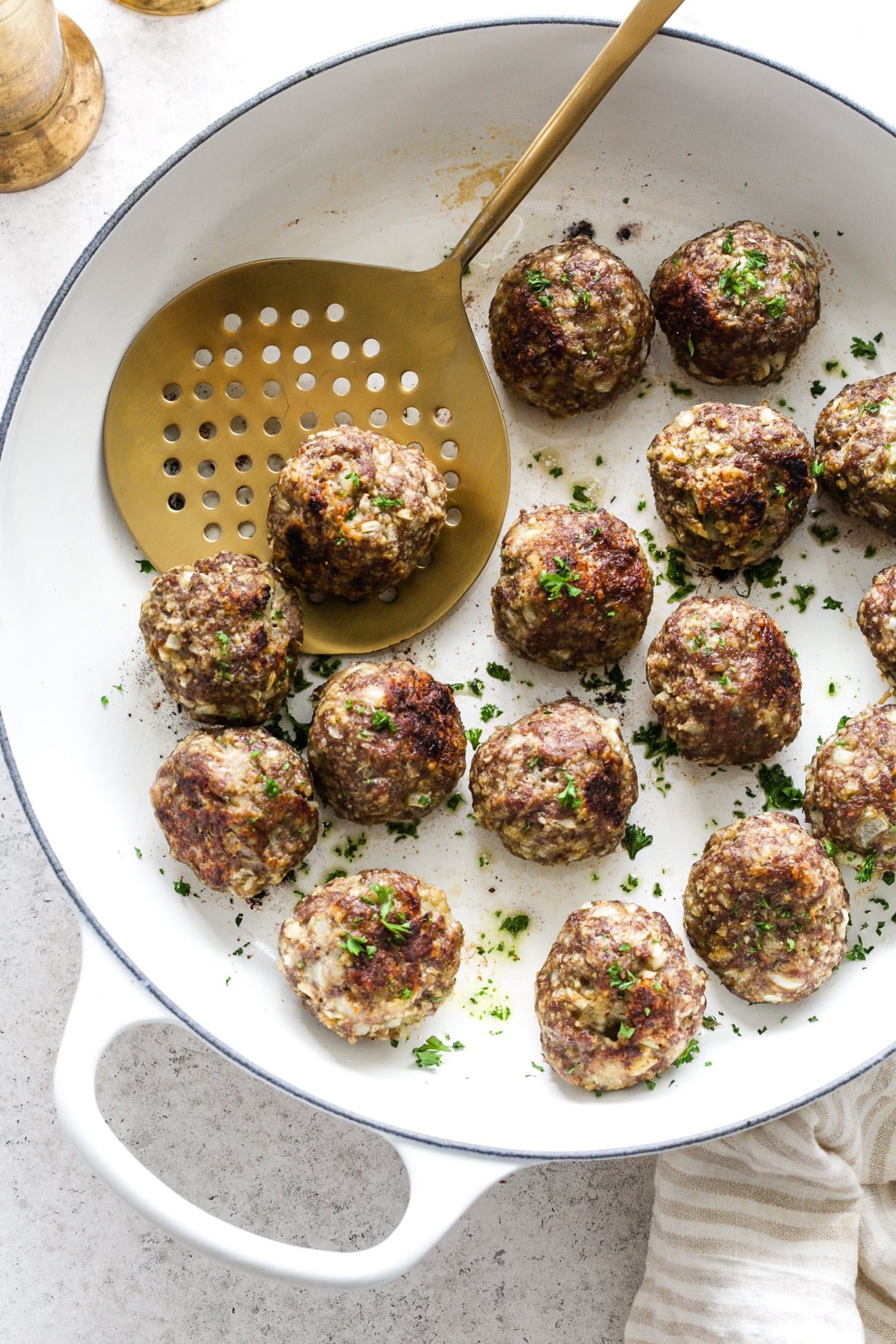 If your family loves turkey meatballs as much as mine, I've got plenty of fun recipes for you to try. Be sure to check out my Healthy Meatball Soup, Baked Meatballs Casserole, Meatballs With Mashed Cauliflower, Spaghetti Squash With Meatballs or these mouthwatering Cocktail Meatballs.
Ingredients To Make Turkey Meatballs
Ground turkey — Look for an extra-lean option at the grocery store. You can also substitute ground beef, pork or ground chicken if desired.
Italian bread crumbs — Plain breadcrumbs can be substituted, but I recommend adding a heaping teaspoon of Italian seasonings to your meatball mixture for extra flavor if you go this route.
Eggs — Eggs are the binder for this recipe and they'll keep your meatballs from falling apart while adding great flavor.
Onion — Either yellow or white, both will get the job done!
Garlic — I love using fresh garlic cloves, though a bit of garlic powder will definitely work fine.
Milk — Milk adds moisture to your meat mixture, and therefore helps to prevent dryness.
Seasonings — I generally keep things simple with kosher salt and pepper, but feel free to experiment with other seasonings such as oregano, if desired.
Optional — Fresh parsley, fresh basil or any other fresh herbs you prefer for garnish.
How to Make Ground Turkey Meatballs
Prepare mixture:
Don't forget to preheat your oven first thing. If should be set to 400°F.
Measure ground turkey, breadcrumbs, eggs, diced onion, minced garlic, milk, salt and pepper into a large bowl.
Mix ingredients thoroughly and gently, until well combined.
Form meatballs and bake:
Coat a baking sheet or casserole dish with a light layer of non-stick cooking spray. Or you can use foil or parchment paper instead.
Use a spoon or 2-tablespoon sized cookie scoop to divide meat mixture evenly. Form each portion into a small sphere.
Bake for 15-20 minutes and then turn on the broiler for about 3 minutes. Cook until the internal temperature is 165F. Once the turkey meatballs are slightly golden brown on top, remove them from the oven.  
Serve:
Garnish your turkey meatballs with some freshly chopped parsley leaves, this is optional but delicious.
Serve warm with all of your favorite sides and enjoy!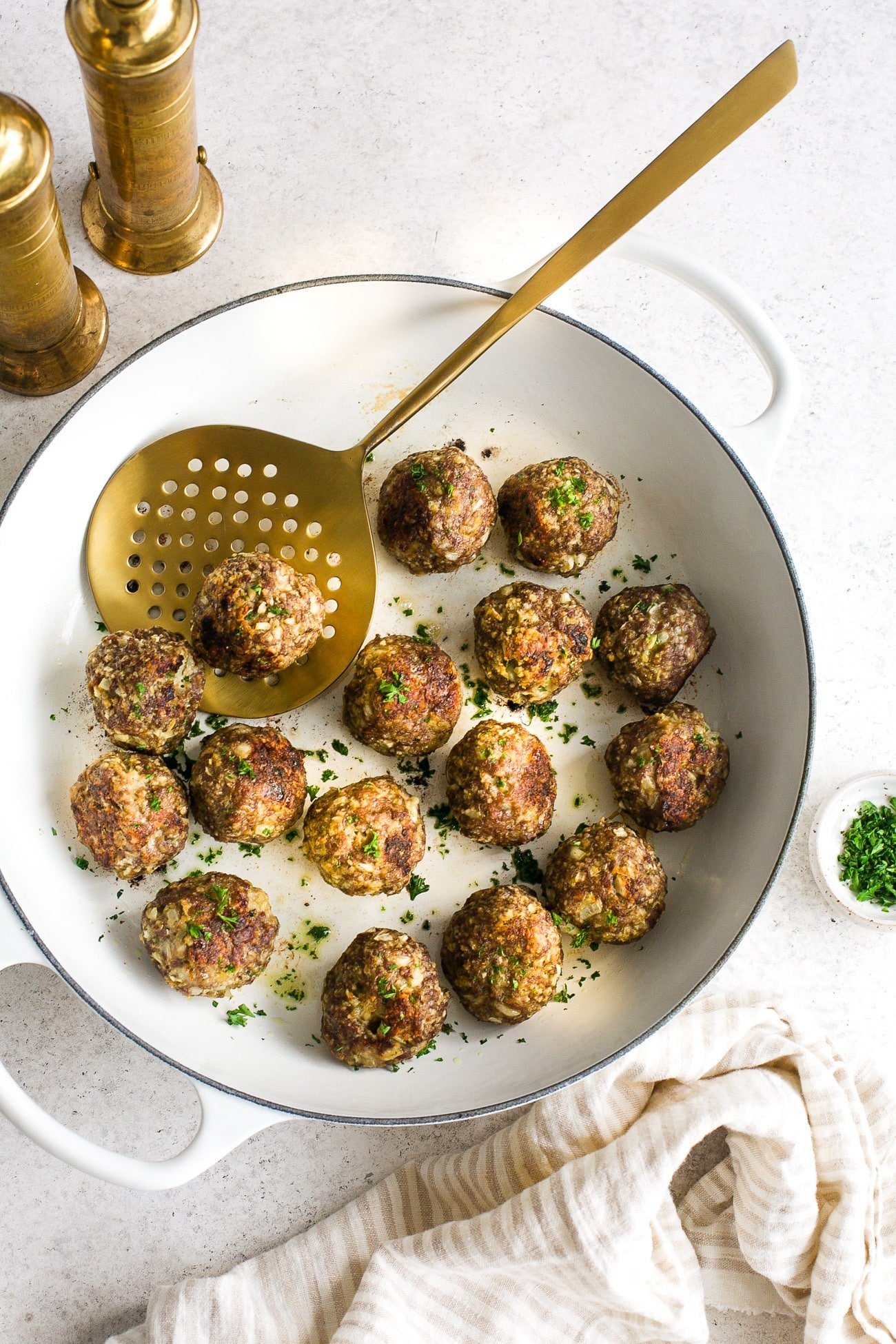 Recipe Tips
Don't overwork your mixture, as this could result in tough or rubbery meatballs. Gently combine all ingredients and stop once they are incorporated.
For gluten free meatballs, simply be sure and purchase gluten-free breadcrumbs or panko breadcrumbs at the grocery store. They should be located next to the regular breadcrumbs, likely in the baking supplies isle.
The meatball mixture for this recipe is quite sticky. Breadcrumbs will soak up some moisture, but I highly recommend using a cookie scoop for portioning. It's faster, easier, less messy and help keep things uniform for even cooking.
You can also add about 1/4 cup of parmesan cheese. I didn't add it because I want to make a dairy-free meatball recipe.
Don't overpack the meat mixture into your cookie scoop as this can lead to dense, tough meatballs. We want them to be juicy and tender!
Keep a very close eye on your meatballs while broiling. It will only take 1-3 minutes for a golden brown crust to form on top of each sphere, after that they'll start to burn.
Besides dinner or lunch, this turkey meatballs are great as appetizer at your next get together! Just serve them up with toothpicks.
If you will serve them for dinner, they go very well with your favorite marinara sauce, rice or mashed potatoes.
How To Store Leftovers
Allow this turkey meatballs recipe to cool and place them in an airtight container. Refrigerate for up to 3-4 days.
Leftovers can also be stored frozen for around 2-3 months. I recommend flash freezing (freezing individually on a baking sheet) meatballs before transferring them to a container or baggie. This will prevent them from sticking together.
To reheat: leftovers reheat well in the microwave, but you can also warm them back up using the oven, toaster oven or air fryer.
More Ground Turkey Recipes
If you've got lots of ground turkey to use up, try these recipes!
Subscribe for new recipes & a free e-cookbook
What pairs well with Ground turkey meatballs?
Frequently Asked Questions
How do you get ground turkey meatballs to stick together?
Breadcrumbs and eggs are the two binding ingredients in this recipe. They'll help with creating the desired sphere shape and keep meatballs from falling apart or turning out crumbly.
How do you keep turkey meatballs from falling apart?
If you don't use binding ingredients, your turkey meatballs will likely crumble into pieces. Eggs and breadcrumbs are two common binders!
Why are my turkey meatballs rubbery?
You may have overworked your meat mixture. This can create a tough or rubbery final product. Try to gently mix the ingredients next time and stop once they're well combined. Meatballs can also turn our spongy or rubbery if you add too much egg. 1-2 eggs for each pound of turkey is plenty.
Turkey Meatball Recipe
Ground turkey meatballs are the best, easy dinner recipe! They're quick, healthy, versatile and completely delicious. Pair these perfectly tender and flavor-packed meatballs with your favorite sides and have dinner on the table in under an hour. Perfect for a busy weeknight.
Instructions
Preheat the oven to 400°F degrees.

In a large bowl, combine extra-lean ground turkey, Italian breadcrumbs, eggs, onion, garlic, milk, salt and black pepper. Mix gently until well combined.

Using a medium cookie scoop or spoon, scoop and roll the mixture into 2-tablespoon balls.

Coat a baking sheet or pan with non-stick cooking spray and place the meatballs on it.

Bake for approximately 15-20 minutes or until cooked through. Then, change the oven setting to broil for about 3 minutes, or until the top of the meatballs are slightly golden.  

When they have finished baking, remove baking sheet from the oven and transfer the meatballs to a wire cooling rack. Enjoy!
Tips
For gluten free meatballs, simply purchase gluten free breadcrumbs.
Don't overwork the meat mixture.
Use a cookie scoop to keep meatballs uniform in size. 
Avoid overpacking mixture into the cookie scoop as meatballs may become dense rather than tender. 
Watch closely when broiling. This won't take long and the meatballs can easily burn. 
To store: You can store leftover meatballs in an airtight container for up to 4 days in the fridge.
To reheat: Simply microwave the leftovers to quickly heat them up. 
To freeze: You can freeze the meatballs before or after baking them. Freeze them on a lined sheet pan before transferring to a freezer-safe bag. 
Nutrition Information
Serving:
1
/22
Calories:
62
kcal
(3%)
Carbohydrates:
4
g
(1%)
Protein:
8
g
(16%)
Fat:
1
g
(2%)
Cholesterol:
32
mg
(11%)
Sodium:
112
mg
(5%)
Potassium:
95
mg
(3%)
Sugar:
1
g
(1%)
Nutrition information is calculated using an ingredient database and should be considered an estimate.
If you like this recipe, please share with your friends and family. Do you want to taste more? Subscribe to my newsletter and follow Primavera Kitchen on Twitter, Pinterest, Instagram, and Facebook for all delicious recipes updates. As always, I really appreciate you stopping by.