Celebrate summer with these 10 Healthy Strawberry Summer Treats, including strawberry cheese cake, strawberry ice cream, pudding, popsicle, brownie and so on.
We all know that summer is the time of the year to eat all things strawberry, don't you agree with me? Everywhere we go from supermarkets to farmer markets we see these delicious, red and juicy berries. So, for these reasons today I put together these 10 Healthy Strawberry Summer Treats for you, your family and friends to enjoy during the season.
These recipes are really easy and quick to make, delicious and the best part they are healthy. So, you will enjoy them without feeling guilty. It is hard to stay away from high levels of sugar desserts during the summer. But you can, if you make one of these healthy strawberry summer treats. They have way less sugar than the traditional desserts.
Enjoy these easy, healthy, simples and delicious summer treats and make your summer even funner.
---
Strawberry Coconut Chia Pudding – Delicious dairy-free treat made with chia, coconut milk and strawberry!
Subscribe for new recipes & a free e-cookbook
Strawberry Papaya Smoothie – This is a great and healthy way to start your day! It is made with strawberry, papaya, coconut milk and frozen banana.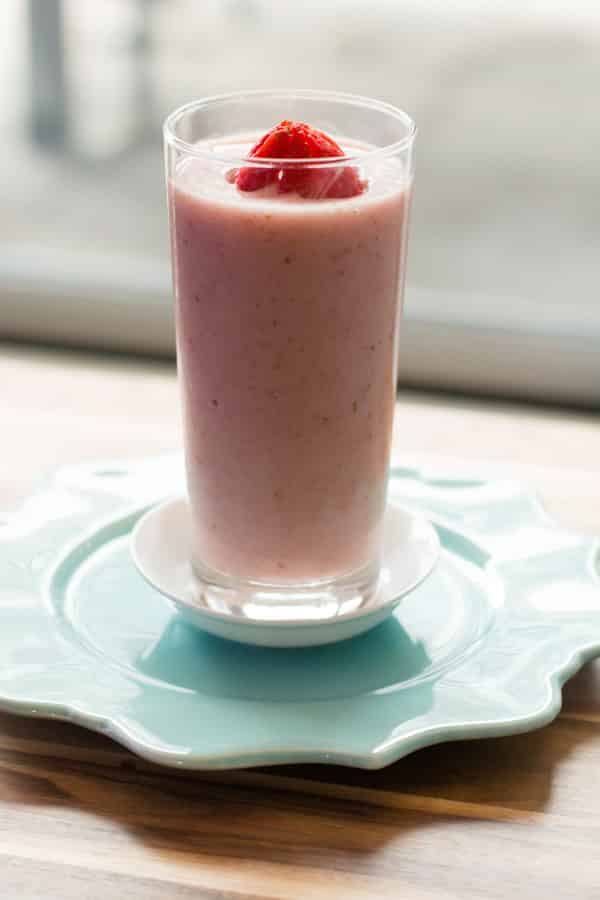 No Bake Mini Strawberry Pies – These are sweetened with dates and stevia. Also it is gluten-free and vegan.
5-Minute Healthy Strawberry Frozen Yogurt –  This is made only with four ingredients in five minutes.
Strawberry Yogurt Bark – It is made only with 2 Ingredients, but it is very flavourful.
Strawberry Orange Almond Milk Popsicle – These beautiful popsicles are great for the hot summer days.
Chocolate Covered Strawberry Brownies – They are guilt-free, paleo and refined sugar-free.
Strawberry Lime Macadamia Cheesecake – It is a very healthy treat made with raw almonds, dates and maple syrup.
Strawberry Coconut Butter Cups – It is gluten-free, vegan and no-bake treat sweetened with maple syrup.
Strawberry Cheesecake Overnight Oats – This is definitely a filling breakfast.
Please, if you recreate one of these recipes, please take a picture and tag @primaverakitchen and #primaverakitchen on Instagram! I would love to see your version. Thanks a lot.
And if you like these recipes, please share with your friends and family. Do you wanna taste more? Subscribe to my newsletter and follow Primavera Kitchen on Twitter, Pinterest, Instagram and Facebook for all delicious recipes updates. As always, you are really appreciated for stopping by.