These low-carb, gluten-free, 5-Ingredient Chicken Zucchini Boats are stuffed with chicken, homemade tomato pasta sauce, and mozzarella/cheddar cheese.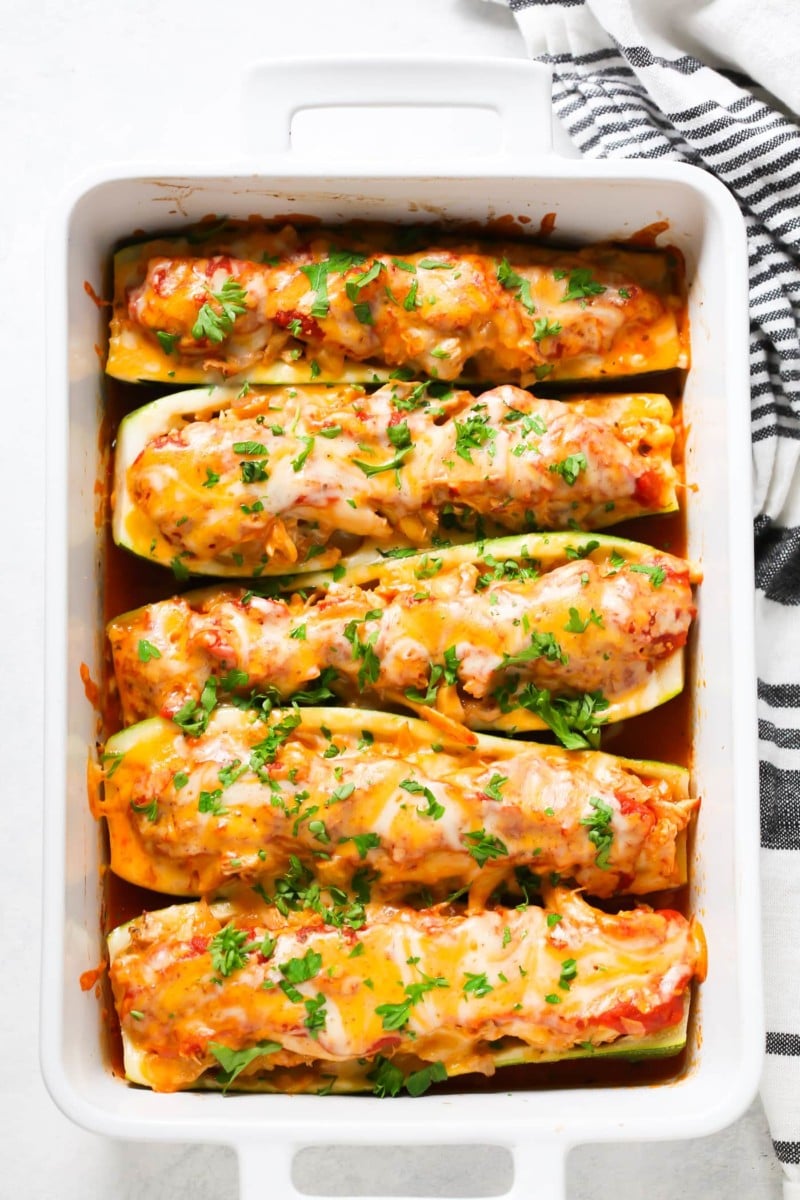 If you visit Primavera Kitchen often, you may notice this week only had one recipe posted and I apologize for that. The past week wasn't very easy for me because I had severe back pain for 4 days. I couldn't walk well and I had a very hard time doing my daily activities throughout the day. To be honest with you, I didn't feel like doing anything really.
I guess nobody enjoys being in pain and working at the same time, right? So, I took these few days off to take care of myself and try to get better.
I took some medication, exercised more, and now I'm feeling very good. It's like I've never had any pain before. Also, I'm feeling very grateful for being well again. Unfortunately, we often take for granted many things in our lives that we should be very grateful for. I believe that our gratitude is essential to have a good life. That's why I always take 5 minutes of my morning routine to be grateful for all the wonderful things I have in my life such as my health, my son, my husband, friends and family, my home, and my job.
Another thing I'm really grateful for is to be able to make homemade food for my family and myself almost every day. When I cook, I have the peace of mind that what we are eating is actually good for our health. I choose the best, fresh ingredients and control the amount of sugar, salt, and bad fat in my dishes. For example, to make this 5-Ingredient Chicken Zucchini Rolls recipe, I bought fresh zucchini at my local market and free-range, vegetarian feed chicken. I also made my own tomato sauce, which is delicious, bringing more flavor to this dish.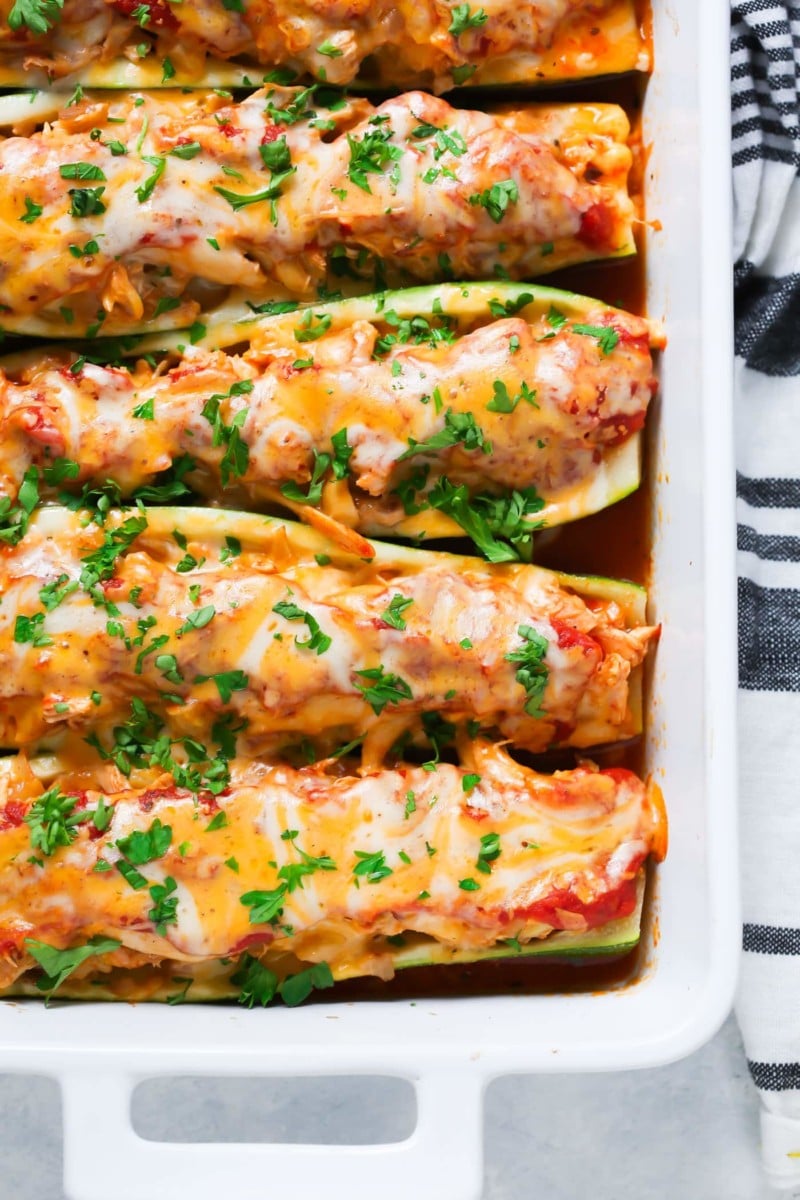 Got extra zucchini? Try my Zucchini noodles with Tomato Sauce and Shrimp, Zucchini Casserole Recipe, or these 10 Low-Carb Zucchini Dinner Recipes. They're so delicious and easy to make!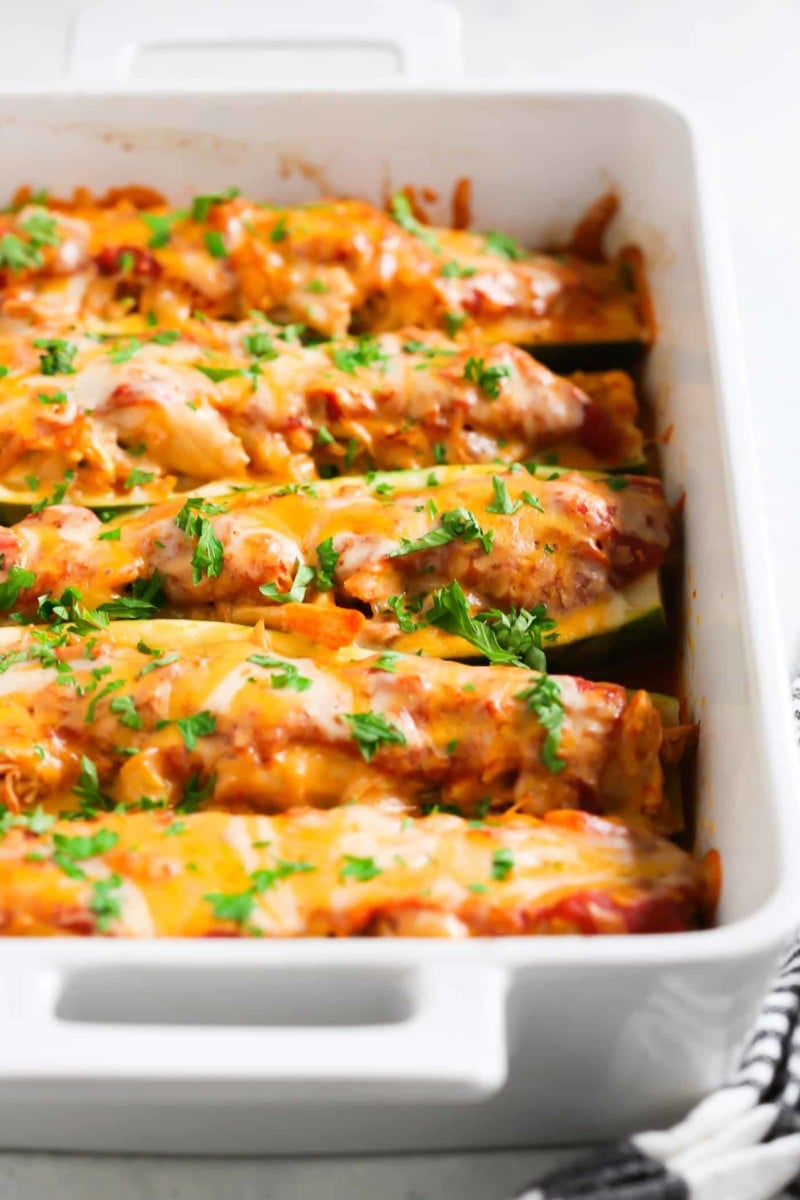 All these good ingredients bring this recipe for 5-Ingredient Chicken Zucchini Boats to another level, just like my Avocado Tuna Boats. I believe what makes a delicious recipe is actually the quality of the ingredients and not much the complicate cook techniques. And this recipe is all about that: simple and good quality ingredients.
You only need 5-ingredients to make it, which it's enough to have a flavorful and healthy meal for your busy weeknight dinners. This 5-Ingredient Chicken Zucchini Rolls recipe is very easy to make, gluten-free, low-carb, and paleo-friendly (if you don't use the cheese on top). You can serve it with fluffy rice or green salad or just eat it on its own. Enjoy!
Subscribe for new recipes & a free e-cookbook
5-Ingredient Chicken Zucchini Boats
These low-carb, gluten-free, 5-Ingredient Chicken Zucchini Boats are stuffed with chicken, homemade tomato pasta sauce, and mozzarella/cheddar cheese.
Instructions
Cut the edges of the zucchini and slice each one in half lengthwise.

Using a spoon or a melon baller, remove the flesh from the center of the zucchini halves.

Chop the scooped out zucchini flesh and set aside.

Pour ½ cup of the tomato pasta sauce into a 9x13" casserole and spread well.

Preheat the oven to 375˚F

Add olive oil, chicken, and chopped zucchini to a large non-stick skillet. Sauté over medium heat for 3 minutes or until the chopped zucchini is soft.

Add 1 cup of tomato pasta sauce and salt and black pepper to taste and cook for 1 minute or so.

Stuff the scooped out zucchini halves with the chicken mixture.

Pour the remaining pasta sauce (about 1/2 cup) over the zucchini and cover the casserole with aluminum foil.

Bake the zucchini for 30-35 minutes. Remove the casserole from the oven and add shredded cheese. Bake for more 3-5 minutes or until the cheese is melted.

Garnish with parsley.
Nutrition Information
Serving:
1
/4
Calories:
256
kcal
(13%)
Carbohydrates:
12
g
(4%)
Protein:
19
g
(38%)
Fat:
15
g
(23%)
Saturated Fat:
6
g
(38%)
Polyunsaturated Fat:
1
g
Monounsaturated Fat:
3
g
Cholesterol:
48
mg
(16%)
Sodium:
1083
mg
(47%)
Potassium:
732
mg
(21%)
Fiber:
3
g
(13%)
Sugar:
7
g
(8%)
Vitamin A:
46
IU
(1%)
Vitamin C:
44
mg
(53%)
Calcium:
34
mg
(3%)
Iron:
9
mg
(50%)
Nutrition information is calculated using an ingredient database and should be considered an estimate.
And if you like this recipe for Italian Sausage 4-Ingredient Chicken Zucchini Boats, please share with your friends and family. Do you want to taste more? Subscribe to my newsletter and follow Primavera Kitchen on Twitter, Pinterest, Google+, Instagram, and Facebook for all delicious recipes updates. As always, I really appreciate you stopping by.