Roasted green beans are delicious, nutritious and easy to make. Whip them up in just 15 minutes with only 5 ingredients.
I love the flavor of a simple roasted veggie side because they go with literally everything! Plus, they're so quick and healthy, not to mention affordable, just like this Roasted Green Beans side dish.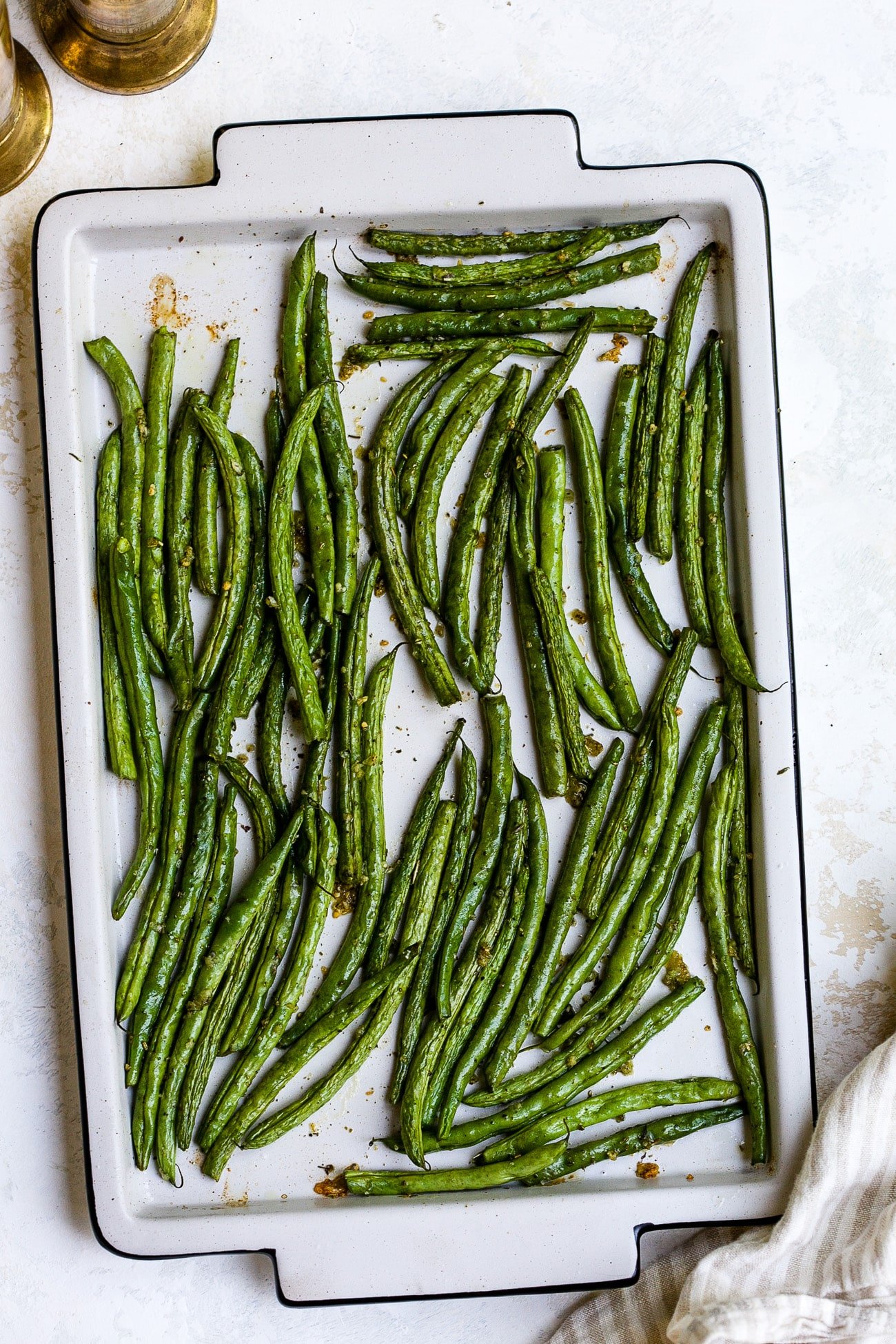 These basic roasted green beans are so tasty and one of my favorite easy side dish. I also really like using green beans in skillet meals!
Be sure to check out my Spicy Green Beans Chicken Skillet, Sweet Potato Green Beans Shrimp Skillet, green bean casserole and this mouthwatering Ground Turkey Skillet With Green Beans. You can go wrong with any of these delicious green bean dinners.
Ingredients To Make Roasted Green Beans
Green beans — I generally buy around 2 pounds of bulk fresh green beans. You'll need to rinse them well and remove ends, but to save time you can buy pre-washed/cut beans.
Oil — Extra virgin olive oil is my go-to for roasting veggies, though avocado oil also works nicely.
Garlic — Chop up two fresh cloves or use a jar of minced garlic to save some time, if preferred. You can also use garlic powder.
Spices — I like to keep things simple with Italian seasonings, kosher salt and black pepper. Feel free to experiment and use other spices if you want!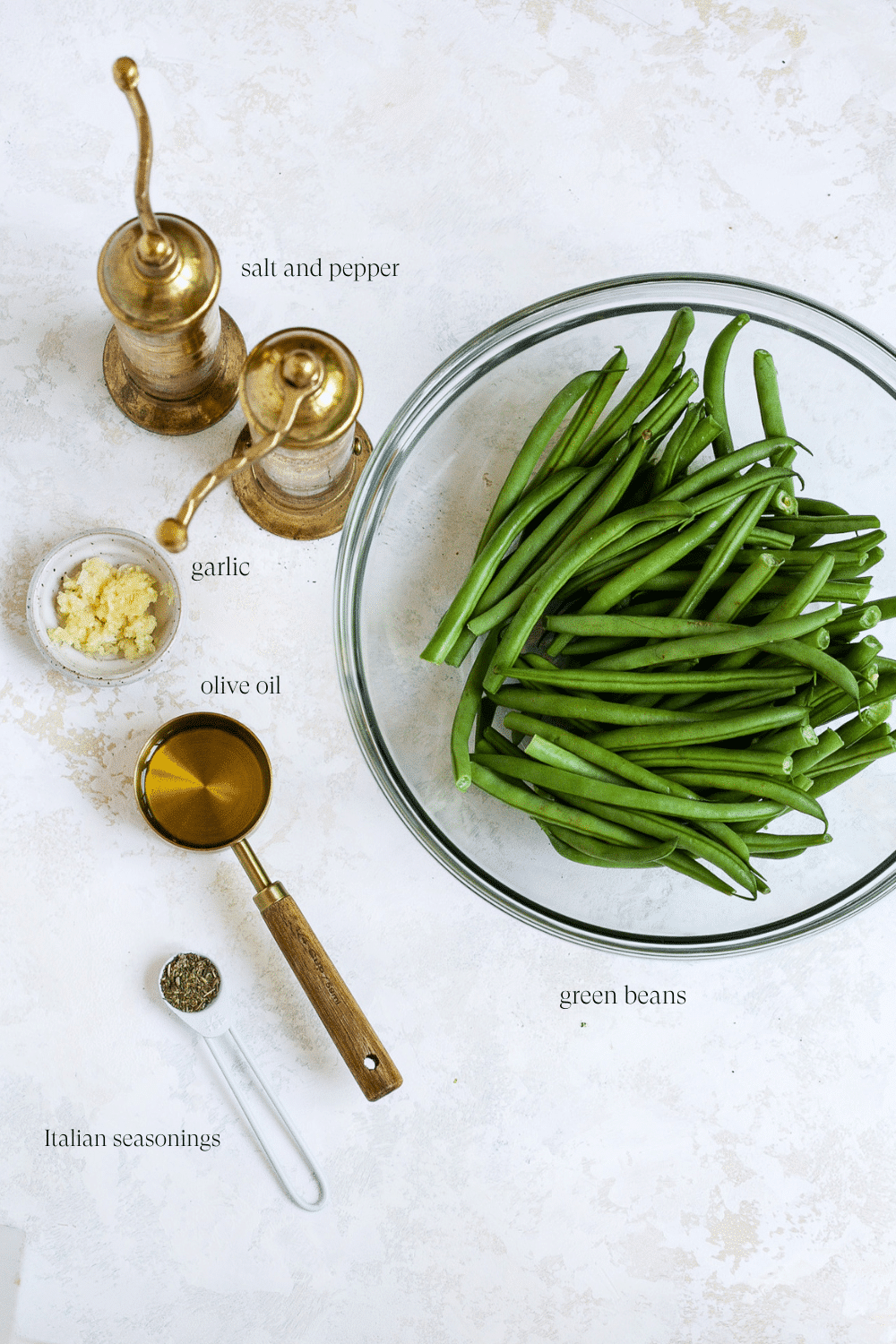 Instructions to Make Roasted Green Beans
Prep and season beans:
Start by preheating your oven to 425°F (218°C).
Rinse green beans and pat dry, then use a small sharp knife to remove ends. I recommend to trim green beans before roast them.
Place beans in a large bowl and drizzle with olive oil, then add Italian seasonings, garlic and add a sprinkle a little bit of salt and black pepper.
Stir and toss well so that all beans are evenly coated in oil and spices.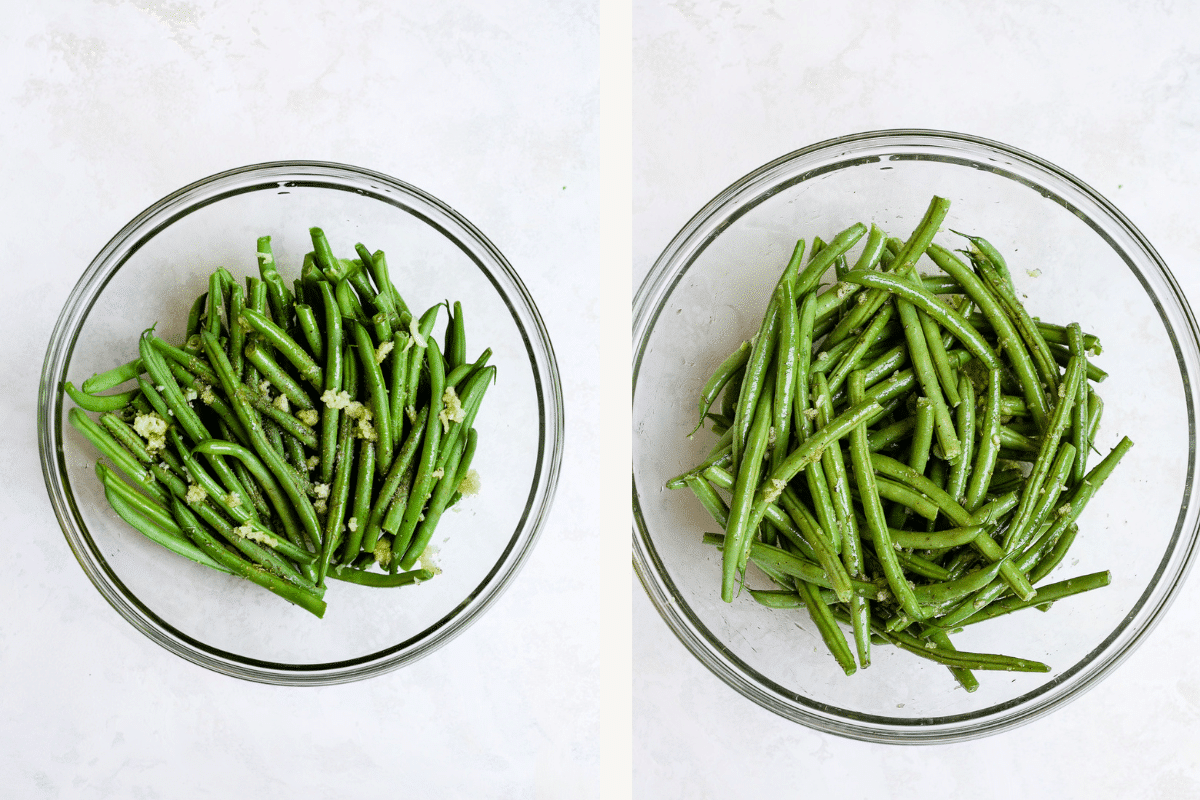 Transfer to baking sheet:
Arrange beans in a single layer on a large baking sheet or baking pan, be sure not to pack your sheet too full and work in batches if necessary.
Roast and serve:
Roast seasoned beans for approximately 8 minutes, until tender
Remove roasted green beans from the oven, then transfer to a serving plate and enjoy!
Recipe Tips
Veggies are generally roasted at very high temperatures in the oven. This means you should be sure to use a high smoke-point oil like avocado oil or olive oil.
After rinsing your green beans, be sure to dry them really well so that the oil and seasonings stick.
When trimming green beans, note it is most important to remove the end where the bean was attached to the stalk of the plant. This portion is quite tough, though the end with the curvy tail can be left or removed per your preference.
Don't overcrowd your baking sheet with green beans. Overcrowding leads to excess moisture which can create a steaming effect, rather than a crispy-tender roasted veggie.
Line your baking sheet with aluminum foil for extra easy cleanup, if desired.
How To Store Leftovers
To Store: Allow leftovers to cool and place them in an airtight container, then put them in the refrigerator for up to 4 days.
To Freeze: Transfer leftovers to a freezer bag or container and store frozen for up to 3 months.
How To Reheat: Reheat your roasted green beans in the oven, air-fryer, microwave, or a skillet on the stovetop!
What To Serve With Roasted Green Beans
Baked green beans are a delicious and nutritious solo snack. But more often than not, we think of them as a side for our main course. Serve them with:
Recipe Variations
Add different spices and herbs: get creative with the contents of your spice cabinet and use what you've got on hand!
Make them sweet! Add a drizzle of honey of maple syrup to your green beans before roasting.
Use another color of green beans: Sometimes you can find purple and yellow green beans at the store. Feel free to use any color your like, or mix and match!
Make them cheesy! Add some parmesan cheese or any other kind of cheese that you prefer. Also squeeze a little bit of lemon juice or lemon zest on top of it.
Go nuts! Add your favorite chopped nuts such as pine nuts, walnuts and pecans.
Recommended Tools
Sharp Knife: Tor trimming green beans precisely and quickly and also it's great to mince garlic.
Large Bowl: For seasoning green beans.
Large Baking Sheet: It's necessary to ensure that green beans are spread out in a single layer, allowing for even roasting and preventing overcrowding..
Frequently Asked Questions
Do I need to blanch green beans before roasting?
It is not necessary to blanch or parboil green beans before roasting them in the oven. Add oil and seasonings to your raw green beans and stick them straight in the oven!
What is the best seasoning for green beans?
I love using Italian seasonings, salt, pepper and fresh garlic! However, green beans have a mild and slightly sweet taste that really goes great with any spices you might add.
Are green beans good for you?
Green beans are rich in vitamins and nutrients and they contain lots of antioxidants. They're also low calorie and low carb! I definitely consider green beans a healthy addition to my diet.
Roasted Green Beans
Roasted green beans are delicious, nutritious and easy to make. Whip them up in just 15 minutes with only 5 ingredients. The perfect side dish for any main course!
Instructions
Preheat oven to 425°F (218℃).

In a large bowl, place the green beans and all the remaining ingredients. Mix well.

Arrange the seasoned green beans in a single layer on the baking sheet.

Bake for about 8 minutes or until crisp-tender.
Tips
Use olive oil or another high smoke-point oil for roasting veggies.
Dry beans well after rinsing so oil and seasonings stick.
Trim tough end from beans. The curvy tail can stay if you prefer, but the end where the bean connected to the plant stalk should be removed.
Line baking sheet with foil for fast cleanup, if desired. 
Don't overcrowd your baking sheet, this can create a steaming effect from excess moisture. Work in batches if necessary! 
To store: You can store roasted green beans in an airtight container in the fridge for up to 4 days.
To reheat: Reheat the green beans in the microwave, oven, or skillet.
To freeze: You can freeze cooked green beans in a freezer-safe bag or container for up to 3 months. 
Nutrition Information
Serving:
1
/4
Calories:
118
kcal
(6%)
Carbohydrates:
17
g
(6%)
Protein:
4.3
g
(9%)
Fat:
5.4
g
(8%)
Saturated Fat:
0.8
g
(5%)
Polyunsaturated Fat:
0.8
g
Monounsaturated Fat:
3.6
g
Sodium:
18
mg
(1%)
Potassium:
500
mg
(14%)
Fiber:
6.3
g
(26%)
Sugar:
7.4
g
(8%)
Vitamin A:
1
IU
Vitamin C:
47
mg
(57%)
Calcium:
9.3
mg
(1%)
Iron:
14.5
mg
(81%)
Nutrition information is calculated using an ingredient database and should be considered an estimate.
If you like this Roasted Green Beans recipe, please share it with your friends and family. Do you want to taste more? Subscribe to my newsletter, and follow Primavera Kitchen on Twitter, Pinterest, Instagram, and Facebook for all delicious recipe updates. As always, I really appreciate you stopping by.