This tutorial on How to Make Crispy Roasted Green Beans teaches you how to make a quick and delicious vegetable side dish that adds colour and nutrients to your meal!
Hey guys! It's been a week since I posted a delicious recipe for you. I would like to apologize. Last week, my husband and I were on vacation, and I thought I would have time to post from there. Unfortunately, time was so short, and also, the internet connection was limited on my phone. So sorry! We went to Las Vegas for a friend's wedding.
Oh gosh… My husband and I had such a great time down there, especially because it was my first time to Vegas. What a fun place!! I confess I don't like casinos much (my husband looooves them), but there are so many things to do other than gambling.
We went to the Jersey Boys musical, which was FANTASTIC! I highly recommend this musical if you are planning to go to Vegas. The actor/singer has almost the same voice as Frankie Valli – the real singer of the Four Seasons.
Although I am only 32 years old (well… tomorrow I turn 33 ;-)) I love their old songs because they are just so fun to dance to, and they are really good!! But, you can also watch the movie. It's great, too.
Subscribe for new recipes & a free e-cookbook
How to cook green beans:
After vacation, you just want to cook something easy but tasty, right? Well, at least I am like that. I know this recipe is so simple, but I promise it is worth it. These easy baked green beans add colour to your meal, and it's a perfect crispy side dish to go with your favourite protein! Need a second side dish to go with your protein? Try my fluffy rice or fluffy quinoa.
How can we make them so crispy??? Here are some simple tips:
The first tip is to place a jellyroll pan in the oven for 10 minutes before you add the seasoned green beans. This is a great tip to avoid soggy roasted green beans.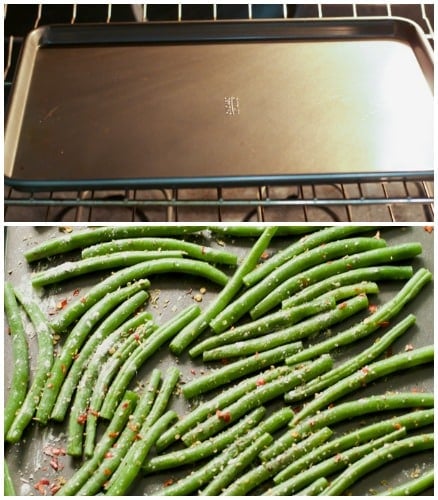 Another important tip for this recipe is to lay the green beans in a single layer on the jellyroll pan. If you don't, the green beans may steam instead of becoming crispy.
The last tip is to make sure every single bean is coated. This keeps the green beans from drying out.
I am sure if you follow these simple and important tips, you will have a very tasty and crispy roasted green bean dish. Want to browse all my healthy recipe posts? Follow my Primavera Kitchen board on Pinterest!!! I also have an awesome Healthy Fall Recipes board on Pinterest where you can find recipes like my Sweet Potato Green Beans Shrimp Skillet and Garlic Butter Green Beans Recipe.
More healthy green bean recipes to try: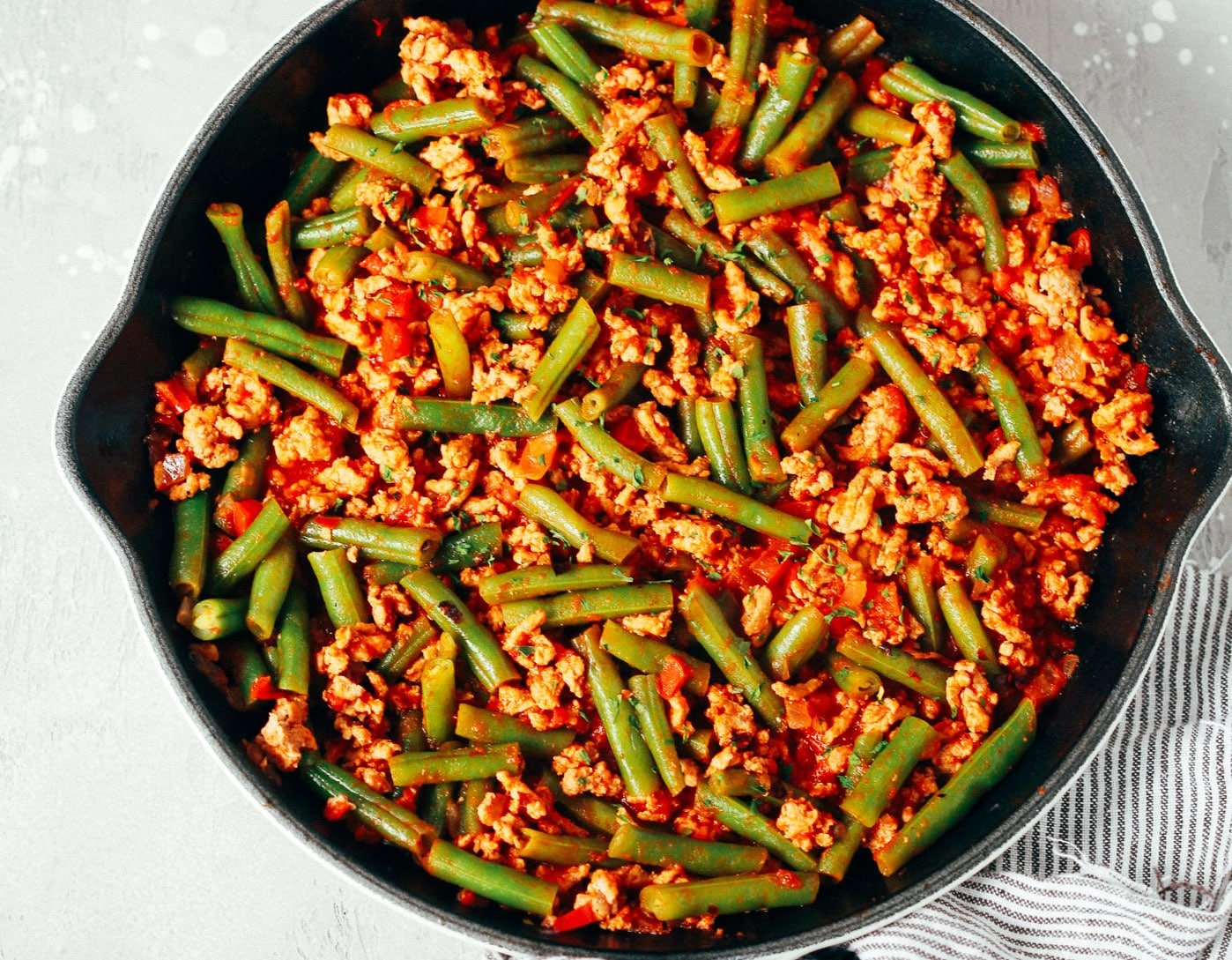 How to Make Crispy Roasted Green Beans
This tutorial on How to Make Crispy Roasted Green Beans teaches you how to make a quick and delicious vegetable side dish that adds colour and nutrients to your meal!
Instructions
In a

medium bowl

, place the green beans and all the remaining ingredients.

Arrange the seasoned green beans in a single layer on the preheated baking sheet.

Bake for about 8 minutes or until crisp-tender.
Tips
Do not overpack the green beans on the sheet pan as that'll cause them to steam instead of roast. 
Trim the ends off the green beans as they are tough. 
Wash the green beans before using. Make sure you dry them thoroughly so the oil and seasoning sticks well.
To store: You can store roasted green beans in an airtight container in the fridge for up to 4 days.
To reheat: Reheat the green beans in the microwave, oven, or skillet.
To freeze: You can freeze cooked green beans in a freezer-safe bag or container for up to 3 months. 
Nutrition Information
Serving:
1
/4
Calories:
118
kcal
(6%)
Carbohydrates:
29.4
g
(10%)
Protein:
7
g
(14%)
Fat:
3.7
g
(6%)
Sugar:
12.7
g
(14%)
Nutrition information is calculated using an ingredient database and should be considered an estimate.
If you like this Crispy Roasted Green Beans recipe, please share it with your friends and family. Do you want to taste more? Subscribe to my newsletter, and follow Primavera Kitchen on Twitter, Pinterest, Instagram, and Facebook for all delicious recipe updates. As always, I really appreciate you stopping by.