Chicken and cauliflower rice is low carb, gluten-free and whole30 approved. This mouthwatering dish features juicy, flavorful chicken with the perfect seasonings and nutritious cauliflower rice! Plus, you can whip it up in just 30 minutes.
Another great thing about this low-carb or keto meal? You won't end up with a sink full of dishes because it requires just one pan, completely perfect for a busy weekday!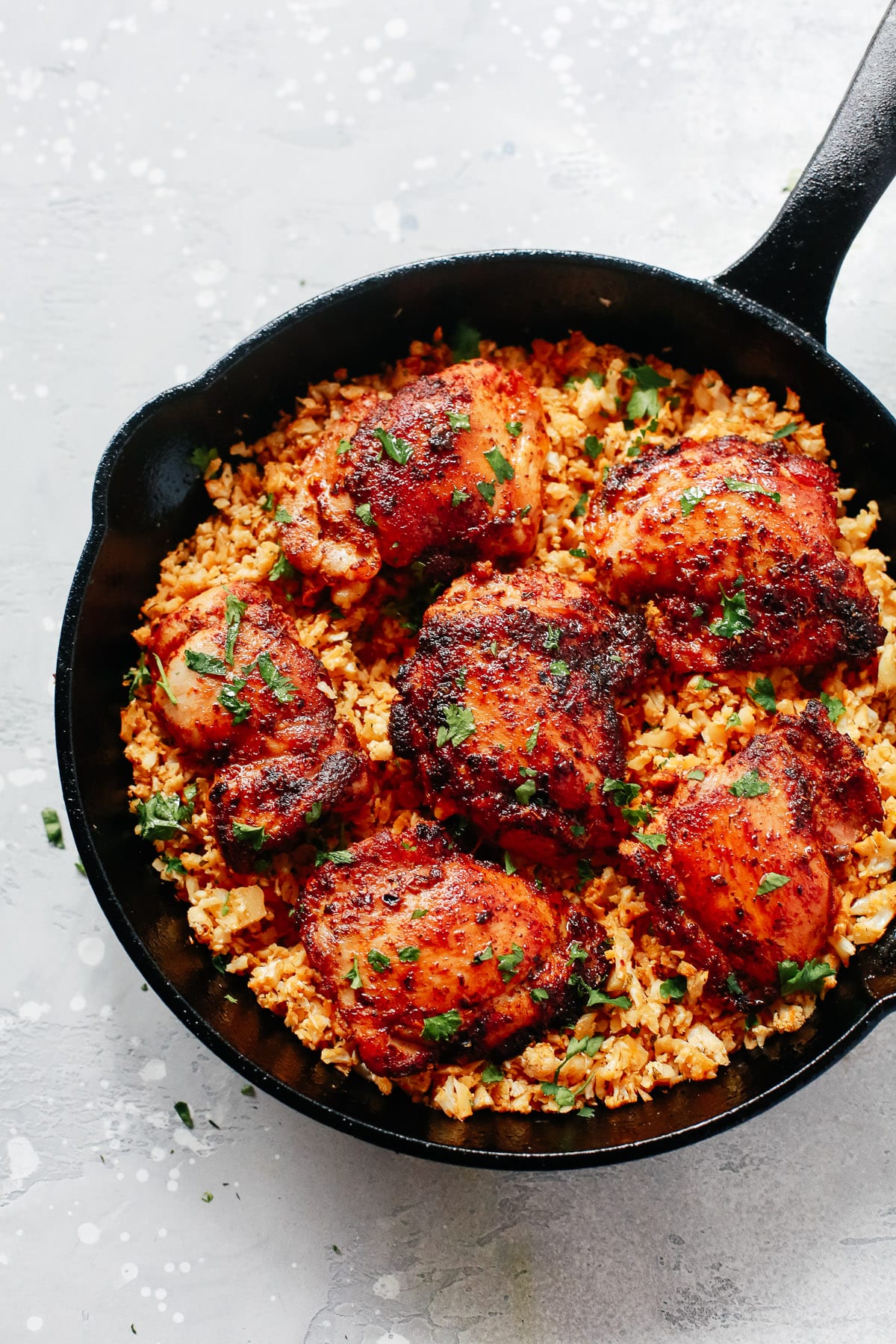 If you're not cooking with cauliflower rice on a regular basis, you should start now! It's an easy way to get more nutritious, low-carb and healthy veggies on your plate.
Use your cauli rice to make lots of meals and sides like my Garlic Parmesan Cauliflower Rice, Golden Cauliflower Rice, Italian Sausage Cauliflower Rice Skillet, Easy Cauliflower Fried Rice, Mushroom Cauliflower Rice (Web Story), Easy Zucchini Cauliflower Rice or this Cauliflower "Rice" Tabbouleh Salad!
How To Make Chicken And Cauliflower Rice
Ingredients
Chicken — Boneless, skinless chicken thighs! You can also make this recipe with chicken breasts (boneless skinless chicken breasts).
Seasonings — Oregano, paprika, garlic powder, chili powder, cumin, salt and black pepper. You can use onion powder too.
Extra virgin olive oil — You can also substitute avocado oil.
Cauliflower — Buy one medium head of cauliflower for ricing! You can also buy pre-made cauli rice to save some time, if preferred. You can find it at the grocery store, or even on Amazon!
Onion — I typically use yellow, but white also works.
Garlic — Mince fresh cloves by hand or use a jar of minced garlic for convenience's sake.
Chicken broth — Or substitute vegetable broth.
Hot sauce — Use your favorite brand!
Parsley — For extra flavor and color.
Lemon juice — I highly recommend using fresh lemon juice as bottled can sometimes taste stale.
Instructions
Marinate chicken:
Place chicken thighs in a large bowl and sprinkle with oregano, paprika, garlic powder, chili powder, cumin, salt and pepper! Mix well until each piece of chicken is coated in spices.
Allow meat to marinate in seasonings for 15-30 minutes, or refrigerate overnight.
Make cauliflower rice:
Meanwhile, cut your head of cauliflower into florets and place them in a food processor. Now pulse until a rice-like consistency is reached (25-30 seconds) and set to the side.
Cook chicken:
Subscribe for new recipes & a free e-cookbook
Measure olive oil into a big skillet on the stovetop, then turn heat setting to medium heat. Allow the oil to get hot, it's ready once it begins to smoke ever so slightly.
Add chicken thighs to the hot pan and reduce heat to medium, cook on each side for 4-5 minutes. Once chicken reaches an internal temperature of 165°F (75°C), it's done!
Remove thighs from the pan and place them on a small plate to the side.
Cook cauliflower rice:
Now add diced onion and minced garlic to the same skillet and sauté for just one minute, then stir in your hot sauce.
Add cauli rice to the pan and mix until everything is well incorporated.
Pour broth over the cauliflower rice, then add lemon juice and parsley. Simmer for a few minutes, until the rice becomes tender
Assemble and serve:
Do a quick taste test and add a bit of salt, pepper or additional hot sauce if needed.
Nestle chicken thighs into the skillet and allow them to heat back up, then serve and enjoy!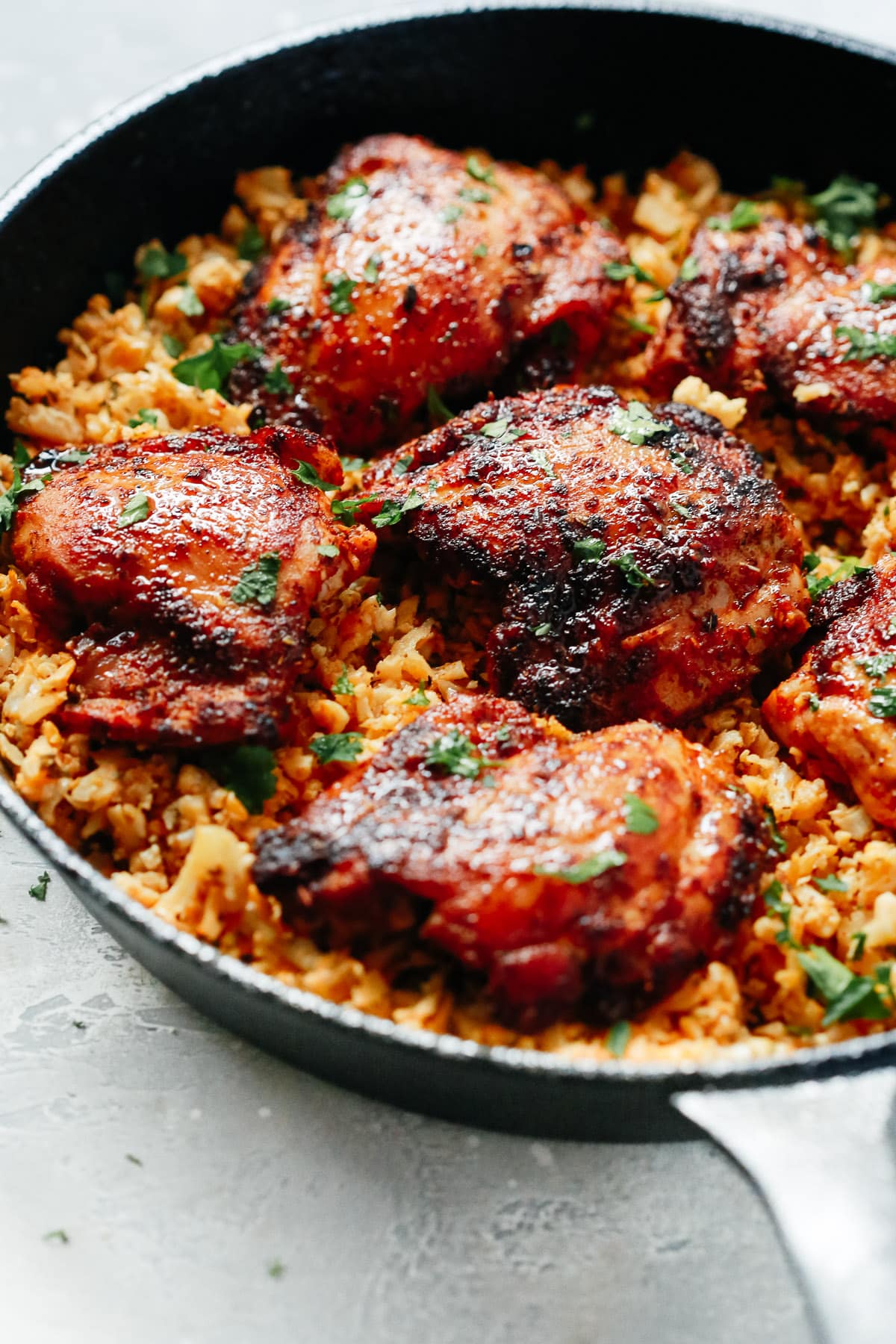 Recipe Tips
Longer marinating time equals more flavorful chicken! Plan ahead and marinate your meat overnight, if possible. This will result in extra, super-delicious chicken.
Making cauliflower rice is super easy, but you can definitely buy it pre-made at the grocery store if you want to save some time.
In order to get a beautiful, golden-brown crust on your chicken, avoid moving it around once it's been added to the skillet. Try to leave it in once place until flipping!
A meat thermometer comes in super handy when making any chicken dish, you'll know exactly when it's done which can help avoid under or overcooking.
How To Store Leftovers
To Store: Allow leftovers to cool and place them in an airtight container, refrigerate up to 4 days.
To Freeze: I don't recommend freezing the vegetable portion of this recipe, veggies can become mushy once thawed. However, you can separate and freeze chicken for up to 3 months.
To Reheat: Generally, I use the microwave to reheat my chicken and cauliflower rice. Simply microwave on high, in 30-60 second increments, until warmed though completely.
What To Serve With Chicken And Cauliflower Rice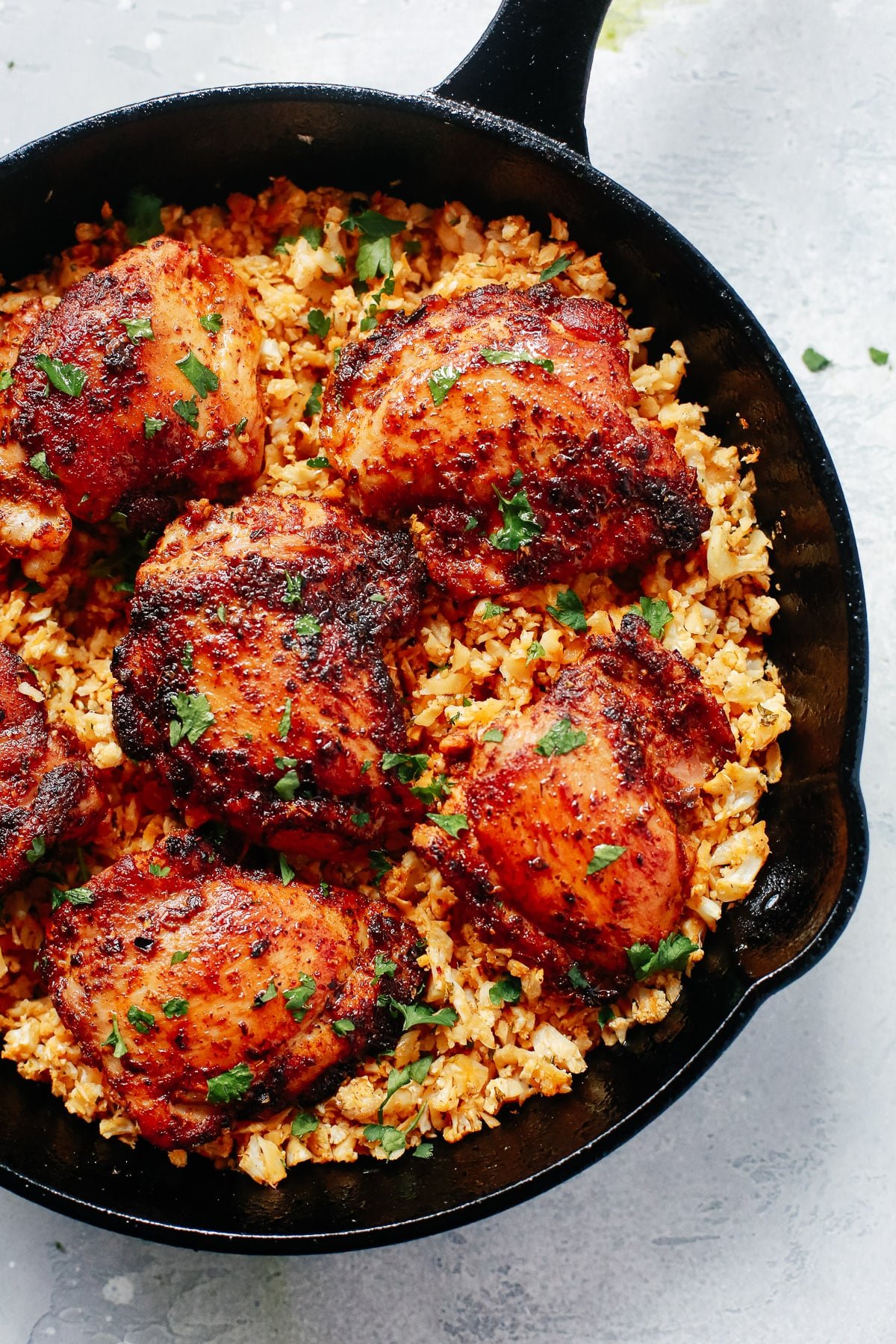 Recipe Variations
Extra spicy: This recipe is somewhat spicy because it calls for hot sauce! If you want a more intense kick, I recommend using hot chili powder (rather than mild) and adding a pinch of cayenne pepper to your seasonings mix.
Smoky: Add smoky flavor to this recipe by substituting smoked paprika for regular paprika. You can also add a few drops of natural smoke flavor!
Add cheese: This recipe is dairy free, but if you don't need it to be, feel free to add some cheese! You can mix it in or let it melt on top.
Add more veggies: You can get creative here and add some peas and carrots.
Give it a more Asian flavor: To infuse this recipe with an Asian flair, cook your cauliflower rice using sesame oil and introduce a dash of soy sauce, tamari, or coconut aminos.
Switch up the protein: You can also prepare this dish with shrimp, eggs or tofu, which I've tried before, and it tastes fantastic too!
Recommended Tools
Food Processor: This gadget comes in super handy when making homemade cauliflower rice, though it can also be used for tons of other ingredient prep!
Cutting Board: For this recipe, you'll need a cutting board to prep produce. I prefer using one with rubber grips, they'll keep your board secure on the countertop.
Large Skillet: You don't have to use a cast-iron skillet for this recipe, though I always recommend one because they're so sturdy and versatile in the kitchen.
Frequently Asked Questions
How to make cauliflower rice?
You can buy premade cauliflower rice at the store, but making your own is much cheaper. First, break a head of cauliflower into florets. Then, add florets to a food processor and pulse until a rice-like consistency is obtained. Add the rice to a skillet with your favorite spice and sauté until tender!
How long should I marinate chicken for?
If time allows, I marinate my chicken for 2 hours or even overnight. You can also marinate for up to two days in the refrigerator. If you don't have a whole lot of time, I suggest marinating for at least 15 minutes.
What can I marinate chicken in?
There are lots of chicken marinade recipes out there and they come in two forms: dry or wet. For this recipe I'm using a dry rub and no liquid. I like using dried oregano, paprika, garlic powder, chili powder, cumin, salt and pepper! Simply sprinkle spices over your chicken and set aside for 15-30 minutes (or longer).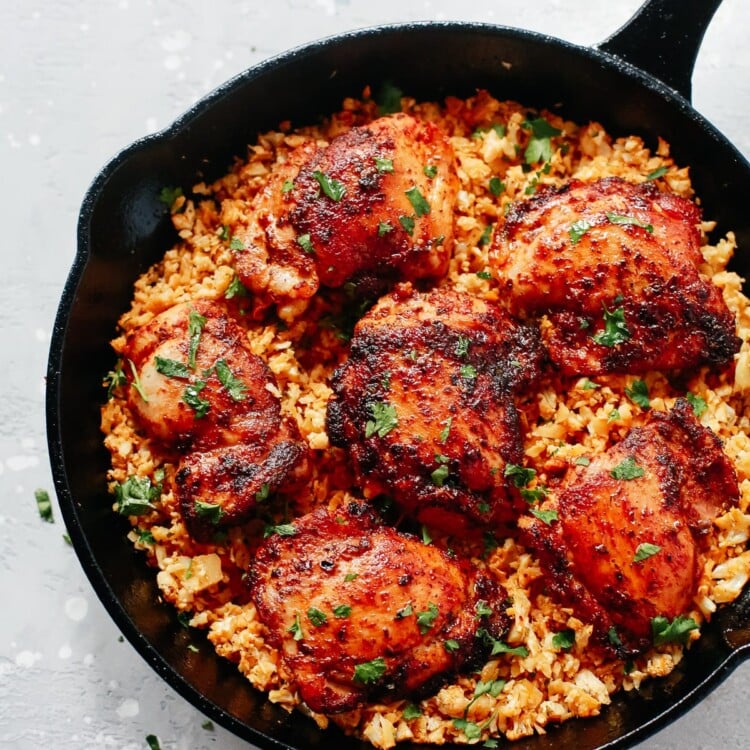 chicken and cauliflower rice
Chicken and cauliflower rice is low carb, gluten-free and whole30 approved. This mouthwatering dish features juicy, flavorful chicken with the perfect seasonings and nutritious cauliflower rice! Plus, you can whip it up in just 30 minutes.  
Instructions
In a large bowl, arrange chicken thighs and sprinkle with all the seasonings (except olive oil). Mix everything well and marinate for 15-30 minutes (or over night).

While marinating chicken, make cauliflower rice by pulsing the cauliflower florets in a food processor for about 25-30 seconds until you obtain a rice-like consistency. Set aside.

In a large skillet, add olive oil over medium-high heat. When the pan smokes just a bit, it's a sign that it's properly heated. Place the chicken in the skillet, reduce the heat to medium and cook for about 4 – 5 minutes on each side or until chicken reaches 165°F (75°C). Set chicken aside on a plate.

In the same pan, add garlic and onion and sauté for 1 minute until the onions become golden brown. Add the hot sauce and mix well. Add the riced cauliflower and mix everything together. Pour the chicken stock over the cauliflower rice add parsley and lemon juice. Cook for 2 or 3 minutes until the cauliflower gets tender. Adjust seasoning as needed. Return chicken thighs over cauliflower rice and reheat quickly. Enjoy!
Tips
Adapted from Eat Well 101.  
You can buy riced cauliflower to save time.
The longer you marinate the chicken, the more flavorful it will be.
When you add the chicken to the hot skillet, avoid moving it around until ready to flip.

I recommend using a meat thermometer so you know when chicken is done.

To store: Store chicken in the fridge for up to 4 days.
To reheat: Reheat the chicken and cauliflower rice in the microwave until heated through.
To freeze: I would recommend only freezing the chicken as the vegetables won't hold up well. Freeze the chicken in a freezer-safe bag or container for up to 3 months.
Nutrition Information
Serving:
1
/6
Calories:
222
kcal
(11%)
Carbohydrates:
10
g
(3%)
Protein:
22
g
(44%)
Fat:
12
g
(18%)
Saturated Fat:
3
g
(19%)
Polyunsaturated Fat:
1
g
Monounsaturated Fat:
3
g
Cholesterol:
100
mg
(33%)
Sodium:
587
mg
(26%)
Fiber:
4
g
(17%)
Sugar:
3
g
(3%)
Nutrition information is calculated using an ingredient database and should be considered an estimate.