This Spicy Chicken with Cauliflower Rice recipe is low carb, gluten-free and whole30 one-pan meal that takes about 30 minutes to be ready! The Chicken is juicy and it's served over cauliflower rice.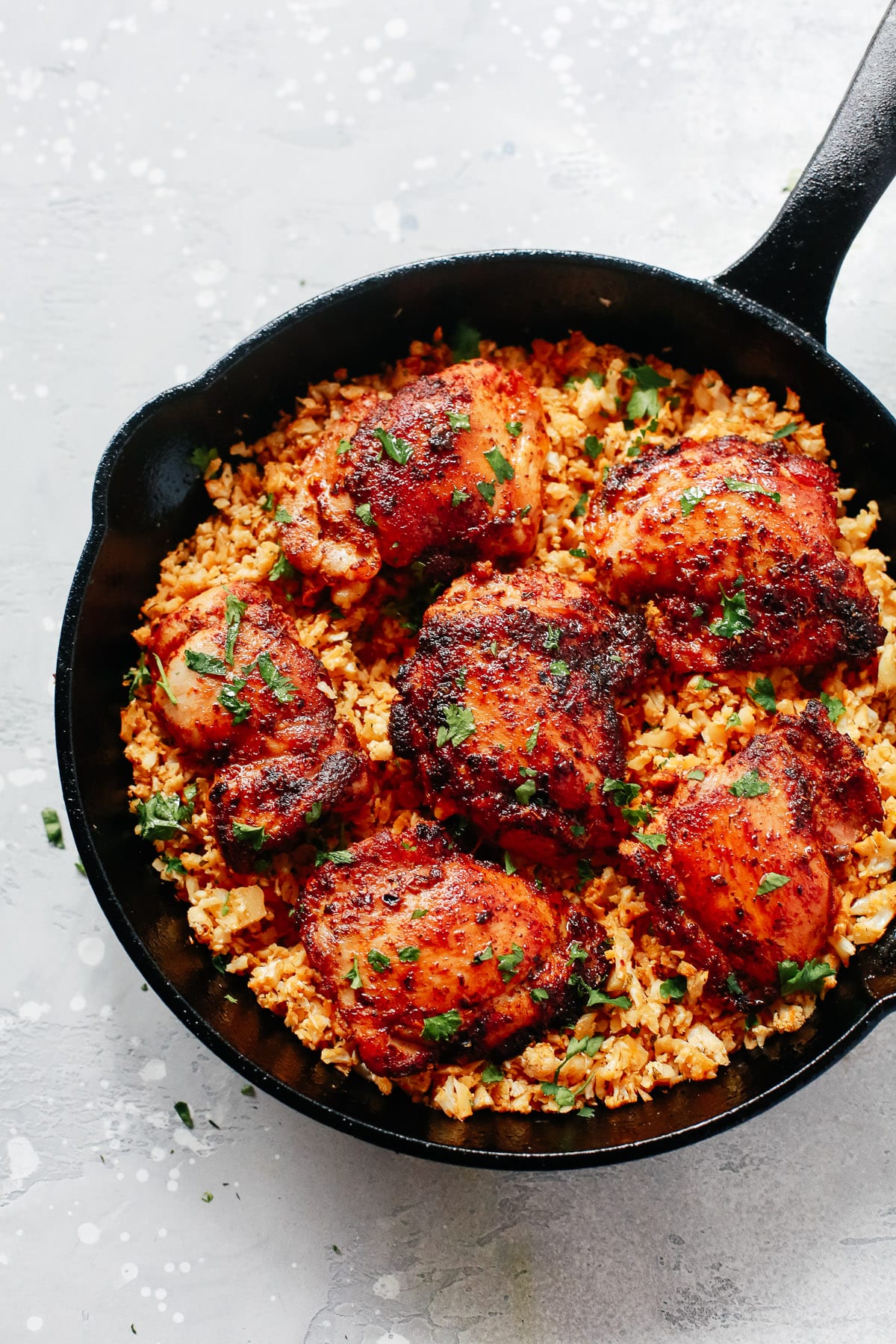 Here I am with another chicken and cauliflower rice recipe because you guys love them and it's perfect for your busy week days, since you'll need only one pan to make this low-carb meal 😉
For Spicy Chicken with Cauliflower Rice, I used boneless skinless chicken thighs, which it's great to sear and to cook fast and it's loaded with protein-rich nutrients. In only 4-5 minutes these chicken thighs will be cooked. Oh I can't forget to mention that I used grass fed and humanely raised chicken that is also free from hormones or antibiotics. (My favourite pasture-raised brand is Butcherbox. I highly recommend this brand if you want to buy organic meal/chicken/fish for great price).
This Spicy Chicken with Cauliflower Rice is heavenly good especially because of the combination of spices and the flavourful cauliflower rice. Mmm.. So good! It's definitely a mouth-watering meal.
I love cauliflower rice and try to use it as often as possible. It's deliciously low-carb and also an easy way to pack more vegetables into a meal like in my Garlic Parmesan Cauliflower Rice Recipe, Italian Sausage Cauliflower Rice Skillet, Mushroom Cauliflower Rice Skillet Recipe (Web Story), and Easy Zucchini Cauliflower Rice.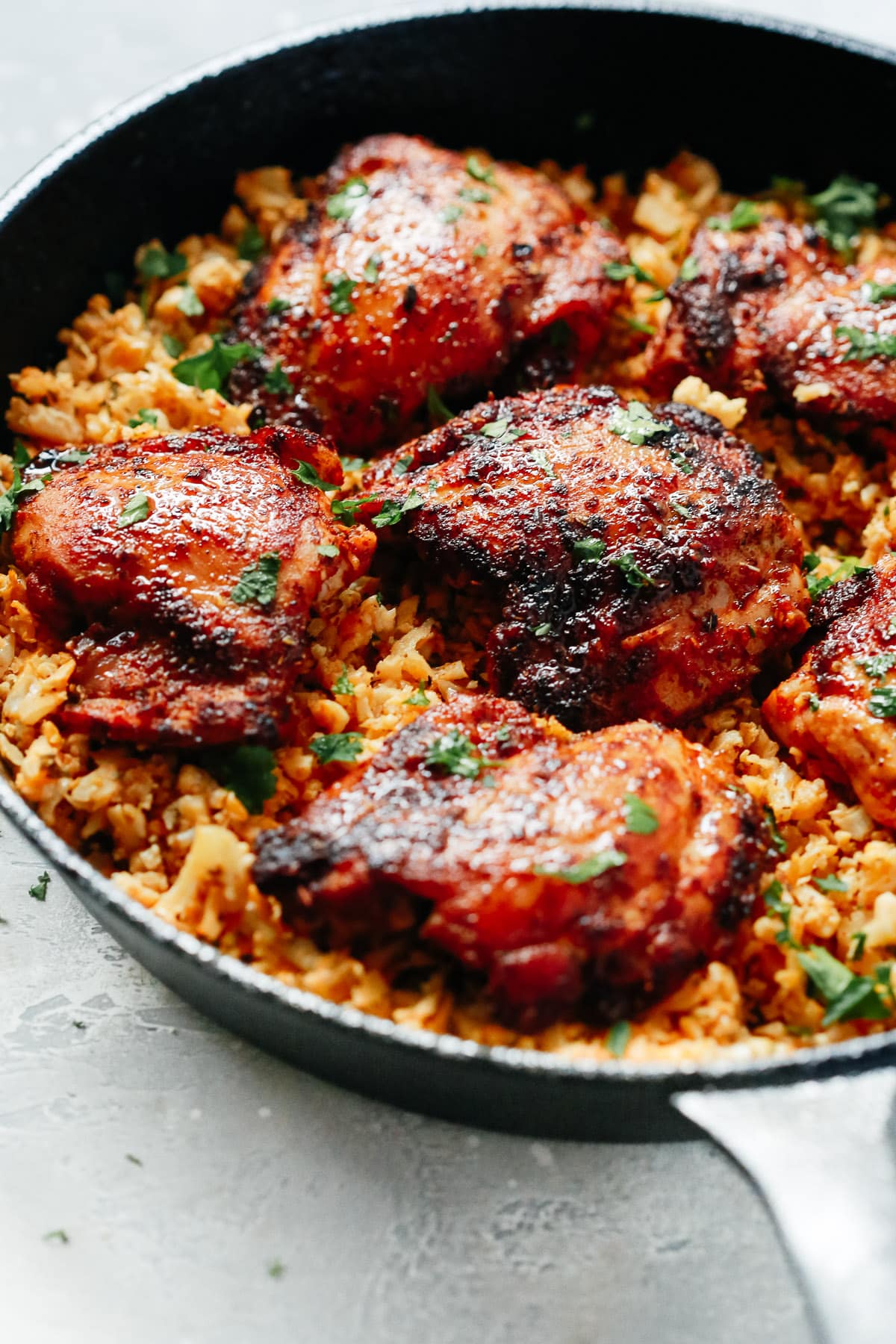 Subscribe for new recipes & a free e-cookbook
How to Make Spicy Chicken with Cauliflower Rice:
This recipe is very simple to make and if you follow these five simple steps, you will have a delicious low-carb one-pan dinner recipe in no time.
First, marinate the chicken (using all the seasoning from the chicken ingredient box) for about 15-30 minutes. I think this step is extremely important to add a little extra flavour to this meal.
Meanwhile, make the cauliflower rice. (See instructions below)
Heat the skillet with olive oil and cook the chicken for 5-minute each side or until it gets the 165F internal temperature. Set aside.
In the same skillet sauté onions, garlic, cauliflower rice, chicken broth and hot sauce.
Before serve add the chicken back to the skillet and top with fresh chopped parsley. Enjoy!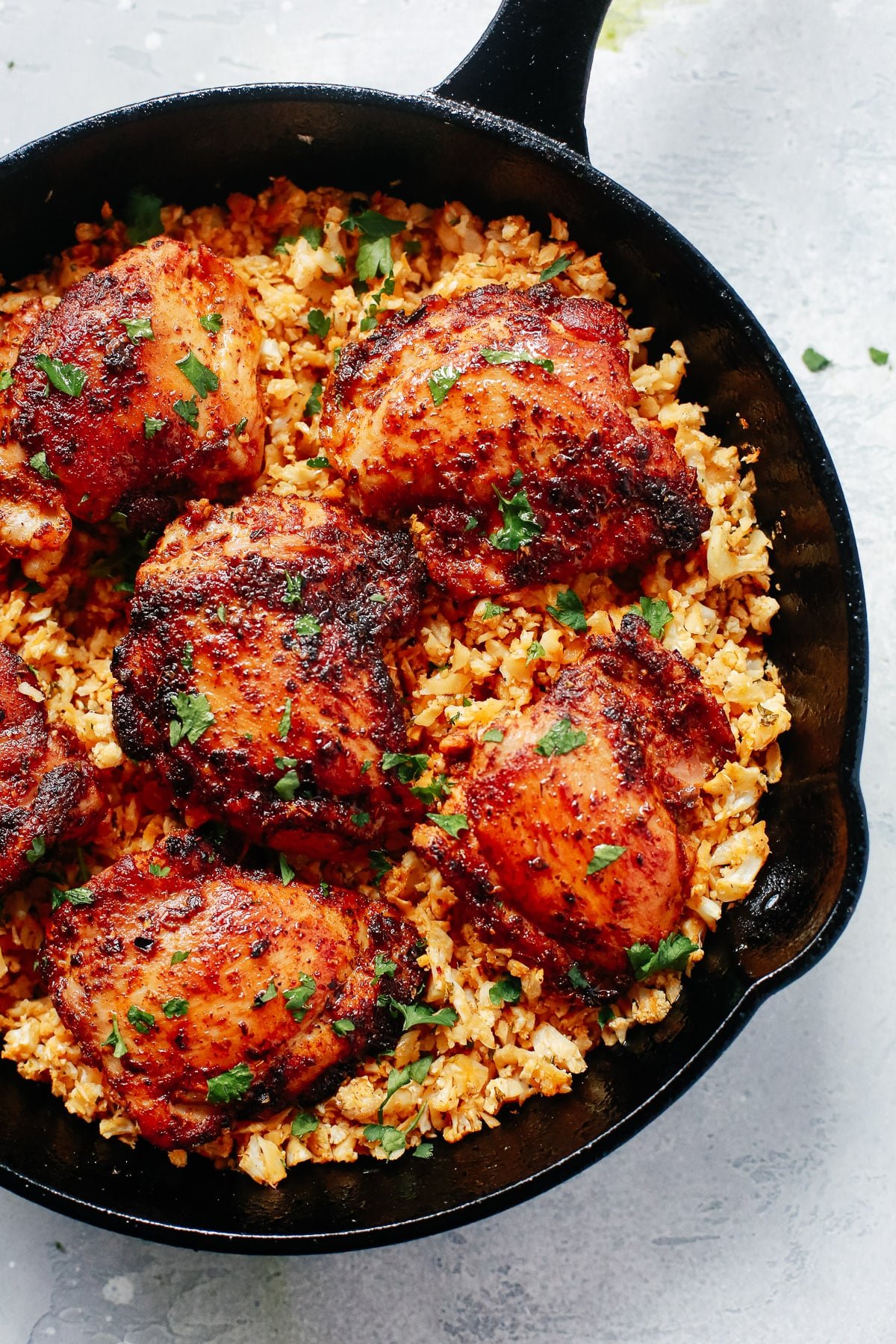 How to Make Cauliflower Rice
Sometimes if I'm running out of time I buy a bag of cauliflower rice at my local grocery store (I also saw Amazon selling it too). It's convenient and you save a lot of time in the kitchen. But I also make my own if I have a cauliflower on hand. And it's pretty easy to make by using a food processor.
First, break up the cauliflower into florets.
Add the cauliflower florets to a food processor and pulse until you obtain a rice-like consistency.
Add the cauliflower rice to a skillet and season with your favourite spices for few minutes or until tender. Done! So easy!
How long should I marinate chicken for?
If time allows I would marinate chicken for 2 hours or even overnight. You also can marinate for up to two days in the refrigerator. But if you don't have much time to make it, I would suggest 15 minutes to marinate your chicken.
What can I marinate chicken in?
There are lots of chicken marinade recipes but basically a simple chicken marinade comes in one of two forms: dry or wet. For this recipe I'm using a dry rub, that contains a mixture of herbs and spices, but contains no liquid. I just combine all of my favourite spices in a bowl, mix well, sprinkle onto chicken and set aside for 15-30 minutes or even more time.
I used these dry seasonings:
Dried oregano
Paprika
Garlic powder
Chilli powder
Cumin
Salt and black pepper
However you can use any type of spices you prefer since there's no right or wrong combination in a dry rub for chicken. Enjoy!
More Cauliflower Rice Recipe to Try:
And some other Cauliflower Recipes to make: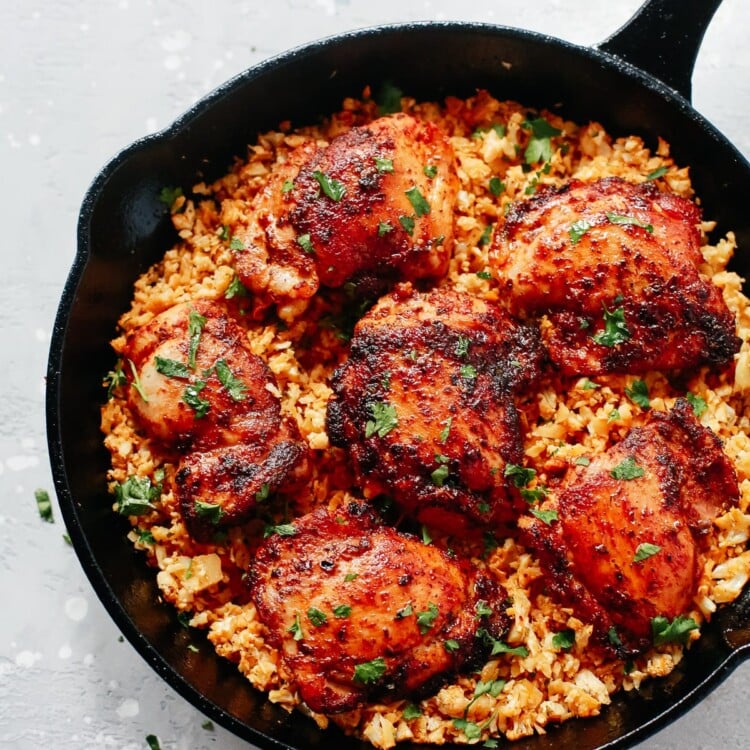 Spicy Chicken with Cauliflower Rice
Is a low carb, gluten-free and whole30 one-pan meal that takes about 30 minutes to be ready! The Chicken is juicy and it's served over cauliflower rice.
Ingredients
For the Cauliflower Rice
1

medium cauliflower head

1

cup

onion

chopped

4

garlic cloves

minced

1/4

cup

chicken broth

1

tablespoon

hot sauce

any you prefer

½

cup

fresh chopped parsley

1

tablespoon

lemon juice
Instructions
In a large bowl, arrange chicken thighs and sprinkle with all the seasonings (except the olive oil) for the chicken ingredients. Mix everything well and marinate for 15-30 minutes (or over night).

While marinating chicken, make cauliflower rice by pulsing the cauliflower florets in a food processor for about 25-30 seconds until you obtain a rice-like consistency. Set aside.

In a large skillet, add olive oil over medium-high heat. When the pan smokes just a bit, it's a sign that it's properly heated. Place the chicken in the skillet, reduce the heat to medium and cook for about 4 – 5 minutes on each side or until chicken reaches 165°F (75°C). Set chicken aside on a plate.

In the same pan, add garlic and onion and sauté for 1 minute until the onions become golden brown. Add the hot sauce and mix well. Add the riced cauliflower and mix everything together. Pour the chicken stock over the cauliflower rice add parsley and lemon juice. Cook for 2 or 3 minutes until the cauliflower gets tender. 5. Adjust seasoning as needed. Return chicken thighs over cauliflower rice and reheat quickly. Enjoy!
Tips
Adapted from Eat Well 101.  
You can buy riced cauliflower to save time.
The longer you marinate the chicken, the more flavourful it will be.
When you add the chicken to the hot skillet, avoid moving it around until ready to flip.
To store: Store the chicken bowls in the fridge for up to 4 days.
To reheat: Reheat the chicken and cauliflower rice in the microwave until heated through.
To freeze: I would recommend only freezing the chicken as the vegetables won't hold up well. Freeze the chicken in a freezer-safe bag or container for up to 3 months.
Nutrition Information
Serving:
1
/6
Calories:
222
kcal
(11%)
Carbohydrates:
10
g
(3%)
Protein:
22
g
(44%)
Fat:
12
g
(18%)
Saturated Fat:
3
g
(19%)
Polyunsaturated Fat:
1
g
Monounsaturated Fat:
3
g
Cholesterol:
100
mg
(33%)
Sodium:
587
mg
(26%)
Fiber:
4
g
(17%)
Sugar:
3
g
(3%)
Nutrition information is calculated using an ingredient database and should be considered an estimate.