This Italian Sausage Tomato Sauce is loaded with tomatoes and spices. It's great over zucchini noodles, pasta, mashed potatoes, and even on its own.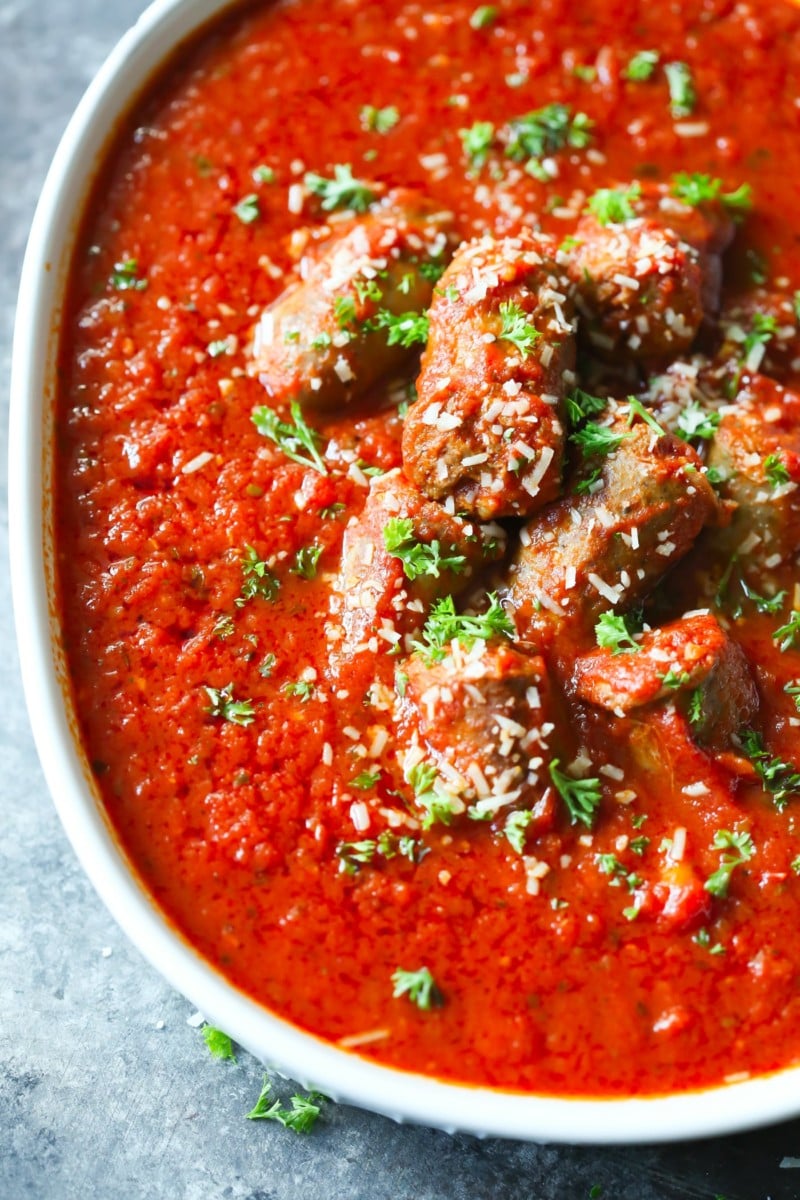 I'm very excited to share this Italian Sausage Tomato Sauce recipe. It's a traditional recipe from my husband's family. In fact, this recipe was one of the first ones I had with my in-laws at a family dinner party. When I first tried it, I was so impressed by the flavour, texture, and thickness of this sauce. Mm… So good!! It's a recipe everybody in his family loves, and it's a hit even with the children.
I always wanted to learn how to make this recipe, so the last time my in-laws came to Toronto, I asked my mother-in-law to make this sauce with me. Of course, she was happy to teach me, and we had fun making this Italian Sausage Tomato Sauce recipe together. When we were cooking it, she told me her mother-in-law who was Italian and a wonderful woman (I miss her!) taught her how to make this sauce. And now, my mom-in-law passed it on to me. I asked her if I could share it on my blog, and she loved the idea. So, I am sharing this family recipe with you.
When we made this recipe, my mom-in-law said that the most important thing about this recipe is the quality of the tomatoes. I totally agree with her because it's the main ingredient. She really recommended the San Marzano tomatoes, and you can buy the cans easily at a very good price at Costco. They have just the right amount of sweetness and acidity and are definitely the first choice for making marinara sauce.
Another essential tip is to let the sauce cook on low heat for at least 1½ hours. If you have time, cook it for longer. This will make the sauce more flavourful and thick. Also, don't forget to taste and adjust the seasonings. Be careful with the amount of salt you add since, depending on the brand of Italian sausage, there may already be a lot of salt. That's it! This recipe is great on its own or on top of zucchini noodles for those on low-carb and gluten-free diets, pasta, polenta, and mashed potatoes. I really hope you enjoy this recipe and give it a try.
And if you're going to Costco for the tomatoes, you might as well get the sausages there as well. Then you can make my Italian Sausage, Onions and Peppers Skillet, Slow Cooker Italian Sausage and Peppers, and Italian Sausage & Peppers Skillet as well!
See below for how to make this Italian Sausage Tomato Sauce Recipe: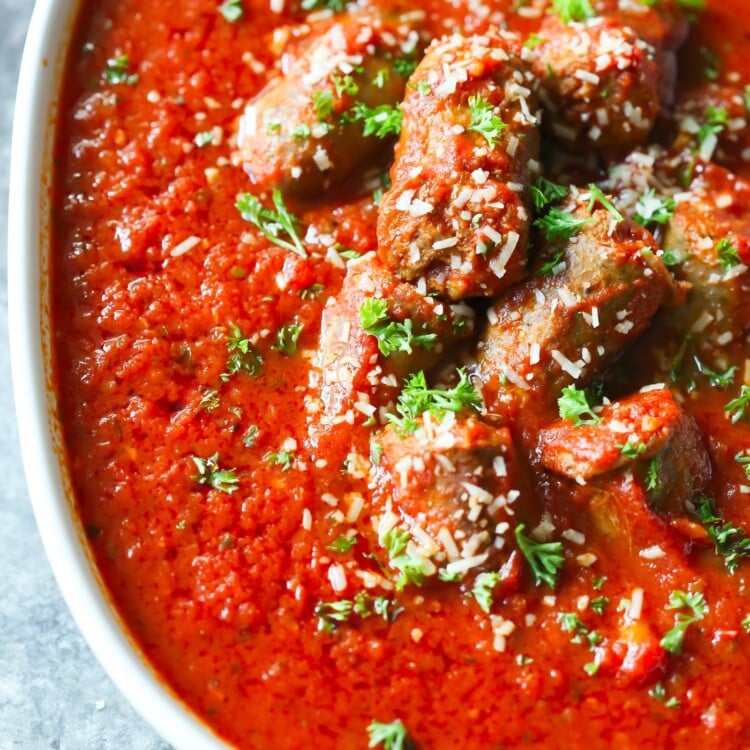 Italian Sausage Tomato Sauce Recipe
This Italian Sausage Tomato Sauce is loaded with tomatoes and spices. It's great over zucchini noodles, pasta, mashed potatoes, and even on its own.
Instructions
In a saucepan, heat 2 tablespoons of the olive oil over medium heat.

Add the onions, and cook 4-5 minutes until they are soft and golden.

Add the bell peppers, garlic, bay leaf, crushed red pepper, dried parsley, salt, and black pepper.

Cook everything for about 3 minutes. Remove the bay leaf, and set aside.

Add the 2 cans of whole tomatoes including the juice. With a hand blender, crush the tomatoes. Be careful not to blend the tomatoes too much. You should leave a few chunks of tomatoes in the sauce.

Add the brown sugar and water. Cook for more 3 minutes.

Return the bay leaf to the pan.

Add the pesto, and cover the pan. Once it boils, lower the heat to maintain a low simmer.

Don't forget to stir occasionally.

Meanwhile in a skillet, heat the remaining 1 tablespoon of olive oil.

Add the Italian sausages, and sauté until they become brown on the outside but still raw inside.

Cut the Italian sausages into three pieces each, and add to the tomato sauce. Cook on low heat for about 1½ hours. You can also cook the sauce for longer (3-4 hours) if you have the time.

Before serving, remove the bay leaf. Serve it over spaghetti or zucchini noodles.
Tips
You can get spicy Italian sausage to make the sauce spicier. 
Feel free to add light, regular, or dark brown sugar.
Adjust the amount of sugar to your liking.
To store: Store the tomato sauce in an airtight container for 4 days in the fridge.
To reheat: Reheat the sauce in the microwave or stovetop until hot.
To freeze: Once cooled, you can freeze the tomato sauce for up to 3 months in a freezer-safe bag. 
Nutrition Information
Serving:
1
/8
Calories:
256
kcal
(13%)
Carbohydrates:
10.7
g
(4%)
Protein:
8.3
g
(17%)
Fat:
19.4
g
(30%)
Saturated Fat:
5.7
g
(36%)
Cholesterol:
33
mg
(11%)
Sodium:
339
mg
(15%)
Fiber:
2.3
g
(10%)
Sugar:
6.6
g
(7%)
Nutrition information is calculated using an ingredient database and should be considered an estimate.
If you like this Italian Sausage Tomato Sauce recipe, please share it with your friends and family. Do you want to taste more? Subscribe to my newsletter, and follow Primavera Kitchen on Twitter, Pinterest, Instagram, and Facebook for all delicious recipe updates. As always, I really appreciate you stopping by.