One-Pan Sausage with Sweet Potato and Asparagus
This One-pan Sausage with Sweet Potato and Asparagus recipe is great to easily cleaning up and it's ready in only 15 minutes.
This dish is one of the easiest dinners you can possibly make during the week for you and your family. I always make this one-pan sausage with sweet potato and asparagus recipe when I don't have much time to make side dishes such as rice, quinoa, mash potatoes, or salads. This one-pan meal is very filling especially because the sweet potato contains high amounts of fiber and is easier to digest than other types of potatoes.
Of course, if you don't have sweet potatoes or asparagus, you can use any other type of veggies you have in your kitchen. But please watch the cooking time because some veggies cook faster than others. If you cook them longer than they're supposed to, the veggies will become soggy and nobody likes soggy veggies, right? I also suggest you choose a good quality smoked sausage.
We all know that sausage can be full of salt and we don't want that. I chose an organic smoked Canadian sausage because it is made with good quality meat and has less sodium. Another tip is to make sure your sausage is smoked. If you use a fresh Italian sausage, for example, it won't cook completely in 15 or 18 minutes. It will need at least 40 minutes to be cooked through. Sure, you can use this type of fresh sausage, but you will need to cook the veggies separately.
Now, the most important tip to make this ultra-easy one-pan dish perfect is to make sure the veggies cook at the same speed. We all know asparagus cooks very quickly. To ensure they all cook at the same time,  cut the sweet potato into small cubes roughly the same size. Also, try to add the veggies to the baking sheet in a single layer. Enjoy!
One-Pan Sausage with Sweet Potato and Asparagus
This One-pan Sausage with Sweet Potato and Asparagus recipe is great to easily cleaning up and it's ready in only 15 minutes.
Ingredients
1 bunch asparagus — cut in half
300 g (10 oz) smoked sausage, sliced
300 g (2 cups) sweet potato, diced
2 tablespoons olive oil
1 teaspoon thyme
1 teaspoon oregano
½ teaspoon paprika
Salt and fresh ground pepper
Fresh parsley — (chopped) for garnishing
Instructions
Preheat the oven to 400 degrees F.

Line a sheet pan with foil or parchment paper.

Add the sweet potato, asparagus, and sausage on the sheet pan.

Pour olive oil on the top of the sausage mixture and season with thyme, oregano, paprika, salt, and pepper.

Toss well to coat.

Place in the oven for 15-18 minutes (If you prefer the asparagus more tender, you can place only the sausage and the sweet potato in the oven for 5 minutes and then add the asparagus).

Remove from the oven and top with and top parsley.
Course: Main Course
Cuisine: American
Keyword: dinner, gluten-free, one-pan, paleo, Special Diet, spring
Nutrition Information
Amount per serving (1/4) — Calories: 355, Fat: 24g, Saturated Fat: 7g, Polyunsaturated Fat: 1g, Monounsaturated Fat: 5g, Cholesterol: 40mg, Sodium: 1218mg, Potassium: 518mg, Carbohydrates: 23g, Fiber: 5g, Sugar: 5g, Protein: 10g
If you make this recipe, please don't forget to snap a photo and hashtag it #primaverakitchen. I really want to see!
This post contains affiliate links. For more information, please visit my disclosure page here.
If you like this One-Pan Sausage with Sweet Potato and Asparagus recipe, please share with your friends and family. Do you want to taste more? Subscribe to my newsletter and follow Primavera Kitchen on Twitter, Pinterest, Google+, Instagram, and Facebook for all delicious recipes updates. As always, I really appreciate you stopping by.
More more Sweet Potato and Asparagus recipes:
Sweet Potato Chicken Kale Skillet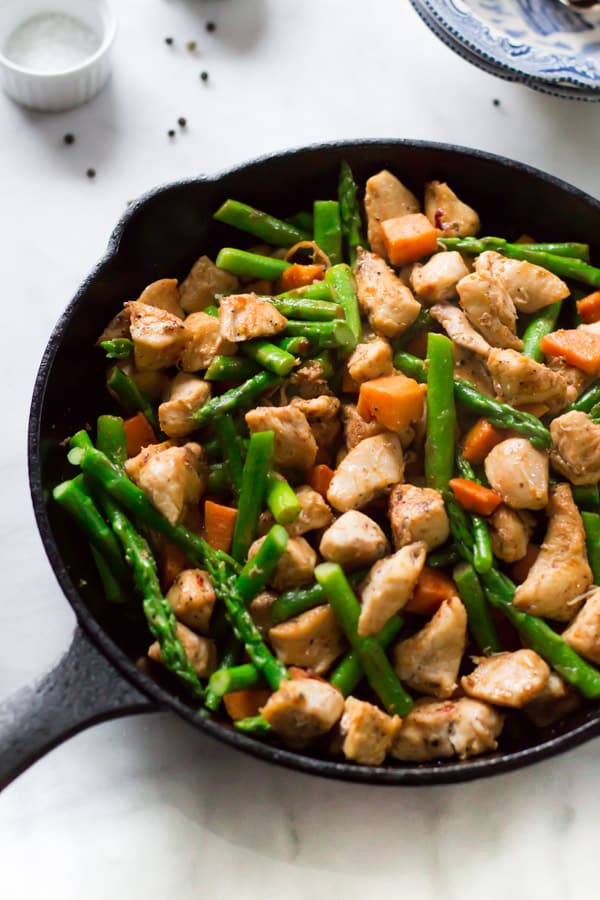 Asparagus Sweet Potato Chicken Skillet
Turkey Sausage Skillet with Brussel Sprouts and Sweet Potatoes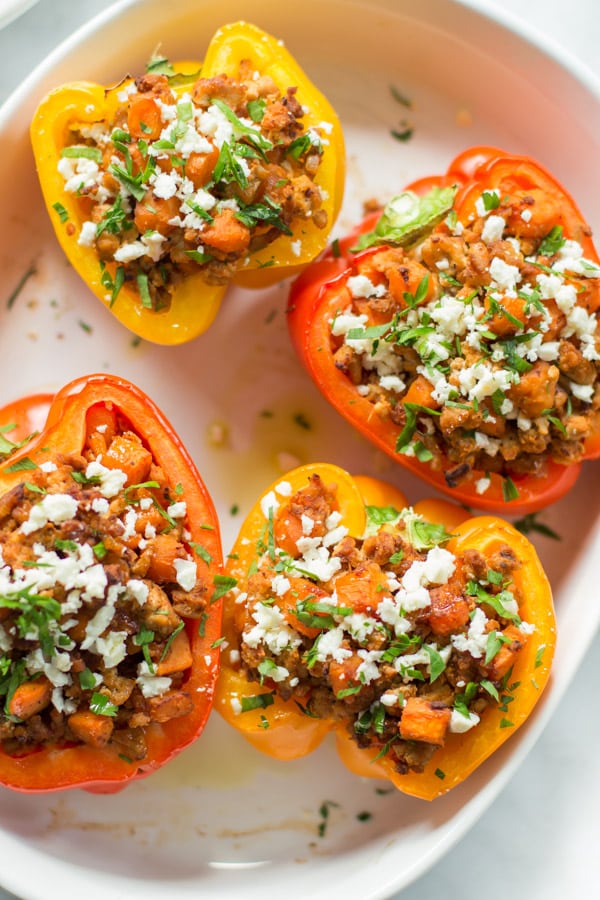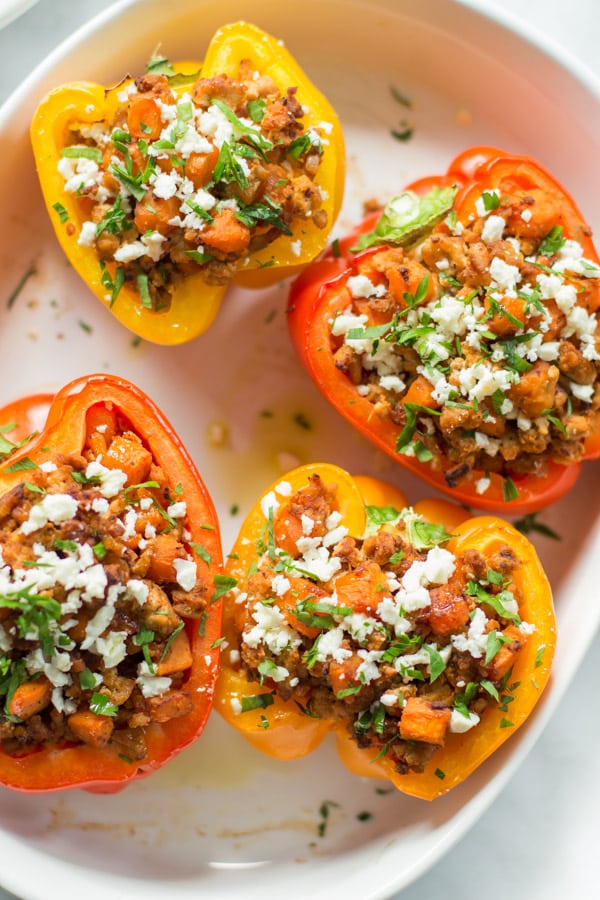 Ground Turkey Sweet Potato Stuffed Peppers