This Shrimp and Sausage Vegetable Skillet is an easy to make meal-prep recipe for your busy days of the week. It's super flavorful and loaded with veggies and protein. It's low-carb, paleo, whoel30, and also gluten-free.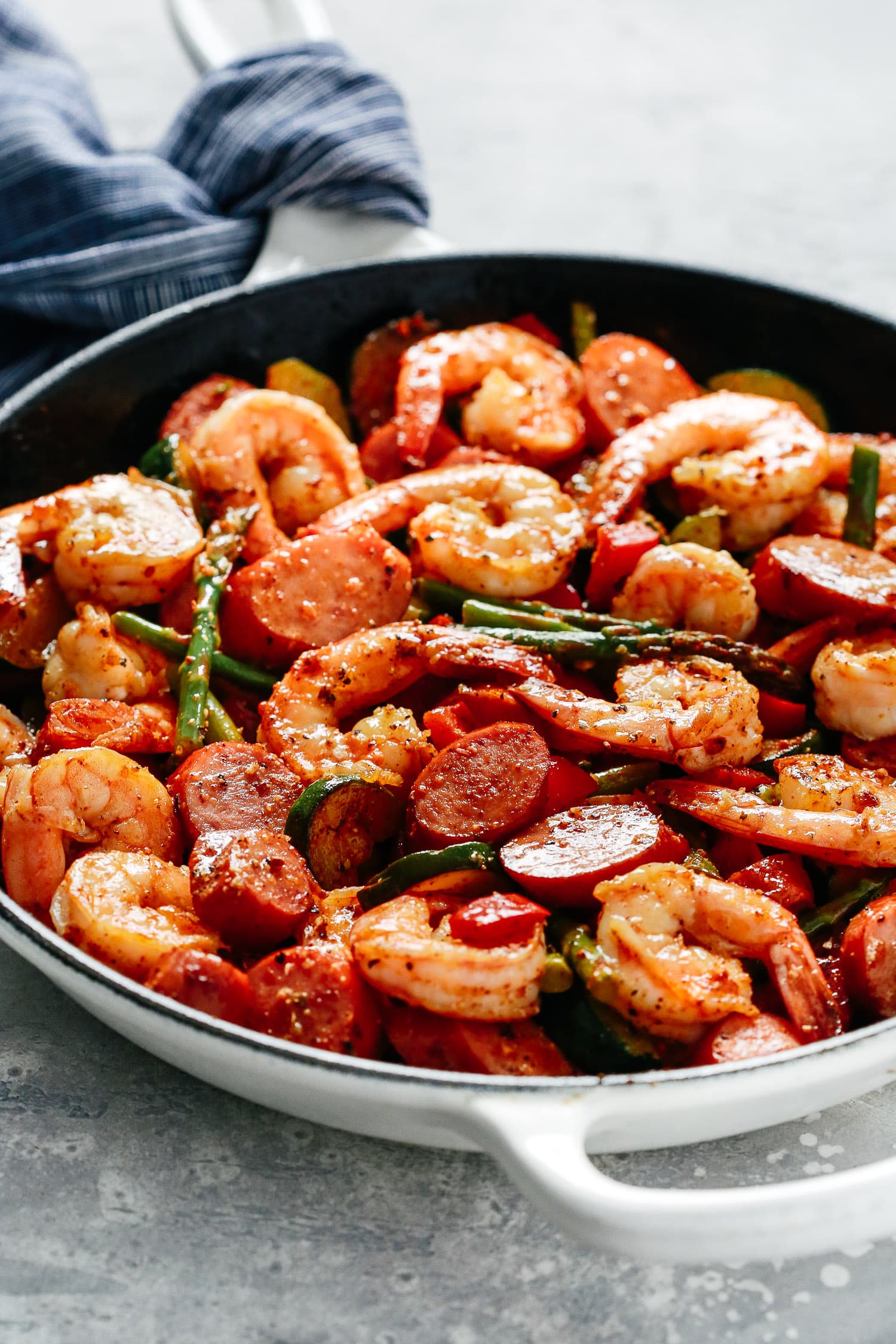 The past few days my husband wasn't home since he was traveling for work. I wasn't very worried about "what to make for dinner". Of course, we (my 3-year old boy and I) have healthy dinner meals even when my husband is not home, but we don't mind to eat the same thing four days of the week, as my husband does.
So, last week I decided to make this Shrimp and Sausage Vegetable Skillet meal-prep recipe and we ate this low-carb, keto friendly, paleo and whole30 dish for dinner all 4 days of the week. It stayed fresh and good in the fridge for 4 days and I served it along with rice for my son.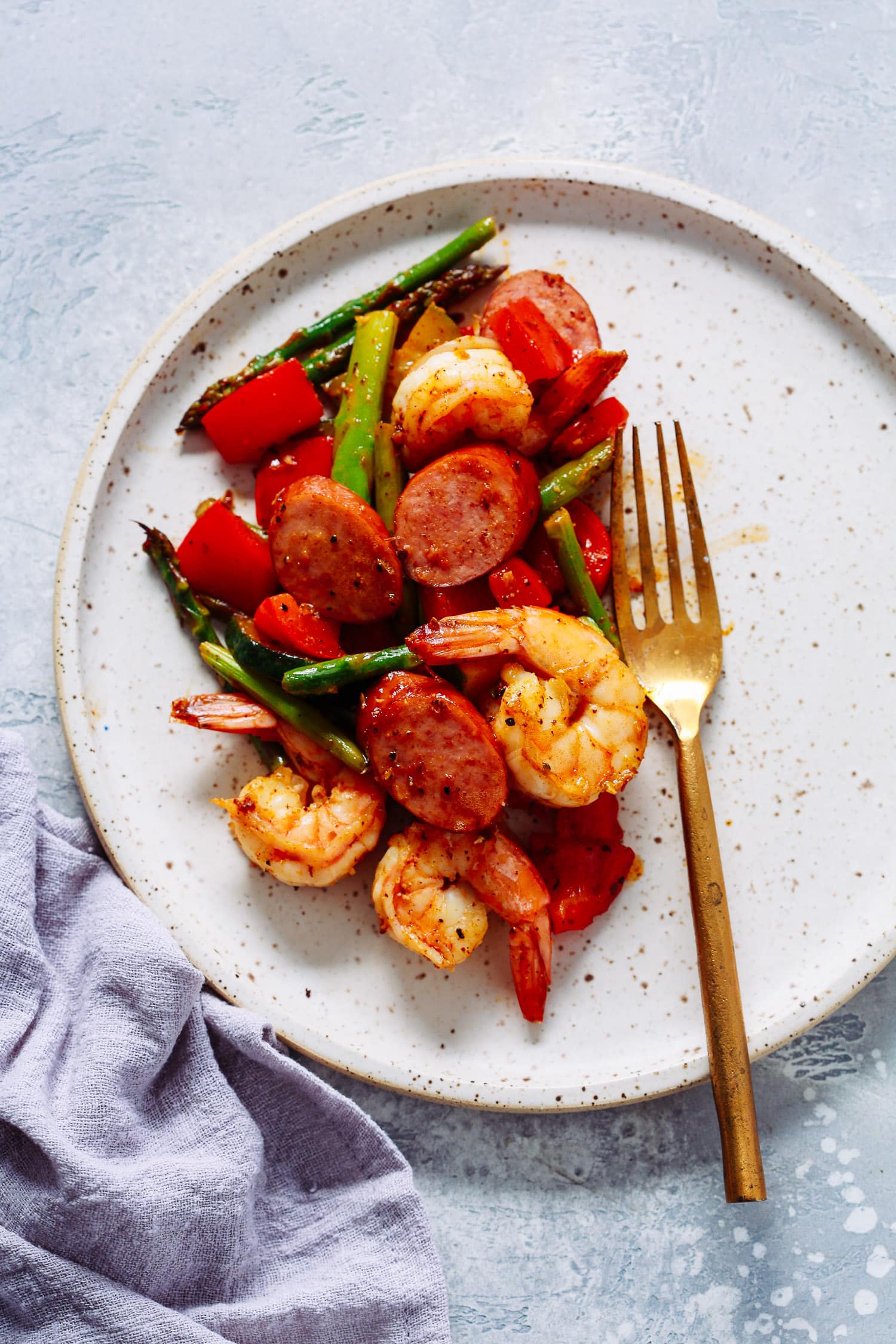 Ingredients to make this Shrimp and Sausage Vegetable Skillet:
This recipe is great because you can use any veggies you have on hand, which means it's an awesome dish to help you to clean out your fridge. If you ever feel uninspired and don't know what to do for dinner, this recipe will solve your problem. All you need is just simple and easy ingredients:
Raw shrimp — I like to use deveined and shell removed to save time on the prep.
Smoked Sausage or turkey sausage— We like smoked sausages as it has a delicious smokey flavor to it. Look for nitrate-free gluten-free sausages made with high quality meat. You can also use andouille sausage.
Spices — black pepper, crushed red pepper, onion powder, oregano and paprika. You can also use cajun seasoning if that is what you have on hand. You can also add in a touch of cayenne pepper to add more flavor.
Olive oil — or another neutral oil of your choice
Red bell pepper — red bell pepper is the sweetest so it's the one I prefer. You can also use orange or yellow bell pepper as well.
Asparagus
Zucchini
Vegetable broth — I recommend you use low sodium organic vegetable broth. You don't want the dish to be overly salty.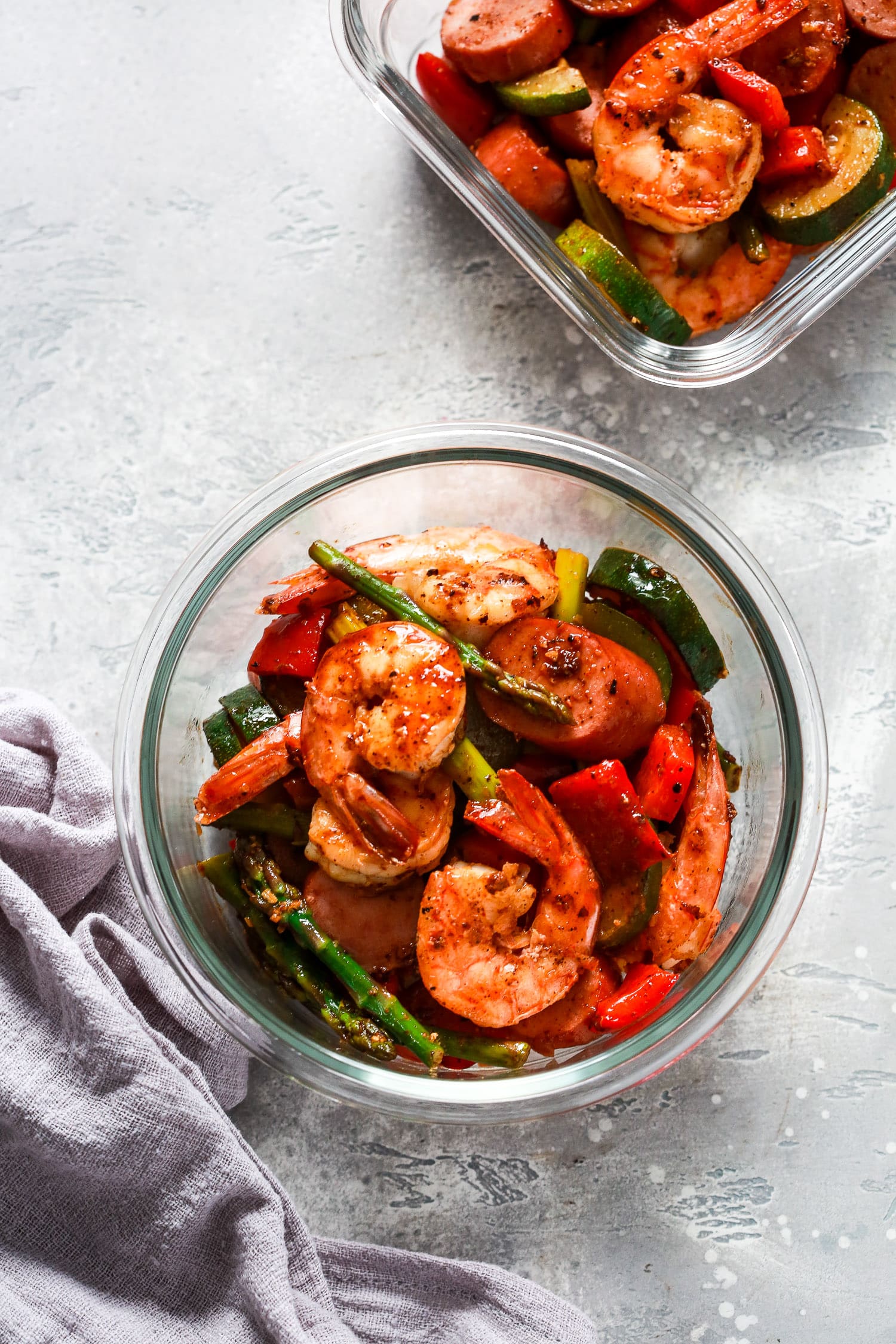 Why you'll love this Shrimp and Sausage Vegetable Skillet recipe:
It's done in less than 30 minutes and all you need is one-pan (large skillet), making clean up a breeze. Less dishes to do, more time to enjoy your family.
All the ingredients you probably have in your fridge, but if not you can easily replace for any other veggie you have on hand. So, it's a super versatile.
Not a fond of shrimp or sausage? Replace it for chicken or tofu.
It goes well on its on or with cauliflower rice, traditional rice, quinoa, couscous or even pasta.
It's loaded with veggies, protein and nutrients good for you.
Meal Prep Tips
If meal prepping, be sure to allow the Shrimp and Sausage Vegetable recipe to cool before storing.
Store in the fridge for up to 4 days and reheat in the microwave.
You can prepare the asparagus and sausage ahead of time by cutting them the day before cooking to make things go faster when you're cooking.
Recipe Variations
Make it spicy: make this shrimp and sausage skillet meal spicier by adding in a sprinkle of cayenne powder or more crushed red chili flakes to the seasoning to give it a spicy kick.
Make it sweet: add a drizzle of honey or maple syrup to add some sweetness to the dish.
Change up the vegetables: the asparagus and chunks of bell pepper can be swapped for broccoli or cauliflower, peas, green beans, yellow onions, tomatoes and more.
Change the seasoning: try using lemon pepper seasoning, Old Bay seasoning, dried herbs like Italian seasoning, dried basil, thyme, rosemary, or sage, BBQ seasoning, or a different spice blend of your choice. The options are endless!
How do I quickly thaw shrimp?
If you've forgotten to thaw the shrimp overnight in the fridge, here's how to quickly thaw your shrimp! Place the frozen shrimp into a bowl or colander in the sink. Then run cold water over it for 5 to 10 minutes, giving it a shake every so often so the water can thaw the shrimp evenly.
It will take longer if your shrimp are larger. Small shrimp take much less time to thaw. After the shrimp has thawed, you'll have to pat them dry with a paper towel or the shrimp will steam instead of sear in the pan.
Did you thaw too much shrimp? Store them in the fridge and try any of these Shrimp and Pepper Skillet, 35 healthy shrimp dinner recipes or my Garlic Butter Shrimp the next day!
Storage
This shrimp and sausage recipe makes enough to serve 4 people. So, if you have leftovers, you can store in an airtight container and refrigerate up to a week. You can also freeze it up to three months. Reheat in the microwave for 2-3 minutes, depending on the power of your microwave.
More skillet and meal-prep recipes to try: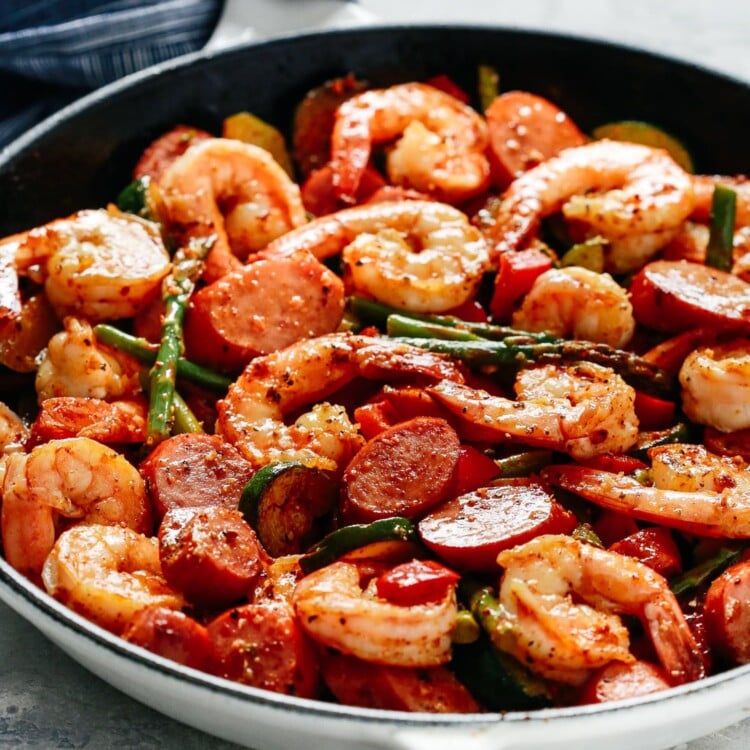 Shrimp and Sausage Vegetable Skillet (Meal-Prep)
This Shrimp and Sausage Vegetable Skillet is an easy to make meal-prep recipe for your busy days of the week. It's super flavorful and loaded with veggies and protein. low-carb, paleo, whoel30 and also gluten-free.
Ingredients
For the Shrimp and Sausage
1

tablespoon

olive oil

3

cloves

garlic

minced

1

lb

raw shrimp deveined & shelled

kosher salt and freshly ground black pepper to taste

A pinch of crushed red pepper or red pepper flakes

1

teaspoon

onion powder

1

teaspoon

paprika

1/2

tsp

oregano

½

lb

organic smoked sausage (nitrate-free)

sliced
For the veggies
1

tablespoon

olive oil

1 ¼

cup

red bell pepper

diced

1

cup

asparagus

sliced

2

cups

zucchini

diced

2

tablespoon

vegetable broth
Instructions
In a bowl, add shrimp, salt, pepper, red pepper flakes, onion powder, paprika and oregano. Mix everything well.

In a cast iron skillet add 1 tablespoon of olive oil over medium heat. Add garlic and sauté for 30 seconds. Add shrimp and sauté for about 4 minutes or until shrimp is cooked through. Be careful to not overcook them, otherwise they will have a rubbery texture. Set aside.

In the same skillet smoked sausage and cook for 3-5 minutes. Set aside.

In the same skillet, add 1 tablespoon of olive oil, all the veggies and vegetable broth. Reduce the heat to low-medium, close the skillet with a lid and let the veggies to cook for 2 minutes. Stir occasionally and cook for 5-minute more or until the veggies are tender.

Return shrimp and sausage back to the skillet and mix everything well to combine. Garnish with fresh parsley. Enjoy!
Tips
Click HERE to watch the web story. 
You can buy peeled and deveined shrimp to save time on prepping. 
Make sure to pat dry the shrimp before using it so they don't steam.
A large skillet is perfect so you don't overcrowd the ingredients.
To store: Store leftovers in the fridge in an airtight container for up to 4 days.
To reheat: You can reheat this shrimp, sausage, and vegetables in the microwave. 
Nutrition Information
Serving:
1
/4
Calories:
284
kcal
(14%)
Carbohydrates:
8
g
(3%)
Protein:
24
g
(48%)
Fat:
18
g
(28%)
Saturated Fat:
5
g
(31%)
Polyunsaturated Fat:
1
g
Monounsaturated Fat:
4
g
Cholesterol:
146
mg
(49%)
Sodium:
861
mg
(37%)
Potassium:
295
mg
(8%)
Fiber:
1
g
(4%)
Sugar:
5
g
(6%)
Nutrition information is calculated using an ingredient database and should be considered an estimate.