Spinach and Zucchini Lasagna Recipe
This spinach and zucchini lasagna is vegetarian, low carb, and gluten-free. It is made with tomato sauce, skinny ricotta, mozzarella, and zucchini noodles.
This Zucchini and Spinach Lasagna recipe has become one of the most popular recipes on my site over the years. I first published this Zucchini and Spinach Lasagna four years ago and since then my readers have made it with great reviews. I'm still making it often since my husband loves this Zucchini and Spinach Lasagna recipe. This recipe is great because instead of using traditional noodles, you'll use zucchini noodles, which make this recipe low-carb and gluten-free, but yet very flavourful.
Since this Zucchini and Spinach Lasagna is such a popular recipe on my site I decided to update this post with new pictures and a photo tutorial about how to make this guilt free lasagna recipe to better serve you – my reader. Hope you like it.
MY LATEST RECIPES
---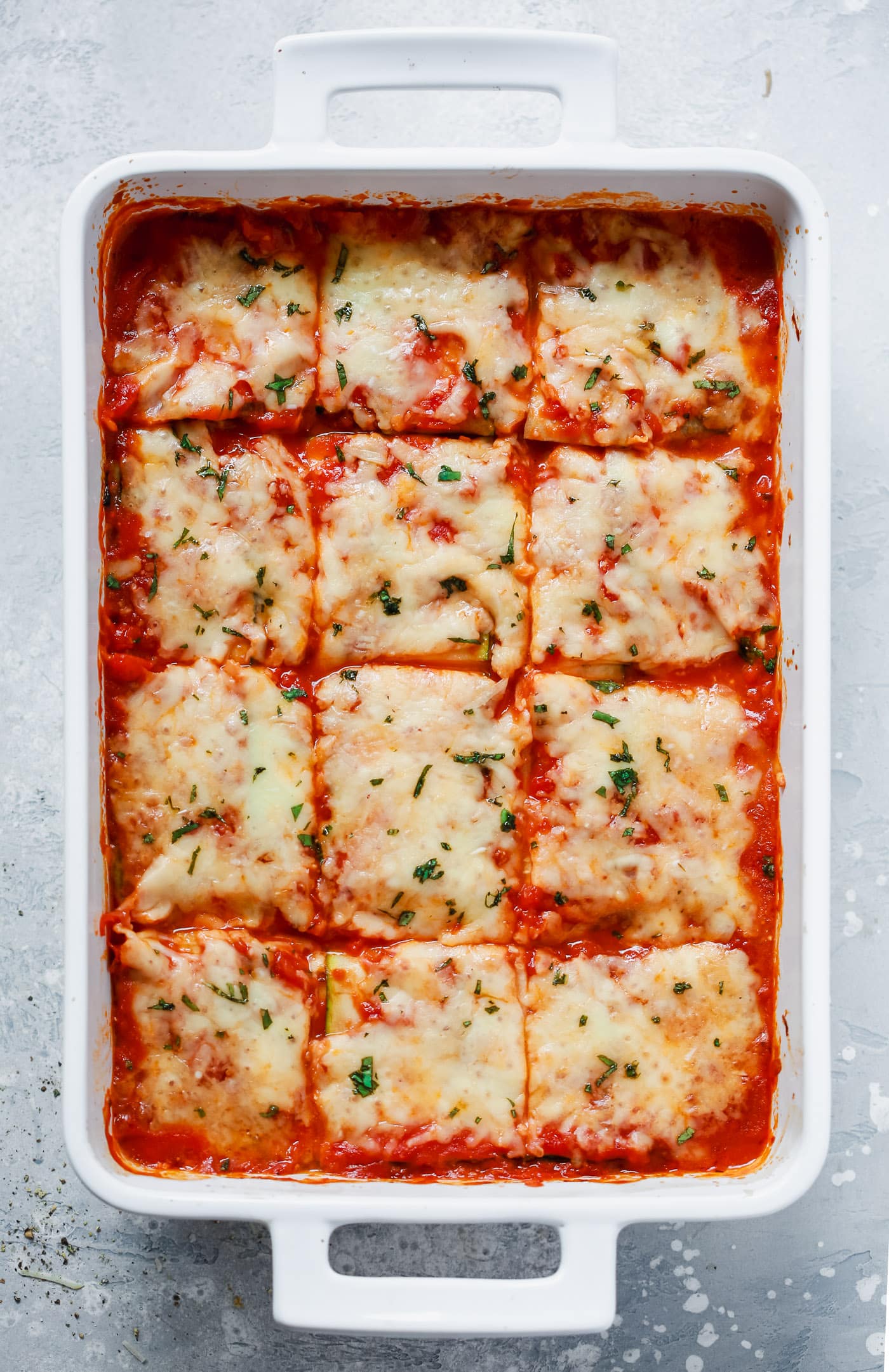 Hello everyone. I would like to say thank you for all your good wishes to be better I received from my last post when I was talking about my sciatic nerve pain. The good news is I am almost 100% better. My husband helped me a lot with his massages and some yoga exercises too, which I am not going to give up anymore. Nothing in life is more important than your health so don't stop exercising because it is essential for a healthy body, life, and soul 😉
That being said, why not celebrate health with this delicious and skinny spinach and zucchini lasagna?!! This is one of my favorite lasagna recipes in the world. Why? Because it is flavorful, but it is not full of carbs like the traditional lasagna recipe. One of the first zucchini lasagna recipes that I made was from one of my favourite blogs Skinny Taste. Gina's recipes are always delicious, healthy and easy to follow. So, her Zucchini Lasagna recipe wasn't different. My husband and I love it so much that I've made that recipe many times.
The original recipe doesn't call for spinach, but I added it to the tomato sauce to load this amazing lasagna recipe with more greens. I used skim ricotta and mozzarella cheese to save some calories too. Please give this recipe a try. I am sure everybody in your home will love this vegetarian, low-carb, and gluten-free lasagna.
How I make the perfect zucchini noddles:
As you can see instead of lasagna noodles, we will use zucchini noodles. So, how do you make the perfect zucchini noddles? Well, basically you can make them using a sharp knife, a mandolin slicer or a vegetable peeler. I've made this Zucchini and Spinach lasagna many times and I've already made the zucchini noddles using these three tools. But, my favourite kitchen tool for making zucchini noodles is the mandolin slicer and I'll explain why.
First, it's the fastest way to slice zucchini. Perfect to save time in the kitchen. Also, it creates exceptionally even slices, which is very important to bake evenly the entire lasagna. If you have thick and thin zucchini noodles, your lasagna may not cook evenly (some parts will be cooked and other parts won't). It is easy and fast to clean but of course, you have to be very careful since the blades are very sharp. I love to wear my cut resistant gloves when I am using my mandolin because it gives me more protection.
This post contains affiliate links. For more information, please visit my disclosure page here.
How to layer the perfect Zucchini and Spinach Lasagna:
I've created this step-by-step photo tutorial to help you to make the best Zucchini and Spinach Lasagna recipe you can. I'm sure you and your whole family will love it and it'll become one of your family favourite meal!
First you need to spread about 1 cup of tomato sauce on the bottom of your 13 x 9 inch casserole dish.
2. Second layer about 6 or 7 zucchini slices over the tomato sauce. The amount of zucchini slices you need to use depends on the size of the zucchini.
3. After that you will place about 1/2 cup to 3/4 cup of ricotta cheese mixture to over the zucchini slides.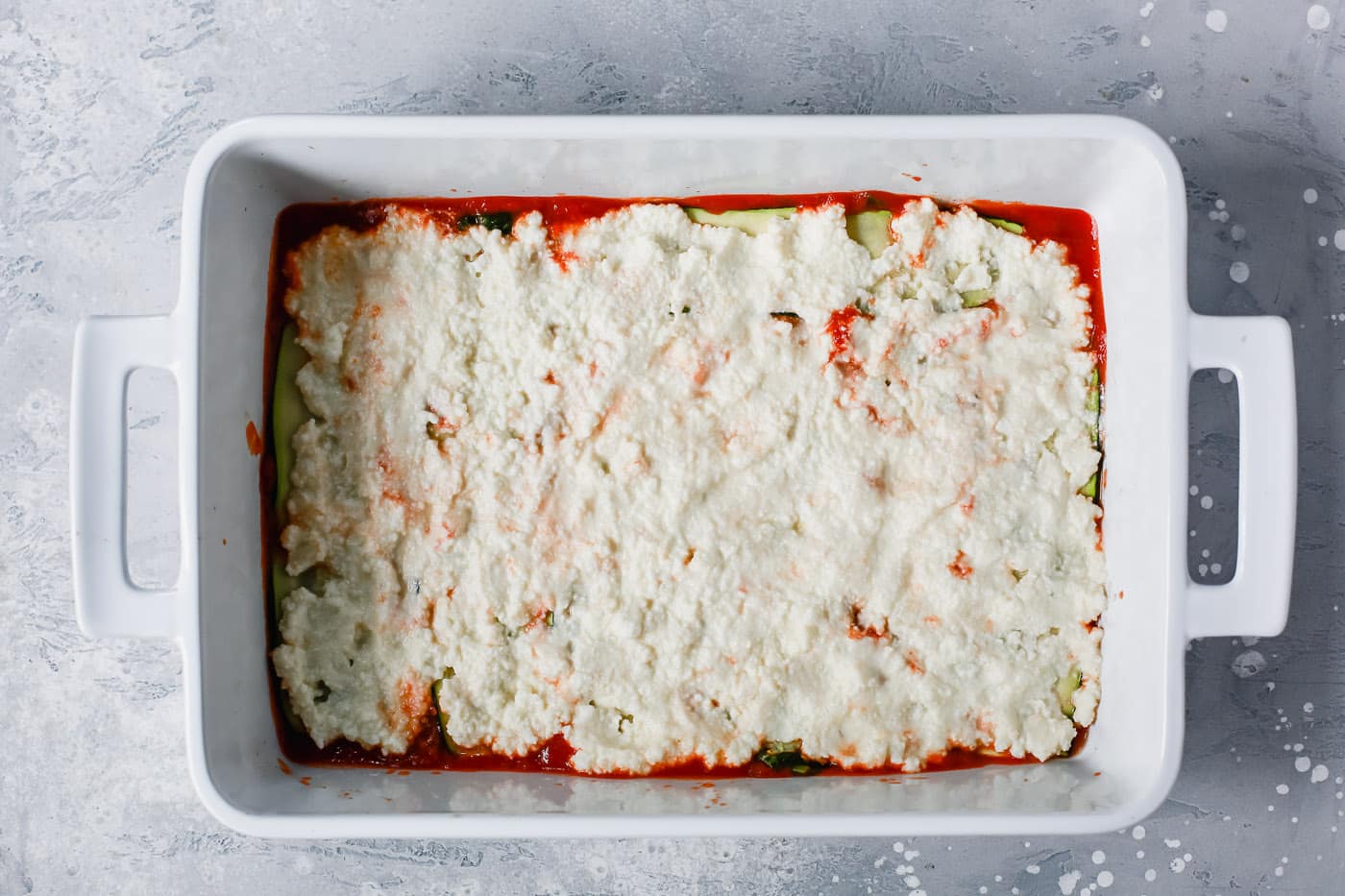 4.  Top the ricotta mixture with mozzarella cheese. Here you can use the amount of mozzarella cheese you wish.
5. Then, add again another layer of zucchini noodles and tomato sauce. You will repeat the layers until all your ingredients are used up.
6. Top with more mozzarella cheese and some Parmesan cheese to add more flavourful to this Zucchini and Spinach Lasagna recipe.
7. Finally, cover the casserole with aluminum foil and bake the zucchini and spinach lasagna for 40-50 minutes. Uncover the dish and for more 10 minutes.
After that you bake it, remove from the oven and let it cool for about 10 minutes before serving.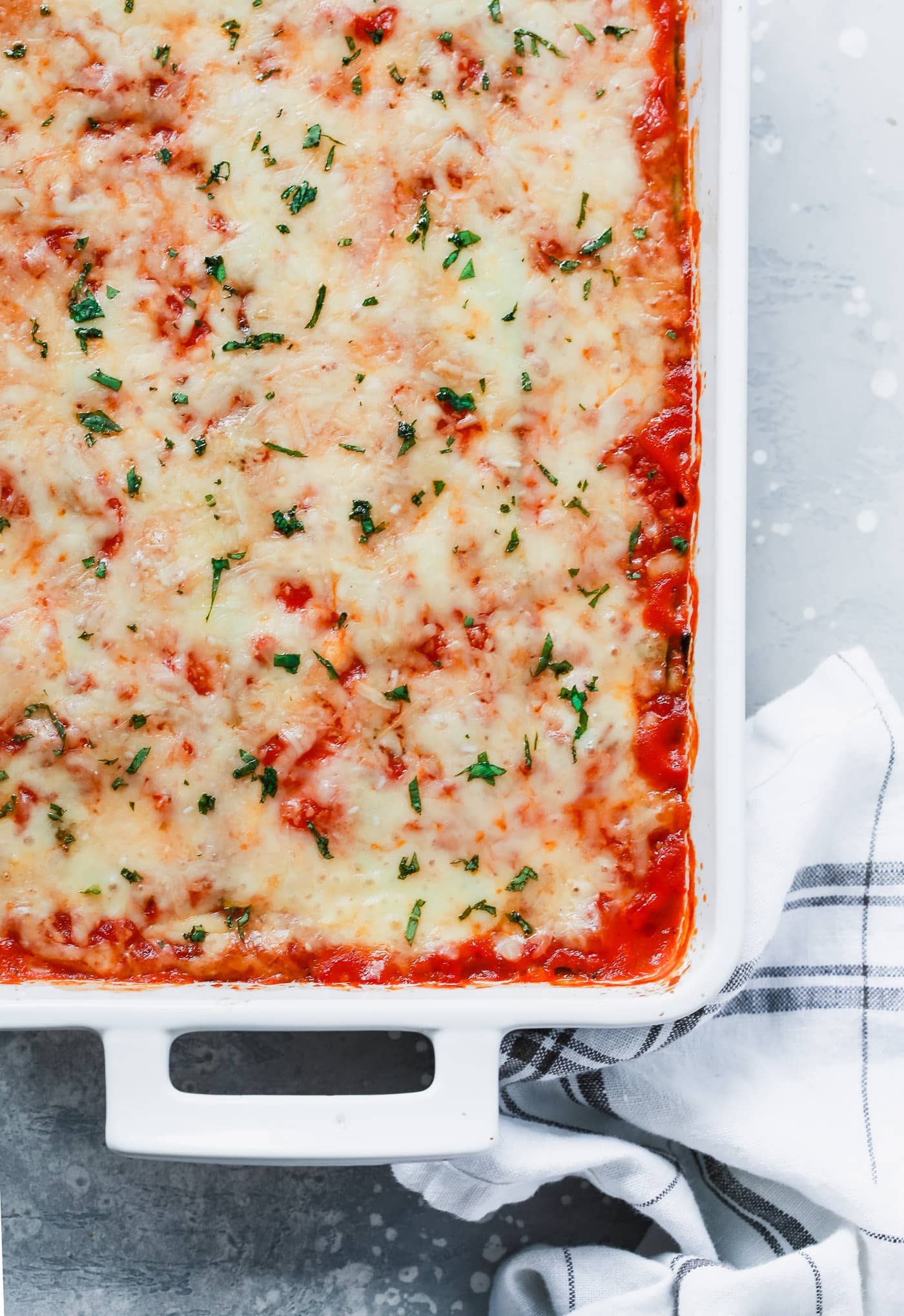 More Low-carb Zucchini Recipes to Try:
Spinach and Zucchini Lasagna Recipe
This Spinach and Zucchini Lasagna is vegetarian, low carb and gluten-free. It is made with tomato sauce, skinny ricotta and mozzarella and zucchini noodles.
Ingredients:
1 tbsp extra-virgin olive oil
half onion, finely chopped
4 garlic cloves, crushed
2 tbsps tomato paste
1 28oz. can crushed tomatoes with the juice or 1 ¾ pound of fresh tomatoes, peeled, seeded and diced
Salt and ground fresh black pepper to taste
1 tbsp chopped fresh basil
3 cups spinach
15 oz part-skim ricotta
1 large egg
1/2 cup freshly grated Parmesan cheese
4 medium zucchini, sliced 1/8″ thick
16 oz part-skim mozzarella cheese, shredded
1/2 tsp parsley, chopped
Directions:
In a saucepan, heat olive oil over medium heat.
Add onions and cook 4-5 minutes until they are soft and golden.
Add garlic and sauté, being careful not to burn.
Add tomato paste and stir well. Add crushed tomatoes, including the juice in case you are using tomato cans.
Add salt and ground fresh black pepper.
Cover and bring to a low simmer for 25-30 minutes.
Finally, remove from the heat and add fresh basil, spinach and stir well.
Adjust the seasoning if you think it is necessary.
Preheat oven to 375°.
Arrange the zucchini slices in a single layer on a baking sheet and coat it with cooking oil spray. Broil for 5-8 minutes. Remove from the oven. Wait about 5 minutes to remove any excess moisture with paper towels if you think it's necessary.  (This part is very important to avoid the lasagna to become soupy.)
In a medium bowl mix ricotta cheese, parmesan cheese, and an egg. Stir well.
In a 9×12 casserole spread some tomato spinach sauce on the bottom.
Layer 5 or 6 zucchini slices to cover.
Place some of the ricotta cheese mixture and top with the mozzarella cheese. Repeat the layers until all your ingredients are all used up.
Top with sauce and mozzarella.
Cover the casserole dish with aluminum foil and bake for 30 minutes covered and 10 minutes uncovered.
Let stand about 10 minutes before serving. Garnish with parsley.
If you like veggie lasagna noddles, I'm sure you will love this Eggplant Lasagna too. Also this Zucchini Lasagna Roll and this Slow Cooker Zucchini Lasagna are delicious, low-carb and gluten-free. But if you also love lasagna with traditional noodles, this Skinny Lasagna Rolls recipe is perfect for you.
Here is a full list of zucchini recipes that are great for eating healthier with less carbs and more fiber and nutrients from this versatile veggie.
Recipe lightly adapted from and with thanks to Skinny Taste.
Nutrition Information
Yield: 9, Serving Size: 1/9
Amount Per Serving:
Calories: 223
Total Fat: 12.4g
Cholesterol: 53mg
Carbohydrates: 10.6g
Sugar: 4.4g
Protein: 18.5g
All images and text ©
If you make this recipe, please don't forget to snap a photo and hashtag it #primaverakitchen. I really want to see!
Products Featured in this Recipe:
(may include affiliate links)
If you like this Spinach and Zucchini Lasagna recipe, please share with your friends and family. Do you want to taste more? Subscribe to my newsletter and follow Primavera Kitchen on Twitter, Pinterest, Google+, Instagram, and Facebook for all delicious recipes updates. As always, I really appreciate you stopping by.