Ground Turkey Skillet with Green Beans Recipe
Delicious low-carb and one-pan Ground Turkey Skillet with Green Beans Recipe that is definitely easy to make and tasty meal for your family dinner.
For today's recipe, I brought to you something so easy to make that I even considered not posting because I was a little embarrassed how easy it is. This Ground Turkey Recipe is SOOOO easy that even your 7-year-old kids will be able to make it. I am not kidding at all.
This post was updated in 2018 with new pictures and some new information about the recipe.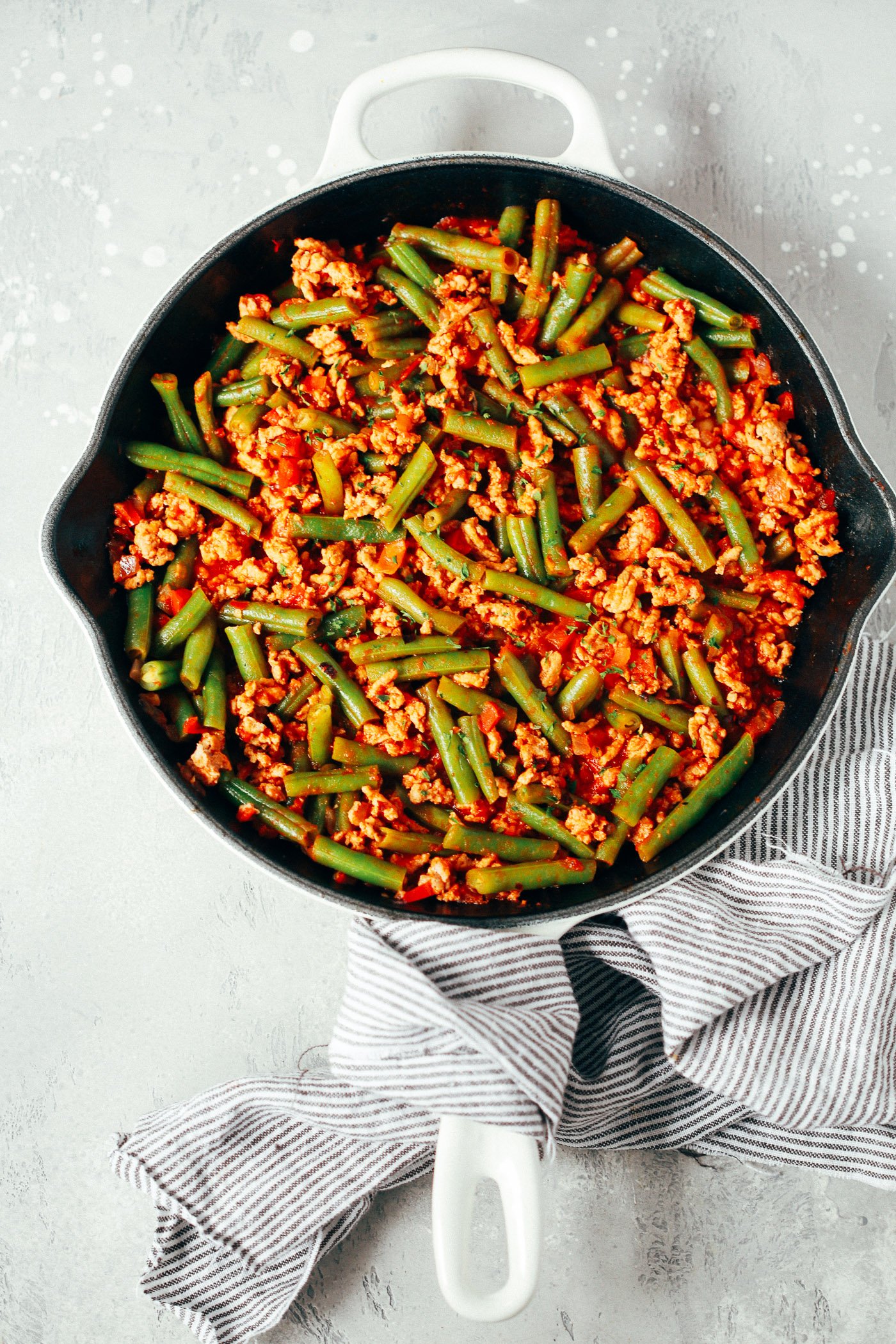 How are you today? I hope you had a wonderful long weekend. In Canada, we had the best weather for the Labor Day in years!! Oh gosh, what a beautiful long weekend. We are all surprised how the weather has been so good, hot, and sunny.
Weather specialists are saying that this fall and winter will be warmer than last year and I am very excited for that because last year winter was REALLY cold. So we enjoyed this nice long weekend at my parents-in-law's cottage close to Montreal and it was a much needed 3-day vacation.
I've been working a lot and to be honest I feel so tired. I was able to relax, sleep, eat good food, chat, and enjoy being with my niece and nephew.
I wish we could live closer to my in-laws because being around family is the best thing we can wish for. I only realized that when I moved to Canada while the rest of my family stayed in Brazil. Family is everything. Family is where you feel safe, strong, loved, and yourself 😉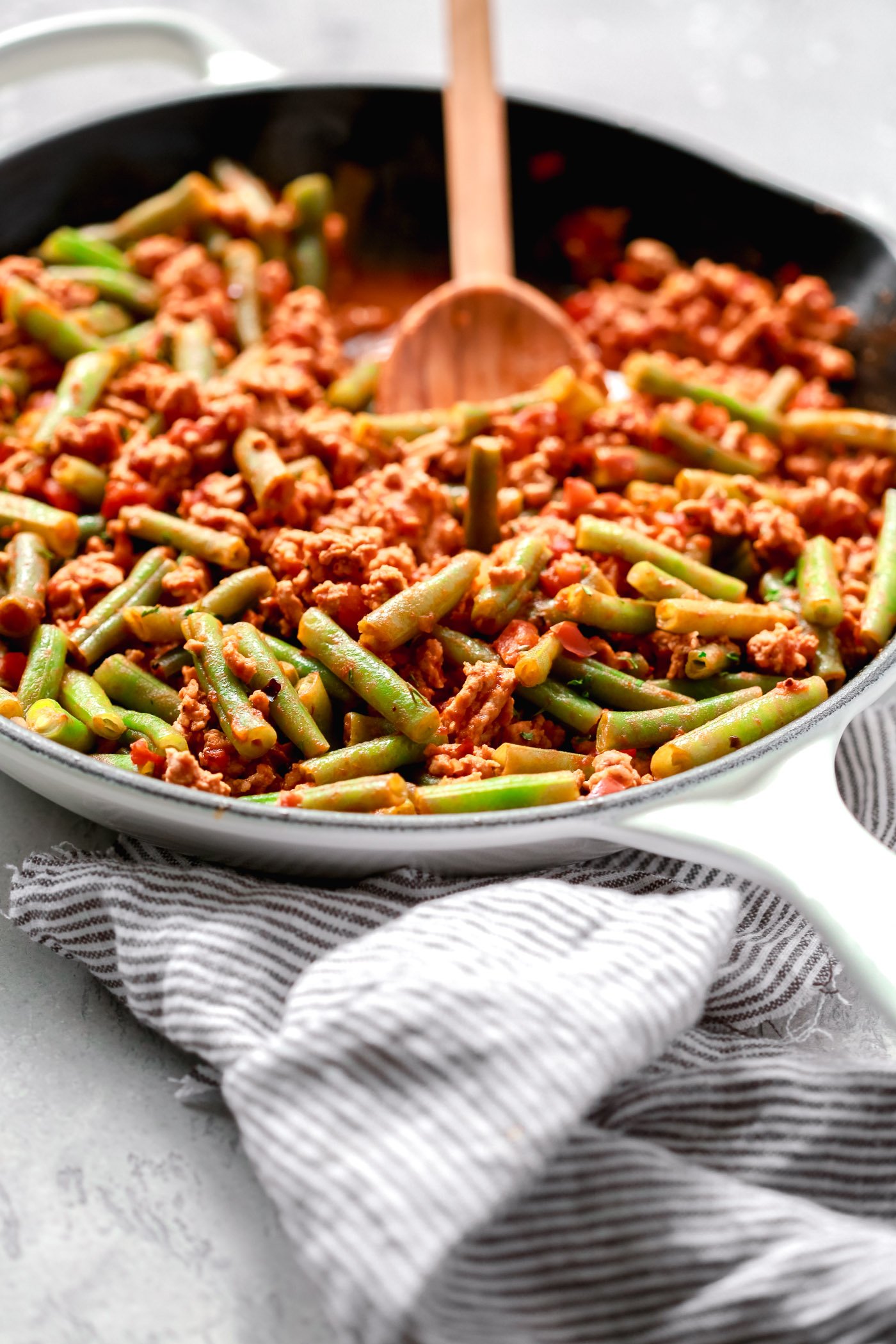 We also went to Pierre's cousin's wedding, which was so lovely and very emotional. The rest of the family was there and we had lots of fun dancing and in the photo booth. My husband Pierre is really a party animal. He danced a lot and all his aunts wanted to dance with him … hahhahaha. He even danced with the kids. So funny! I wish he could allow me to post the videos I made of him dancing like crazy on this post. I didn't even try to convince him because I knew he would say something like "are you kidding me, right?!" hahahha!
Back to the post. For this recipe, I used an extra-lean ground turkey, green beans, and a delicious, flavorful homemade tomato sauce which makes all the difference on this dish.
What is a good seasoning for ground turkey?
Seasoning ground turkey is very important to avoid making a dish without flavour. Luckily, ground turkey goes well with almost any type spices and herbs.
My favourite spices to add to your ground turkey recipes are: cumin, seasoned salt, Italian seasoning, paprika, chilli powder, black pepper, garlic powder, red pepper flakes and thyme. For this Ground Turkey skillet with green beans I used only salt, black pepper and crushed red pepper because the tomato sauce has lots of flavours. But you can add the spices you prefer to make this recipe great for your taste.
How do you know when ground turkey is done?
You should avoid cooking the ground turkey too long because it may become very dry. You'll know when the ground turkey is cooked thoroughly when it turns white with no pink color.
Can you use ground beef instead?
Absolutely. Just keep in mind that lean ground turkey per ounce, it's lower in calories and saturated fat than ground beef. But this recipe will be good with both (ground turkey or ground beef).
What to serve with:
What I love about this recipe is that you can eat it as a meal without a side dish or you can have it along with some:
This recipe is also really good to freeze for another day. Enjoy!
More Ground Turkey Recipes to Try:
Ground Beef Veggie Skillet:  This recipe is made with onions, bell pepper, zucchini, asparagus, and, of course, ground beef, but you can change things up and add any other type of veggie you have . From start to finish, it can be ready in 30 mins.
Chimichurri Chicken Green Beans Skillet: Have you try Chimichurri sauce before? If so you know how delicious it is. If not, you have to try this recipe and be amazed by the flavours. This is not a boring chicken recipe AT ALL.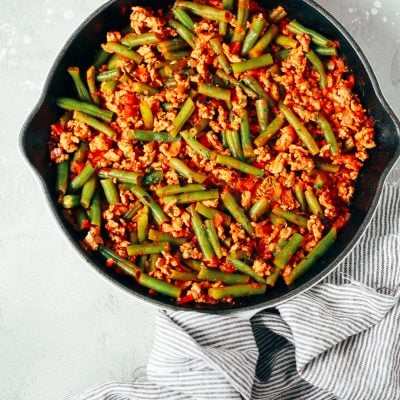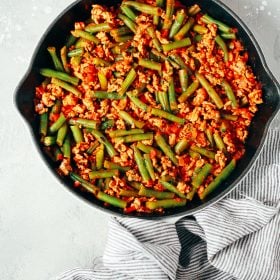 Ground Turkey Skillet with Green Beans
A very gluten-free and low-carb Ground Turkey Skillet with Green Beans recipe that is definitely easy to make and tasty meal for your family dinner.
Instructions
In a

skillet

, heat olive oil over medium-high heat.

Add ground turkey and break it up until it's in small pieces.

Once the turkey is almost cooked through, add the onion and garlic. Stir occasionally and cook until onions are golden brown.

Add yellow peppers, green beans, and homemade tomato sauce.

Cover the skillet and cook until they are tender.

Add salt, pepper, and crushed red pepper to taste.

Serve warm and enjoy!
Recipe Notes
Do you love recipes with ground turkey? 
HERE
is a full list of other delicious ground turkey recipes. They are healthy and easy/quick recipes for the whole family to enjoy!  
Course: Main Course
Cuisine: American
Keyword: gluten-free, Ground Turkey, low-carb, One-pot meal, paleo, Skillet Recipe, whole30
Nutrition Information
Amount per serving (1/4) — Calories: 219, Fat: 9g, Saturated Fat: 1g, Cholesterol: 49mg, Sodium: 461mg, Carbohydrates: 11g, Fiber: 3g, Sugar: 4g, Protein: 25g
If you make this recipe, please don't forget to snap a photo and hashtag it #primaverakitchen. I really want to see!
This post contains affiliate links. For more information, please visit my disclosure page here.
If you like Ground Turkey Skillet with Green Beans recipe, please share with your friends and family. Do you want to taste more? Subscribe to my newsletter and follow Primavera Kitchen on Twitter, Pinterest, Google+, Instagram, and Facebook for all delicious recipes updates. As always, I really appreciate you stopping by.
As a memory, I kept the original photo from 2015!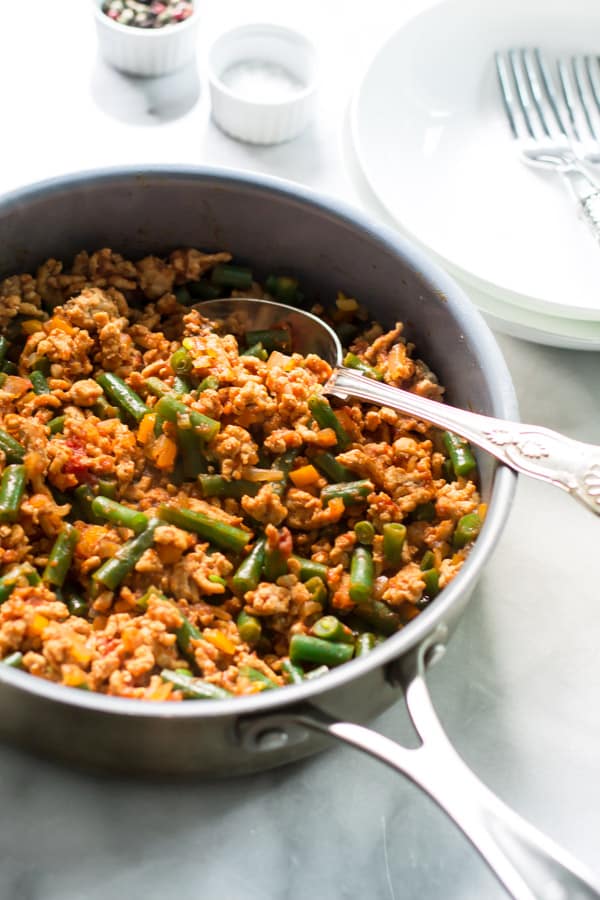 SaveSave