This cheesy and saucy Low-Carb Zucchini Lasagna Skillet is a one-pan meal that has a delicious sauté mushroom filling, which brings this gluten-free lasagna to a new level of flavor. It's also very simple to assemble in a skillet.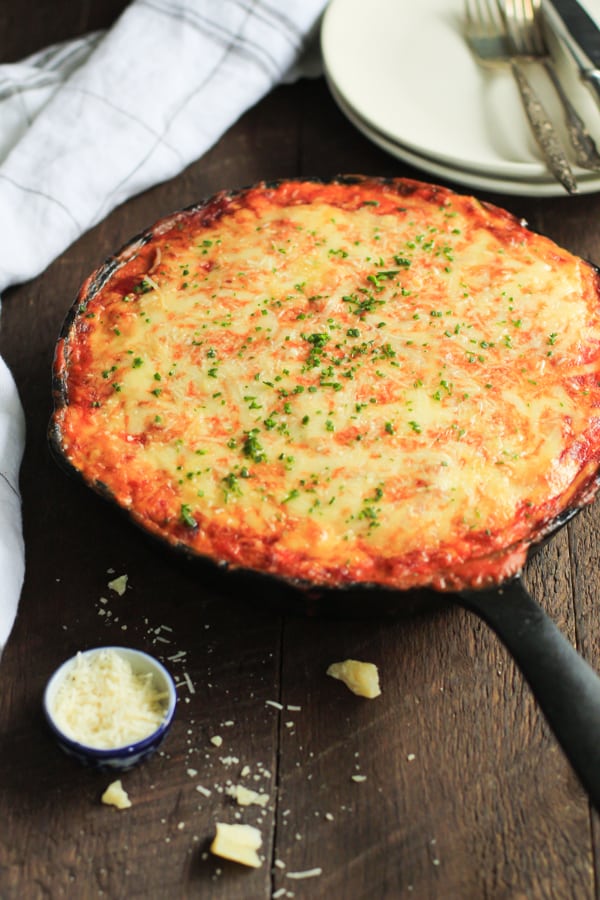 Here at my home, we love zucchini lasagnas. We are always trying to reduce the amount of white carbs we eat and no noodles lasagna seems to be the perfect solution for us. We love lasagna and we can't live without eating it. Also, this time of the year we crave more comfort foods, right? And who said comfort foods can't be healthy?! This lasagna recipe proves absolutely the opposite. This recipe is healthier than the traditional lasagna recipe because it's made with zucchini instead of noodles, part-skim ricotta, mozzarella cheese, one egg, and tomato sauce.
Now since this low-carb zucchini lasagna skillet recipe calls for only a few ingredients, you have probably noticed that the tomato sauce must be a very good quality one because this is what will bring flavor for this recipe. So, you can make your homemade tomato sauce (click here for a delicious tomato sauce recipe) or you can buy one you like with excellent ingredients.
The last note I would like to leave here to make sure your lasagna will be delicious is to use first kosher salt to pull moisture out of the zucchini slices then rinse and pat dry before you assemble your lasagna. I know this is an extra work, but it's so worth it because you will avoid your lasagna from becoming too soggy with all the extra liquid that comes out of the zucchini. If you want after this step, you can even grill or broil the slices of the zucchini before assembling it, but I found it wasn't necessary for me since I don't mind a little liquid in it.
If you have extra zucchinis, I have so many recipes you must try with them! Try making this Slow Cooker Zucchini Lasagna, Zucchini Lasagna Roll Recipe. Zucchini Lasagna Recipe, Vegetable Lasagna Roll-ups, or this Skinny Lasagna Rolls. They're so easy and packed with healthy goodness!
Low Carb Zucchini Lasagna Skillet
This cheesy and saucy Low-Carb Zucchini Lasagna Skillet is a one-pan meal that has a delicious sauté mushroom filling, which brings this gluten-free lasagna to a new level of flavor. It's also very simple to assemble in a skillet.
Instructions
Using a mandolin or sharp knife, slice the zucchini length-wise into long and thin slices (about 1/4-inch thick).

Then layer paper towels on your countertop. Spread the zucchini slices and sprinkle them with kosher salt.

Wait for 10-15 minutes to allow the excess liquid to be absorbed. Pat dry. (This step is very important to make before assembling your lasagna because it will help to draw out the moisture!)

Preheat oven to 375°.

In a skillet, heat olive oil over medium heat.

Add mushrooms and cook 5-7 minutes until they are soft and golden.

Add garlic and sauté for 30 seconds, being careful not to burn.

Remove from the heat and set aside.

In a medium bowl, mix ricotta cheese, parmesan cheese, and an egg. Stir well.

Using the same skillet you sautéed the mushrooms, spread some tomato sauce on the bottom.

Layer 6 or 7 zucchini slices to cover.

Place some of the ricotta cheese mixture and top with the mozzarella cheese.

Add again another layer of tomato sauce and then add the mushrooms.

Repeat the layers until all your ingredients are all used up.

Top with sauce and mozzarella.

Bake 40 minutes covered and 10 minutes uncovered.

Let stand about 15 minutes before serving.

Garnish with parsley.
Tips
Try using a different cheese to change the flavour! Try Monterey Jack cheese or sharp cheddar cheese instead of mozzarella.
Shred your own cheese! Store-bought shredded cheese comes coated with a powder to prevent them from clumping, this can make the cheese grainy when melted.
Avoid getting super large zucchinis as they tend to be watery.
To store: Keep in mind that zucchini is a watery vegetable so the longer you store it, the more the texture changes (this is why I don't recommend freezing this). So, try eating this zucchini lasagna immediately or only keeping it for 2-3 days in the fridge in an airtight container.
To reheat: Reheat the lasagna in the microwave until warmed through. 
Nutrition Information
Serving:
1
/8
Calories:
294
kcal
(15%)
Carbohydrates:
15
g
(5%)
Protein:
23
g
(46%)
Fat:
16
g
(25%)
Saturated Fat:
9
g
(56%)
Polyunsaturated Fat:
1
g
Monounsaturated Fat:
5
g
Cholesterol:
71
mg
(24%)
Sodium:
857
mg
(37%)
Potassium:
556
mg
(16%)
Fiber:
3
g
(13%)
Sugar:
6
g
(7%)
Nutrition information is calculated using an ingredient database and should be considered an estimate.
If you like this Low Carb Zucchini Lasagna Skillet recipe, please share with your friends and family. Do you want to taste more? Subscribe to my newsletter and follow Primavera Kitchen on Twitter, Pinterest, Google+, Instagram, and Facebook for all delicious recipes updates. As always, I really appreciate you stopping by.