Shrimp Vegetable Skillet (Meal Prep)
This ultra-easy, Shrimp Vegetable Skillet recipe is loaded with veggies, flavorful spices, and shrimp. It's a low-carb, whole30, gluten-free, and paleo one-pan meal that is ready in less than 30 minutes and perfect to lunch to bring to work. 
Believe me, this Shrimp Vegetable Skillet is definitely one of the easiest and quickest recipes I know. All you have to do is to chop the onion, bell pepper, zucchini, and asparagus then you are ready to go. Of course, this shrimp vegetable skillet will be easier to make if you buy shrimp that is already peeled and deveined too. You cook the shrimp for 2 minutes each side in your cast iron skillet. Set it aside, add the veggies to the cast iron skillet and stir few times.  Then you bring the shrimp back to the skillet. Cook for 1 minute more and you are ready to serve over cauliflower rice and/or mashed cauliflower. I swear there is nothing else to do. Easy meal!
This post was updated in June 2018 with new photos.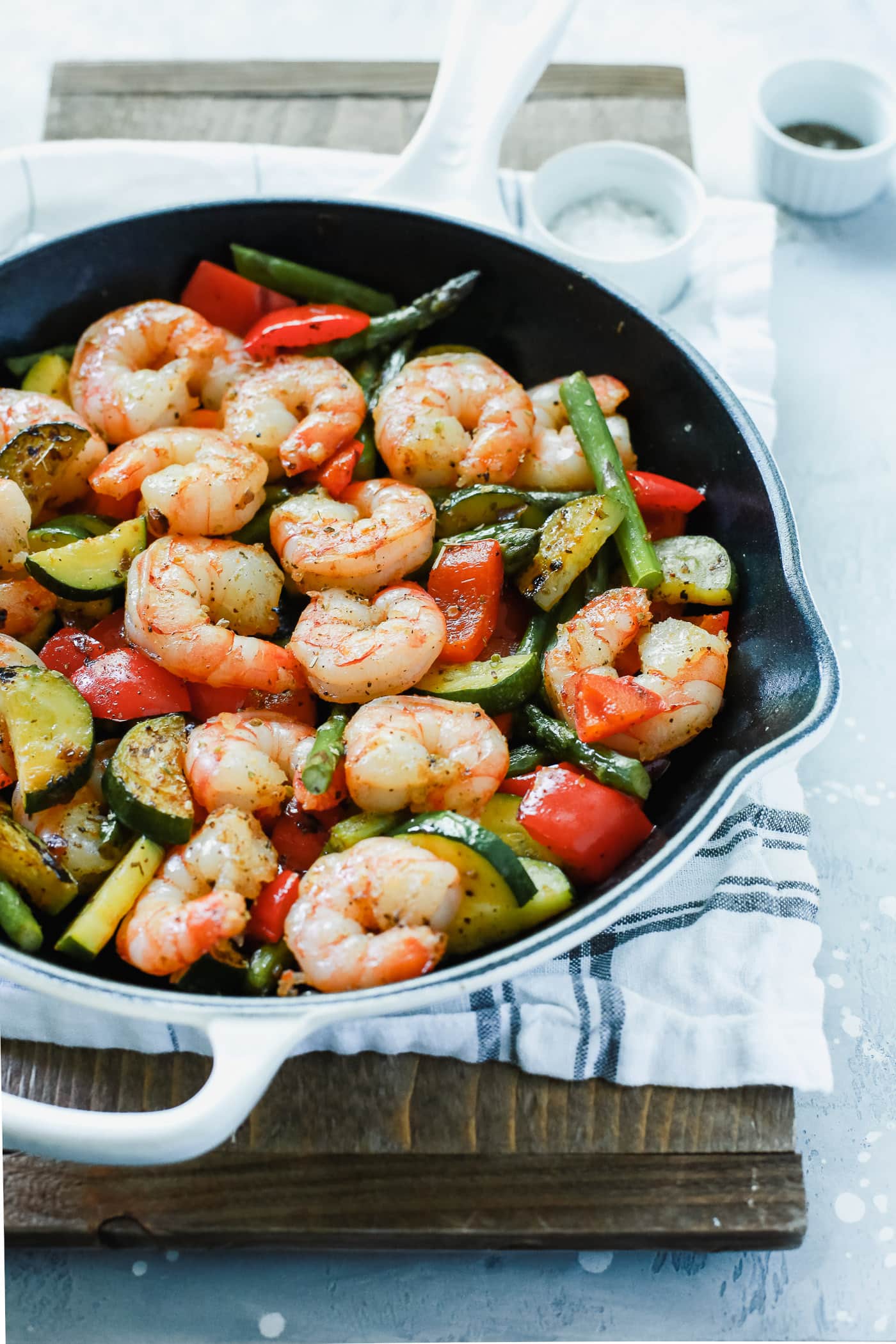 Unfortunately, this past week baby Thomas got his first cold and let me tell you: this is not fun ;-(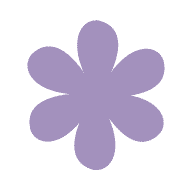 MY OTHER RECIPES
I know we've been so lucky that Thomas has never been sick before. He didn't have any flu or cold for almost a year and then a strong cold for 5 days now. He had a fever for 2 days, congested and runny nose and lots of mucus. It's sad to see a baby this way.
I suppose it was going to happen because I'm bringing him to the community center where there are lots of cute babies and kids to play. He loves to go there. He likes the different toys and the space to play since we live in a small condo. It's so nice to see him having fun and that's the reason why I go there almost every day in the afternoon.
I know he's going to be fine and better soon, but mommy's heart always breaks when they look so fragile. So I didn't have much time to cook this weekend because Thomas was needing my attention. Even though my time was limited, I could make this easy, quick and delicious Shrimp Vegetable Skillet recipe for lunch.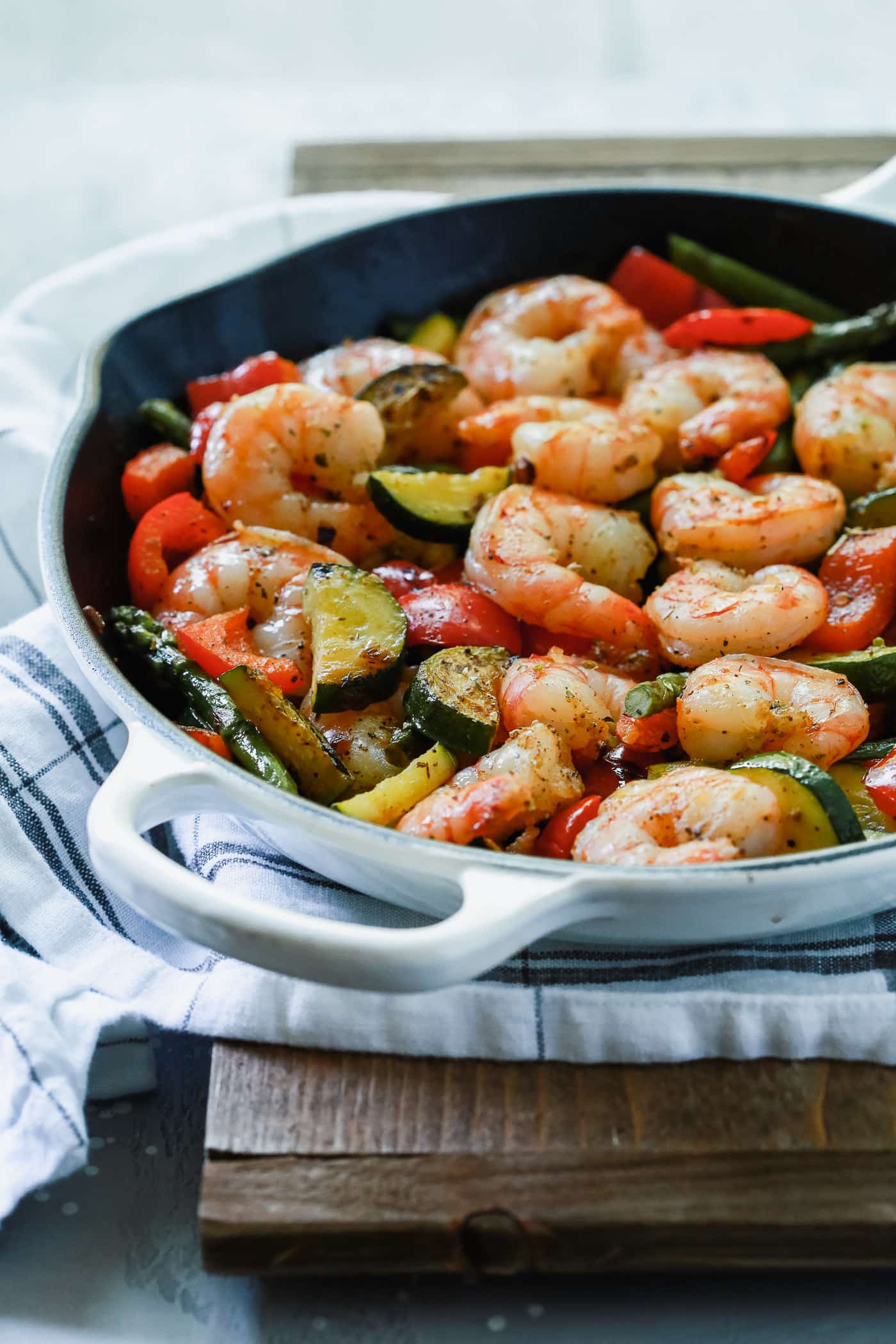 Why I love my cast iron skillet:
Cast iron skillet is definitely my favourite pan to cook because its very vertitle. You can make almost everything with it. It's definetley the right tool for or searing, sauteing, simmering, braising, baking, roasting, and frying.
Also, the cast iron can be used on various heat sources including gas, electric, induction and ceramic-glass top stoves and ovens. Or you can even use it on the grill or outdoor fire and coals for camp cooking. On top of that, cast iron skillets have this superior heat retention that help food to cook evenly. I have two cast iron skillet that I bought on Amazon. One is from Le Cresuet (more expensive) and the other one is from Lodge, which has a good price. Both are great!
More Shrimp Vegetable Skillet Recipes to Try:
This is also a great meal to make on Sunday or Monday and bring to work for lunch because it stays good for up to 4 days in the fridge. It's an excellent meal to enjoy during the busy and crazy weeknights. Hope you enjoy!
Shrimp Vegetable Skillet (Meal Prep)
This ultra-easy, Shrimp Vegetable Skillet recipe is loaded with veggies, flavorful spices, and shrimp. It's a low-carb, gluten-free, and paleo one-pan meal that is ready in less than 30 minutes.
Ingredients
½ teaspoon onion powder
½ teaspoon garlic powder
½ teaspoon smoked paprika
1 lb raw shrimp — peel and deveined, but with tail on.
1 tablespoon olive oil + 1 tbsp tablespoon olive oil
1 cup red bell pepper — chopped
1 cup white onions — chopped
½ cup chicken broth
1 cup asparagus — the spears should be cut at a diagonal in 2-3 inch pieces
1 cup zucchini — diced
Fresh chopped parsley for garnishing
Instructions
In a small bowl, add all the spices (onion powder, garlic powder, smoked paprika, salt, and black pepper) and mix together to combine.

In a large bowl, add shrimp and the spice mixture. Mix everything well to combine.

Add shrimp and cook for about 1-2 minutes each side or until they are pink. Set them aside

In the same skillet, add 1-tablespoon olive oil, white onions, and red bell pepper.

Cook for about 4 minutes. Stir occasionally.

Add chicken broth and asparagus (cut into 2-3in diagonal pieces). Put the lid on the skillet and cook for only 2 minutes and stir occasionally.

Add zucchini, put the lid on the skillet and cook for more 3 minutes.

Bring shrimp back to the skillet.

Cook for 30 seconds or 1 minute.

MEAL PREPPING:

Place an even amount of cauliflower rice into 4 different

glass containers

. Divide the shrimp vegetable skillet recipe into 4 portions. Cover with the lid and place in the fridge for up 4 days. Heat in the microwave for about 2 minutes.
Course: Main Course
Cuisine: American
Keyword: dinner, gluten-free, low-carb, meal-prep, one-pan, paleo, shrimp, shrimp skillet recipe, Skillet Recipe, whole30
Nutrition Information
Amount per serving (1/4) — Calories: 195, Fat: 8g, Saturated Fat: 1g, Polyunsaturated Fat: 1g, Monounsaturated Fat: 5g, Cholesterol: 166mg, Sodium: 651mg, Potassium: 161mg, Carbohydrates: 11g, Fiber: 3g, Sugar: 6g, Vitamin A: 34%, Vitamin C: 96%, Calcium: 8%, Iron: 7%
If you make this recipe, please don't forget to snap a photo and hashtag it #primaverakitchen. I really want to see!
This post contains affiliate links. For more information, please visit my disclosure page here.
If you like this Shrimp Vegetable Skillet recipe, please share with your friends and family. Do you want to taste more? Subscribe to my newsletter and follow Primavera Kitchen on Twitter, Pinterest, Google+, Instagram, and Facebook for all delicious recipes updates. As always, I really appreciate you stopping by.