This lasagna is going to become your favorite lasagna recipe not only because I used zucchini instead of noodles, but also made in the slow cooker. This Slow Cooker Zucchini Lasagna is also low-carb and gluten-free.
When I found out people actually make lasagna in a slow cooker, I have to confess, I was a little skeptical. I wondered if it would taste the same as oven-baked lasagna or I need to do something different from the traditional lasagna recipe in order to get the same flavor.
I was surprised to know that it is even easier to make than the traditional recipe because you don't need to boil the noodles before you add them in a slow cooker and the process is the same than if you would make it in the oven. Ladle tomato sauce on the bottom of the slow cooker, layer the noodles (in this case zucchini noodles), then layer the ricotta mixture and mozzarella cheese. Repeat the layers again and again until all the ingredients are used.
Slow Cooker Lasagna tastes just like the ones we make in the oven with the difference that you can prepare the lasagna in advance (perhaps after your kids go to the bed or before you leave for work) and you are going to be able to enjoy your day and still have a delicious plate of lasagna for dinner!
Probably the flexibility in the timing is the biggest advantage of making your lasagna in a slow cooker. Would you agree?
That's why I love slow cooker recipes and why I had shared with you guys my 50 healthy slow cooker recipes a while ago. It is a recipe roundup post loaded with delicious and comforting food for you make this fall/winter season.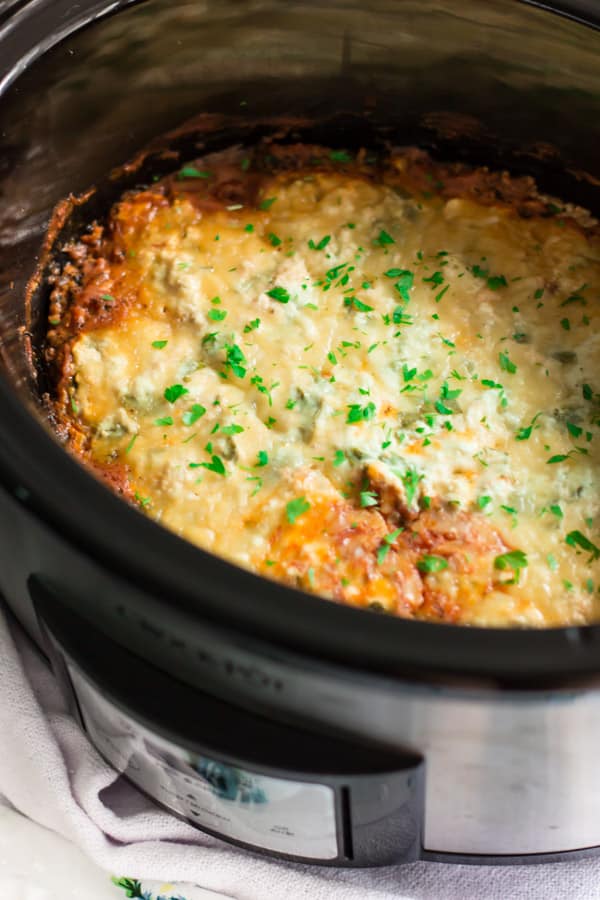 Depending on how many layers your lasagna has, you can feed an army with this nutritious meal. If you don't have a big family, you are going to have loads of leftovers for a family of four. I made this lasagna on Sunday and we brought it to work for lunch for 3 days. And I have to tell you, it tastes even better the next day.
Subscribe for new recipes & a free e-cookbook
For this recipe, I sliced my zucchinis with my mandolin that I got for Christmas from my mother-in-law 2 years ago. I love it just because it makes PERFECT zucchini slices and also makes your work so much easier. I was looking at my mandolin online and I couldn't find exactly the same one that I have, but I read good reviews about this one from OXO. Use the mandolin for this Spinach and Zucchini Lasagna Recipe and Vegetable Lasagna Roll-ups as well!
Also, just in case you wonder which slow cooker I used for this recipe, I found it on Amazon as well. I love this one because I've never had any problem with it. Some slow cookers cook the food faster than it should or runs very hot. I hope you guys enjoy this recipe and give it a try.
And if you're craving this but want to make it easier? Try this Low-Carb Zucchini Lasagna Skillet or Zucchini Lasagna in the oven. Or if you're in the mood for a more traditional lasagna, try this Skinny Lasagna Rolls.
As usual, I would like to say thank you for visiting my blog and make my recipes. It means a lot to me. Have a wonderful and bright day.
Slow Cooker Zucchini Lasagna
This lasagna is going to become your favourite lasagna recipe not only because I used zucchini instead of noodles, but also made in the slow cooker. It is also low-carb and gluten-free.
Ingredients
15

oz

part-skim ricotta

1

large egg

1/4

cup

freshly grated Parmesan cheese

1

cup

spinach

chopped

Salt and pepper

4

cups homemade tomato sauce  or sugar-free tomato sauce

4

medium zucchini

sliced 1/8″ thick. (UPDATE: Since some readers are saying that this lasagna become a little soupy I made this lasagna again but this time I grilled the zucchini slices before I put on the slow cooker. It helped to draw out some moisture!

16

oz

part-skim mozzarella cheese

shredded

2

tbsp

parsley

chopped
Instructions
In a medium bowl mix ricotta cheese, egg, Parmesan cheese, spinach. Stir well and set it aside.

Lightly coat the inside of the slow cooker with cooking spray.

Layer 5 or 6 zucchini slices to cover.

Place some of the ricotta cheese mixture and top with the mozzarella cheese.

Repeat the layers until all your ingredients are all used up.

Top the lasagna with mozzarella and Parmesan cheese.

Cover and cook on high for 3 to 4 hours.

Turn off the slow cooker and let stand for about 1 hours. (UPDATE: Since some readers said the lasagna became a little soupy, I made it again and I let it stand for about 3 HOURS before serving. I found it was great because the liquid absorbed much more – Please, do not forget this step).

Before serving top with fresh parsley
Tips
Instead of parmesan, you can try using mozzarella or cheddar.
The amount of zucchinis you need will depend on the size of them. While larger ones are great, they are a bit more watery compared to smaller zucchinis. 
To store: Keep in mind that zucchini is a watery vegetable so the longer you store it, the more the texture changes (this is why I don't recommend freezing this). So, try eating this slow cooker zucchini lasagna immediately or only keeping it for 2-3 days in the fridge in an airtight container.
To reheat: Reheat the lasagna in the microwave until warmed through. 
Nutrition Information
Serving:
1
/8
Calories:
251
kcal
(13%)
Carbohydrates:
11.9
g
(4%)
Protein:
20.8
g
(42%)
Fat:
13.9
g
(21%)
Cholesterol:
59.7
mg
(20%)
Sodium:
519.2
mg
(23%)
Sugar:
4.9
g
(5%)
Nutrition information is calculated using an ingredient database and should be considered an estimate.
If you like Slow Cooker Zucchini Lasagna recipe, please share with your friends and family. Do you want to taste more? Subscribe to my newsletter and follow Primavera Kitchen on Twitter, Pinterest, Instagram, and Facebook for all delicious recipes updates. As always, I really appreciate you stopping by.
More Zucchini Lasagna Recipes!