Broiled salmon is a fast way to get a nutritionally dense dinner on the table. This recipe will become your favorite way to eat salmon. It only requires four ingredients and you will have a delicious and perfect heart-healthy meal for your busy weeknights. 
Love salmon love like me? How about trying more salmon recipes? I've got lots of delicious salmon recipes here on Primavera Kitchen such as Garlic Butter Salmon Recipe, How to Cook Salmon in the Oven, Air Fryer Salmon and Easy Chopped Salmon Salad.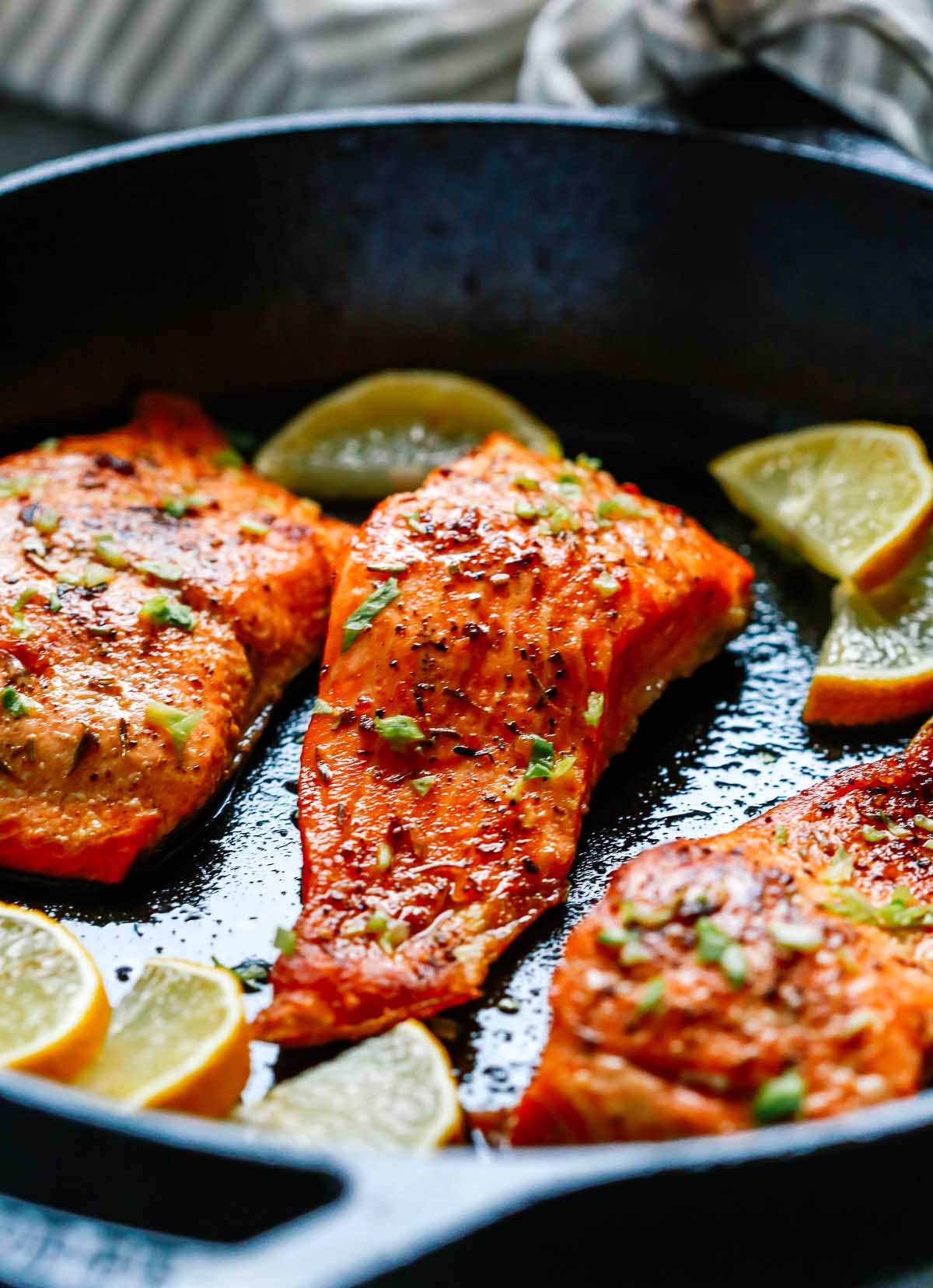 If you are looking for a quick and easy recipe for broiled salmon, you are definitely at the right place. I don't know why I've never posted this recipe before. Broiling salmon is my favorite way to cook it and I've been making this recipe for years.
I am sure you will love this recipe too because it is one of the fastest, easiest ways to prepare this healthy fish.
Salmon fits in to nearly any diet. It is keto and paleo friendly. It's naturally gluten free, nut free and dairy free. Itt's low carb and Whole30 approved.
Broiled Salmon Recipe
The high heat cooks it quickly and evenly, giving the fish a crispy texture. Oh, and there's no need to flip the fish! The secret here is to place a cast iron skillet under a pre-heated broiler for about ten minutes. When the cast iron is fully heated you place the salmon.
The contact of the cold salmon skin with the skillet will sear the skin and make it crispy and delicious. But if you don't enjoy eating fish skin, you can easily remove it when you are eating or you can make this recipe with skinless salmon.
It's extremely important to use a well seasoned, good-quality pan. This ensures that the fish won't stick to the pan. The cast iron skillet is oven safe so you can safely place it under the broiler. If you don't have a cast iron, you can line a sheet pan.
How to Make broiled salmon
Set oven rack in center of oven. Then, put your cast iron skillet in the oven under the broiler for ten minutes. The cast iron will evenly cook the salmon and give it a great flavor.
Put the salmon in the skillet skin side down. Keeping the skin on will create a barrier between the tender meat and the hot skillet.
Season the salmon. You want to pour on some olive oil (or cooking spray) to keep it moist and then sprinkle with seasonings. I like red pepper flakes, salt and pepper, but you can choose others like thyme, rosemary, ginger, mustard, honey, maple and melted butter. Do not put fresh herbs under the broiler. They will incinerate at such a high temperature.
Cook for eight to ten minutes. Keep an eye on the salmon. At this temperature, it can quickly go from perfect to overdone. The flesh will turn pink and start to flake when it is done. Then, splash with lemon juice and add any fresh herbs.
How do you know when salmon is fully cooked?
The FDA states that once the salmon has reached an internal temperature of 145°F as its thickest part, it is fully cooked. If you don't have a meat thermometer, look for the following:
Salmond flakes easily: Insert a fork at an angle just below the surface into the thickest part of the fish and twist. The layers of the salmon should easily separate from each other once it has cooked through.
Salmon looks opaque: Raw fish has a translucent and somewhat transparent appearance. When cooked, the meat becomes less see-through but should still glisten.
The Difference between Baking and Broiling Salmon
Baking salmon involves cooking it slowly in an oven, while broiling uses high, direct heat from the oven's top element for faster cooking and a charred finish.
What is the best temperature for broiled salmon?
Most ovens have a broil function. This is the setting you want to use for cooking this broiled salmon.
When you press broil, the oven will heat to 500-550F. Ovens do vary by about 50 degrees. But at that high of a temperature, you don't have to worry about the difference. It may mean cooking the salmon for 30 seconds more or less.
Because the temperature is so high, the salmon will only take eight to ten minutes to cook completely. When you broil fish, you will get a similar result as pan frying, with browned edges in a short amount of time.
How to store and reheat broiled salmon
Leftovers: Transfer leftover salmon to an airtight glass container and keep them in the refrigerator for 3-4 days. Or, portion them out into meal prep containers to have for lunches throughout the week. If you've got leftover salmon, you can use it in my Easy Salmon Salad Recipe, Easy Chopped Salmon Salad, and Low-Carb Salmon Burgers with Avocado Coleslaw. Simply chop it up roughly and add it to the recipes! Such an easy and delicious way to repurpose leftovers.
Freezing: You can freeze cooked salmon by placing completely cooled salmon in an airtight freezer-friendly container or freezer bags. Keep in the freezer for up to 4 months. Thaw in the fridge overnight before reheating.
Reheating: You can heat the leftover salmon in the microwave. Add a splash of water if you're worried it will dry out. You can also reheat this on the stovetop. Add some olive oil to a hot pan and add the salmon to it. Cook until heated through.
Recipes to Serve Broiled Salmon with:
You can make it a complete meal serving with some delicious green salad or maybe you prefer to have it along with some roasted crispy green beans, roasted butternut squash, and Mushroom Cauliflower Rice Skillet. Either way, you end up with a complete meal, full of healthy nutrients to fully satisfy you and your family.
Frequently Asked Questions
Is wild salmon better?
I encourage you to make an effort to choose wild salmon when you are shopping. It has more omega-3s and fewer omega-6s (which are inflammatory). The calorie and fat content is lower and the overall nutrition is better in wild salmon compared to farmed salmon.
In addition, there is a lower environmental impact when you purchase wild salmon. A cheaper alternative is purchasing frozen wild-caught salmon instead of fresh. All you have to do is thaw it overnight in the fridge.
What is that white stuff that comes out of salmon?
Sometimes while salmon cooks, a white liquid will come out of the salmon fillets. It might look concerning but not to worry, it's perfectly safe to eat. The white liquid is called "albumin" and it's just protein that solidifies as salmon cooks. If it bothers you, you can scrape it off.
Should I remove the skin from the salmon before broiling?
There's no need to remove the skin before you cook it! The salmon skin gets so crispy and is quite tasty! For the crispiest skin, cook the salmon skin side down first.
Do you flip salmon when you broil it?
You don't typically need to flip salmon when broiling it. Cooking it with the skin side down allows the skin to become crispy and helps protect the flesh from direct heat, promoting even cooking.
What is the best oil for broiling salmon?
The best oil for broiling salmon is one with a high smoke point to withstand the high cooking temperature of broiling. Some good options include canola oil, grapeseed oil, or peanut oil. These oils have higher smoke points, which means they can handle the heat without producing smoke or developing a burnt taste.
More Salmon Recipes to Try:
Broiled Salmon Recipe
Broiled salmon is a fast way to get a nutritionally dense dinner on the table. This recipe will become your favorite way to eat salmon. It only requires four ingredients and you will have a delicious and perfect heart-healthy meal for your busy weeknights. 
Instructions
Preheat the oven on high broil. Place a cast iron skillet under a pre-heated broiler for ten minutes. Remove the pan from the oven and put the salmon fillet skin-side down on the heated cast iron pan.

Pour olive oil on top of the salmon and season it with red pepper flakes, dry parsley, salt, and pepper. Place the cast iron back in the oven on high broil and cook for about 8 or 10 minutes.

Before serving the salmon, top with a squeeze of fresh lemon juice.
Tips
HERE is a full list of salmon recipes that are great for eating healthier with good quality protein. And HERE is a list of delicious side dishes to go with this salmon recipe.
It's important to pay dry the salmon so it browns nicely instead of steaming in the oven.
If you do not have a cast-iron skillet, use a sheet pan. 
To check if the salmon is cooked through, use an instant read thermometer to check that the internal temperature is 145°F at its thickest part.
To store: Store leftover salmon in the fridge in an airtight container for up to 4 days.
To reheat: You can reheat salmon on the stovetop or microwave. 
To freeze: Freeze in a freezer-safe bag once the salmon fillets have reached room temperature. Freeze for up to 4 months.
Nutrition Information
Serving:
1
/3
Calories:
283
kcal
(14%)
Carbohydrates:
4
g
(1%)
Protein:
18
g
(36%)
Fat:
19
g
(29%)
Saturated Fat:
4
g
(25%)
Monounsaturated Fat:
3
g
Cholesterol:
62
mg
(21%)
Sodium:
454
mg
(20%)
Potassium:
481
mg
(14%)
Fiber:
1
g
(4%)
Nutrition information is calculated using an ingredient database and should be considered an estimate.
If you like Broiled Salmon recipe, please share with your friends and family. Do you want to taste more? Subscribe to my newsletter and follow Primavera Kitchen on Twitter, Pinterest, Instagram, and Facebook for all delicious recipes updates. As always, I really appreciate you stopping by.