Almond butter cookies are chewy, delicious, and hit the spot when you're craving something sweet. Make this healthier, gluten-free cookie recipe today.
Would like to bake more healthy, flourless and gluten-free cookies? Please, try these ones two: Chocolate Almond Butter Cookies, Peanut Butter Cookies, Gluten-free chocolate chip cookies and Healthy Peanut Butter Oatmeal Cookies. These recipes are so easy to make, deliciously comforting and also irresistible! 
I love cookies. Who doesn't love them!? Especially when the cookies are delicious and healthy! Don't you believe these two words (delicious and healthy) can be part of the same sentence? Oh, Yeah they can! Believe me!!
These cookies are healthy because they are made with oatmeal, almond butter and sugar-free chocolate chips. Oatmeal is rich in fiber, calcium and potassium. Almond butter is also rich in fiber and vitamin E, calcium, magnesium and potassium. So, as you can see these cookies are loaded with good quality nutrients, making them an excellent option for a snack in the afternoon. Who doesn't love these quick and easy to make cookies? You'll take only 10 minutes to prepare and 12 minutes to bake them. Plus, the almond flavour is amazing! Just like my Cranberry Almond Chocolate Chip Cookies!
These cookies have really simple ingredients in them. In fact, you may already have many of them on hand in your kitchen! Plus, you don't need any special ingredients to make this recipe gluten free, just like my Gluten-free Carrot Muffins.
Pantry staples combine to create delicious, chewy chocolate chip cookies you'll crave again and again. They have less sugar and fewer carbs than traditional cookies, but don't skimp on the taste.
Want more gluten free cookies? Try these 12 Healthy Gluten-free Cookies Recipes (Web Story)
Ingredients for this recipe
Rolled oats — The same kind you use for overnight oats. Oats give the cookies a huge boost in fiber and healthy fat. Also, they're a great source of manganese and vitamins B1 and B5.
Baking soda — Make sure you use baking soda, and not baking powder.
Creamy almond butter — This is the secret to the recipe: using almond butter instead of dairy butter gives us lots of extra protein, fiber, and healthy fats.
Sweetener — Natural sweetener, xylitol, or any other sweetener of your preference.
Vanilla extract
Eggs
Sugar-free chocolate chips — Use something like Lily's brand, which are sweetened with stevia and easy to find.
INGREDIENT SUBSTITUTIONS
If you can't tolerate or don't want to use the ingredients shown above, here are some substitutions you can make:
Oats — You can substitute the rolled oats with rolled amaranth or rolled quinoa.
Almond butter — Swap this out for any other natural nut or seed butter. If it's very firm or dry, it may be difficult to mix. If so, try warming it up slightly.
How to make almond butter cookies
Because you won't need to cream butter and sugar together, making this healthy cookie recipe is much easier than making traditional chocolate chip cookies!
Whisk the dry ingredients together in a medium-sized bowl.
In another bowl, combine the remaining ingredients, except for the chocolate chips.
Stir the wet mixture into the oats, and combine well. When the mixture is incorporated, then gently stir in the chocolate chips.
Tips for the best cookies
When panning the cookie dough, drop each tablespoon of batter 2 inches apart until the tray is full. The dough will be sticky, so use a second spoon to assist it onto the pan.
Don't over bake the cookies. After 9 to 11 minutes of baking, they may look a little wet or underdone. This is normal; they'll continue to cook on the sheet after you remove it from the oven.
Cool the cookies completely. Allow them to cool completely on the baking sheet. If you try to remove them while they're still warm, they are likely to fall apart.
HOW TO STORE COOKIES
Store the almond butter cookies in an airtight container with a sheet of parchment paper between the layers.
When kept this way at room temperature, they should stay fresh for up to a week.
For longer storage, you can freeze them for up to six months. Be sure they are completely cool before freezing them.
When you're ready to thaw the cookies, take them out and place the container on the counter.
Do not open it, but instead, let the cookies come to room temperature inside of the sealed container.
This usually takes between two and three hours, depending on the type of container and how many cookies are inside.
These cookies are crispy from the outside, but very chewy and soft inside, not very sweet and probably much more flavourful than any type of cookie you buy at the store or bakery. They are also gluten-free and I am sure you will eat them without feeling guilty. I definitely think you should give this recipe a try and have fun make them!
More Cookie Recipes to Try: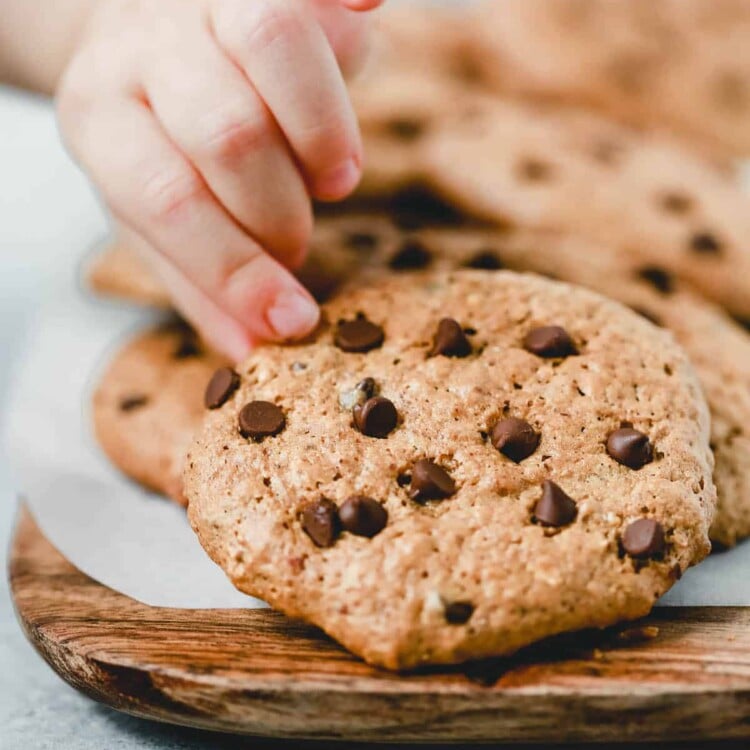 Almond Butter Cookies
Almond butter cookies are chewy, delicious, and hit the spot when you're craving something sweet. Make this healthier, gluten-free cookie recipe today.
Instructions
Preheat oven to 350ºF.

In medium bowl add the oats and baking soda and mix well; set aside.

In a medium bowl, whisk almond butter, xylitol, eggs and vanilla for about 5 minutes or so.

Add the dry ingredients to the wet ingredients and mix everything together.

When all the ingredients are combined and add the chocolate chips.

Place a silicone mat or parchment paper on a tray.

Scoop out 1 tablespoon of the batter onto the tray 2 inches apart. The batter will be very stick, but don't worry. It'll work well.

Then flatten the top of the cookie with two fingers. Add extra chocolate chips on the top of the cookies if you desire.

Bake for 9-11 minutes and let them cool completely to remove from the baking sheet, otherwise the cookies may break apart.

The cookies may look a little underdone, but they will continue to cook once you remove them from the oven.

Makes 16-20 cookies.
Tips
You can use any types of chocolate chips such as dark chocolate, white chocolate, milk chocolate, semi-sweet chocolate, caramel, and more!
I like saving a handful of chocolate chips to press on top of the cookies before baking so they look nicer afterwards.
Make sure you are using rolled oats and not steel cut or instant oats.
To store: Store the cookies for up to a week in an airtight container at room temperature with parchment between each layer. Make sure they are fully cooled before moving them as they can be delicate while warm.
To freeze: After baking, flash freeze the cookies before transferring them to a freezer-safe bag for up to 3 months.
Nutrition Information
Serving:
1
/20
Calories:
130
kcal
(7%)
Carbohydrates:
12
g
(4%)
Protein:
4
g
(8%)
Fat:
9
g
(14%)
Saturated Fat:
2
g
(13%)
Cholesterol:
19
mg
(6%)
Sodium:
75
mg
(3%)
Potassium:
7
mg
Fiber:
1
g
(4%)
Sugar:
1
g
(1%)
Nutrition information is calculated using an ingredient database and should be considered an estimate.
Please, if you recreate this recipe, please take a picture and hash tag #primaverakitchen on Instagram! I would love to see your version. And if you like this Almond Butter Cookies recipe, please share with your friends and family. Do you wanna taste more? Subscribe to my newsletter and follow Primavera Kitchen on Twitter, Pinterest, Instagram and Facebook for all delicious recipes updates. As always, you are really appreciated for stopping by.