These Peanut Butter White Chocolate Chip Cookies don't require flour! They are gluten-free, chewy and soft! You probably have all the ingredients in stock!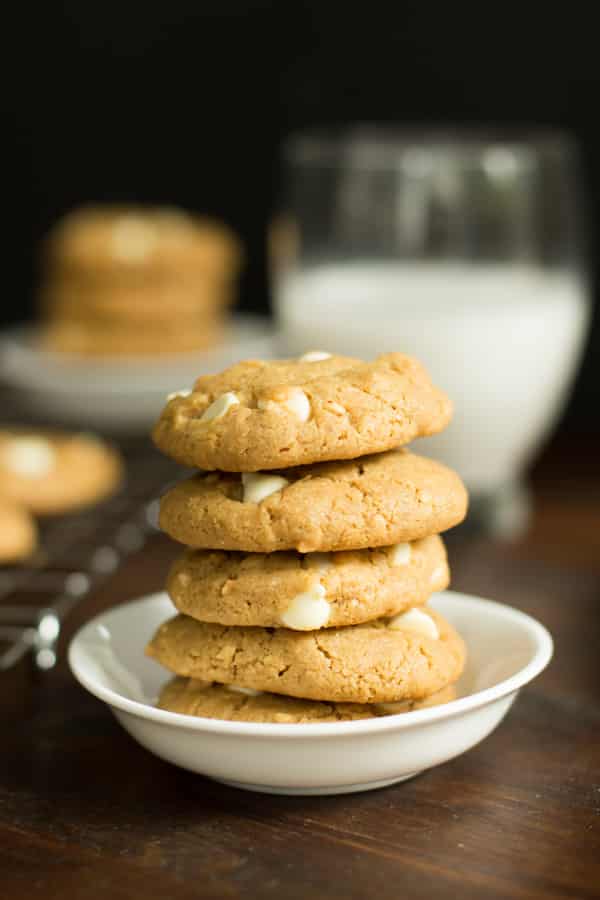 Last week, my husband and I had our nephew Dominic from Montreal over. He was on his last week of vacation before school started. It was a very different experience for both of us since it was the first time we took care of a 9 years old cute boy 😉
We didn't have any idea how it was going to be, but we knew that it couldn't be that hard since he is a very smart and organized boy. He didn't make any big mess in the house and he even helped me to fold some clothes and organized his bedroom. But one think I have to say: I didn't have any idea how much kids like to talk LOL!! Oh Gosh… at the end of each day my husband and I were so tired of answering his thousands of questions… hahhaha! I've gotta say that some questions were so funny and some didn't make any sense at all! Some of the questions were:
– Aunt Olivia, does Toronto have Tsunami?
– Why are these buildings so tall and don't fall (we live in downtown, so there are so many buildings here)?
– When you bring me to visit Brazil do I have to change my name since down there Dominic is a feminine name?
And the questions went on and on… So funny! Between all these questions we cooked and took pictures for my blog. I was planning to make some muffins, but these Peanut Butter White Chocolate Chip Cookies were the winner! We made these cookies with white chocolate chips, because this is his favorite type of chocolate. While the cookies were in the oven he said to me "Can I be the first one to try them?" So cute!! Of course I said yes and he ate 4 at once!! Do you believe that? As my husband always says we are his uncle and auntie, so we can allow him eat as much as he wants 😉 Opss… My sis-in-law probably will read this post! Sorry, sis! Love you 😉
We cannot have enough cookies in this household! Some of our other favourites are these Healthy Peanut Butter Oatmeal Cookies, Chocolate Almond Butter Cookies, Coconut Flour Chocolate Chip Cookies, and this Low-Carb Peanut Butter Cookies recipe.
As you can see in the pictures, he loved these delicious peanut butter white chocolate chip cookies!! But one thing that he really liked to do was to participate in my food styling! While I was setting everything to take the pictures he said to me "Auntie Olivia you should put a glass of milk on your pictures and also put a glass of milk and three cookies on the plate". I accepted his suggestion and when he saw the picture, he was very happy and said "perfect, now it looks like Christmas. We just have to wait for Santa Claus"!! Kids are definitely something else 😉
About the recipe:
I love how easy these Peanut Butter White Chocolate Chip Cookies are to make and that they don't require any flour at all! So, they are gluten-free, chewy and super soft! I also love this recipe because with just a handful of ingredients that everybody always has in stock, you will have an awesome treat for you and your family! So, I really hope you guys enjoy this recipe and try to make them for your lovely kids!!
For more delicious, chewy, soft and healthy cookies visit my Skinny Cookies Pinterest Board! Want more gluten-free desserts? Try these 12 Healthy Gluten-free Cookies recipes.
Peanut Butter White Chocolate Chip Cookies (Gluten-free)
These Peanut Butter White Chocolate Chip Cookies don't require flour! They are gluten-free, chewy and soft! You probably have all the ingredients in stock!
Instructions
Pre-heat the oven to 350F.

In a medium bowl, whisk all the ingredients together, except the white chocolate chips.

When all the ingredients are combined, add the white chocolate chips and mix well.

Bake for 9 minutes. Let them cool completely to remove from the baking sheet, otherwise the cookies may break apart. Makes about 22 cookies.
Tips
Use a cookie scoop for perfectly even cookies.
You can save a few chocolate chips to press on top of the cookies before you bake them so they look prettier.
I recommend using real vanilla extract for the best flavour.
To store: Store the peanut butter white chocolate chip cookies for up to 5 days in an airtight container in the fridge.
To freeze: After baking, flash freeze the cookies before transferring them to a freezer-safe bag for up to 3 months.
Nutrition Information
Serving:
1
/22
Calories:
126
kcal
(6%)
Carbohydrates:
13
g
(4%)
Protein:
3
g
(6%)
Fat:
7
g
(11%)
Saturated Fat:
2
g
(13%)
Polyunsaturated Fat:
2
g
Monounsaturated Fat:
3
g
Cholesterol:
7
mg
(2%)
Sodium:
117
mg
(5%)
Potassium:
13
mg
Fiber:
1
g
(4%)
Sugar:
11
g
(12%)
Nutrition information is calculated using an ingredient database and should be considered an estimate.
If you like this Peanut Butter White Chocolate Chip Cookies recipe, please share with your friends and family. Do you wanna taste more? Subscribe to my newsletter and follow Primavera Kitchen on Twitter, Pinterest, Google +, Instagram and Facebook for all delicious recipes updates. As always, you are really appreciated for stopping by.
More dessert Recipes
These Flourless Chocolate Chip Brownies are the best gluten free brownies ever.
These are the easiest Gluten-free Chocolate Chip Cookies recipe you can find around the web!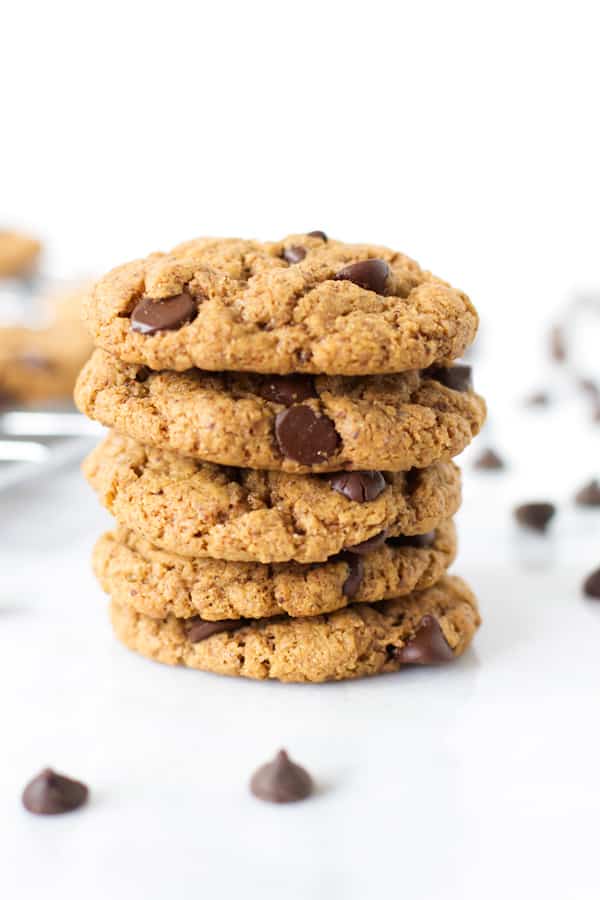 These Gluten Free Chocolate Chunk Cookies are very delicious, chewy and soft inside.