Fresh and flavourful, these Ground Turkey Sweet Potato Lettuce Wraps can easily be prepared in just 20 minutes. It's a perfect gluten-free and low-carb summer lunch or dinner.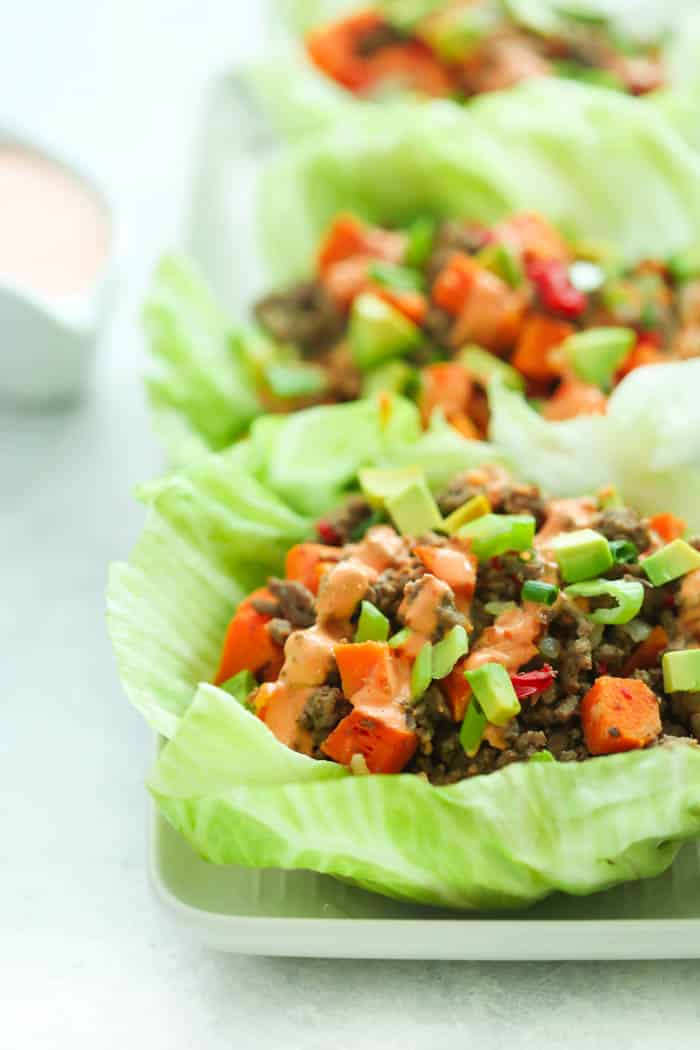 Since you guys LOVE my Ground Turkey Sweet Potato Skillet, Ground Turkey Sweet Potato Stuffed Peppers, and Easy Ground Turkey Stuffed Peppers recipe, and always asked myself how to recreate more recipes with ground turkey, so I decided to create this Ground Turkey Sweet Potato Lettuce recipe for you. I know when you make this recipe you're not going to stop eating it. Believe me! This recipe was a hit here in my home. My husband and me ate these wraps for dinner last Sunday and we loved it. Why? Here are the 8 reasons why?
It's a light meal.
It's low-carb
It's gluten-free
After you eat it you feel very satisfied
It's ultra-easy to make
It's ready in less than 20 minutes from start to finish
It's healthy and fun to eat
It's perfect for summer and spring
See, you have 8 good reasons why you should make this recipe. And if you are a sucker for lettuce wraps like me, definitely this Ground Sweet Potato Lettuce Wraps recipe is for you. This is the easiest, quickest meal you could ever make during summer and it only requires 4 main simple ingredients, which make this recipe budget-friendly. Perfect, right?
What I love about this recipe is that you really feel very satisfied after eating it, but you won't feel heavy. Also, it tastes great the next day as leftover. I had it for lunch the next day and it was even better. You can keep it in the fridge for up to 5 days without any problem. That being said, you can even make this recipe on Sunday and bring to work during the whole week. You just need to heat up in the microwave and done! What more could you ask for?

Before you jump to the recipe I had to talk about this Sriracha Mayo Sauce just because it's so easy to make and yet so tasty. All you will need is three ingredients: lemon, mayo and of course the Sriracha. It'll give another layer of flavour to this Ground Turkey Sweet Potato Lettuce Wraps. Also be sure to choose a good quality head of lettuce. You should look for small heads with fresh outer leaves. But of course you can use the long leaves lettuce too.
Subscribe for new recipes & a free e-cookbook
So, if you are going on a low carb or gluten-free diet this ground turkey sweet potato lettuce wraps recipe is perfect for you! These Lettuce wraps will save you from carbs & calories while you enjoy a fresh and healthy meal. Try these Low-carb Lettuce Wrap Sandwich if you want another recipe using lettuce!
Want another healthy dinner recipe, try my Easy Baked Chicken with Brussels Sprouts!
Sweet Potato Ground Turkey Lettuce Wraps
Fresh and flavourful, these Sweet Potato Ground Turkey Lettuce Wraps can easily make in just 20 minutes. It's a perfect gluten-free and low-carb summer lunch or dinner.
Ingredients
Instructions
Add ground turkey, garlic and using a wood spoon breaking up the turkey. Cook for about 7 minutes and don't forget to stir occasionally.

Add onions and yellow peppers. Cook until onions are until translucent.

Add the sweet potato, salt and pepper.

Cover the skillet and cook until they are tender. Don't forget to stir occasionally. If necessary, add more olive oil or a little bit of water to help to cook the sweet potato. When it is tender, remove from the heat and set aside.

While the sweet potato is cooking, start to prepare the Sriracha Mayo sauce. In a small bowl add all the ingredients (Sriracha, mayo, lemon juice and salt) and stir well to combine. Set aside.

Spoon the ground turkey mixture into individual lettuce leaves. Top with green onions, avocado, and Sriracha mayo. Enjoy immediately.
Tips
This post contains affiliate links. For more information, please visit my disclosure page here.
You can swap ground turkey with ground beef or ground chicken.
Make sure everything is diced into small pieces, so they all fit into your lettuce wrap.
You can also use butter lettuce if you prefer a less crunchy lettuce.
To store: It's best to enjoy these lettuce wraps immediately. If you have leftovers, you can store them separately, so the lettuce does not get soggy. 
To reheat: Reheat the lettuce wraps filling in the microwave or stovetop. 
To freeze: You can freeze the ground turkey filling in a freezer-safe bag for up to 3 months.
Nutrition Information
Serving:
1
/4
Calories:
320
kcal
(16%)
Carbohydrates:
22.1
g
(7%)
Protein:
30.1
g
(60%)
Fat:
13.1
g
(20%)
Saturated Fat:
1.8
g
(11%)
Cholesterol:
74
mg
(25%)
Sodium:
723
mg
(31%)
Fiber:
2.9
g
(12%)
Sugar:
6.9
g
(8%)
Nutrition information is calculated using an ingredient database and should be considered an estimate.
So, I hope you enjoy this Ground Turkey Sweet Potato Lettuce Wraps recipe and try to make some in your own kitchen today. If you like this recipe, please share with your friends and family. Do you wanna taste more? Subscribe to my newsletter and follow Primavera Kitchen on Twitter, Pinterest, Google +, Instagram and Facebook for all delicious recipes updates. As always, you are really appreciated for stopping by.