This Low-carb Lettuce Wrap Sandwich is a great option for lunch and a delicious alternative to the traditional wheat wrap. It only requires few ingredients and it's also gluten-free and Whole30!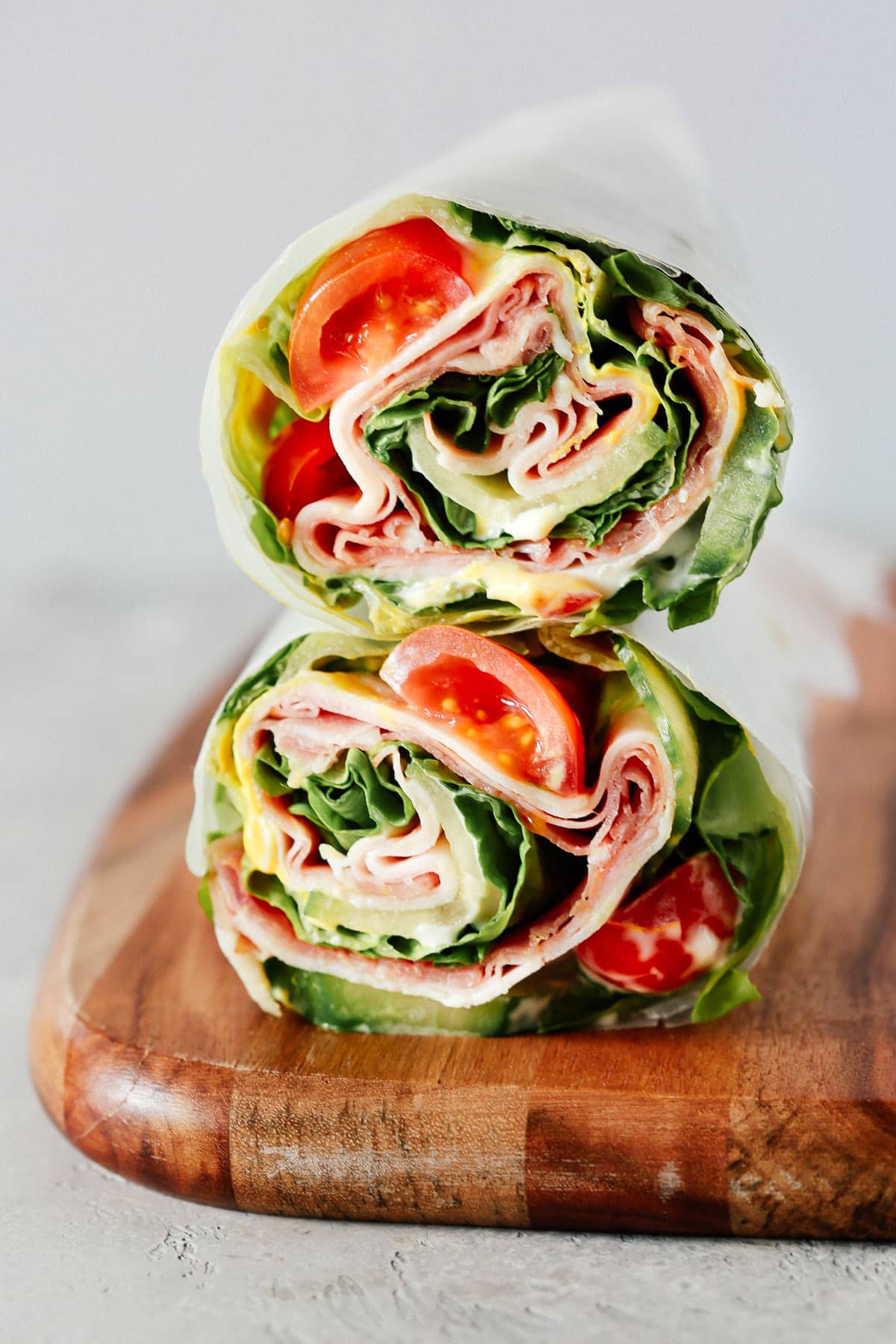 I love keto lettuce wraps! They're very healthy (if you stuff it with good ingredients for your body), fresh, flavourful, and it fits any type of diet you are following, like my Ground Turkey Sweet Potato Lettuce Wraps. You can add only veggies and tofu and make a gluten-free/vegan/vegetarian lettuce sandwich or you can add your favourite choice of deli meat. So good!
Another reason why I love this lettuce wrap sandwich is because you can make it in just few minutes and you can use any type of spread you prefer.
I often use yellow mustard because I'm addicted to it and my homemade mayo. Great combo and goes really well with deli meat! But you can use other types of spread such as cream cheese, guacamole, green sauce, hot sauce too. The options are endless here.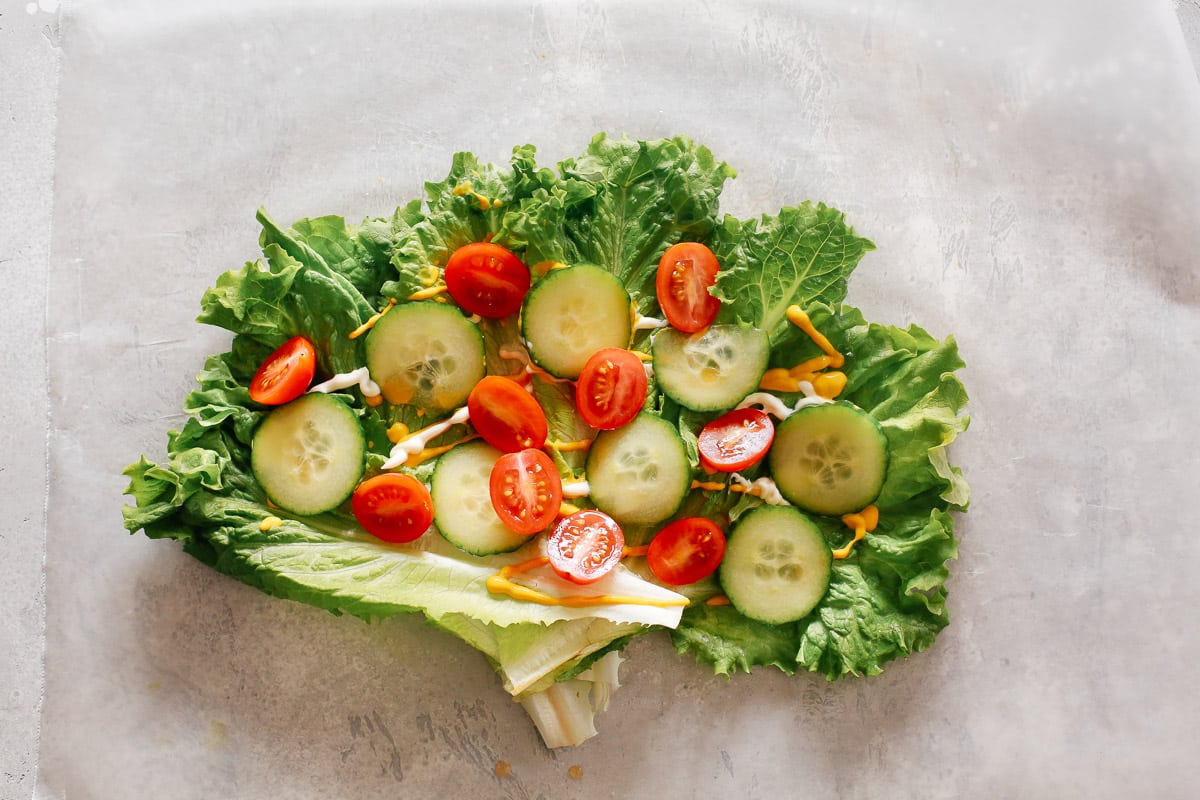 This is one of my go-to summertime recipes like my Easy Egg Salad Recipe. I just love how these 15 Healthy Summer Sandwiches are such refreshing recipes for hot days.
What is the best lettuce to make this Low-carb Lettuce Wrap Sandwich?
I've made this wrap sandwich with lots of different types of lettuces and for this reason I can say that all green lettuces will work such as romaine lettuce, collard and kale (without the stems), butter lettuce and Iceberg lettuce. But I think the Iceberg lettuce is the best.
In my opinion, the Iceberg holds well, it's crunchy and crispy and it's not very tough to eat raw like kale or collards are.
How do you roll a wrap sandwich?
I have to be honest here and say that rolling the wrap for the first time it's not very easy and it can be tricky. However, when you make this Low-carb Lettuce Wrap Sandwich more often, it'll become easier to roll. The most important tip is: use parchment paper on your work surface. If you skip the parchment paper, it will get messy.
When you layer the lettuces on the parchment paper, it will be your base for you to roll everything together. Continue rolling tucking the ends of the wrap towards the middle and fold the sides in as you roll. When the wrap is done, roll the parchment tightly around it. On the recipe box below, I'll give you the step-by-step about rolling your delicious lettuce wrap.
What do you put on a lettuce wrap?
Well you have lots of options here such as:
Veggies such as bell pepper, thin slices of onions, cucumber and slices tomato
Slices of avocado
Sun-dried tomatoes
Tofu
Deli meat (turkey, ham, Prosciutto, mortadella, salami, and Italian sausage)
Slices of roasted chicken breast
Bacon
Smoked salmon
Any spread of your preference such creamy avocado sauce, any sauce (but not very liquid), mustard and/or mayo (You can make this homemade mayo or use the mayo from this Chicken Salad with Spicy Mayo Dressing). You can even use a Chimichurri Sauce Recipe,

Homemade Basil Pesto

, or a chipotle mayo.
Want another easy recipe? You should try my Healthy Meatloaf Recipe!
Storage Tips
This lettuce wrap is best enjoyed fresh. You can make this the night before for lunch the next day if you wish.
I recommend making it as close to eating as possible as the lettuce can wilt after a while as it has mayo and mustard on it. It's similar to how you shouldn't add dressing to a salad if you are making it ahead of time.
This is not a freezer friendly recipe due to the lettuce so I do not recommend freezing it.
What Kind of lettuce should I use?
Iceberg lettuce gives the most satisfying crunch! You can also use romaine lettuce, butter lettuce, Boston lettuce, green leaf, or whatever lettuce that you can roll up. You can even use kale or collard greens if that's what you have in your fridge.
What Kind of lettuce should I use?
Always wash the lettuce beforehand as there can be bits of dirt or even bugs in between the leaves.
I recommend submerging the lettuce, rinsing it, and then fully drying it before using. You can pat the lettuce dry with paper towels or use a salad spinner. When you pick lettuce from the store, be sure you grab some that don't have any wilted leaves and that the colour is vibrant.
Want more low-carb recipes?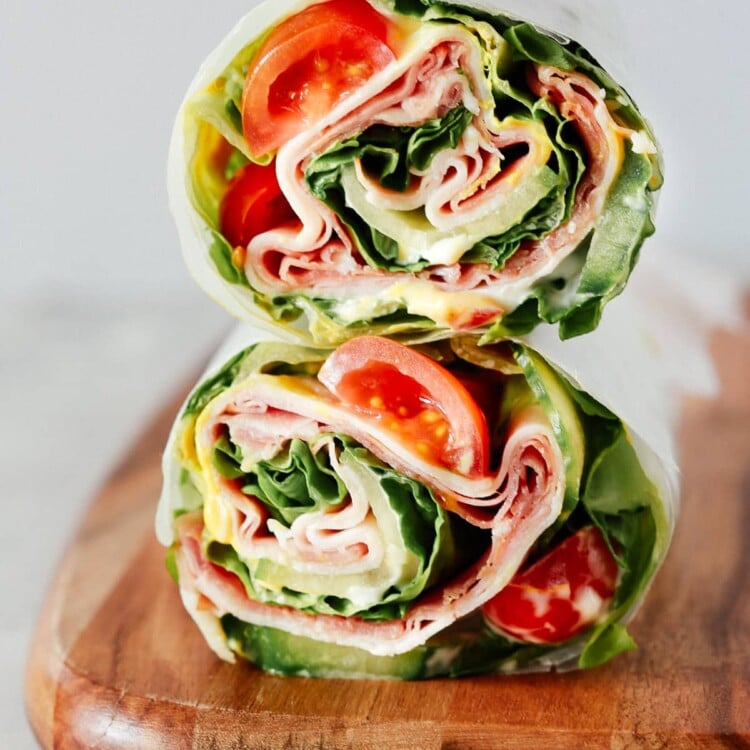 Low-carb Lettuce Wrap Sandwich
This Low-carb Lettuce Wrap Sandwich is a great option for lunch and a delicious alternative to the traditional wheat wrap. It only requires few ingredients and it's also gluten-free!
Ingredients
8

iceberg lettuce

1

tablespoon

homemade mayo

1

teaspoon

yellow mustard

3

Prosciutto slices

2

slices

of deli meat – organic ham

3

slices

of deli meat – organic chicken breast

5

slices

cucumber

8

cherry tomatoes

cut in half

1

piece

of parchment paper

about 15″ x 15″
Instructions
On a cutting board, place the parchment paper. Layer 5 to 8 lettuce leaves (or any other green leave you prefer) in the middle of parchment paper and the sides of the lettuce leaves should be on top of each other leaving no space between the lettuces. Layer the topping by spreading first the mustard and mayo.

Then, add Prosciutto and the slices of deli meat (ham and chicken breast), slices cucumber and cherry tomatoes.

Roll the lettuce wraps by using the parchment as your base. Roll the lettuce wrap as tight as possible.

Halfway through rolling, fold the edges of the wraps towards the center, and continue rolling like a burrito. When it is completely wrapped, roll the remainder of the parchment around the lettuce.

Using a knife, slice the lettuce wrap and enjoy!
Tips
To keep a mess from forming, place a piece of parchment underneath the lettuce when you roll it. 
If you're not a fan of iceberg lettuce, you can use romaine lettuce, butter lettuce, Boston lettuce, or green leaf.
Always wash your lettuce before using and make sure to dry fully so it doesn't get soggy.
To store: This wrap is best eaten as soon as possible. I would only store it for a day or so.
Nutrition Information
Calories:
350
kcal
(18%)
Carbohydrates:
15
g
(5%)
Protein:
26
g
(52%)
Fat:
18
g
(28%)
Saturated Fat:
3
g
(19%)
Polyunsaturated Fat:
7
g
Monounsaturated Fat:
3
g
Cholesterol:
65
mg
(22%)
Sodium:
1710
mg
(74%)
Potassium:
1360
mg
(39%)
Fiber:
5
g
(21%)
Sugar:
10
g
(11%)
Nutrition information is calculated using an ingredient database and should be considered an estimate.
Watch the Web Stories HERE.