This Instant Pot Short Ribs recipe lets you enjoy the tender flavorful ribs without the hours of cooking time usually required. This set-it-and-forget it recipe makes it easy to cook the perfect meat.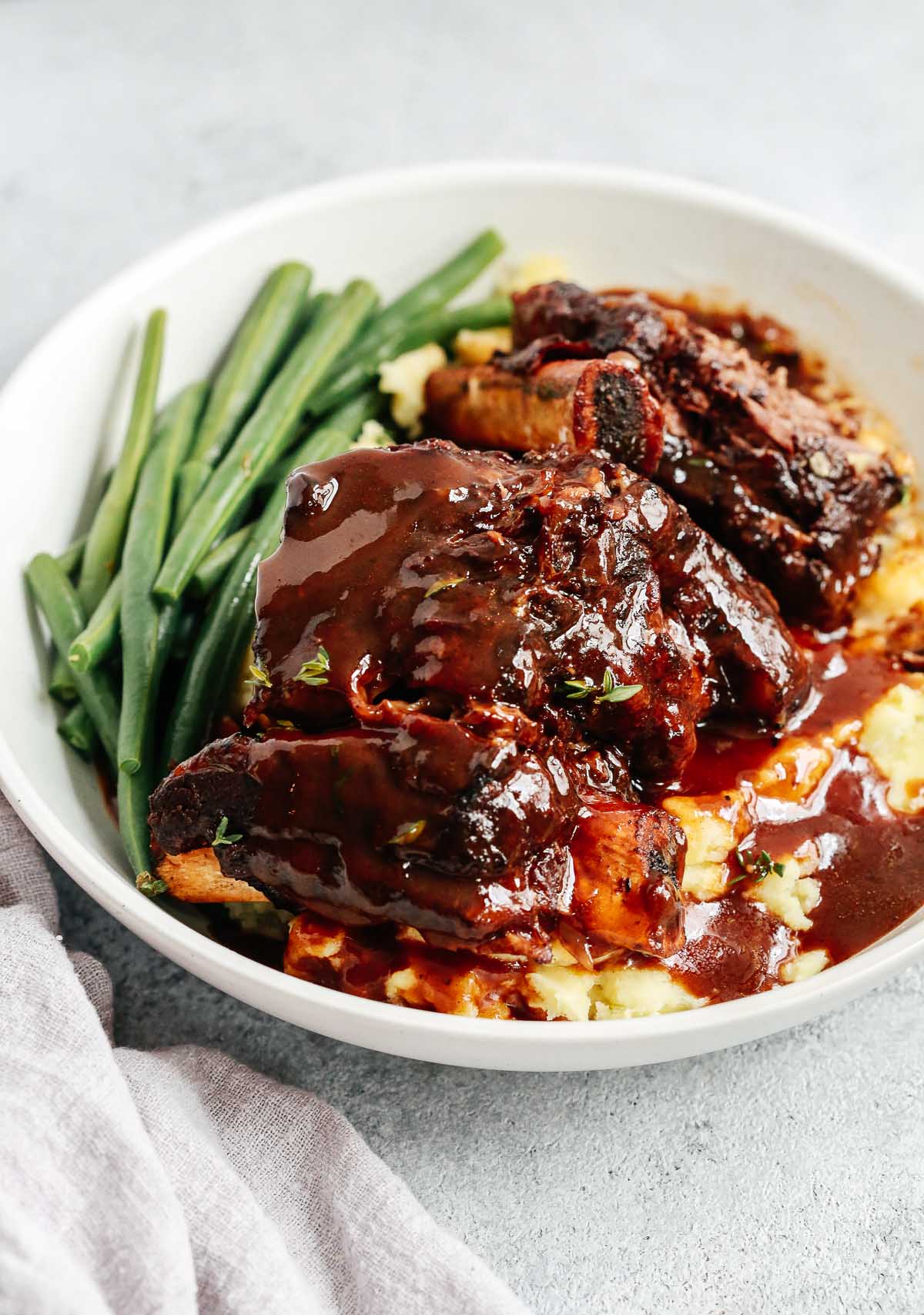 We love ribs over here at Primavera Kitchen. I've shared how I make Slow Cooker Ribs, Oven Baked Ribs (Web Story), and Instant Pot Ribs. But have you tried short ribs??
Short ribs are a delicious way to get about half of your protein needs met for a day. They also delivered a large serving of B vitamins. This short ribs recipe has no gluten and is low in carbs. If you stick with sides like cauliflower and green vegetables, this entire meal will be keto and paleo friendly.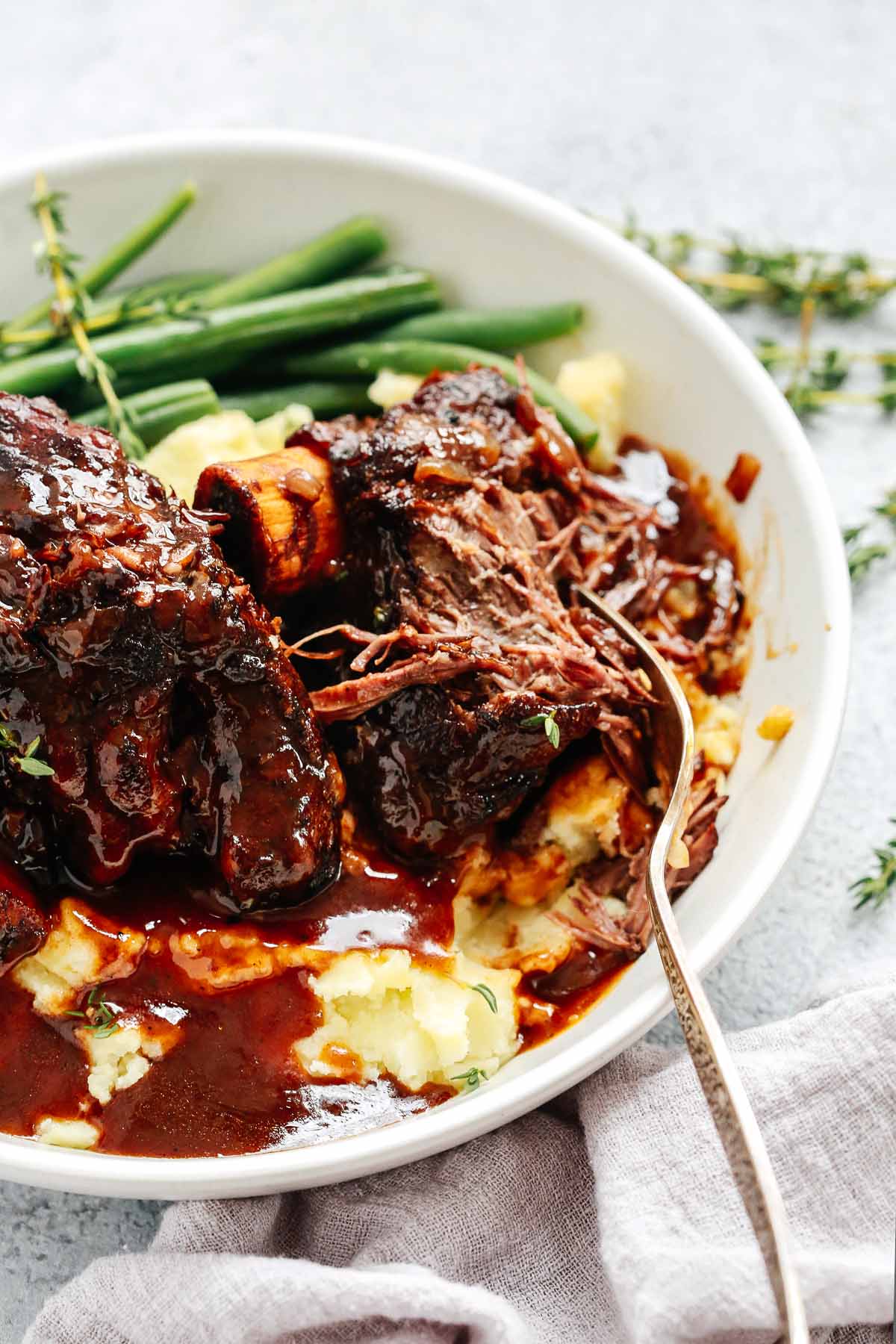 What are short ribs?
Short ribs actually come from the beef chuck portion of the animal. They are the bottom five ribs that are too short to be used for steak.
However, they are muscles that are always in use while the animal is moving. Therefore, short ribs are not as tender as other meat portions, but are super flavorful.
Subscribe for new recipes & a free e-cookbook
There are two different ways you will find short ribs cut. The traditional method is English style. These are small chunks of meat around a single bone. There are also BBQ-style cuts. These are long strips with three bone sections. This is the kind I recommend for this recipe.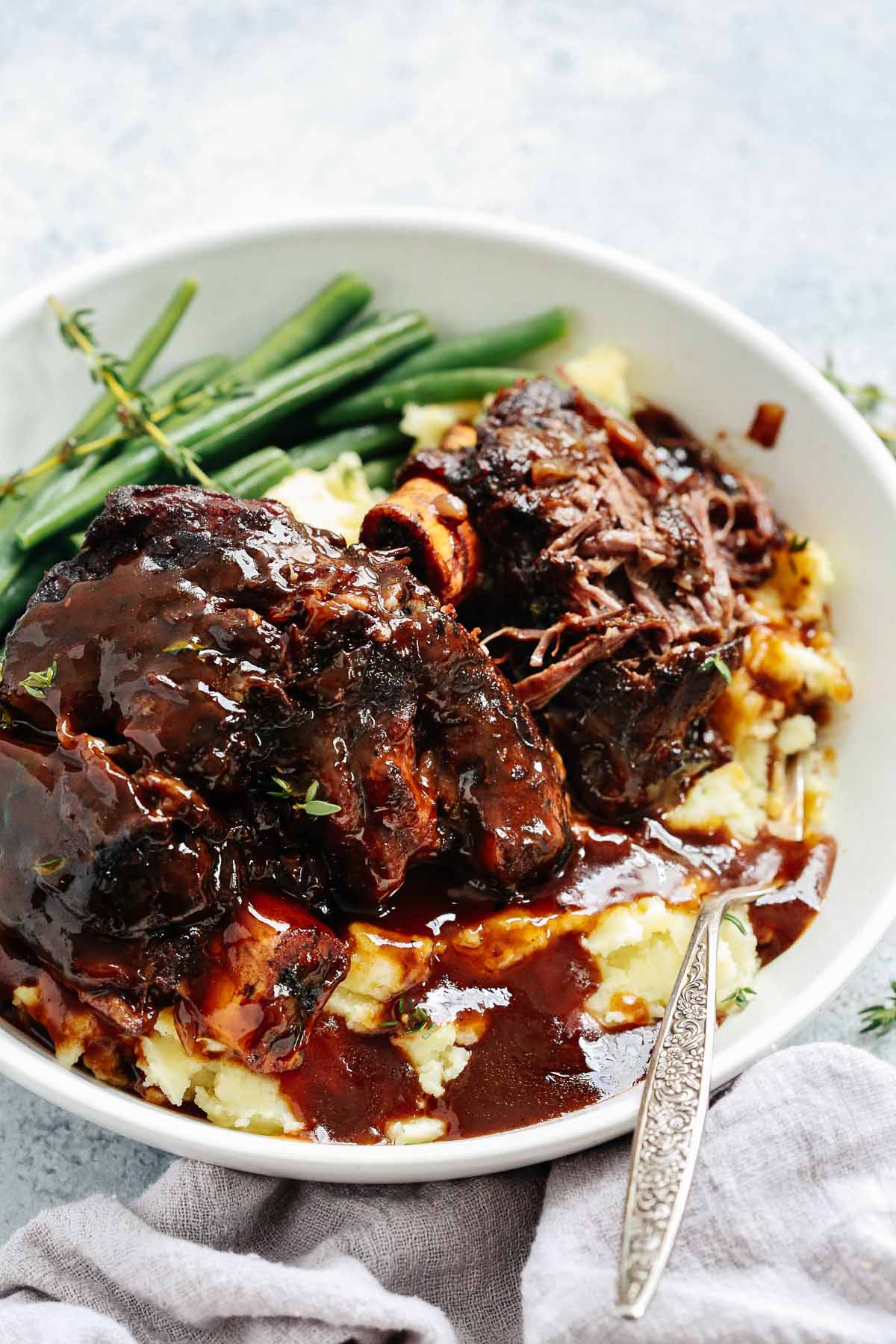 Other preparation methods
Making Instant Pot short ribs is a much quicker method of cooking ribs that are still tender and fall of the bone. I love how quick tender meat gets in the Instant Pot, like this Instant Pot Pot Roast Recipe.
You can make this short ribs recipe in the oven as well. Use a Dutch oven or other heavy pan so you can catch all the drippings to make gravy. Cook short ribs low and slow in the oven. Give them three hours in an oven set at 300F. You'll know they are done when you can easily pull the meat apart with a fork.
You can also make this short ribs recipe in the slow cooker. I recommend you still brown all sides of the ribs on the stove before putting them in the slow cooker. Cook them on low for eight hours or high for five hours.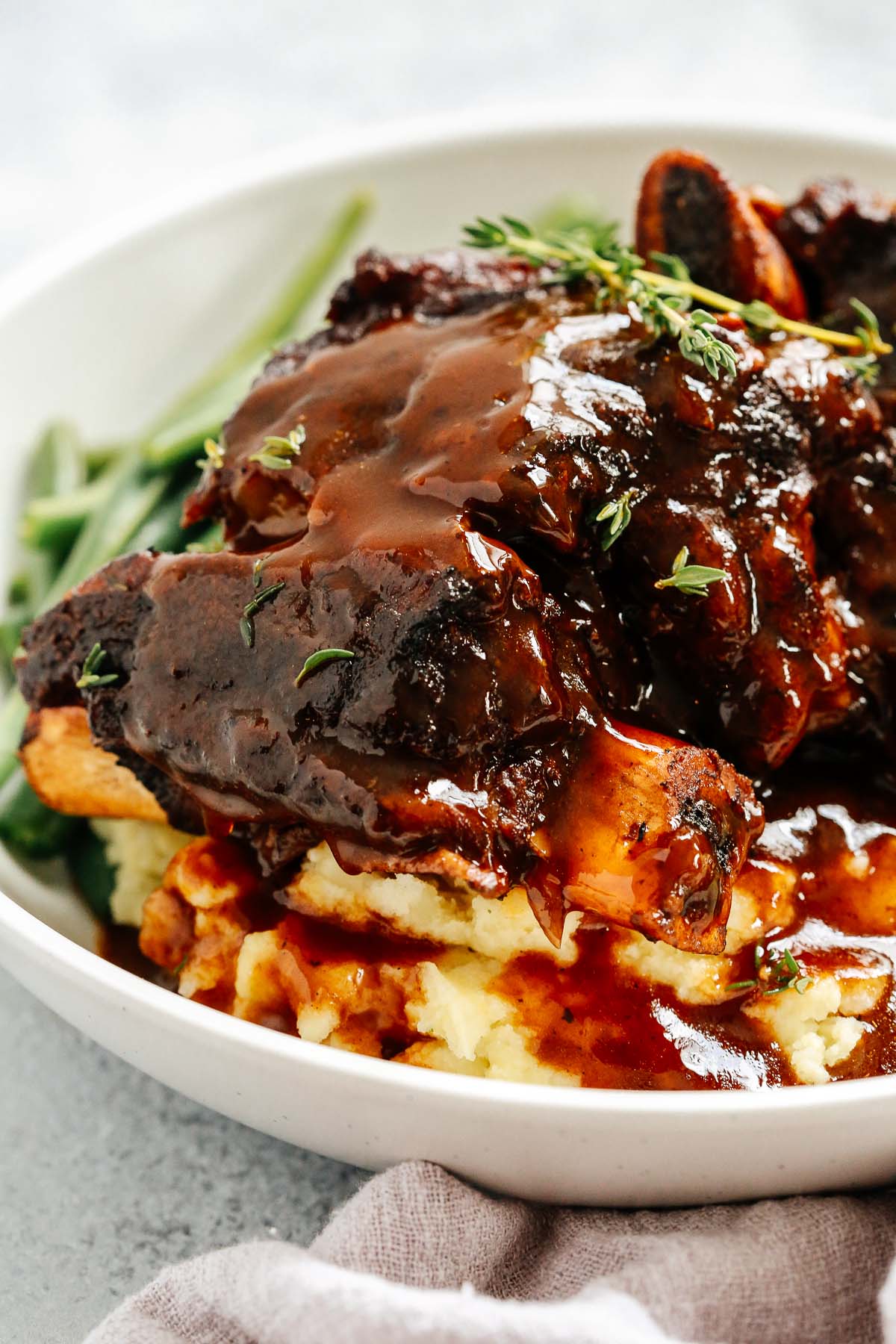 What do you serve with Instant Pot short ribs?
It's easy to make gravy from the drippings that are left in the pot after cooking Instant Pot short ribs. Just whisk it with a cornstarch slurry for a few moments to thicken it to your perfect consistency. If you make gravy, the natural side dish to go with it is mashed potatoes. If you aren't eating white potatoes, you can substitute mashed cauliflower. The gravy is a wonderful addition to the meat itself.
You can try lots of other side dishes as well: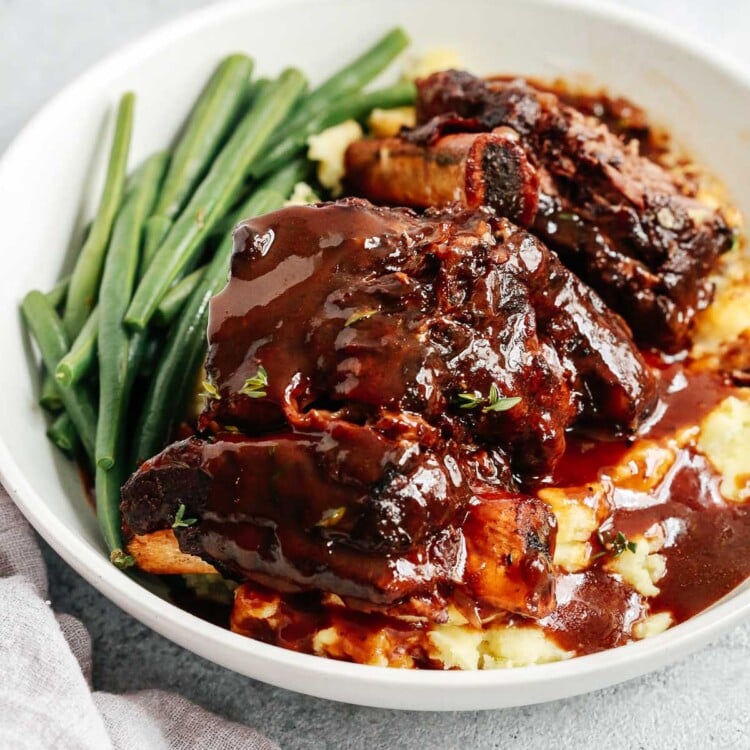 Instant Pot Short Ribs Recipe
This Instant Pot Short Ribs recipe lets you enjoy the tender flavorful ribs without the hours of cooking time usually required. This set-it-and-forget it recipe makes it easy to cook the perfect meat. 
Instructions
Set the instant pot to the sauté setting and add olive oil.

Add the short ribs and brown all sides. It probably will take about 10 minutes. Then, remove the shot ribs from the Instant Pot and set aside.

Add in onion and garlic. Sauté until onion is translucent. It's about 4 minutes. Don't forget to scrap the browned bits from the bottom of the pot.

Add thyme, tomato paste and balsamic vinegar. Stir everything very well. Then, season with salt and pepper.

Turn off the sauté mode. Add in beef broth and bay leaves. Stir well. Transfer the short ribs back to the pot.

Lock the lid and set pressure on high for 1 hour. When done, use Natural Release for 10 minutes, then release valve and remove the lid.

Remove shot ribs carefully, keeping the meat on the bone.

Pour about 1/4 cup of the cooking liquid into a small bowl. Add cornstarch and stir it very well. Set aside.

Pour all the cooking liquid from the Instant Pot into a saucepan and heat on a high heat.

Slowly pour the cornstarch mixture into the saucepan with the cooking liquid and whisk for about 2 minutes or until gravy thickens. Season with salt and pepper if you desire.

Place short ribs on serving plate, spoon over sauce. Enjoy!
Tips
Other cooking methods:
1. Oven - Cook in a Dutch oven or heavy-based pan at 300F for 3 hours or until the meat can easily be pried apart with forks.
2. Slow cooker – Cook it for 8 hours on low or 5 hours on high.
The nutrition facts don't include mashed potatoes and green beans.
This recipe was slightly adapted from the blog Garden in the Kitchen.
If the beef was frozen beforehand, make sure you fully thaw it before using it.
Do not quick release the instant pot immediately to keep the short ribs from drying out.
To store: Store leftover short ribs in an airtight container in the fridge for up to 4 days.
To reheat: You can reheat the short ribs in the microwave or oven.
To freeze: Once fully cooled, you can freeze cooked short ribs in a freezer-safe bag or container for up to 3 months. 
Nutrition Information
Serving:
1
/4
Calories:
363
kcal
(18%)
Carbohydrates:
24
g
(8%)
Protein:
28
g
(56%)
Fat:
16
g
(25%)
Saturated Fat:
4
g
(25%)
Polyunsaturated Fat:
1
g
Monounsaturated Fat:
5
g
Sodium:
760
mg
(33%)
Potassium:
85
mg
(2%)
Fiber:
1
g
(4%)
Sugar:
12
g
(13%)
Nutrition information is calculated using an ingredient database and should be considered an estimate.