Pork chops and apples make the perfect celebration of fall flavors. This quick and easy meal is perfect for a weeknight dinner; it's satisfying and has a lot of protein.
I cook with pork quite often. It's one of my favourite proteins and it shows up here on Primavera Kitchen a lot! Be sure to check out my Garlic Butter Baked Pork Chops (Web Story) and Easy Oven Pork Chop Recipe if you'd like to try out another pork chop recipe after this one!
How do you choose pork chops?
Pork chops are a quick and easy meal. They are packed with protein but have less fat than beef. However, if you aren't careful with the selection and cooking method, they can become tough.
Pork chops are cut from the back of the animal. They typically contain a bone that is a rib or piece of vertebrae. These are very lean cuts of meat with little fat. You can choose boneless cuts as I do in this recipe.
Look for chops that are about an inch and a half thick. These will still cook quickly but will also retain their moisture. Chops with some marbling are also a sign of tender meat.
What kind of apples go with pork?
There are a few things you want to look for when choosing the variety of apples you will use for this recipe.
Because pork is salty, you want an apple that is sweet. As a result, the flavors will be balanced.
Choose an apple that keeps its shape while being cooked. You still want slices when you are done and not mushy applesauce.
Golden Delicious, Gala, and Honeycrisp are all excellent choices.
Got extra apples? Try my Easy Apple Smoothie Recipe!
Subscribe for new recipes & a free e-cookbook
How to cook perfect pork chops and apples
Pork is easy on the budget, quick to prepare and a filling meal. Knowing how to prepare it the right way will give you so many menu possibilities.
Bring the meat to room temperature before cooking.
Cook them hot and fast.
I like to use boneless pork chops for this dish. However, be aware that there is no bone and very little fat to keep them moist. As a result, it is easy to overcook them.
Cook them to an internal temperature of 145 degrees F. Then, cover them lightly with aluminum foil and allow them to rest for five to ten minutes before serving.
What is good to eat with pork chops and apples?
As amazing and juicy as these pork chops are, you will want a side dish to make it a complete meal. Because of the meatiness of the pork, a green vegetable pairs perfectly with this dish. Try some of these ideas for a light side dish:
Tossed salad
Broccoli
Rice or sweet potatoes would also make a great comfort food side
Can you freeze this dish?
You can freeze pork, but you need to be careful when you prepare it. It's easy to have freezer-burnt pork, which no one wants.
Pat the pork dry with paper toweling so that ice can't form on the meat.
Don't let the chops touch each other.
Remove all of the air from the freezer bag or container- vacuum seal if you can!
Pork will last for about three months in the freezer.
More Pork Chops Recipes to Try: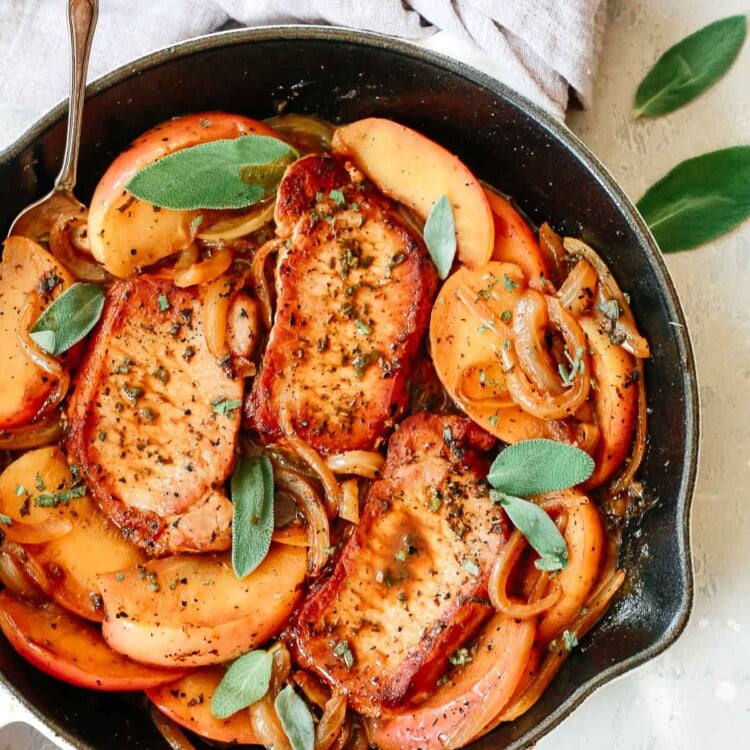 Pork Chops with Apples and Onions
Pork chops and apples make the perfect celebration of fall flavors. This quick and easy meal is perfect for a weeknight dinner and satisfying with lots of protein.
Instructions
Season the pork chops (both sides) with salt and pepper, and set aside.

In a large cast iron skillet, add 1 tbsp olive oil and heat over medium.

When the skillet is really hot, add the pork chops. Sear until golden, about 3-5 minutes per side. Pork will be mostly done, but it will continue cooking in the sauce.

Remove pork chops to a plate.

In a small bowl, mix together the garlic, chicken stock, and mustard. Set aside.

Add 1 tbsp of olive oil to the same skillet, and then add apples and onions.

Cook for about 3-4 minutes (time will depending on the thickness of the apple slices). Don't forget to stir occasionally. Season with salt, pepper and sage.

Pour in stock mixture over the apples and onions. Gently scrape the bottom of the pan to release any brown bits.

Return pork chops back into the pan.

10. Cook for 2 minutes, until pork chops are finished cooking and liquid has reduced by half.

11. Top with fresh sage before serving.
Tips
Don't cook apple for over 5 minutes. Otherwise, they'll be soggy. 
Bring the pork chops to room temperature so they'll cook evenly.
You can use an instant-read thermometer to make sure the internal temperature of the pork chops is 145 degrees F.
To store: Store leftovers in an airtight container in the fridge for up to 4 days.
To reheat: You can reheat leftovers on the stove or in the microwave. 
To freeze: Freeze the cooked pork chops in an airtight bag for up to 3 months. I would skip freezing the apples and onions. 
Nutrition Information
Serving:
1
/3
Calories:
236
kcal
(12%)
Carbohydrates:
17
g
(6%)
Protein:
12
g
(24%)
Fat:
11
g
(17%)
Saturated Fat:
1
g
(6%)
Monounsaturated Fat:
2
g
Cholesterol:
23
mg
(8%)
Sodium:
606
mg
(26%)
Potassium:
228
mg
(7%)
Fiber:
4
g
(17%)
Sugar:
7
g
(8%)
Nutrition information is calculated using an ingredient database and should be considered an estimate.